Our physiotherapists are experienced in providing a complete range of physiotherapy services.
Fill up the form to know more about our physiotherapy services in Mulund.
Our physiotherapists are experienced in providing a complete range of physiotherapy services.
Fill up the form to know more about our physiotherapy services in Mulund.
Highly rated by thousands of patients all over India.
Physiotherapy services In Mulund
What is Physiotherapy?
Physiotherapy is rehabilitation to recover, preserve, and make the most of a patient's range of motion, functionality, as well as prosperity. Physiotherapy helps by way of physical rehab, injury avoidance, together with health and fitness. Physiotherapists get you occupied with your own healing.

Physiotherapy is a degree-based medical care job. Physios use their wisdom and talents to boost a range of conditions associated with different systems of the entire body, like

1. Neurological (stroke, multiple sclerosis, Parkinson's)
2. Neuromusculoskeletal (back pain, whiplash-related disorder, athletics accidents, arthritis)
3. Cardiovascular (persistent coronary disease, rehabilitation after a cardiac attack)
4. Respiratory (asthma, chronic obstructive pulmonary disease, cystic fibrosis).
Physiotherapists operate in a number of specialisms in health and social care. Additionally, a number of physiotherapists are involved in schooling, research as well as service management.

treatment for Physiotherapy
Physiotherapists are qualified to assess your problem, diagnose the condition, and provide help to make you understand what's wrong. Your treatment program would take into account the way you live, activities and overall health.

The following are typical medical treatments use by physiotherapists:

• exercise programs to enhance the range of motion and build up muscles
• joint manipulation and mobilization to lessen agony and tightness
• muscle re-education to boost control
• airway clearance ways and breathing exercises
• soft tissue mobilization (massage)
• acupuncture and dry needling
• hydrotherapy
• help with the use of aids, splints, crutches, walking sticks, and wheelchairs to assist you to maneuver around.



Exercises for Physiotherapy
Also, this method heals different ailments which have been listed below:

It can get rid of strokes, multiple sclerosis, and Parkinson's which comes under Neurological Disorders. Also, it can help in the treatment of patients with affected spinal cord or maybe human brain resulting from stress.

Orthopedic difficulties similar to arthritis and amputations tend to be healed with the help of physiotherapy.
Musculoskeletal issues such as back and neck ache are handled with the aid of physiotherapy.
Cardiac situations such as continual heart disorders and rehabilitation after the heart attack is often carried out by physiotherapy techniques.
Respiratory problems for example asthma, cystic fibrosis, and chronic obstructive pulmonary diseases can be remedied with physiotherapy techniques.
Women's medical ailments simply by physiotherapy procedures involve motherhood, nursing your baby, bedwetting, menopause, prolapsed, loss of bladder or bowel control, and so on.
It can help in soothing sufferers with any sort of discomfort as a result of any therapy or injury.
Benefits of Physiotherapy
Problems may come quite a few styles and is generally the primary reason to visit a physiotherapist. Aches and pains can be the consequence of automobile damage, a sprained ankle from basketball practice, carpal tunnel syndrome from a shoddily constructed workstation, or even chronic lower back discomfort that begun long before you can even bear in mind. It doesn't matter how terrible the pain is, if it affects your functionality at the workplace, in the club, on the field or perhaps in your own home, you should do something about it. Physiotherapy could help you manage, mitigate or maybe eradicate the agony allowing you to get back to enjoying your physical activities. Moreover, it decreases your dependency on pain relievers, which gives your kidneys a much-needed retreat.

Shoulder Impingements are a complex pair of problems which call for management based not on a couple of standardized workouts, but a person customized control approach. Using a comprehensive approach utilizing strength function, manual therapy, taping, theraband exercise as well as soft tissue discharge, physiotherapists are well placed to assist in the recuperation from this issue.

We can,
Assist you on the most appropriate exercises for your concern and grant other useful remedies like manual therapy, soft tissue releases as well as Toning exercises

Allow you to understand why you have got shoulder problems, what factors have possibly caused your discomfort as well as how you can adjust your activity to develop your suffering and recovery.

The initial steps of rehabilitation/treatment will look at pain reduction and some initial conditioning to develop a sturdy joint power and foundation for the shoulder to glide more conveniently. This allows a graded return back into way more regular routines.

The later phases of rehabilitation and treatment will look to contain more complex and comprehensive strengthening, strength, and plyometric work, along with crucial ongoing management of the rotator cuff and shoulder blade stabilizing muscular areas which develop the fundamentals of shoulder mobility.


How can care24 help?
In case you are searching for a physiotherapist at home in Mulund, Care24 ought to be your first preference. Care24 has set a high standard for personalized home health care. Care24 provides home physiotherapy in Mulund, and our physiotherapists are frequently regarded as some of the best physiotherapists in Mulund. Our physiotherapists are well-trained, qualified and fully understand the patient's requirements.

The home is the most effective place for physical therapy, wherein comfortable surroundings directly increase your likelihood of rehab. It is not necessary to visit a physiotherapy clinic in Mulund when Care24 offers top-notch home physical therapy services. You can get yourself treated by some of the top physiotherapists in Mulund from the comfort and ease of your home.

Our licensed physiotherapists will provide you the best treatment in the comfort and ease of your home to recover faster. And regardless of whether you are searching for a sports physiotherapist in Mulund or a neuro physiotherapist, Care24's at-home physiotherapy services are simply a call away. Connect with us and our experts will get in touch with you soon. At-home physiotherapy in Mulund was never so convenient. Care24 offers some of the best home physiotherapy services in Mulund.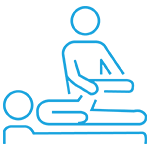 style="text-align:right;color:0f0f59;">
Read more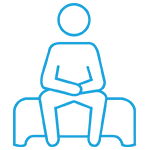 style="text-align:right;color:0f0f59;">
Read more
Needed an attendant for a week for post-surgical assistance (ward boy type work). The person allocated was punctual, polite, and generally did the job well. Quite happy with the services provided. Edit: The payment management is quite bad. If you choose to make cash payments for the service (physiotherapist in my case), the payment does not sync with the agency and they keep sending messages and emails along you to pay up. They follow up with calls on Sunday afternoon 🤦🏻 Edit 2: No change. The company is continuously following up for the money I have already paid. Reducing the rating.

Swati Saxena


5/31/2020

The worst experience I've had of my life. I normally never really write reviews, but I had to write this because this agency is the worst company I've dealt with till now. Their customer service is terrible, most of their attendants are not competent for taking care of elderly patients. Please do not use their service.

Radhika Kulkarni


6/27/2019

My father had a hip bone surgery in January. I have been using Care24 services ever since. The attendants that cane were good in the beginning. However their services have become good to bad to worse to worst in the last 15 days. They changed the night attendant without informing me personally just 6 hours before the time. My father had just settled down with the last attendant and now they were sending a replacement tonight. To add to my frustration the guy didn't turn up and did not answer the calls. When I called their call centre - they said they can't help me at this hour. Well- I can't help but call them CARELESS CARE24.

Jasbir Basu


4/06/2019

The management team & the customer care team is quite responsive.... However the main component, ie the caregiver is not trustworthy & definitely not upto the mark

Ritwik Basu


11/03/2019

I got good experience wt dr Dhrita she is v good in physiotherapy n nice while talking n explains v nice

Sujata Rao


6/19/2019
I am still taking services from Care 24 since last two years. The caregivers are well trained and takes good care of my mother in law.
Sheila khanchandani
Sumesh Brother is Punctual, Efficient and knowledgeable and understands patients requirements completely.
Jayshree Prabhu
I have been using care 24 services and have been very happy with their services. Priyanka Rajbhar is our caretaker she is very disciplined kind and dedicated towards her work.
Saurabh Bhatt
The Nurse and the Attendant provided by Care24 are good in service, polite and punctual. We are happy with their service. The patient ( our family member) is been given proper care, feed and cleaned regularly.
Deepa Balvalli
Dr. Ralga had Attended to my father. He is suffering from PSP. We were specifically impressed by her techniques n method to handle the issue. We are planning on repeating her visits every month for positive results.
Uma Ram