Our physiotherapists are experienced in providing a complete range of physiotherapy services.
Fill up the form to know more about our physiotherapy services for Knee.
Our physiotherapists are experienced in providing a complete range of physiotherapy services.
Fill up the form to know more about our physiotherapy services for Knee.
knee Physiotherapy service
Causes & sign of Knee Pain
Causes of Knee Pain
Breast cancer rated 5th in cancer mortality and is one of the cancers along with the other two forms of cancer – Lung cancer and colorectal cancer which accounts for a third of cancers. With the diagnostic and treatment progress and breast cancer physiotherapy, the prognosis of the disease has improved, and survival rates have improved over the years.
This has, in turn, increased the numbers of breast cancer survivors and hence much research has been done into aids for improving the quality of life of survivors. Physiotherapists play an essential part in the care of survivors in addition to in the rehab care of women during and following a diagnosis of breast cancer.
Breast cancer originates in the tissues of the breast. After a tumour is formed it might metastasize to other areas of the human body and may grow and destroy tissue where it grows. Not all growths in breast tissues are cancerous, some that are non-cancerous are called benign. Benign conditions such as cysts, hyperplasia and tumours like intraductal papilloma may form. It is essential that patients are urged to speak to their healthcare staff, should they detect any lump in their breast.
Signs of Knee Pain
Knee pain maybe characterized by
Stiffness and swelling in and around the knee

Redness and warmth felt close to the knee

Weakness or instability in the knee

Popping and crushing sounds from the knee while standing and sitting

Inability to straighten the knee
If home remedies for knee pain are not able to provide relief from these symptoms, one must immediately visit a physician for relief.
Kinds of Knee harm
ACL Injury –

The anterior cruciate ligament also called ACL, is one of the key ligaments that helps stabilize the knee joint. Any

injury to it is amongst the most common causes of knee pain. This injury occurs if the ACL becomes stretched, partially or completely torn. Tasks involving changes and stops as seen in tennis, football and basketball are accountable for this kind of injury.

Fractures –

Fracture of the knee cap or patella may be painful and could be caused by contraction or collapse and due to erroneous stepping movements resulting in a broken / dislocated patella.

Knee Bursitis –

Is the inflammation of the bursae which

are the small fluid-filled sacs lying under a tendon, cushioning the tendon and protecting it from injury.

Torn Meniscus –

Twisting while bearing weight may result in a torn Meniscus.

Patellar Tendonitis –

Patellar tendonitis known as jumper's knee is an overuse injury due because of the patellar tendon.
What could be done to help?
Medication –

There are a number of pills and creams, painkillers such as aspirin and paracetamol and anti-inflammatory medicines that may help if used. It is imperative that one takes them at the recommended dose. Do not wait until pain is severe before taking painkillers. One should not take aspirin or ibuprofen when pregnant or have an ulcer, asthma until prescribed by a health care provider. Medicine could have side-effects so if there are any queries, read the label carefully and consult pharmacist. The physician may prescribe stronger painkillers or capsaicin lotion, which can rub on the knee if drugs do not work.
Physiotherapy –

If action is impacted persistently, one must discuss with GP. Physiotherapy can enable increasing strength, endurance and help with pain management. A physiotherapist assess the problem and offer remedies to help perform regular activities.
Surgery –

If pain is severe, surgery may be recommended for those that have mobility issues. The health care provider will explain the operation required.
Expectations from Physical Therapy for Knee Pain
The visit to physiotherapist is crucial to ensure proper identification and management of physical therapy for knee pain. The physical therapist may ask a lot of question to gather information regarding the background of issue, about the alleviating and aggravating factors, and any previous medical history which may contribute to the issue. From the data, an examination will be run. The examination may include several sections such as, but not limited to
Gait evaluation –

A gait test is a test of the way of walking. Physical therapists are trained to detect changes through distinct stages of walking in the movement around the knee.
Palpation –

This involves using structures placed around the knee to check whether there is a any specific place painful to touch or also to feel for abnormalities.
A range of motion measurement –

A range of movement describes how much the knee is straightening or bending and the therapist may use tools to measure the same.
Power assessment –

An assessment of strength will help ascertain if imbalance or weakness is causing knee pain.
Assessment of equilibrium –

If balance is diminished, stress and strain could lead to knee pain.
Girth or dimensions –

Swelling could be within the knee joint. A physical therapist will assess the amount of swelling to help guide therapy.
Special evaluations –

Tests or maneuvers performed to help determine the arrangement causing the issue and at fault.
Best Knee Exercises
Although it appears counter-intuitive, scientists have identified that knees exercises can aid manage knee pain by making the knee joint and muscles stronger.
The workout will vary based on individual health conditions and this is where physiotherapist fits in for injury identification and suitable exercise for strength of the impacted knees.
While we love to state that all knee exercises are advantageous, there are important differences. For instance, some patient's condition will settle down with knee exercises while others, may need a knee surgery.
Because of the difference in treatment based on condition differences, it is suggested to seek guidance of physiotherapist.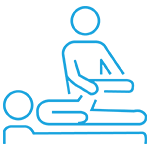 style="text-align:right;color:0f0f59;">
Read more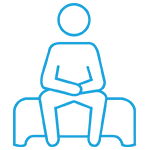 style="text-align:right;color:0f0f59;">
Read more
The worst experience I've had of my life. I normally never really write reviews, but I had to write this because this agency is the worst company I've dealt with till now. Their customer service is terrible, most of their attendants are not competent for taking care of elderly patients. Please do not use their service.

Radhika Kulkarni


6/27/2019

The physiotherapist came to my home was very helpful and knowledgeable. She properly gave me the detailed information about my injury. Also the first assessment is free of cost.

varshflute


10/17/2019

worst service, they just talk as if they will send professional at our place, they give big promises at the time of starting their services, but when the attendant come at our place we realized that he was more delicate than our patient, the person whom they had sent got a small scratch in his finger and than the same day he said he wont come as he got injury, so the next day he dint turn up neither did care24 arrange for a replacement, after calling them for 4 times they said me sorry they couldn't arrange anyone today. they don not have the decency to even inform that they cannot arrange for a replacement.. please do not go for their services, its just the promises nothing to deliver

Komal Patel


4/11/2019

Unqualified office staff, when you call to clarify something. Many times they don't understand the question. They are not trained well. The customer care staff needs an upgraded system, where notes are fed into the system. So you don't need someone else calling up and giving you the same info. The caretaker is not trained well. If they are looking after an elderly person, they should know that they have to be in the best of health to look after my mother. She ended not making a meal for my mother and my neighbour had to provide it. If the caretaker is not well she should have asked for a replacement asap and not waited. It is shocking, we have paid a huge amount of money for this service and I am absolutely unhappy. Please do not call for caretaker's from Care24. As long as they are getting their money. They care a damn!!! Worst service providers.

Bonabelle Zuzarte


7/10/2019

I got good experience wt dr Dhrita she is v good in physiotherapy n nice while talking n explains v nice

Sujata Rao


6/19/2019
I am still taking services from Care 24 since last two years. The caregivers are well trained and takes good care of my mother in law.
Sheila khanchandani
Sumesh Brother is Punctual, Efficient and knowledgeable and understands patients requirements completely.
Jayshree Prabhu
I have been using care 24 services and have been very happy with their services. Priyanka Rajbhar is our caretaker she is very disciplined kind and dedicated towards her work.
Saurabh Bhatt
The Nurse and the Attendant provided by Care24 are good in service, polite and punctual. We are happy with their service. The patient ( our family member) is been given proper care, feed and cleaned regularly.
Deepa Balvalli
Dr. Ralga had Attended to my father. He is suffering from PSP. We were specifically impressed by her techniques n method to handle the issue. We are planning on repeating her visits every month for positive results.
Uma Ram
Frequently Asked questions