Physiotherapy for Leg Pain
Our physiotherapists are experienced in providing a complete range of physiotherapy services.
Fill up the form to know more about our physiotherapy services for Leg Pain.
Physiotherapy for Leg Pain
Our physiotherapists are experienced in providing a complete range of physiotherapy services.
Fill up the form to know more about our physiotherapy services for Leg Pain.
Leg pain Physiotherapy service
Physiotherapy Exercises for Leg
Leg pain and trauma are of fairly common occurrence and may happen because of work or sports injuries or just over usage/overweight. Leg pain may also be resulting because of stress in the lower spine joints. Sciatica is a commonly known cause of leg pain. Leg pain may also result because of blood clots (DVT's), varicose veins or poor blood circulation.
Physiotherapy for Leg Pain
Leg injuries are common in Indians because we are largely sitting too much as a society. A good deal of time every day goes in incorrect postures, using vehicles for commuting and relaxing and socializing and this cause little muscles exercise and hence leg muscles start atrophying and are unable to support well.
When muscle power in the leg reduces, the load is completely managed by ligaments and tendons of the knee and they are under extra pressure for stability and movement. As time passes, the patient begins to develop arthritis. Ligaments and tendons help with stability and angular movement when muscle power is lacking, and this may result in pain and impair the patient's capacity.
Few most frequent leg injuries that may benefit from treatment –
Hamstring Injury Therapy
Hamstring Injury may result from running. When a high load is taken, the muscle or tendon is strained. This overloading can occur either through pressure or frequency. Consequently, in case of sedentary people that sit for most of the week, simply to play aggressive matches over the weekend, this transition out of no-loading into full-loading dismisses the human body's requirement for muscle tissue adaptation to exercise and tears happen.
Duration of

physiotherapy for leg pain

following a hamstring tear is mostly based on the seriousness of the tear, and if the tendon is impacted. Recovery could be slow at a hamstring tendon since tendons get less blood flow compared to the muscular belly.
Hamstring accidents also often re-occur either due to the muscle not entirely healing before loading it too quickly without the proper muscle conditioning.
Physiotherapy exercises for leg

help cure hamstring injuries to ensure enough stimulation, innovative loading, and tissue recovery. This included together with healing exercise, by means of soft tissue mobilization, contracted and rigid regions of their muscle to strengthen the muscular system. Along with these therapists also see patients run and walk to discover any jogging or walking abnormalities which may exist in the system too. Normally, most of the hamstring injuries are detected in patients with injuries is the hip and gluteal weakness.
IT Band Syndrome
IT Band Syndrome frequently faced by athletes that play sports using a much of running element. The IT Band is a band of fascia on the thighs which supports lateral stability when performing pursuits using single-leg. Running is a task like a pogo stick, where we change body weights from 1 leg to another. This repetitive action causes the IT Band could be overstrained. Fiber links are shared by the fascia and the hamstring muscle as well as the knee, therefore, pain may be felt everywhere including the side of the knee, and the rear of the thigh.

Knee pain in IT Band syndrome

– A typical home remedy for IT Band Syndrome is foam rolling to split up the pressure and to soothe the irritation of the IT Band. Stiffness felt may with pain, and this is expected to be reduced with the rolling foam for IT Band pain. The IT Band bears the load when these muscles can't stabilize the pelvis during single limb position. Strengthening these muscles and the gluteus medius muscle can help in offloading the strain.

In addition, the runner's gait must be assessed to learn how other joints are impacted and that could offer some advice for why the IT Band is continually strained.

When viewed by a skilled therapist, IT Band problems can resolve as fast as in two weeks. Untreated and aggravated pain may last too long if it takes too long to be treated.
Leg Therapy Treatment
Many individuals in India suffer from knee pain. There are many causes of this, e.g. knee mechanisms, injury, etc.. The reason for a high number of knee patients is that the knee doesn't have the musculature to support it well. The muscles of the leg typically pass through the knee joint and attach to the bone above and below the joint and support movement, however, there aren't any direct nerves or tendons which directly impacts his motion besides a little muscle at the back of knee known as the popliteus. The knee joint is a passive joint and depends on the muscles above and beneath it. Hence tear and wear could occur and cause pain.
The knee is mainly controlled by the big muscle groups of the thigh and hip. Its firmness and strength are because of them but the knee endures too many aberrant movements when quad and cool muscles become weak from disuse or afflicted by the disease or just overuse. Physical treatment is concentrated on strengthening equilibrium and the muscles of the foot and the hip.
Physiotherapy for leg pain also needs to help with greater biomechanics in most actions. Knee pain is aggravated during climbing stairs. The therapist will have to see patient do such maneuvers – along with walking to fix.
Meanwhile, home remedies for leg injury treatment include cold treatment and electrical stimulation by means of a TENS unit. Regular cardiovascular actions that encourage bending and straightening the knee, but not excessive weight loading and bearing — i.e. swimming and biking — can assist with swelling loss and muscular activation.
Physio Exercises for Leg Pain
Leg Cycle Exercise –

Start by lying on your back with legs upward. Stretch your arms out. Begin a biking movement in the atmosphere with toes. Attempt to improve the assortment of movement in the knee joint region, so the flexion in every leg extends from nearly right and stretched to bent at a ninety-degree angle.
Unweighted Flexion –

Stand behind a seat with the back of the seat for balance. Flex up leg degree angle then return to starting place. Switch legs and do ten repetitions with each leg.
Double Knee to Chest –

Patient Starts on the back with legs outstretched and brings both knees up together and puts hands on the shin. An alternate location for hands is the rear of the thighs. Bring knees toward chest, hold for ten minutes, then return to starting place.
Leg Adduction –

Begin with one foot over the seat, and one under resting on the floor. Lift the leg that is straightened against the chair's base. Hold for ten minutes and then return the leg into the ground.
Knew Full Extension Exercise –

Start by sitting in a large enough seat so the knee can bend into a ninety-degree angle. Extend and flex the leg until it's horizontal. Hold for five minutes, and let it go back to the floor. Repeat with another leg. If capable, do twenty repetitions.
Ankle Stretch –

Set one end of a Sportcord on the right foot in the instep (not the tip of the shoe). Stretch the right leg and pull the Sportcord until you've got the immunity and difficulty. Stretch right toe down, as though you're pressing the gas pedal in your car. Hold extended for five minutes, and repeat twenty times. Switch legs and do ten repetitions with each leg.
Single Hamstring Stretch –

Sit on the ground with your leg and your right leg bent as displayed. Reach toward your feet of the foot, together with both hands stretched. Do not bounce the stretch. Attempt to maintain the stretch for ten minutes, then return to the beginning place. Do ten repetitions.
Knee Stretch –

Start with the right leg slightly bent, and with left leg crossed over the opposite. Grab the leg that is perfect in the rear of the thigh until the leg is up, but no further, and pulls the torso. Hold for five seconds, then return to starting place. Switch legs and repeat. Do ten repetitions. Whether annoyance is caused by the exercise to a knee discontinue.
Straight Leg Lift Exercise –

Start by lying on your back with your left leg flexed upwards. Keep your right leg. Lift your right leg about a forty-five-degree angle, keeping the leg secured. Hold for five minutes and then gradually lower into the level, resting posture. As the assortment of movement is the two feet away from the floor It's not essential to choose the leg up to ninety degrees. Wait for twenty times. Switch to other the leg.
Leg Raise with Chair –

Utilize two seats or a seat across a couch. Stretch leg so it rests on the seat while seated. Gradually raise the leg to no longer than twelve inches, keeping it straight during the movement. Hold for ten minutes, and return to starting place. Repeat ten times for each leg.
Straight Leg Piriformis Stretch –

Lie on back. Lift left leg and bring it attempting to allow it to touch the floor. Keep shoulders level to the floor. Hold twenty minutes, then return to starting position and repeat to another leg. Do ten repetitions with each leg.
How Can You Eliminate Pain in the Leg?
It's very important to generate an accurate identification of the cause of your leg pain or harm so that proper treatment could be directed at the cause. Sports and musculoskeletal accidents have been handled by your physiotherapist. If surgery is needed physiotherapist or that your physician may advise that you seek an orthopedic surgeon's help.
Referred pain in your lower spine eg sciatica can be successfully handled by your spine healthcare practitioner eg physiotherapist. In a small fraction of individuals, an operation evaluation might be asked to solve your leg pain.
Blood disorders and vascular disorders may take the maintenance of your health care provider or a vascular surgeon. DVT's and blood clots may have adverse health effects including death or strokes. Immediate medical care is suggested.
Please don't delay in consulting your physician or physiotherapist if you experience leg pain. Some leg ailments can take months or even years when the identification is wrong to cure or therapy is failed.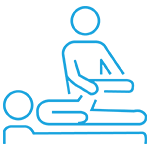 style="text-align:right;color:0f0f59;">
Read more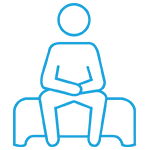 style="text-align:right;color:0f0f59;">
Read more
We contacted care 24 for my Dad's physiotherapy. Our physiotherapist Dr Dharita is very knowledgeable and extremely patient. My Dad is showing a lot for improvement in terms of his movement.

D W


3/21/2019

Nurses and attendants provided by Caree24 are very good. In behavior and trust worthy. Thanks for their support

Anil Kathuria


6/28/2019

Worst!!! I am paying for professional services and the attendant is not professional. The level of disappointment is i have to terminate services on Day 1 itself. And still I am being told to pay for 1 day. Please assess the attendant before going for services from care24

Praful Jadhav


5/07/2019

Unqualified office staff, when you call to clarify something. Many times they don't understand the question. They are not trained well. The customer care staff needs an upgraded system, where notes are fed into the system. So you don't need someone else calling up and giving you the same info. The caretaker is not trained well. If they are looking after an elderly person, they should know that they have to be in the best of health to look after my mother. She ended not making a meal for my mother and my neighbour had to provide it. If the caretaker is not well she should have asked for a replacement asap and not waited. It is shocking, we have paid a huge amount of money for this service and I am absolutely unhappy. Please do not call for caretaker's from Care24. As long as they are getting their money. They care a damn!!! Worst service providers.

Bonabelle Zuzarte


7/10/2019

The management team & the customer care team is quite responsive.... However the main component, ie the caregiver is not trustworthy & definitely not upto the mark

Ritwik Basu


11/03/2019
I am still taking services from Care 24 since last two years. The caregivers are well trained and takes good care of my mother in law.
Sheila khanchandani
Sumesh Brother is Punctual, Efficient and knowledgeable and understands patients requirements completely.
Jayshree Prabhu
I have been using care 24 services and have been very happy with their services. Priyanka Rajbhar is our caretaker she is very disciplined kind and dedicated towards her work.
Saurabh Bhatt
The Nurse and the Attendant provided by Care24 are good in service, polite and punctual. We are happy with their service. The patient ( our family member) is been given proper care, feed and cleaned regularly.
Deepa Balvalli
Dr. Ralga had Attended to my father. He is suffering from PSP. We were specifically impressed by her techniques n method to handle the issue. We are planning on repeating her visits every month for positive results.
Uma Ram
Frequently Asked questions