Physiotherapy For Nerve Compression
Our physiotherapists are experienced in providing a complete range of physiotherapy services.
Fill up the form to know more about our physiotherapy services for Nerve compression.
Physiotherapy For Nerve Compression
Our physiotherapists are experienced in providing a complete range of physiotherapy services.
Fill up the form to know more about our physiotherapy services for Nerve compression.
Physiotherapy services for nerve Compression
Overview
Get relief from a pinched nerve with the help of physiotherapy for nerve compression
Nerves are extended from the brain and the spinal cord and then sends important and essential messages everywhere in the body. When you suffer from a pinched nerve that is nerve compression your body send alerting signals like pain. You should not avoid such signals.
You can have severe or mild damage due to nerve compression. It is also seen that a pinched nerve cause either temporary or long-lasting conditions in your body. It is therefore desirable to get it diagnosed and treated to save yourself from severe damage.
Physiotherapy for nerve compression is a useful and effective way of getting your damage nerve treated to relief from pain and other conditions. In some instances, it is possible to reverse the pinched nerve but in some, it is not and for that, you can surely go for physiotherapy to get relief from various symptoms caused by a compressed nerve.
Most commonly leg injuries are seen where a person needs to give special attention and get the right treatment of the nerve compression done on the right time. And the best treatment is physiotherapy for nerve damage in the leg. The physiotherapist makes you learn various exercises and also help to repair the affected nerve and in a very safe form without surgery, you can get any of your compressed nerve treated.
Causes for nerve compression
When there is a pressure or compression on a nerve a pinched nerve occurs. Such pressures usually occur due to the repetitive motion for any activity on in work. And it could also happen if you hold your body in one particular position for a long time like while sleeping keeping your elbow bent. This nerve compression near the elbow could be easily treated with physiotherapy for ulnar nerve compression.
In your body the nerves are present at different places and the most vulnerable are at such places, very narrow space is available for them to travel but a little soft tissue is there to protect them. And the nerve compression is caused when the nerve is pressurized among the tissues such as:
The nerve compression is seen for example when there is a pressure on the nerve root coming out of a spine then you may suffer from neck or back pain. The damage to the sciatic nerve because of the injuries by injection is known as the injection palsy and with the most convenient physiotherapy for injection palsy nerve injuries it can be treated. The radial nerve which is spread throughout our hand and also controls the sensation can be damaged and cause radial nerve palsy. This condition also can be handled easily with the help of physiotherapy for radial nerve palsy.
There are many other factors such as various medical issues through which a person could have a damaged nerve. As there could be either reduced flow of the blood to the nerve or structural change in the nerve functioning and more caused by different medical conditions. You can trust the option of physiotherapy for nerve compression to get relief from all your problems. The medical conditions which can make you susceptible to facial nerve damage are:
Diabetes
High blood pressure
Obesity
Pregnancy or menopause
Thyroid dysfunction
Congenital defects
Autoimmune disorders
Neural disorders
Treatment of nerve compression
The treatment of a compressed nerve involves the improvement of the nerve symptoms and maintaining the existing function of the nerve. The treatment and the recovery all depend upon the underlying cause. You can opt for physiotherapy for nerve compression which is much more effective than treatments. Your doctor may ask you to go for the following treatment and therapies:
physical therapy to help build and maintain muscle strength
massage
an analgesic or anti-inflammatory medications
antiseizure medications or tricyclic antidepressants
steroid injections
anesthetic creams or patches
braces or splints
acupuncture
Transcutaneous electrical nerve stimulation (TEN) is also chosen by several people to treat the damaged nerve. It involves the technique of placing some electrodes on the affected area and these electrodes pass current at varying speed.
Physical therapies build and maintain the strength of the muscles and with time the nerve gets healed and improved with proper exercises, food, and sleep. As physiotherapy for ulnar nerve compression is there to improve the symptoms of the nerve damage in elbow there are also many other treatments in physiotherapy available.
Exercises for nerves
There are many exercises in physiotherapy for nerve damage in the leg through which you can get your leg treated and many different exercises as well by which you can treat any other compressed nerve treated. Let us see how you can do a back stretches for your pinched nerve:
Side Bends
you have to start with standing straight and both hands on the hips
A straight posture should be maintained
Then gently stretch your lower back by bending towards the left and right. And you need to do this five times
Twists
You need to start this stretch by sitting on a chair and place your leg at shoulder width
You then need to place your left hand on your right knee and gently push your body forward to get your back muscles stretched
Hold this position for five seconds and then continue with the next side
Shoulder shrugs
Start in a standing position
Your arms at the side you need to shrug your shoulder in a motion rotating towards the back
In the same movement get back to the same position
Take a break between each set of 30 seconds
These exercises help you to relieve the pain you can also try physiotherapy for radial nerve palsy by concerning your physiotherapist to get it treated in the best way.
How can care24 help?
We are helping many people suffering from different nerve compression by the team of our best doctors. We understand how difficult it would be to do work and carry other activities when your body is in pain that is why by helping you with various physiotherapies we help you to get relieved from all your pains.
We have doctors for physiotherapy for injection palsy nerve therapy, elbow pain, shoulder pain, and more along with the best staff to give them a good recovery from all your pains. Nerve compression is not a big problem until you have the option of physiotherapy with you.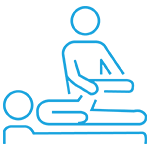 style="text-align:right;color:0f0f59;">
Read more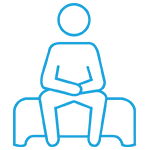 style="text-align:right;color:0f0f59;">
Read more
The management team & the customer care team is quite responsive.... However the main component, ie the caregiver is not trustworthy & definitely not upto the mark

Ritwik Basu


11/03/2019

The physiotherapist came to my home was very helpful and knowledgeable. She properly gave me the detailed information about my injury. Also the first assessment is free of cost.

varshflute


10/17/2019

Horrible, unprofessional service! Advance paid.The caregiver did not show up. When complained to customer care, they said they will find a replacement and call back. No call back, no replacement. They shut for the day and the customer is felt in a lurch. Extremely disappointing. Will never avail this service again and will spread the word too.

Shraddha Shah


11/02/2019

We contacted care 24 for my Dad's physiotherapy. Our physiotherapist Dr Dharita is very knowledgeable and extremely patient. My Dad is showing a lot for improvement in terms of his movement.

D W


3/21/2019

Horrible service! can't rely on them.They ditch on last moment.Attendents are not punctual,reliable,well behaved and even honest.Service provider doesn't turn up and still they start billing customers .Better to stay away.

Sonal Agrawal


11/04/2019
I am still taking services from Care 24 since last two years. The caregivers are well trained and takes good care of my mother in law.
Sheila khanchandani
Sumesh Brother is Punctual, Efficient and knowledgeable and understands patients requirements completely.
Jayshree Prabhu
I have been using care 24 services and have been very happy with their services. Priyanka Rajbhar is our caretaker she is very disciplined kind and dedicated towards her work.
Saurabh Bhatt
The Nurse and the Attendant provided by Care24 are good in service, polite and punctual. We are happy with their service. The patient ( our family member) is been given proper care, feed and cleaned regularly.
Deepa Balvalli
Dr. Ralga had Attended to my father. He is suffering from PSP. We were specifically impressed by her techniques n method to handle the issue. We are planning on repeating her visits every month for positive results.
Uma Ram
Frequently Asked questions