Physiotherapy For Joint Pain
Our physiotherapists are experienced in providing a complete range of physiotherapy services.
Fill up the form to know more about our physiotherapy services for Joint Pain.
Physiotherapy For Joint Pain
Our physiotherapists are experienced in providing a complete range of physiotherapy services.
Fill up the form to know more about our physiotherapy services for Joint Pain.
Joint pain Physiotherapy service
Sign & Symptoms
Joint pain could be because of an injury affecting ligaments, bursae, or tendons surrounding the joint. Injury may also affect the ligaments, cartilage, and bones within the joint. Because of joint inflammation, arthritis -e.g. rheumatoid arthritis, osteo arthritis and similar disease may result. The patient will experience frequent knee pain, foot pain, and shoulder pain. Pain is known as arthralgia. Sometime, the sexually transmitted diseases (STDs) chlamydia and gonorrhea may also result in joint pain.
Signs and symptoms related to joint pain may include
Joint soreness, swelling, tenderness

slight heat at the joint result in locking of the joint and limping due to weakness

stiffness and reduction of the range of movement of the joint,
Why is Joint Pain common?
Joints help by forming the link between the bones that bear most of the weight. These joints can get impacted, causing pain and limiting freedom of movement. It is a common condition and anxiety & overexertion along with the rigors of modern lifestyle have made it a problem in the times of today.
Basic physiotherapy for joint pain
Few of the simple recommendations for physiotherapy for joint pain to reduce joint pains are as follows-
Avoid sedentary lifestyle since youth and interspace the need for a sedentary day by integrating simple moves.

Take a stroll, taking the stairs, go cycling, swimming to keep fit if one doesn't enjoy particular exercise such as fitness center, sport, dancing courses, etc..

Routine stretching regime will help hydrate muscles and let the maximum moves across joints.

Muscle strengthening regime can help to maintain those muscles to be strong enough to support joints.

If one has joint pain, one must prevent excessive load bearing activity eg: walking, standing for long hours at Osteoarthritis of the knee.

Don't permit a joint pain to fester long. Seek aid to find out the reason and begin timely treatment.

One must not allow joint pain to become so bad that a prompt surgical intervention is required. Exercise treatment and the Physiotherapy can assist in preventing the degeneration of the joint and also prevent operation if discovered early.
Basic physiotherapy for knee joint pain
Following a detailed examination, the physical therapist may brgin to use the right physiotherapy for joint pain. It is essential that patient is engaged within the program and activities. Exercises to help enhance and strengthen the freedom of the knee will be prescribed. One could be asked to do a part of a house exercise program in addition to exercises in the center.
Exercise needs to be the primary instrument for curing knee pain. Exercises can include –
Quad sets and straight leg raise
Short arc quads
Exercises to strengthen buttocks
Lower extremity stretches
Balance exercises
The physiotherapist will inform one how frequently to do exercises at home, and track progress. Even though you're in the PT clinic They could also perform different therapies. These can include –
Ultrasound
Kinesiology taping
Electric stimulation
Application of smoke / heat
Soft tissue massages or knee joint mobilization
Passive therapies like ultrasound haven't been demonstrated to be the very best remedy for knee pain. The attention on physiotherapy should be on restoring operational movements. One must should go over each treatment's objective in an order understand what to anticipate.
If the knee pain persists for at least just two to three weeks or happens because of injury, a trip to your doctor or physiotherapy for knee joint pain is suggested.
Does physiotherapy for joint pain helps
By prescribing the treatment and assessing the cause of the pain, Physiotherapy can help prevent, relieve or lessen the degeneration of joints that are painful and weak. Physiotherapy for joint pain is administered depending upon the cause of the joint pain i.e. Degenerative like Osteoarthritic, Osteoporotic or Systemic like Rheumatoid Arthritis, Ankylosing Spondylosis, Osteopenia. Physiotherapy for joint pain includes symptom management function in addition to a preventative compared to that at joint pain.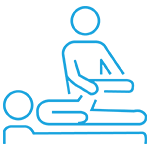 style="text-align:right;color:0f0f59;">
Read more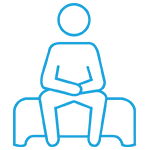 style="text-align:right;color:0f0f59;">
Read more
Worst!!! I am paying for professional services and the attendant is not professional. The level of disappointment is i have to terminate services on Day 1 itself. And still I am being told to pay for 1 day. Please assess the attendant before going for services from care24

Praful Jadhav


5/07/2019

We had a ridiculously pathetic experience with them. Took an attendant service, a 10 day offer (rs 600 instead of their regular fee of rs 800), for my mother who had undergone an knee replacement surgery. In six days, 4 different attendants were assigned for no fault of ours. We had terrible experience going through the back-end team trying to explain the importance of sending only one attendant and not a different one every new day. The last person assigned wanted to leave by 5pm even though the timings were from 8am to 8pm. With this many other terrible instances in these 6 days, we had no option but to cancel the services. The back-end team were utterly useless in understanding the importance of having only one person assigned. They kept insisting that we pay for 800rs per day for 6 day and offer of rs 600 per day would be invalid. The management should look into this scam and take immediate action on the team. Note: Even though we wanted the services, we were forced to abandon it with no fault of ours. The back-end team has absolute disregard for the grievances of the client.

Rahul Dhakka


12/27/2018

I got attendent for my ailing mother thru care 24. The best service i got...if i need infuture i will definitely go for care24 only...they are the best

felix thomas


3/21/2020

Unqualified office staff, when you call to clarify something. Many times they don't understand the question. They are not trained well. The customer care staff needs an upgraded system, where notes are fed into the system. So you don't need someone else calling up and giving you the same info. The caretaker is not trained well. If they are looking after an elderly person, they should know that they have to be in the best of health to look after my mother. She ended not making a meal for my mother and my neighbour had to provide it. If the caretaker is not well she should have asked for a replacement asap and not waited. It is shocking, we have paid a huge amount of money for this service and I am absolutely unhappy. Please do not call for caretaker's from Care24. As long as they are getting their money. They care a damn!!! Worst service providers.

Bonabelle Zuzarte


7/10/2019

worst service, they just talk as if they will send professional at our place, they give big promises at the time of starting their services, but when the attendant come at our place we realized that he was more delicate than our patient, the person whom they had sent got a small scratch in his finger and than the same day he said he wont come as he got injury, so the next day he dint turn up neither did care24 arrange for a replacement, after calling them for 4 times they said me sorry they couldn't arrange anyone today. they don not have the decency to even inform that they cannot arrange for a replacement.. please do not go for their services, its just the promises nothing to deliver

Komal Patel


4/11/2019
I am still taking services from Care 24 since last two years. The caregivers are well trained and takes good care of my mother in law.
Sheila khanchandani
Sumesh Brother is Punctual, Efficient and knowledgeable and understands patients requirements completely.
Jayshree Prabhu
I have been using care 24 services and have been very happy with their services. Priyanka Rajbhar is our caretaker she is very disciplined kind and dedicated towards her work.
Saurabh Bhatt
The Nurse and the Attendant provided by Care24 are good in service, polite and punctual. We are happy with their service. The patient ( our family member) is been given proper care, feed and cleaned regularly.
Deepa Balvalli
Dr. Ralga had Attended to my father. He is suffering from PSP. We were specifically impressed by her techniques n method to handle the issue. We are planning on repeating her visits every month for positive results.
Uma Ram
Frequently Asked questions