Varicose Veins Physiotherapy
Our physiotherapists are experienced in providing a complete range of physiotherapy services.
Fill up the form to know more about our physiotherapy services for Varicose Veins .
Varicose Veins Physiotherapy
Our physiotherapists are experienced in providing a complete range of physiotherapy services.
Fill up the form to know more about our physiotherapy services for Varicose Veins.
physiotherapy services for Varicose Veins
Overview
What are Varicose Veins?
Varicose veins are enlarged, tortuous veins seen in the legs and feet. They may occur as small spider veins or may become extremely enlarged. It is estimated that almost 40% of people above the age of 50 years may have some form of varicose veins.

In the vast majority of patients, these veins cause no discomfort or pain, although they are potentially harmful.
Symptoms & causes
The reasons why the walls of the veins stretch and the valves in your veins weaken which cause varicose veins aren't fully understood. Some people develop the condition for anonymous reasons.
Increased risk
A number of things account for the chances of developing varicose veins, including:
Being female

Having a close family member with varicose veins

Older age

Being overweight

Having a job that involves long periods of standing

Pregnancy

Other conditions
Gender
Women are more likely to be affected by varicose veins than men because science suggests that this may be because female hormones tend to relax the walls of veins, making the valves more prone to leaking.
Hormones are chemicals produced by the body, and changes may be caused by pregnancy, premenstrual syndrome or menopause.
Genetics
Risk of developing varicose veins increases if a person has a hereditary history of it.
This suggests varicose veins may be partly caused by your genes (the units of genetic material you inherit from your parents).
Visit our page on genetics for more information about how you inherit your physical and behavioral characteristics.
Age
As one gets older, our veins start to lose their elasticity and the valves inside them stop working as well.
Being overweight
Being overweight puts extra pressure on your veins, which means they have to work harder to send the blood back to your heart.
This can put increased pressure on the valves, making them more prone to leaking.
The impact of body weight contributes more in women on the development of varicose veins.
Use the healthy weight calculator to check whether you're overweight.
Occupation
Some research suggests jobs that require long periods of standing may increase your risk of getting varicose veins.
This is because your blood doesn't flow as easily when you're standing for long periods of time.
Pregnancy
During pregnancy, the amount of blood increases to help support the developing baby. This puts extra strain on your veins.
Hormone levels increases during pregnancy which also cause the muscular walls of the blood vessels to relax, and increases the risk.
As the womb expands it puts pressure on the veins in your pelvic area, which may contribute to varicose veins.
Other conditions
In very rare cases, varicose veins is also caused by other conditions.
These include:
A previous blood clot

A swelling or tumor in the pelvis

Abnormal blood vessels
SYMPTOMS
Many people with varicose veins do not have any physical symptoms. Some people though, may, however, have concerns over the cosmetic appearance of varicose veins.

Symptoms of varicose veins may include:
Twisted, swollen, and lumpy (bulging) veins.

Aching

Cramps

Swelling

Itching

Fatigue

Blue or dark purple Veins

Telangiectasia (spider leg veins)in the affected leg.

Skin in the affected area is noticed to be red, itchy and dry.

Some individuals experience leg cramps, while suddenly standing up.

People also have restless legs syndrome accompanied.
Some people complain of pressure and dull ache sensation from varicose veins.
More severe but less common symptoms of varicose veins may include bleeding, thrombophlebitis which is the formation of a blood clot within the varicose vein, skin ulceration and a weeping oozing dermatitis or stasis dermatitis. In long-standing venous disease, the skin may become fibrotic and scarred, forming an inverted "hourglass" appearance. These complications of varicose veins should be evaluated by a doctor promptly.
TREATMENT
There are many different treatments available for varicose veins. These treatments vary based upon the presence of different symptoms, size, and location of the varicose veins, in cases of accompanying skin changes like swelling, dermatitis or ulceration, etc.
Here are some potential treatments briefly talked about, which may include:

Leg elevation while sitting or sleeping

Compression dressings with single or multilayered systems

Compression stockings

Sclerotherapy (injection of a foam or a liquid into the vein to form a clot and help permanently destroy the vessel)

Ablation (destruction) of abnormal veins with techniques using laser, radio frequency, etc.

Surgery which includes removal of varicose veins, including "phlebectomy" or vein stripping.
In general, laser therapy or sclerotherapy are helpful in treating spider veins (telangiectasias), but anyways ablation and surgery are a better option for larger varicose veins.

Is treatment always necessary?

No, not if varicose and spider veins are primarily a cosmetic problem. Severe cases, especially those associated with ulcers and dermatitis that do not respond to varicose vein physiotherapy treatment, generally demand further treatment.

Thousands of people every year consider getting treatment for varicose veins.
Physiotherapy for Varicose Veins
How can Physiotherapy for Varicose Veins help?
Varicose veins are primarily caused by inactivity in the legs over a course of a long period of time. While there's no way by which it can be completely prevented, Walking, swimming and biking are a good choice of low impact activities. Varicose vein physiotherapy treatment helps to accomplish relief in symptoms.
Exercise
Exercise can increase your body's ability to pump blood up the leg back toward the heart. It also decreases your chances of getting varicose veins. Generally, low-impact exercised constituting of physiotherapy for varicose veins include the following:

Walking or Running
Walking just 30 minutes a day for five days a week can yield good benefits.

Leg Lifts
One has to Sit or lie on their back while sticking your feet straight out. Lift one leg at a time up, holding it in the air. Slowly lower it down and repeat with the other leg.

Bicycling or Bicycle Legs
Riding a bike or stationary bike is also helpful. If you don't have access to any kind of bike, you can try bicycle leg exercise. While lying on your back, put your legs in the air, bending them at the knee. Pedal slowly as if you are bicycling.

Lunges
Moving your legs apart in standing position, Step forward to slowly bend your knees, keeping it directly above your ankle. Hold the position and then slowly straighten your leg and step back to your original position.

Rocking Your Feet
Can be done sitting or standing, rock your feet back and forth from heel to toe.

HOW CAN CARE24 HELP?
Quality health care for every generation.

We offer multiple Convenient Locations just around thae corner…

We're proud to feature the most advanced technology…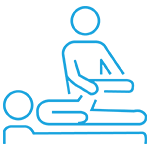 style="text-align:right;color:0f0f59;">
Read more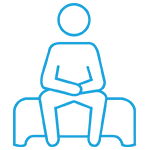 style="text-align:right;color:0f0f59;">
Read more
We had a ridiculously pathetic experience with them. Took an attendant service, a 10 day offer (rs 600 instead of their regular fee of rs 800), for my mother who had undergone an knee replacement surgery. In six days, 4 different attendants were assigned for no fault of ours. We had terrible experience going through the back-end team trying to explain the importance of sending only one attendant and not a different one every new day. The last person assigned wanted to leave by 5pm even though the timings were from 8am to 8pm. With this many other terrible instances in these 6 days, we had no option but to cancel the services. The back-end team were utterly useless in understanding the importance of having only one person assigned. They kept insisting that we pay for 800rs per day for 6 day and offer of rs 600 per day would be invalid. The management should look into this scam and take immediate action on the team. Note: Even though we wanted the services, we were forced to abandon it with no fault of ours. The back-end team has absolute disregard for the grievances of the client.

Rahul Dhakka


12/27/2018

Most horrible services. Please do not ask for help from these people, they will talk sweet and then at the last moment there will be no shows from the caretaker. I had to go through this not once but twice the caretaker did not turn up. Request you all to not depend on these people as we are leaving our homes and letting them into our lives, the least they can do is inform and provide a replacement, but neither of it happened and they expect me to pay registration fees of RS,1000

Annie Palan


5/17/2019

Needed an attendant for a week for post-surgical assistance (ward boy type work). The person allocated was punctual, polite, and generally did the job well. Quite happy with the services provided. Edit: The payment management is quite bad. If you choose to make cash payments for the service (physiotherapist in my case), the payment does not sync with the agency and they keep sending messages and emails along you to pay up. They follow up with calls on Sunday afternoon 🤦🏻 Edit 2: No change. The company is continuously following up for the money I have already paid. Reducing the rating.

Swati Saxena


5/31/2020

worst service, they just talk as if they will send professional at our place, they give big promises at the time of starting their services, but when the attendant come at our place we realized that he was more delicate than our patient, the person whom they had sent got a small scratch in his finger and than the same day he said he wont come as he got injury, so the next day he dint turn up neither did care24 arrange for a replacement, after calling them for 4 times they said me sorry they couldn't arrange anyone today. they don not have the decency to even inform that they cannot arrange for a replacement.. please do not go for their services, its just the promises nothing to deliver

Komal Patel


4/11/2019

Horrible, unprofessional service! Advance paid.The caregiver did not show up. When complained to customer care, they said they will find a replacement and call back. No call back, no replacement. They shut for the day and the customer is felt in a lurch. Extremely disappointing. Will never avail this service again and will spread the word too.

Shraddha Shah


11/02/2019
I am still taking services from Care 24 since last two years. The caregivers are well trained and takes good care of my mother in law.
Sheila khanchandani
Sumesh Brother is Punctual, Efficient and knowledgeable and understands patients requirements completely.
Jayshree Prabhu
I have been using care 24 services and have been very happy with their services. Priyanka Rajbhar is our caretaker she is very disciplined kind and dedicated towards her work.
Saurabh Bhatt
The Nurse and the Attendant provided by Care24 are good in service, polite and punctual. We are happy with their service. The patient ( our family member) is been given proper care, feed and cleaned regularly.
Deepa Balvalli
Dr. Ralga had Attended to my father. He is suffering from PSP. We were specifically impressed by her techniques n method to handle the issue. We are planning on repeating her visits every month for positive results.
Uma Ram
Frequently Asked questions