Back Pain Physiotherapy Services
Our physiotherapists are experienced in providing a complete range of physiotherapy services.
Fill up the form to know more about our back pain physiotherapy services.
Back Pain Physiotherapy Services
Our physiotherapists are experienced in providing a complete range of physiotherapy services.
Fill up the form to know more about our back pain physiotherapy services.
physiotherapy for back pain
What is Back Pain?
Back pain is the most frequent health problem affecting millions over the world. It is also the most ignored pain until it becomes quite high and cannot be ignored by the patient anymore. Sometimes it may just be too much tiredness, muscle spasms, etc. and sometimes the basic back pain could be a symptom for the disease. Rather than looking for pain therapy, a lot of people reach for over the counter painkillers for pain relief sprays.
Depending on the area of the spine that has been impacted, back pain may be classified into three distinct kinds – neck or cervical pain, thoracic or back pain and Lumbar/ Coccydynia (tailbone or back pain) or reduced back pain.
Upper Back Pain – Upper back pain affects the cervical area i.e. the backbone and neck. It causes discomfort and stiffness in the shoulder and neck region. Poor sleeping posture is one of the few of the causes of cervical pain.
Middle Back Pain – This impacts the region between the lumbar and cervical region. It is a type of back pain and is clinically referred to pain.
Lower Back Pain – Lower spine can also be clinically known as lumbar or Coccydynia (tailbone or sacrum pain). It impacts the thoracic region backbone and surrounding regions such as the upper torso, buttocks, and the regions. Lower back pain is the most frequent kind of pain.
Symptoms of Lower Back Pain
It manifests itself as an ache normally coupled with stiffness and low-grade pain in the lower spine. Symptoms are normally alleviated with exercise or simply by preventing long periods of sitting. However, if symptoms are disregarded, the pain will get continuous and the stiffness can rise.
Symptoms might be associated with conditions other than posture, like a prolapsed disk instance, fracture joint impingement or nerve root compression. One will experience some of the following symptoms:
Pins and needles or numbness in lower limbs, buttocks or toes
Pain going down the front or the back of the leg
Acute back pain if bending
Levels of stiffness
These symptoms will need to be evaluated through an experienced Physiotherapist. They supply therapy, management, and guidance and will diagnose the cause of pain.
Ailments like cauda equina can cause a fraction of back pain. One must seek immediate guidance if he/she experience any of these symptoms
Unsteady walking or when standing
Difficulties controlling bladder or numbness in the bladder and intestinal area
If one has a history of osteoporosis or cancer
Back pain accompanied by weight loss or fever
Causes of Back Pain
The usual cause of back pain is poor posture. Back pain may be bothersome and embarrassing and a continuous annoyance in the spine.
Physiotherapy exercises for back pain is excellent for treating mechanical back pain. Together with guidance on adjusting methods, exercises and posture correction, back pain must resolve in a couple of days or months.
But, there are far more complicated causes of back pain, for instance, disk prolapse, joint impingement, ankylosing spondylitis, arthritis, fracture or arthritis that need more sophisticated assessment.
Exercises for Physiotherapy
Physiotherapy exercises for lower back pain
Patients suffering from many kinds of low back pain tend to be known for physiotherapy exercises for lower back pain for four months as a first conservative (nonsurgical) treatment option before considering other more aggressive therapies, such as back surgery. The goals of physical therapy for lower back pain are to reduce back pain, improve function, and educate a maintenance program to prevent future problems to the patient.
Types of physical therapy for back pain
Passive physical treatment, including things done to the individual, such as warmth program, ice packs and electric stimulation. For instance, a heating pad could be applied before performing stretching and exercising to heat the muscles up, and an ice pack may be used to purify the muscles and tissues.
Active physical therapy, which concentrates on stretching and exercises. For back pain remedies, an exercise that is life is this therapy program's consequence.
Physiotherapy Treatment for Back Pain
Lumbar or low back spine equilibrium is mainly determined by the encouraging abdominal and low back musculature. The abdominal muscles provide the first stabilizing support by using their capacity to create pressure inside the abdomen that is exerted posteriorly on the backbone, thus supplying a lateral support pillar. The spine stabilizes and results in lateral support.
Simply stated the spine and disks are surrounded by nerves, as well as the more powerful these muscles are, the less strain is put on joints and the discs of the backbone. The patients should create a 'belt' round their backbone of muscular.
physiotherapy treatment for back pain
Who is suitable for physiotherapy treatment for low back pain
When one has pain that is causing difficulties that do not appear to be improving after a couple of weeks it might be well worth visiting a physiotherapist. Physio for lower back pain can be handy for a variety of kinds of pain. It might help with the next.
Non – specific lower back pain this is back pain in which no particular cause (like an underlying medical illness or injury) was identified.
Pain – pain that spreads down your thighs out of your back. There is A disk when a disk in your spine lumps from its form and presses on a nerve.
Back pain brought on by the aging of the disks in your back (degenerative disk disease).
Stenosis – that is when the area around your spinal cord narrows, placing pressure.
Your doctor may refer you to a physiotherapist or maybe you set up an appointment. A physiotherapist or your doctor may urge as part of a treatment package which contains support, painkillers, and a workout program. By possessing a blend of remedies and physiotherapy exercises for back pain, the patient has the highest chance of eliminating pain.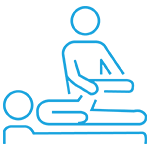 style="text-align:right;color:0f0f59;">
Read more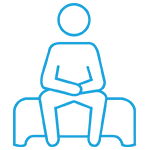 style="text-align:right;color:0f0f59;">
Read more
Horrible, unprofessional service! Advance paid.The caregiver did not show up. When complained to customer care, they said they will find a replacement and call back. No call back, no replacement. They shut for the day and the customer is felt in a lurch. Extremely disappointing. Will never avail this service again and will spread the word too.

Shraddha Shah


11/02/2019

Most horrible services. Please do not ask for help from these people, they will talk sweet and then at the last moment there will be no shows from the caretaker. I had to go through this not once but twice the caretaker did not turn up. Request you all to not depend on these people as we are leaving our homes and letting them into our lives, the least they can do is inform and provide a replacement, but neither of it happened and they expect me to pay registration fees of RS,1000

Annie Palan


5/17/2019

The worst experience I've had of my life. I normally never really write reviews, but I had to write this because this agency is the worst company I've dealt with till now. Their customer service is terrible, most of their attendants are not competent for taking care of elderly patients. Please do not use their service.

Radhika Kulkarni


6/27/2019

Unqualified office staff, when you call to clarify something. Many times they don't understand the question. They are not trained well. The customer care staff needs an upgraded system, where notes are fed into the system. So you don't need someone else calling up and giving you the same info. The caretaker is not trained well. If they are looking after an elderly person, they should know that they have to be in the best of health to look after my mother. She ended not making a meal for my mother and my neighbour had to provide it. If the caretaker is not well she should have asked for a replacement asap and not waited. It is shocking, we have paid a huge amount of money for this service and I am absolutely unhappy. Please do not call for caretaker's from Care24. As long as they are getting their money. They care a damn!!! Worst service providers.

Bonabelle Zuzarte


7/10/2019

The management team & the customer care team is quite responsive.... However the main component, ie the caregiver is not trustworthy & definitely not upto the mark

Ritwik Basu


11/03/2019
I am still taking services from Care 24 since last two years. The caregivers are well trained and takes good care of my mother in law.
Sheila khanchandani
Sumesh Brother is Punctual, Efficient and knowledgeable and understands patients requirements completely.
Jayshree Prabhu
I have been using care 24 services and have been very happy with their services. Priyanka Rajbhar is our caretaker she is very disciplined kind and dedicated towards her work.
Saurabh Bhatt
The Nurse and the Attendant provided by Care24 are good in service, polite and punctual. We are happy with their service. The patient ( our family member) is been given proper care, feed and cleaned regularly.
Deepa Balvalli
Dr. Ralga had Attended to my father. He is suffering from PSP. We were specifically impressed by her techniques n method to handle the issue. We are planning on repeating her visits every month for positive results.
Uma Ram
Frequently Asked questions