Our physiotherapists are experienced in providing a complete range of physiotherapy services.
Fill up the form to know more about our physiotherapy services for Sciatica.
Our physiotherapists are experienced in providing a complete range of physiotherapy services.
Fill up the form to know more about our physiotherapy services for Sciatica.
physiotherapy services for Sciatica
Overview
What is Sciatica?
Sciatica is described as the pain felt along the sciatic nerve, which runs from the lower spine down to the leg and through the buttock. The sciatic nerve is the longest nerve in the human body originating from the lumbar or the lower back region from the L4, L5, and S1 vertebrae.
Usually misdiagnosed, Sciatica is slow or non-responsive to therapy. Leg pain may have multiple reasons. It i sometimes may be due to leg injury or it might be a pain emanating from the lower spine and being carried forward in the leg. It is therefore very important to have the right diagnosis to understand the right cause of leg pain and to treat it. The sciatic nerve which travels within one's leg from the spine, called sciatic nerve, may cause
Symptoms & causes
Causes
An accident that disturbs or causes pinching of the sciatic nerve can also result in leg pain and it usually impacts those between the 30 to 50 age groups. It might occur as a result of the effects of overall wear and tear, and any abrupt pressure on the discs that cushion the vertebrae of the lower (lumbar) spine.
While there are many causes of sciatica, the most frequent are:
lumbar bulging disc

Spine degeneration

Facet joint injuries

piriformis syndrome

spinal stenosis

spondylolisthesis

sacroiliac dysfunction
30 to 50 years old are the most likely to get impacted by sciatica. It might occur as a result of effects of overall backbone wear and tear (spondylosis) or even a traumatic injury that exerts pressure on the spinal disks e.g. lifting, scratching or bending.
Which exactly are the Symptoms of Sciatica?
Sciatica causes pain that spreads throughout the buttock, calf, leg and, sometimes, the foot and starts in the lower back. The pain may vary between sharp pains and burning sensations or aching.
Sciatica can result in numbness in the skin, tingling of nerves or muscle weakness. It is essential to obtain medical care in these types of scenarios as long-term nerve-wracking may permanently damage the nerve and its particular purpose. In such circumstances, the symptoms may become permanent.
A patient may experience at least one or a few of the following symptoms due to Sciatica
Pain in the leg or the back tha

t is worse when sitting

Burning or tingling in the leg

Weakness, numbness or difficulty

Constant pain on one side

A shooting pain which makes it tough to stand up.
TREATMENT
As sciatica is due to the strain on the sciatic nerve, it makes sense that therapy involves removing this strain as any long term untreated pain experienced as a result may also end up damaging the nerve if not treated timely. Physical therapy for sciatica intends to accomplish this by decreasing nerve pressure due to badly moving spinal joints in addition to relieving muscle strain from the lower spine, buttock, and leg.
This is achieved with a combination of the following methods:
Spinal mobilizations

Stretching joints muscles, ligaments, and tendons

Massage therapy and trigger point treatment

Ultrasound and stimulation apparatus usage to reduce irritation and stress of the nerve

Along with this, the patient will be provided a string of stretching exercises to be done at home and requested to apply heat and ice to assist aid healing.
If you are suffering from sciatica now, please do not delay – you can attain the best outcomes when you take physical therapy for sciatica. Simply contact us to start treatment now!
Physical Therapy for Sciatica
Physiotherapy for sciatica comprises of exercises that are a mixture of strengthening, stretching, and aerobic conditioning that are fundamental elements of just about any sciatica treatment program.
When patients take part in a regular schedule of mild exercises, they could recover faster from sciatica pain and, are not as likely to have future episodes of pain.
General Exercises for Sciatica –Sciatica exercises concentrate on three areas: strengthening, stretching, and aerobic conditioning.
Strengthening exercises –

Exercises that will help strengthen the muscles along with the spinal column, ligaments, and tendons. Most of the back exercises concentrate not just on the lower spine, but also on the abdominal (stomach) muscles and gluteus (buttock) and hip muscles). Strong core muscles may offer pain relief since they support the spine, keeping it in alignment and relieving moves that stretch or twist the backbone thereby reducing the prospects of injury or harm.
Stretching exercises –

Stretching is suggested to alleviate pain. Stretches for sciatica are specially designed to target cells causing discomfort when they are rigid and tight. Hamstring stretching is a significant part of a sciatica exercise regime. Most individuals don't stretch those muscles, which stretch from the pelvis to the knee at the back of the thigh, in their everyday pursuits.
Another stretch that is frequently valuable in relieving sciatica is the Bird Dog movement – After getting on their hands and knees, people stretch one arm and the opposite leg. The leg and arm extensions are alternated. A more advanced version of the exercise is your Plank Bird Dog move, where the extensions are finished when the individual is at the plank position in their palms and feet.
Aerobic conditioning exercise –

Some type of coronary artery exercise, like swimming, walking, or swimming treatment is generally a part of recovery, as aerobic action encourages the flow of fluids and nourishment to help make a greater recovery environment. Aerobic conditioning also has the exceptional advantage of releasing endorphins, the body's natural pain killers, which will help decrease sciatic pain.
What Does a Physical Therapist Do for sciatica physiotherapy treatment?
Physiotherapy for sciatica could consist of McKenzie-based mechanical analysis and treatment, muscle energy methods, mobilizations, spinal stabilization, and core strengthening exercises, nerve slides/glides, or grip method. People will respond better as the method of treatment will be customized suitably for everyone. Some individuals with sciatica feel better with exercises of a backward bending posture, whereas others may feel better bending forwards. Sometimes working out at a neutral spine posture is essential.
Occasionally we have patients that respond best to shifting the hips sideways. The ideal sciatica physiotherapy treatment for somebody varies significantly from person to person and is dependent on the numerous reasons' sciatica could be present. Each patient is unique and the reason for the pain is varying and hence everyone's needs should be addressed separately by physiotherapy for sciatica pain.
HOW CAN CARE24 HELP?
Our physiotherapists are trained and have the skill set that is necessary to manage or to cure Sciatica pain, even if it is severe or chronic. Once there is a thorough consultation and patient assessment, they will prescribe physiotherapy for sciatica relief program which will be customized basis patient complaint and condition. With physiotherapy and timely intervention, pain from Sciatica can be managed successfully.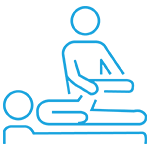 style="text-align:right;color:0f0f59;">
Read more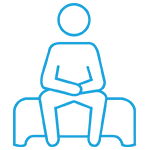 style="text-align:right;color:0f0f59;">
Read more
The management team & the customer care team is quite responsive.... However the main component, ie the caregiver is not trustworthy & definitely not upto the mark

Ritwik Basu


11/03/2019

My father had a hip bone surgery in January. I have been using Care24 services ever since. The attendants that cane were good in the beginning. However their services have become good to bad to worse to worst in the last 15 days. They changed the night attendant without informing me personally just 6 hours before the time. My father had just settled down with the last attendant and now they were sending a replacement tonight. To add to my frustration the guy didn't turn up and did not answer the calls. When I called their call centre - they said they can't help me at this hour. Well- I can't help but call them CARELESS CARE24.

Jasbir Basu


4/06/2019

The worst experience I've had of my life. I normally never really write reviews, but I had to write this because this agency is the worst company I've dealt with till now. Their customer service is terrible, most of their attendants are not competent for taking care of elderly patients. Please do not use their service.

Radhika Kulkarni


6/27/2019

Unqualified office staff, when you call to clarify something. Many times they don't understand the question. They are not trained well. The customer care staff needs an upgraded system, where notes are fed into the system. So you don't need someone else calling up and giving you the same info. The caretaker is not trained well. If they are looking after an elderly person, they should know that they have to be in the best of health to look after my mother. She ended not making a meal for my mother and my neighbour had to provide it. If the caretaker is not well she should have asked for a replacement asap and not waited. It is shocking, we have paid a huge amount of money for this service and I am absolutely unhappy. Please do not call for caretaker's from Care24. As long as they are getting their money. They care a damn!!! Worst service providers.

Bonabelle Zuzarte


7/10/2019

We had a ridiculously pathetic experience with them. Took an attendant service, a 10 day offer (rs 600 instead of their regular fee of rs 800), for my mother who had undergone an knee replacement surgery. In six days, 4 different attendants were assigned for no fault of ours. We had terrible experience going through the back-end team trying to explain the importance of sending only one attendant and not a different one every new day. The last person assigned wanted to leave by 5pm even though the timings were from 8am to 8pm. With this many other terrible instances in these 6 days, we had no option but to cancel the services. The back-end team were utterly useless in understanding the importance of having only one person assigned. They kept insisting that we pay for 800rs per day for 6 day and offer of rs 600 per day would be invalid. The management should look into this scam and take immediate action on the team. Note: Even though we wanted the services, we were forced to abandon it with no fault of ours. The back-end team has absolute disregard for the grievances of the client.

Rahul Dhakka


12/27/2018
I am still taking services from Care 24 since last two years. The caregivers are well trained and takes good care of my mother in law.
Sheila khanchandani
Sumesh Brother is Punctual, Efficient and knowledgeable and understands patients requirements completely.
Jayshree Prabhu
I have been using care 24 services and have been very happy with their services. Priyanka Rajbhar is our caretaker she is very disciplined kind and dedicated towards her work.
Saurabh Bhatt
The Nurse and the Attendant provided by Care24 are good in service, polite and punctual. We are happy with their service. The patient ( our family member) is been given proper care, feed and cleaned regularly.
Deepa Balvalli
Dr. Ralga had Attended to my father. He is suffering from PSP. We were specifically impressed by her techniques n method to handle the issue. We are planning on repeating her visits every month for positive results.
Uma Ram
Frequently Asked questions