Physiotherapy In Ghaziabad
Our physiotherapists are experienced in providing a complete range of physiotherapy services.
Fill up the form to know more about our physiotherapy services in Ghaziabad.
Physiotherapy In Ghaziabad
Our physiotherapists are experienced in providing a complete range of physiotherapy services.
Fill up the form to know more about our physiotherapy services in Ghaziabad.
Highly rated by thousands of patients all over India.
Physiotherapy services in Ghaziabad
Overview
Physiotherapy is the treatment of the physical parts of the body. That is why it is also known as physical therapy. It is a combination of biomechanics or kinesiology, manual therapy, electro-therapy and exercise of outer parts of the body. It helps the patients to treat their physical parts of the body it helps them to restore, maintain and increase the mobility, strength and functions of the physical parts of the body.
Physiotherapy is a vast field with a wide application on the human body. This therapy is given to patients to improve their standard of living; this is done through careful observation and examination, diagnosis, prognosis, physical intervention and to improve the patient knowledge about their physical health. The professionals who perform Physiotherapy are called physical therapists or Physiotherapists in many countries. Apart from clinical practice, other activities involved in physiotherapy are research, education, consultation and administration.
There are many physiotherapists in Ghaziabad but our team of best physiotherapists in Ghaziabad are the most reliable physiotherapist as they first examine the injuries or illness that makes a person unable to move or perform his/her daily function. Our trained physiotherapists better understand the work and function of the body and have proper knowledge when you require physiotherapy.
A person who suffers from any kind of injury in any part of the body can be treated by physiotherapists. There are different mechanisms that are performed by physiotherapists to look at the depth of the patient's illness. First therapists review the history of illness of the individual. Then after careful understanding the history, physical examination of a person is done to arrive at the perfect diagnosis. In this way a perfect treatment plan is established, when it is necessary tests are conducted in the laboratory and also imaging is done such X-rays, CT- Scan, or MRI are done to make the patient's illness clear. Other tests which may involve in this observation process is electrodiagnostic testing which means the test of electromyograms and the conditions of nerve function of the patient.
Physiotherapy mainly consists of physical therapy. Physiotherapists are the professionals, who give assistance and knowledge about some particular exercises, manual therapy. It also involves using mechanical devices such as traction, education and with the use of physical conditions of heat, cold, sound, electricity, radiation, assistive devices, and orthoses. This therapy also prevents the loss of mobility of a person by giving them assistance in developing fitness and other good healthiness programs. They help and provide patients to develop they're physical more active by providing services to maintain and restore maximum movement in their daily life. The movement of individuals or patients who are under the care of physiotherapists includes giving them therapeutic treatment in these conditions where their movement is limited by ageing, injury, illness or environmental factors.
Types of physiotherapy
Types of physiotherapy provided by Care24's physiotherapists in Ghaziabad
There are many types of physiotherapy and some of them which our team of best physiotherapists in Ghaziabad provide are described below
Cardiovascular and pulmonary physiotherapy
The Heart is an important organ of the human body. Its health is important for the overall health of the body. So it is important for a person that his/her heart should remain fit and strong in all situations. This area of physiotherapy that looks after the health of the heart is known as cardiovascular and pulmonary physiotherapy. The number of functions of the heart and pulmonary disorders is examined through this therapy. These areas cystic disorders, pulmonary disorders, heart attacks; heart surgeries post care, chronic obstructive pulmonary disease and pulmonary fibrosis.
Clinical electrophysiology
This area looks after the electrophysiological evaluation, illness from physical agents and management of wounds of individuals.
Geriatric
This area of physiotherapy covers the issues of people who have not normal adult ageing particularly it is focussed on older adults. When people start becoming old they start getting attacked by a number of issues such as arthritis, osteoporosis, cancer, Alzheimer's disease, hip and joint replacement surgeries, balance disorders etc.
Pediatric
This field is most important in the physiotherapy field. It involves the early detection of disorders of the children. When the disorder is early detected the future life of a child can be safe, secure and free from diseases. The physiotherapists who practice this physiotherapy area re specialised to handle the diagnosis, management and treatment of infants, children and adolescents. They check the congenital, developmental. Neuromuscular, skeletal or acquired diseases disorders and growth of infants, children and adolescent people.
Sports physiotherapy
This field is mainly concerned about the health of players. Since the players are most prone to injuries. They are looked after by sports physiotherapists. Most teams in the world of sports have their own sports physiotherapist.
Advantages of physiotherapy
Many advantages are linked with physiotherapy for human beings. Some are described as below.
Reduce pain: Since it involves the physical examination of an individual. So exercises and therapies which are given to patients to help them to reduce their pains which can be any joint pain or muscle pain.
Improve mobility of an individual: if a person is not able to walk, stand, or is not able to move from its location. Physiotherapy is the best tool to reduce this.
Helps in recovering from sports injury: Physiotherapy helps a person to immediately recovering from injury. Since sportspersons are required immediate recovery. So it is most recommended for them.
HOW CAN CARE24 HELP?
Why choose Care24 over other physiotherapists in Ghaziabad?
Care24 is the most reliable physiotherapy clinic in Ghaziabad. We offer a number of benefits for our new customers as well as for old ones. We also offer home service at Ghaziabad. We have experience of years in physiotherapy and thousand of the satisfied client from our centre. Best physiotherapists are available every time. Our service is efficient. Our physiotherapists look all ailments of the patients.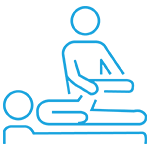 style="text-align:right;color:0f0f59;">
Read more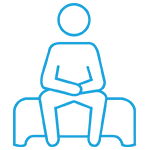 style="text-align:right;color:0f0f59;">
Read more
If there was an option of negative stars then I would have choosen it. They offered me a package of₹ 5950/- for 10 days and after 2 days updated me on new package of ₹5700/- for 7 days without my consent. Even deposited my earlier cheque and then I had to follow up for the balance for about 10 days explaining my issue everyday to the new person on their helpline. They don't acknowledge emails too. Worst experience and definitely not recommended

Mugdha Kulkarni


5/23/2019

We had a ridiculously pathetic experience with them. Took an attendant service, a 10 day offer (rs 600 instead of their regular fee of rs 800), for my mother who had undergone an knee replacement surgery. In six days, 4 different attendants were assigned for no fault of ours. We had terrible experience going through the back-end team trying to explain the importance of sending only one attendant and not a different one every new day. The last person assigned wanted to leave by 5pm even though the timings were from 8am to 8pm. With this many other terrible instances in these 6 days, we had no option but to cancel the services. The back-end team were utterly useless in understanding the importance of having only one person assigned. They kept insisting that we pay for 800rs per day for 6 day and offer of rs 600 per day would be invalid. The management should look into this scam and take immediate action on the team. Note: Even though we wanted the services, we were forced to abandon it with no fault of ours. The back-end team has absolute disregard for the grievances of the client.

Rahul Dhakka


12/27/2018

My father had a hip bone surgery in January. I have been using Care24 services ever since. The attendants that cane were good in the beginning. However their services have become good to bad to worse to worst in the last 15 days. They changed the night attendant without informing me personally just 6 hours before the time. My father had just settled down with the last attendant and now they were sending a replacement tonight. To add to my frustration the guy didn't turn up and did not answer the calls. When I called their call centre - they said they can't help me at this hour. Well- I can't help but call them CARELESS CARE24.

Jasbir Basu


4/06/2019

The worst experience I've had of my life. I normally never really write reviews, but I had to write this because this agency is the worst company I've dealt with till now. Their customer service is terrible, most of their attendants are not competent for taking care of elderly patients. Please do not use their service.

Radhika Kulkarni


6/27/2019

Horrible service! can't rely on them.They ditch on last moment.Attendents are not punctual,reliable,well behaved and even honest.Service provider doesn't turn up and still they start billing customers .Better to stay away.

Sonal Agrawal


11/04/2019
I am still taking services from Care 24 since last two years. The caregivers are well trained and takes good care of my mother in law.
Sheila khanchandani
Sumesh Brother is Punctual, Efficient and knowledgeable and understands patients requirements completely.
Jayshree Prabhu
I have been using care 24 services and have been very happy with their services. Priyanka Rajbhar is our caretaker she is very disciplined kind and dedicated towards her work.
Saurabh Bhatt
The Nurse and the Attendant provided by Care24 are good in service, polite and punctual. We are happy with their service. The patient ( our family member) is been given proper care, feed and cleaned regularly.
Deepa Balvalli
Dr. Ralga had Attended to my father. He is suffering from PSP. We were specifically impressed by her techniques n method to handle the issue. We are planning on repeating her visits every month for positive results.
Uma Ram