Our physiotherapists are experienced in providing a complete range of physiotherapy services.

Fill up the form to know more about our physiotherapy services for Shoulder.
Our physiotherapists are experienced in providing a complete range of physiotherapy services.
Fill up the form to know more about our physiotherapy services for Shoulder.
physiotherapy services for​ Shoulder
Overview
Shoulder pain is a frequent complaint and shoulder physiotherapy might be recommended following surgery/injury for rehabilitation.
The shoulder is a ball and socket joint that is the confluence the humerus (upper arm bone), the scapula (shoulder blade) and the clavicle (collarbone). These three major bones join in the ball and socket type of joint help and move the arm around and within the shoulder joint.
causes
There are several causes of shoulder pain like overhead activities, swimming, throwing a baseball that might lead to pinching of the rotator cuff or bicep's tendons. Sometimes, poor posture can also exert strain and result in shoulder pain. Trauma such as automobile accidents may injure the shoulder and shoulder pain may occur. Sometimes, the cause of shoulder pain may not be an obvious one.
Common shoulder problems include
Rotator Cuff Tendonitis –

A rotator cuff is a group of four muscles that move the shoulder and help support. While the arm is moved their role is to keep the ball of the arm bone. The rotator cuff tendons connect to the arm bone within a place which lies under a prominence of the shoulder blade. The joints can get pinched under this bone and be sore and inflamed.
Biceps Tendonitis –

Biceps

Tendinitis is an inflammatory condition of the biceps tendon, causing pain. The biceps tendon is the tendon associated with the biceps muscle and made of 2 parts – the long head; the short head. The long head of the biceps is more commonly affected by tendinitis as the tendon from the muscle runs up the length of the arm and attaches to the rim of cartilage and the shoulder blade in the shoulder joint. Biceps tendinitis results when forces are applied across the tendon, including tension, compression, or rubbing. With repetitive stress, the tendons become irritated, swollen, and painful.
Shoulder Bursitis –

A bursa is a fluid-filled sac which helps bones glide over one another. A shoulder bursa is located in the shoulder joint between the shoulder blade and bone. This bursa may get pinched from the shoulder. Frozen shoulder, or adhesive capsulitis, is a condition in which the shoulder movement gets restricted and debilitating. If

frozen shoulder physiotherapy

is not taken timely, it results in strength loss and pain.
Shoulder Fracture –

A shoulder fracture may result due to any significant injury or fall. Falling on an outstretched arm is a cause of a shoulder break. The humerus, the scapula, and even the collarbone, or a mix of all three might be hurt as an outcome.
What will help?
If there is any specific trigger eg. Arthritis, treating arthritis and managing its cause may help. Adhering to exercises and shoulder physiotherapy will also help, but one needs to consult an orthopedic surgeon if the pain is not improving after about two weeks.
Medication –

Anti-inflammatories and painkillers such as aspirin and paracetamol may help and one must see the doctor for assessing the condition and prescribing the right medicines and physiotherapy. It is imperative to take the medication in the recommended dose and time and to follow the exercise routines. Anti-inflammatory lotions and medicines are available at the pharmacist to take care of the basic pain and can be tried basis doctor's advice. One should not take aspirin or ibuprofen if pregnant or have an ulcer or asthma without the advice of health care provider or pharmacist as medicines may have side-effects which need to be factored while any medicine is being prescribed.
Frozen Shoulder Physiotherapy –

In case mobility is impacted and shoulder feels frozen then one must consult GP.

Frozen shoulder physiotherapy treatment will

enable an increase in strength and endurance and helps to manage pain. A physiotherapist will assist to understand the problem and can offer many remedies to regain mobility to perform regular activities.
Rest and Exercise –

One must aim for a balance between should action and relaxation. As one starts the exercise, one must start small and gradually pace up. Attempt to avoid painful movements, particularly those that require arm over shoulder height. It is very important to stay active, even if that means keeping an eye out on how much!
Posture –

Do not sit leaning forward with an arm held. This position could make the issue worse, particularly if a few of this pain is radiating from the neck. When sitting, keep a pillow or cushion together along with the arms behind back.
Lowering Strain
Reduce strain when lifting your arms or lifting items above shoulder causing a shoulder movement
Maintaining elbow bent and facing the body
Maintaining hands facing the ceiling
TREATMENT
We utilize manual treatment, joint mobilization, trigger point release, dry needling, etc to recover full glenohumeral selection of movement and spinal mobility required for appropriate shoulder movements. There is a strengthening application utilized to rotator cuff stability and restore local and power muscle endurance at the rotator cuff and scapular stabilizers. Achieving strength and mobility enables to execute operational actions and sport certain drills and aids return to action and game.
Instructions on posture, action modification during sleep, work, as well as morning commute are advised. These tiny adjustments can make a major difference for people experiencing frozen shoulder and other chronic and painful ailments.
We have many patients that are able to return to professional games of varying complexity. Some of our patients include athletes who might suffer from rotator cuff tendinopathy, little league shoulder, AC sprain, or even shoulder pathology. Our therapists use shoulder physiotherapy while minimizing risk for harm and help arrive at a throwing program in conjunction with patients to ensure a return to active sports.
Physiotherapy for Shoulder Pain –

Helps

enhance freedom of individuals and use treatment to reduce pain. This strategy employs a mixture of cervical and thoracic exercises which play a part in the shoulder's role in the movement. Techniques used in soft tissue and shoulder joints are utilized to help patients decrease pain and re-establish movement.
Shoulder Exercises Physical Therapy –

Exercise programs are designed and tailored to the individual's specific diagnosis. These applications are intended to tackle limitations and pain and to aid injury avoidance. When enhancing functioning exercise concentrate on strength management of backbone and scapula this in turn, decreases irritability and pain.
Physiotherapy for Neck and Shoulder pain –

We use many different evidence-based methods to alleviate pain and also remove the dysfunction for action and movement. One of these techniques is dry needling (where permitted by state law). For arousing homeostatic points and trigger factors, dry needling utilizes a filiform needle utilized together with manual and exercise therapy to treat ailments causing dysfunction and pain in neck and shoulder.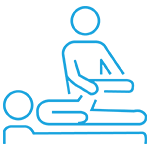 style="text-align:right;color:0f0f59;">
Read more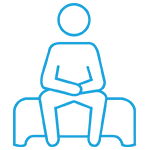 style="text-align:right;color:0f0f59;">
Read more
If there was an option of negative stars then I would have choosen it. They offered me a package of₹ 5950/- for 10 days and after 2 days updated me on new package of ₹5700/- for 7 days without my consent. Even deposited my earlier cheque and then I had to follow up for the balance for about 10 days explaining my issue everyday to the new person on their helpline. They don't acknowledge emails too. Worst experience and definitely not recommended

Mugdha Kulkarni


5/23/2019

I got good experience wt dr Dhrita she is v good in physiotherapy n nice while talking n explains v nice

Sujata Rao


6/19/2019

The worst experience I've had of my life. I normally never really write reviews, but I had to write this because this agency is the worst company I've dealt with till now. Their customer service is terrible, most of their attendants are not competent for taking care of elderly patients. Please do not use their service.

Radhika Kulkarni


6/27/2019

The physiotherapist came to my home was very helpful and knowledgeable. She properly gave me the detailed information about my injury. Also the first assessment is free of cost.

varshflute


10/17/2019

Horrible service! can't rely on them.They ditch on last moment.Attendents are not punctual,reliable,well behaved and even honest.Service provider doesn't turn up and still they start billing customers .Better to stay away.

Sonal Agrawal


11/04/2019
I am still taking services from Care 24 since last two years. The caregivers are well trained and takes good care of my mother in law.
Sheila khanchandani
Sumesh Brother is Punctual, Efficient and knowledgeable and understands patients requirements completely.
Jayshree Prabhu
I have been using care 24 services and have been very happy with their services. Priyanka Rajbhar is our caretaker she is very disciplined kind and dedicated towards her work.
Saurabh Bhatt
The Nurse and the Attendant provided by Care24 are good in service, polite and punctual. We are happy with their service. The patient ( our family member) is been given proper care, feed and cleaned regularly.
Deepa Balvalli
Dr. Ralga had Attended to my father. He is suffering from PSP. We were specifically impressed by her techniques n method to handle the issue. We are planning on repeating her visits every month for positive results.
Uma Ram
Frequently Asked questions