Our physiotherapists are experienced in providing a complete range of physiotherapy services.
Fill up the form to know more about our physiotherapy services for Stroke.
Our physiotherapists are experienced in providing a complete range of physiotherapy services.
Fill up the form to know more about our physiotherapy services for Stroke.
physiotherapy services for Stroke
Overview
What is Stroke Physiotherapy?
For those who have a Stroke, Physical Therapy has a significant function in rehabilitation. As part of the team, physiotherapists function together with the handling doctor and other rehab specialists to offer stroke patients using a thorough rehab program. The stroke therapy rehab program entails a process of goal-setting evaluation, evaluation, and treatment; its policy spans from the phase to the community phase, through the rehabilitation phase.
The rehab program relies on two elements. The first includes measure targeted at minimizing complications which will block or prolong return and preserving integrity. These steps keep if required and should start as soon as the stroke is discovered. The next element is treatment geared toward promoting recovery. This stage should start after the patient is clinically and neurologically stable and gets the physical and cognitive ability to engage in a rehab program. In short, boost functions, the goals of therapy interventions would be to encourage motor healing, improve independence, and avoid complications.
Symptoms & causes
A few tell-tale signs of stroke are the weakness of their face, arm, and a leg on one side of their body with diminished sensation, changes in vision, diminished cognitive functioning along with decreased coordination, double vision, nausea, deafness and sudden and severe headache, loss of consciousness, nausea, vomiting.
Causes
High blood pressure

high cholesterol

smoking

physical inactiveness

arrhythmia
TREATMENT
Approximately half of the stroke survivors are left with a handicap. The mind is, however, very elastic and, with physiotherapy, retrieval can happen over a span of years. Patients frequently have a quick period of retrieval in the first couple of months following a stroke accompanied by slower healing within the subsequent years. Physiotherapy for stroke patients ought to be started as soon as you leave the hospital, to get the most healing.
When you are stable, you'll be discharged from the hospital. Being discharged from the hospital doesn't imply you won't improve. Your rehab should continue whenever you leave the hospital. Together with the right physiotherapy input and information which you still have a lot of possibilities to improve over the next several years.
The families and many strokes sufferers have been advised they have no rehabilitation potential or have reached their potential. This may be misleading, since conclusions will be made soon after a person has experienced a stroke, based on internal resources. These limitations don't permit long-term therapy, so, many individuals don't get physiotherapy for stroke is just provided for a short period.
With the right degree of the physiotherapy input signal, long term improvements may nevertheless be made. Care24 commonly see people who were discharged with a comment of no improvement possible and post-therapy these have all recovered very effectively.
For Instance
Bedbound patients regaining sitting equilibrium.

Patients requiring hoist transfers independent

Patients were advised that they won't ever walk on release, walking using a mobility help

During your first evaluation, you may talk about your short and long-term rehabilitation targets. These targets will help plan your rehab.
Physiotherapy is going to support you in regaining as much motion and operate as you can. Treatment frequently focuses on sitting balance, standing balance, walking, together with your affected arm hand and handling any changes in muscle tone, stiffness or pain.
Stroke physiotherapy might help
Improve walking and balance

Increase capability to roll / movement in bed / sit / stand

Reduce muscular spasms, stiffness, and pain

Raise strength

Retrain normal patterns of motion

Increase influenced leg and arm function

Raise energy levels

Increase independence and quality of life

Decrease the risk of falls

Can people experience problems which were straightforward? This will make life a battle for you and those near you. Care24 will counsel you on using walking house gear and aids, splints, supports to make your life simpler.
During therapy sessions, our specialized physiotherapists can direct you through a graduated programme of practical exercises to boost your freedom and muscle control. The physiotherapists in Care24 will normally instruct you (and your family members/carers if appropriate) exercises to have lasted between appointments.
Benefits of Physical Therapy for Stroke
The moment oxygen is restored following stroke into your mind, mind and your body start a process of recovering from loss and brain damage of muscular function. Post-stroke rehab is a massive portion of the recovery procedure, and it often starts as early as 24 hours following the stroke. Stroke physical therapists can excite affected nerves and muscles to keep the flow and protect against stiffness, then direct patients through the phases of stroke retrieval as they induce fundamental muscle moves.
Many therapists specialize in stroke and other kinds of injury these days. These therapists understand how to help patients prevent complications which can hamper their progress and relearn physiological movements. Following a stroke, improving coordination, your balance, and essential skills is important to your overall wellbeing.
Best Remedies for Physiotherapy for stroke patients at Home
Does Your Daily Stroke Rehab Exercises
Unlike conventional exercise, which concentrates on strengthening your muscles, stroke retrieval exercise reinforces your mind.

That is because rewire your mind to control your motion and rehab exercise concentrates to trigger.

Repetition of healing exercise moves is the only best method to keep enhancing movement following stroke.
Attempt Constraint-Induced Movement Treatment for Arm or Leg Paralysis –

Constraint-induced movement treatment (CIMT) involves limiting movement of your great' arm whilst forcing utilization of your affected arm. Launched in CIMT is straightforward. You need to follow 3 steps:
Constraining the unaffected limb

Using their affected limb, along with 'massed practice', that is only a fancy way of saying 'plenty of reps'

Even if you have very limited movement on your affected arm, then it is well worth giving an attempt as it is very successful.
Attempt Mirror Remedy for Hand Retrieval
Mirror treatment is a fantastic kind of motor treatment that involves having a barbell mirror to pay your arm together with the manifestation of your great arm at the same time you perform tabletop rehabilitation exercises.
The mirror image' tips' your mind into believing your affected arm is shifting just like your arm.

Your mind thinks that you are moving both hands although you understand that you are just transferring a single hand on. This helps boost and neuroplasticity your motor abilities.

Mirror treatment is great for stroke survivors with the fine motor handicap that is acute.
Utilize Mental Practice to Boost Outcomes –

Emotional practice is just what it sounds like: emotionally practising something.
So, anything you wish to get attempt rehearsing it. For instance, if you would like to boost movement on your thighs begin rehearsing your leg exercises.

Studies have revealed that imagining yourself moving helps trigger neuroplasticity exactly the exact same manner that really moving does!

And if you combine physical and psychological exercise together you will see results that are greater.

So you choose, commit to spending a little time daily to picture yourself going.
When Do You Need Physical Therapy?
Before you leave the clinic, you ought to be aware of that rehabilitation program or physical therapist that you wish to help you. Your physicians will know what is best for your own body following the stroke, so be sure that you consult with your healthcare team and review of your discharge plans. Your neurologist will consult with rehab facility or your physical therapy program according to complication dangers and your immediate needs.
Some rehab applications are more rigorous than others, which means that your treatment setting that is perfect will depend on lifestyle conditions and your symptoms. Motor and sensory impairments are extremely common after stroke; however, your restoration chances increase if you get the right stimulation and support to your stroke-impaired limbs. Your health care provider can help you pick a therapist and program that will work to accommodate your amount of handicap, general bodily health, age, and other elements that influence your body's capacity to heal.
How can physiotherapy help stroke sufferers?
Treatment can help you recuperate in addition to potential in the stroke. As you're in the hospital and later physiotherapists play an integral role. The medical team will supply you that will assist you to become independent as you can as portable. Included in your rehab, treatment tailored for your needs will be provided by your physio.
Based upon the intensity of the stroke, you can be helped by physiotherapy with getting strength back and your muscle control.
If that's an issue for you, A physio can function that will assist you with bladder control. They'll encourage you and people around you to get you back and you can. Physiotherapy was demonstrated to operate through research and studies and is.
When I visit a physiotherapist, what is going to happen?
A thorough check will be included by your first session using a physio. By doing this, the physio will produce a rehab programme for you that meets your requirements. With assistance from the physio, you'll be invited where possible to set your personal objectives. They could use a selection of remedies to help your healing.
So your physio may have a look at the way you proceed, they might require some clothing to be removed by you. Physios would be the largest health profession after nurses and physicians.
HOW CAN CARE24 HELP?
Based on the type of need, it requires quite a few weeks or even months for you to recover. You are helped by our rehabilitation specialist with exercises which stimulates tissues and the cells that have been injured for aiding recovery and, she/ he will help with assistive devices, measures for you to regain any lost movement/ability.
While the physiotherapists help with stretching exercises and offer recovery programs in accordance with the kind of injury, in order to facilitate recovery and also guide you in educating you to take care of yourself, the rehabilitation specialist will bridge that additional gap to prevent further injury and to regain control and confidence on movements.
Therefore, if you are looking for an excellent Rehab specialist, an excellent physiotherapist, or a good nurse, simply reach out to Care24's world-class physiotherapy treatment for stroke in your home's comfort.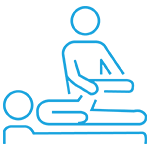 style="text-align:right;color:0f0f59;">
Read more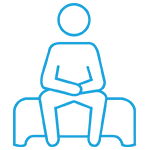 style="text-align:right;color:0f0f59;">
Read more
Nurses and attendants provided by Caree24 are very good. In behavior and trust worthy. Thanks for their support

Anil Kathuria


6/28/2019

Horrible, unprofessional service! Advance paid.The caregiver did not show up. When complained to customer care, they said they will find a replacement and call back. No call back, no replacement. They shut for the day and the customer is felt in a lurch. Extremely disappointing. Will never avail this service again and will spread the word too.

Shraddha Shah


11/02/2019

We contacted care 24 for my Dad's physiotherapy. Our physiotherapist Dr Dharita is very knowledgeable and extremely patient. My Dad is showing a lot for improvement in terms of his movement.

D W


3/21/2019

If there was an option of negative stars then I would have choosen it. They offered me a package of₹ 5950/- for 10 days and after 2 days updated me on new package of ₹5700/- for 7 days without my consent. Even deposited my earlier cheque and then I had to follow up for the balance for about 10 days explaining my issue everyday to the new person on their helpline. They don't acknowledge emails too. Worst experience and definitely not recommended

Mugdha Kulkarni


5/23/2019

Worst!!! I am paying for professional services and the attendant is not professional. The level of disappointment is i have to terminate services on Day 1 itself. And still I am being told to pay for 1 day. Please assess the attendant before going for services from care24

Praful Jadhav


5/07/2019
I am still taking services from Care 24 since last two years. The caregivers are well trained and takes good care of my mother in law.
Sheila khanchandani
Sumesh Brother is Punctual, Efficient and knowledgeable and understands patients requirements completely.
Jayshree Prabhu
I have been using care 24 services and have been very happy with their services. Priyanka Rajbhar is our caretaker she is very disciplined kind and dedicated towards her work.
Saurabh Bhatt
The Nurse and the Attendant provided by Care24 are good in service, polite and punctual. We are happy with their service. The patient ( our family member) is been given proper care, feed and cleaned regularly.
Deepa Balvalli
Dr. Ralga had Attended to my father. He is suffering from PSP. We were specifically impressed by her techniques n method to handle the issue. We are planning on repeating her visits every month for positive results.
Uma Ram
Frequently Asked questions