Our physiotherapists are experienced in providing a complete range of physiotherapy services.
Fill up the form to know more about our physiotherapy services in Matunga.
Our physiotherapists are experienced in providing a complete range of physiotherapy services.
Fill up the form to know more about our physiotherapy services in Matunga.
Highly rated by thousands of patients all over India.
pHYSIOTHERAPY services in Matunga
What is Physiotherapy?
Physiotherapy is concerned about helping to restore well being to men and women following injury, pain or impairment. Physiotherapy is described by the World Confederation for Physical Therapy (WCPT) as "providing assistance to consumers and populations to progress, preserve as well as reestablish maximum motion and practical capability for the duration of the lifespan". "This involves providing assistance in circumstances where motion and function are risked by getting older, personal injury, discomfort, diseases, disorders, conditions or environmental factors. Operational motion is core to what it means to be balanced."


Physiotherapy is a degree-based medicinal occupation. Physios use their experience and talents to improve a variety of conditions connected with different systems of the physique, for example

1. Neurological (stroke, multiple sclerosis, Parkinson's)
2. Neuromusculoskeletal (back pain, whiplash-related disorder, sporting injuries, arthritis)
3. Cardiovascular (chronic heart problems, treatment after the cardiac attack)
4. Respiratory (asthma, chronic obstructive pulmonary disease, cystic fibrosis).
Physiotherapists work in many different specialisms in health and social care. Additionally, a number of physiotherapists are part of coaching, research as well as service management.


Treatment for Physiotherapy
Electrical Stimulation
Making use of electrical stimulation to help rebuild muscle function, decrease muscle spasms and pain particularly after injuries, stroke, or perhaps other occurrences that results in diminished muscular function.

Ultrasound Therapy
Ultrasound is a remedy through which the ultrasound treatment is utilized for treating chronic discomfort and a variety of issues for instance arthritis, fibromyalgia and acute injuries.

Laser Therapy Treatments
Laser Therapy treatment is a non-invasive remedy which makes use of intensive beams of illumination of distinct wavelengths to help lessen soreness linked with your injury.

Phonophoresis
Phonophoresis is a remedy that includes the use of ultrasound guaranteeing that topical drugs can be ingested successfully and at a quicker speed. Phonophoresis can help generate extreme results in comparison to medicines rubbed manually.

Manual Therapy
Utilizing manual approaches like manipulation and mobilization to lessen soreness, improve mobility, cut down or wipe out inflammation as well as bring about the ease of movement.

McKenzie Method
A complete procedure for evaluation, diagnosis, and therapy designed by Robin McKenzie to assist diagnose and take care of problems of the musculoskeletal system.

Exercise Prescription
Exercise performs a vital role in developing the functionality and the execution of the system area under rehabilitation. Obtain a personalized plan of action to assist in recovery, fitness, as well as health targets.

Pilates
Led by an experienced physiotherapist, pilates facilitates a deal with musculoskeletal injuries, neurological problems, stability disorders, and more.

Pool Therapy
Customized treatment option employs the assistance and resilience of water for reliable rehab. Raise movability and occasion and return to activities a lot quicker with aquatic based therapy

Therapeutic Taping
Latex free cotton therapeutic tape (commonly known as k-tape) is employed to greatly reduce pain, improve sporty functionality as well as protect against damage.

Manual Lymphatic Drainage
A distinctive massage procedure that jump-starts the pumping activity of the lymphatic vessels to lessen swelling and really encourage drainage.

Traction
Used to handle neck and back pain. Traction uses soothing pulling to help reduce air pressure on the spine's discs and also improve the space where nerves exit the spinal cord.

Mulligan Concept
Discovered by Brian Mulligan, the Mulligan concept is the group of mobilization and exercise manual counselling strategies utilized to lessen discomfort and reinstate performance to unpleasant injured joints.

Peripheral Joint Manipulation
Utilizing mild supportive motions to activate the joint and reduce pain, firmness, and muscle spasms.

Dix-Hallpike Test & Epley Maneuver
Diagnose and treat benign paroxysmal positional vertigo (BPPV), the most common type of vertigo. Paired, the Dix-Hallpike test and Epley Manoeuvre have a 90-95% success rate.

Personal Training
Address conditions of health, health and fitness with the assistance of a licensed physiotherapist. Get a custom made a treatment plan to assist with rehabilitation, physical fitness, together with health targets.

Exercises for Physiotherapy
Physiotherapy exercises have already been proven to be an effective solution to help take care of and avoid injuries and pain associated with mixed diseases.

Physiotherapists are educated medical specialists who utilise most of these exercises to boost muscles and enhance functionality. They evaluate an individual's problems after which they would recommend the best set of physiotherapy exercises for rapid relief. These exercise sessions cover anything from single to high-level postures all of which help restore the physical structure and bring back complete bodily function.

Just like when it comes to medication, you only benefit if you have the drugs as suggested by a health care professional; in the same way you can anticipate any benefit from physiotherapy when you meticulously follow up with the recommended exercises.

Physiotherapy is also helpful to restore a well-balanced emotional mental condition which is major for holistic therapy.

Benefits of Physiotherapy
While physiotherapy is typically helpful to treat athletes and people who have put up with problems from any sort of accident, it could really give comfort to a couple of the most typical painful sensations as well as accidental injuries. Physical therapy has proven to be an effective method of treatment for muscle pain, joint injuries, arthritis, mobility issues possibly even respiratory challenges, similar to cystic fibrosis.

1. Excellent Pain Relief
Many sportsmen and fitness enthusiasts develop trouble in properly worn joints and even muscular areas as they age, and these kinds of concern areas may cause repeated accidental injuries and problems. In spite of this, many people who don't become involved in athletics or even tiring exercise can just as conveniently develop such painful sensations. As an example, back pain is one of the most typical injuries that people are affected by sooner or later in their lifespan, and it affects approximately eighty per cent of the population. Physiotherapists will certainly suggest stretches as well as workouts that target trouble areas and also provide pain relief, as well as allow massaging techniques that will help relieve discomfort as well as minimise the threat of more injury.

2. More beneficial Elasticity And Range of motion
The human body is an amazing unit, in addition to being a haven for a huge number of networks that attach muscular areas, tissues and tendons. Nevertheless, similar to a machine with a lot of moving components, it actually can get rusty and even broken down. Over time, actions and even joints may suffer a loss of their adaptability together with plain movements, like crouching at the knees or perhaps stooping over to pick something up, can be strenuous and difficult. Individuals who are living a sedentary lifestyle or perhaps who use the vast majority of their valuable time behind a table or steering wheel are going to develop movability and versatility issues, but it could in the same way conveniently happen to healthy people who have recurring exercises. Periods of physiotherapy can certainly help make improvements to overall flexibility and find problematic joints together with sore spots. For most people, a routine of stretches and physical exercise which has been made by a physiotherapist might help harmonize with their lifestyle and develop any kind of troubles with gait, posture and routine. Manual therapy, like massage, can significantly assist as it cuts down on pains and also encourages blood circulation to injured or perhaps atrophied joints and muscles. Physiotherapists can also devise a practice of physical training for patients to help build up their prevailing levels of wellness.

3. Injury Recuperation
Lots of people who are recovering from accidental injuries and surgery are offered physiotherapy in order to control hurt as well as encourage increase the speed of their rehabilitation. Although the system is capable of treatment by itself at its own pace, physiotherapists can easily target areas of the entire body that normally take longer to fix which enables you to have durable damage. Bones may heal, but muscular areas destroyed by scar tissue can render individuals with discomfort along with a lowered range of movement. Physiotherapy enables you to provide pain relief to problems as well as aches, as well as continue building energy in wounded patients.




Shoulder Impingements are an intricate pair of circumstances which call for administration primarily based not on a couple of standardised activities, but an individual personalized control approach. Using an all-inclusive technique using power job, manual therapy, taping, theraBand exercise as well as soft tissue discharge, physiotherapists are well located to aid in the recuperation from this problem.

We can,

Guide you on the most appropriate activities for your problem and grant additional beneficial solutions such as manual therapy, soft tissue releases and also Strengthening workouts

Assist you to understand why you have got shoulder discomfort, exactly what factors include possibly brought about your suffering as well as how to modify your activity to improve your pain and recovery.
The first stages of rehabilitation/treatment will look at pain elimination as well as some initial improvements to construct a stable joint strength and base for the shoulder to flow more conveniently. This enables a graded return back in more normal routines.
The later stages of rehabilitation and remedy will look to incorporate more complex and extensive toning, power, and plyometric function, as well as crucial continuous management of the rotator cuff and shoulder blade stabilising muscular areas which form the fundamentals of shoulder motion.

How can care24 help?
If you are seeking out a physiotherapist at home in Matunga, Care24 has to be your first choice. Care24 has set a very high standard for customized at-home medical care. Care24 offers home physiotherapy in Matunga, and our physiotherapists are in many cases regarded as some of the best physiotherapists in Matunga. Our physiotherapists are well-trained, qualified and fully understand the patient's requirements.

The home is the most suitable place for physical therapy, wherein comfortable surroundings directly boost your likelihood of rehab. It is not required to visit a physiotherapy clinic in Matunga when Care24 offers top quality home physiotherapy services. You can get yourself treated by some of the top physiotherapists in Matunga from the ease and comfort of your home.

Our qualified physiotherapists will provide you with the finest treatment in the ease and comfort of your home to recover faster. And whether or not you are searching for a sports physiotherapist in Matunga or a neuro physiotherapist, Care24's at-home physiotherapy services are simply a call away. Reach out to us and our professionals will get in touch with you soon. At-home physiotherapy in Matunga was never so easy. Care24 offers some of the best home physiotherapy services in Matunga.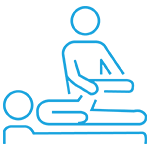 style="text-align:right;color:0f0f59;">
Read more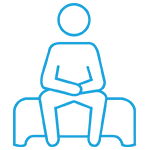 style="text-align:right;color:0f0f59;">
Read more
Horrible, unprofessional service! Advance paid.The caregiver did not show up. When complained to customer care, they said they will find a replacement and call back. No call back, no replacement. They shut for the day and the customer is felt in a lurch. Extremely disappointing. Will never avail this service again and will spread the word too.

Shraddha Shah


11/02/2019

The physiotherapist came to my home was very helpful and knowledgeable. She properly gave me the detailed information about my injury. Also the first assessment is free of cost.

varshflute


10/17/2019

We contacted care 24 for my Dad's physiotherapy. Our physiotherapist Dr Dharita is very knowledgeable and extremely patient. My Dad is showing a lot for improvement in terms of his movement.

D W


3/21/2019

If there was an option of negative stars then I would have choosen it. They offered me a package of₹ 5950/- for 10 days and after 2 days updated me on new package of ₹5700/- for 7 days without my consent. Even deposited my earlier cheque and then I had to follow up for the balance for about 10 days explaining my issue everyday to the new person on their helpline. They don't acknowledge emails too. Worst experience and definitely not recommended

Mugdha Kulkarni


5/23/2019

Worst!!! I am paying for professional services and the attendant is not professional. The level of disappointment is i have to terminate services on Day 1 itself. And still I am being told to pay for 1 day. Please assess the attendant before going for services from care24

Praful Jadhav


5/07/2019
I am still taking services from Care 24 since last two years. The caregivers are well trained and takes good care of my mother in law.
Sheila khanchandani
Sumesh Brother is Punctual, Efficient and knowledgeable and understands patients requirements completely.
Jayshree Prabhu
I have been using care 24 services and have been very happy with their services. Priyanka Rajbhar is our caretaker she is very disciplined kind and dedicated towards her work.
Saurabh Bhatt
The Nurse and the Attendant provided by Care24 are good in service, polite and punctual. We are happy with their service. The patient ( our family member) is been given proper care, feed and cleaned regularly.
Deepa Balvalli
Dr. Ralga had Attended to my father. He is suffering from PSP. We were specifically impressed by her techniques n method to handle the issue. We are planning on repeating her visits every month for positive results.
Uma Ram
Unqualified office staff, when you call to clarify something. Many times they don't understand the question. They are not trained well. The customer care staff needs an upgraded system, where notes are fed into the system. So you don't need someone else calling up and giving you the same info. The caretaker is not trained well. If they are looking after an elderly person, they should know that they have to be in the best of health to look after my mother. She ended not making a meal for my mother and my neighbour had to provide it. If the caretaker is not well she should have asked for a replacement asap and not waited. It is shocking, we have paid a huge amount of money for this service and I am absolutely unhappy. Please do not call for caretaker's from Care24. As long as they are getting their money. They care a damn!!! Worst service providers.

Bonabelle Zuzarte


7/10/2019

Worst!!! I am paying for professional services and the attendant is not professional. The level of disappointment is i have to terminate services on Day 1 itself. And still I am being told to pay for 1 day. Please assess the attendant before going for services from care24

Praful Jadhav


5/07/2019

Horrible, unprofessional service! Advance paid.The caregiver did not show up. When complained to customer care, they said they will find a replacement and call back. No call back, no replacement. They shut for the day and the customer is felt in a lurch. Extremely disappointing. Will never avail this service again and will spread the word too.

Shraddha Shah


11/02/2019

The worst experience I've had of my life. I normally never really write reviews, but I had to write this because this agency is the worst company I've dealt with till now. Their customer service is terrible, most of their attendants are not competent for taking care of elderly patients. Please do not use their service.

Radhika Kulkarni


6/27/2019

Horrible service! can't rely on them.They ditch on last moment.Attendents are not punctual,reliable,well behaved and even honest.Service provider doesn't turn up and still they start billing customers .Better to stay away.

Sonal Agrawal


11/04/2019
After a long search, finally, we found one of the best physiotherapist in Matunga. Care24 services made us feel comfortable with their excellent work and cooperation.
Radha Tiwari
I like to give high ratings to Care24 for the best physiotherapist in Matunga. They were awesome, and we will never get such a team. They made my mom get back on her feet as she was not even able to stand. Thanks a lot.
Sathe Ganesh
My recovery has been remarkable, and the hired physiotherapist in Matunga from Care24 was best. The team was great at explaining as well as understanding the problem.
Kumari Singh
Complete ratings for care 24! they may have a handful of physiotherapists in Matunga, but the quality of their service is extraordinary. my aunt visited this center for back and joint pain recently, and with their expert guidance and regular exercises, she is now able to live a pain-free life. Must visit this center if you are dealing with any kind of physical injury or physical pain.
Deepika Sahani
Thanks to care 24 for their practical and genuine treatment, we have lost the hopes for our grandpa who was in a wheelchair for a couple of years, but the physiotherapist in Matunga proved us wrong with their expert guidance and gentle care. Thanks for bringing the smile and confidence on the face of my grandpa.
Manish Basu
Care 24 is the number one choice when it comes to select a Physiotherapist in Mumbai, My joints were paining for a very long time, the medicines has also stopped showing their effect, my brother advised me to go to care 24 for a normal check, and to mu surprise they not only highlighted my joint pain issues but also helped my pain fade away with some good and painless exercises. Thanks to them, I can walk and run with my grandchildren without any fear of pain.
Mohanlal Dubey
After a hamstring injury, I came here based on a friend's enthusiastic recommendation, and I've loved my experience. The staff is dedicated, knowledgable, friendly, and eager to give clients the best possible care. I highly recommend Care24!
Hethal jain
My PT was super nice and super helpful. Going to Care24 helped a lot. Office staff is nice too and never had a long wait time. Highly recommend.
Vishali Patil