Physiotherapy In Kandivali
Our physiotherapists are experienced in providing a complete range of physiotherapy services.
Fill up the form to know more about our physiotherapy services in Kandivali.
Physiotherapy In Kandivali
Our physiotherapists are experienced in providing a complete range of physiotherapy services.
Fill up the form to know more about our physiotherapy services in Kandivali.
Highly rated by thousands of patients all over India.
Physiotherapy services In Kandivali
What is Physiotherapy?
Physiotherapy is concerned with serving to restore well being to people following damages, soreness or perhaps impairment. Physiotherapy is defined by the World Confederation for Physical Therapy (WCPT) as "providing solutions to people and populations to improve, sustain and restore maximum mobility as well as operational ability all through the lifespan". "This consists of delivering services in conditions in which mobility and function are threatened by growing older, injury, pain, illnesses, disorders, circumstances or perhaps environmental elements. Operational mobility is fundamental to what it really means to be balanced."

Physiotherapy can help in the following ways

1. To aid persons to accomplish their complete capability following harm, soreness or impairment.

2. To supply a wellness service which is accessible, practical and philanthropic.

3. To continue to set about scientific research and working out to develop our services.

4. To supply a system which is based on good standards of care and follow

treatment for Physiotherapy
As with any kind of health-care practice, a range of treatments can be utilised to deal with an array of situations.


Orthopaedic physical therapy treats musculoskeletal injuries, connected with the muscle groups, bones, ligaments, fascias, and also tendons. It is intended for medical conditions such as fractures, sprains, tendonitis, bursitis, persistent health problems, and rehabilitation or recovery from orthopaedic surgery. Individuals might experience treatment with joint mobilizations, manual therapy, strength training, mobility training, and other modalities.




Geriatric physical healing can help aged patients who develop illnesses that affect their ability to move as well as physical performance, for instance, arthritis, osteoporosis, Alzheimer's disease, hip and joint replacement, balance disorders, and incontinence. This type of course of action strives to reestablish the ability to move, lessen suffering as well as raise physical fitness levels.





Neurological physical therapy may help individuals with neurological disorders as well as illnesses, for example, Alzheimer's disease, brain damage, cerebral palsy, multiple sclerosis, Parkinson's disease, spinal cord injury, and stroke. Treatment might aim to increase limb responsiveness, handle paralysis, and even reverse boost muscles strength by lessening muscle atrophy.





Cardiovascular and pulmonary treatment can benefit individuals affected by a number of cardiopulmonary disorders and medical procedures. Treatment can increase physical resilience and stamina.





Pediatric physical therapy aims to analyze, treat, and manage situations that impact babies, kids, as well as adolescents, such as developmental gaps, cerebral palsy, spina bifida, torticollis along with other problems that affect the musculoskeletal system.





Wound care therapy can help to confirm that a healing injury is acquiring sufficient oxygen and blood through much better blood flow. Physical therapy can sometimes include the consumption of manual therapies, electric stimulation, compression therapy and wound treatment.





Vestibular treatment intends to take care of balance problems that may be caused by inner ear conditions. Vestibular physical therapy includes numerous activities and manual methods that will help patients regain their regular stability and coordination.





Decongestive therapy will help deplete accumulated substance in individuals with lymphedema along with additional ailments that involve fluid amassing.





Pelvic floor rehabilitation should help cure urinary or even faecal incontinence, urinary longing and pelvic pain in males and females on account of incidents or even surgical treatment, or as a consequence of specific circumstances.
Except for physical manipulation, physical therapy remedy will probably entail:


Ultrasound, to promote blood circulation and treating by warming the tendons, muscular areas, and also tissues




Phonophoresis, which utilizes ultrasound to offer specific prescription drugs, for instance, topical steroids. This may minimize the visibility of swelling




Electrical stimulation, or perhaps E-stim, which uses topical electrodes on the skin to minimize discomfort and also increase operational capabilities. One sort of E-stim is transcutaneous electrical nerve stimulation (TENS). Once in a while, anti-inflammatory medicines are employed with certain E-stim modalities and are known as iontophoresis




Heat, damp heat and cold therapy




Light therapy, wherein special lights together with lasers are used to cure definite medical ailments




The physical therapist will recommend the most pertinent treatment method.





Exercises for Physiotherapy
Physiotherapy exercises have been confirmed to be an advantageous way to assist take care of and avoid accidents as well as discomfort related to varied disorders.

Physiotherapists have educated health professionals who utilise these activities to strengthen muscle tissue and boost functionality. They assess an individual's concerns after which they would recommend the most beneficial set of physiotherapy routines for immediate relief. These exercise sessions range from single to high-level postures which help repair the physique and restore full bodily function.

Just like in the case of medication, you only benefit if you have the medicines as suggested by a doctor; in the same way, you can expect any kind of benefit from physiotherapy if you consistently follow up with the recommended activities.

Physiotherapy also helps to recover a balanced psychological frame of mind and that is critical for holistic rehabilitation.
Benefits of Physiotherapy
Several physiotherapists consult in private practice and we deal with lots of different illnesses. Orthopaedic cases (this includes sports activities injuries, fractures, spinal pain and to identify a few) are the most common types of individuals we deal with in a clinical setting. Physiotherapy therapy may involve therapeutic exercising to boost power, flexibility and endurance in order to correct posturally as well as muscle misalignment, joint mobilisation, manipulation and tender tissue massage, along with extending as well as trigger point therapy to reduce tightness as well as to reduce discomfort.

Individuals with neurological disorders for example stroke, multiple sclerosis, Parkinson's disease, cerebral palsy as well as spinal cord injury may benefit greatly with physiotherapy treatment. Interventions focus on muscle re-education and control, rehabilitation of fine and gross motor skills, strengthening daily performance, regaining strength and flexibility, learning how to carry out harmless transfers, restoring and strengthening gait and training in the use of mobility aids.

For kids struggling with cerebral palsy, physiotherapy is crucial in aiding to reduce spasticity and deformity, improving postural control, teaching kids how to use assistive systems and carrying out all that is necessary to maximise the child's functional autonomy. We will also educate the family so they can aid carryover exactly what the child has learned for the duration of therapy techniques.

Cardiopulmonary situations react well to physiotherapy interference. Patients who may have difficulty carrying out their activities of regular living, or who have breathing difficulties and reduced endurance, can attain markedly upgraded quality of life via supervised exercise and strength training. Interference additionally consists of manual remedy and training to help unobstructed secretions in the lungs, counselling about peril factors, patient schooling to avert future recurrence as well as behaviour customization. For all those individuals that have needed cardiopulmonary surgical treatment, physiotherapy is begun in advance to reduce the affected person from reducing energy and function.

It's normal to feel a bit of nervousness while first going to physical therapy. What precisely will happen? Will therapy feel painful? These kinds of experiences commonly rapidly go away as soon as you get together your physical therapist and get dealing with your rehabilitation objectives. By learning what your physical therapist can get done to make it easier, you can have reasonable anticipation about your rehab along with optimistic result with your physical therapy experience.


HOW CAN CARE24 HELP?
If you are searching for a physiotherapist at home in Kandivali, Care24 should be your very first preference. Care24 has set a high standard for customized home medical care. Care24 provides home physiotherapy in Kandivali, and our physiotherapists are often considered some of the best physiotherapists in Kandivali. Our physiotherapists are well-trained, qualified and understand the patient's requirements.

The home is the most effective place for physical therapy, where comfortable surroundings directly raise your chances of rehab. It is not required to go and visit a physiotherapy clinic in Kandivali when Care24 provides high-quality home physiotherapy services. You can get yourself treated by some of the top physiotherapists in Kandivali from the ease and comfort of your home.

Our certified physiotherapists will offer you the finest treatment in the convenience of your home to recover faster. And whether you are looking for a sports physiotherapist in Kandivali or a neuro physiotherapist, Care24's at-home physiotherapy services are simply a call away. Contact us and our specialists will get in contact with you shortly. At-home physiotherapy in Kandivali was never so easy. Care24 offers the best home physiotherapy services in Kandivali.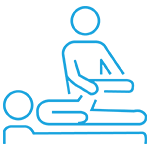 style="text-align:right;color:0f0f59;">
Read more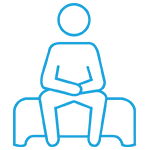 style="text-align:right;color:0f0f59;">
Read more
My father had a hip bone surgery in January. I have been using Care24 services ever since. The attendants that cane were good in the beginning. However their services have become good to bad to worse to worst in the last 15 days. They changed the night attendant without informing me personally just 6 hours before the time. My father had just settled down with the last attendant and now they were sending a replacement tonight. To add to my frustration the guy didn't turn up and did not answer the calls. When I called their call centre - they said they can't help me at this hour. Well- I can't help but call them CARELESS CARE24.

Jasbir Basu


4/06/2019

Horrible service! can't rely on them.They ditch on last moment.Attendents are not punctual,reliable,well behaved and even honest.Service provider doesn't turn up and still they start billing customers .Better to stay away.

Sonal Agrawal


11/04/2019

Horrible, unprofessional service! Advance paid.The caregiver did not show up. When complained to customer care, they said they will find a replacement and call back. No call back, no replacement. They shut for the day and the customer is felt in a lurch. Extremely disappointing. Will never avail this service again and will spread the word too.

Shraddha Shah


11/02/2019

The management team & the customer care team is quite responsive.... However the main component, ie the caregiver is not trustworthy & definitely not upto the mark

Ritwik Basu


11/03/2019

The physiotherapist came to my home was very helpful and knowledgeable. She properly gave me the detailed information about my injury. Also the first assessment is free of cost.

varshflute


10/17/2019
I am still taking services from Care 24 since last two years. The caregivers are well trained and takes good care of my mother in law.
Sheila khanchandani
Sumesh Brother is Punctual, Efficient and knowledgeable and understands patients requirements completely.
Jayshree Prabhu
I have been using care 24 services and have been very happy with their services. Priyanka Rajbhar is our caretaker she is very disciplined kind and dedicated towards her work.
Saurabh Bhatt
The Nurse and the Attendant provided by Care24 are good in service, polite and punctual. We are happy with their service. The patient ( our family member) is been given proper care, feed and cleaned regularly.
Deepa Balvalli
Dr. Ralga had Attended to my father. He is suffering from PSP. We were specifically impressed by her techniques n method to handle the issue. We are planning on repeating her visits every month for positive results.
Uma Ram
Nurses and attendants provided by Caree24 are very good. In behavior and trust worthy. Thanks for their support

Anil Kathuria


6/28/2019

Most horrible services. Please do not ask for help from these people, they will talk sweet and then at the last moment there will be no shows from the caretaker. I had to go through this not once but twice the caretaker did not turn up. Request you all to not depend on these people as we are leaving our homes and letting them into our lives, the least they can do is inform and provide a replacement, but neither of it happened and they expect me to pay registration fees of RS,1000

Annie Palan


5/17/2019

Horrible service! can't rely on them.They ditch on last moment.Attendents are not punctual,reliable,well behaved and even honest.Service provider doesn't turn up and still they start billing customers .Better to stay away.

Sonal Agrawal


11/04/2019

Unqualified office staff, when you call to clarify something. Many times they don't understand the question. They are not trained well. The customer care staff needs an upgraded system, where notes are fed into the system. So you don't need someone else calling up and giving you the same info. The caretaker is not trained well. If they are looking after an elderly person, they should know that they have to be in the best of health to look after my mother. She ended not making a meal for my mother and my neighbour had to provide it. If the caretaker is not well she should have asked for a replacement asap and not waited. It is shocking, we have paid a huge amount of money for this service and I am absolutely unhappy. Please do not call for caretaker's from Care24. As long as they are getting their money. They care a damn!!! Worst service providers.

Bonabelle Zuzarte


7/10/2019

worst service, they just talk as if they will send professional at our place, they give big promises at the time of starting their services, but when the attendant come at our place we realized that he was more delicate than our patient, the person whom they had sent got a small scratch in his finger and than the same day he said he wont come as he got injury, so the next day he dint turn up neither did care24 arrange for a replacement, after calling them for 4 times they said me sorry they couldn't arrange anyone today. they don not have the decency to even inform that they cannot arrange for a replacement.. please do not go for their services, its just the promises nothing to deliver

Komal Patel


4/11/2019
I was in search of physiotherapist in Kandivali west, but could not find any clinic later I came across Care24, the best thing was they provided home services. I did not have to take my mom all the time for the treatment. Such amazing services
Vijay Yadav
Contact Care24 if you are looking for a physiotherapist in Kandivali east. The best place to get services. The team is well trained and takes proper care.
Wajid Ansari
We hired Care24 – In house physiotherapist in Kandivali for the past two years for my mother. We saw substantial improvement, and she is doing good. I want to add that we like your services and have the best team.
Anita Rao
Care24 has the best physiotherapist in Kandivali west. The assigned expert Rutuja was best, and I used to ask her about the procedure and whatever the queries. She always explains and treats well.
Dhanush Khade
I was searching for physiotherapist in kandivali east online and I came across Care24. I took their services and they were really effective. They were reasonable too. I highly recommend them.
Zahir Khan
I booked a physiotherapist in Kandivali online from Care24. My friend referred Care24 to me. I am thankful to them for providing such great services.
Vitthal Kamath
I was looking for a good physiotherapist in Kandivali west when I came across Care24. The best services in the area for physiotherapy. Heartily thankyou to Care24
Vikram Jain
If you are looking for a great physiotherapist in Kandivali east, Ill make your search easier. I had a great experience at Care24 & would highly recommend it.
Siddhart Kaling
Care24 is good for all advance physiotherapy treatment. All the staffs are kind and good. Thanks to Care24 for offering me the best Physiotherapist in Kandivali.
Vivek Sharma
One of the best physiotherapists in Kandivali West I have ever experienced. Simple, humble doctor but an effective doctor who cured a lot of health problems.
Nitin Kumar
The treatment given by the Physiotherapist in Kandivali east was effective. I thank Care24 for providing a physiotherapy service at a reasonable price.
Veena Patil
I booked a physiotherapist in Kandivali west from the Care24 website. The appointment booking process was very easy and the service received was very awesome. I recommend using their service.
Ziyan Shaikh
One of the best physiotherapy team in Kandivali. Experience and knowledge team of the physiotherapist. Strongly recommend Care24 for home physiotherapy services.
Dharmesh Singh
Care24 offers the best physiotherapy services. I got partial tear of ACL, Got the best result from Home Physiotherapy services. I strongly recommend them for home Physiotherapy services.
Vedant Yadav
I have not only recovered from my back injury, but I have learned how to protect my back when working out at the gym by activating my core properly. The combination of physiotherapy treatment and Pilates has been amazing. Very friendly, very informative.
Sandracottos Dhebar
Treatment received with Care24 is in no way a "one size fits all" experience. Each visit I have been listened to and treatment changed accordingly. I very much appreciate and am very pleased with the outcomes of my treatment.
Aakash Panikkar
I've been to many physical therapy facilities in my life. Care24 is by far one of the top-rated and the therapists are all extremely knowledgeable. They have a world-class team that assists with the treatments. So grateful for the opportunity to receive treatment at Care24. Highly recommended!
Akash Khadpe