Our physiotherapists are experienced in providing a complete range of physiotherapy services.
Fill up the form to know more about our physiotherapy services in Panvel.
Our physiotherapists are experienced in providing a complete range of physiotherapy services.
Fill up the form to know more about our physiotherapy services in Panvel.
Physiotherapy Services In Panvel
What is Physiotherapy?
Physiotherapy aids individuals to bring back, retain and maximize their strength, function, motion, and overall welfare. The terms "physiotherapy" and "physical therapy" indicate the same thing and are utilized interchangeably, much like the terms "physiotherapist" and "physical therapist".

Physiotherapists have an in-depth understanding of how the entire body works and unique hands-on health care capabilities to assess, analyze, as well as take care of symptoms of sickness, problem, and impairment. Physiotherapy involves rehabilitation, along with avoidance of harm, as well as the promotion of health and fitness. Physiotherapists often operate in associations with other health care professionals to assist meet an individual's health-care needs.

Physiotherapists give attention to both protection in addition to rehabilitation. The remedy is generally for complications due to damages, disease or handicap. Listed below are a few examples:

1. Neck and backaches caused by complications in the muscles and skeleton

2. Issues in the bones, joints, muscular areas and ligaments, such as arthritis along with the side effects of amputation

3. Lung problems such as asthma

4. Disability as a result of heart problems

5. Pelvic challenges, for example, bladder as well as intestinal issues associated with childbirth

6. Loss in movability because of conflict to the mind or spine, or due to disorders such as Parkinson's disease and multiple sclerosis

7. Weakness, discomfort, inflammation, stiffness and also diminished muscle power, for instance during cancer cure, or palliative care

treatment for Physiotherapy?
Electric Stimulation


Working with electrical stimulation to help reinstate muscle function, diminish muscular spasms and discomfort notably after harm, stroke, or perhaps some other accident that results in decay in muscle operation.




Ultrasound Therapy


Ultrasound is a treatment whereby the ultrasound procedure is commonly used for dealing with persistent discomfort and various kinds of malfunctions for instance arthritis, fibromyalgia, and acute injuries.




Laser Therapy Treatments


Laser Therapy treatment is a non-invasive therapy that makes usage of strong beams of the luminosity of particular wavelengths to help lessen soreness associated with your injury.




Phonophoresis


Phonophoresis is a remedy that involves the use of ultrasound to make sure that topical drugs can be utilized properly and at a faster rate. Phonophoresis will help generate radical information in comparison to medications spread personally by hand.




Manual Therapy


Employing hands-on methods just like manipulation and mobilization to help reduce soreness, improve range of motion, lessen or even wipe out inflammation and also help the ease of motion.




McKenzie Method


A complete technique of assessment, analysis, as well as a remedy designed by Robin McKenzie to guide diagnose and treat issues of the musculoskeletal system.




Exercise Prescription


Exercise takes on a huge role in improving the performance and functioning of the system area under rehab. Get a custom plan for treatment to assist in recovery, health, and fitness, as well as health objectives.




Pilates


Steered by a competent physiotherapist, pilates allows tackle musculoskeletal accidents, neurological conditions, stability disorders, and more.




Pool Therapy


Custom made treatment methods utilize the encouragement and resilience of water for reliable rehabilitation. Improve range of motion and performance and return to routines quicker with aquatic based therapy.




Therapeutic Taping


Latex free cotton therapeutic tape (commonly known as k-tape) is utilized to decrease discomfort, improve athletic functionality and avoid injury.




Manual Lymphatic Drainage


An original message approach that jump-starts the pumping action of the lymphatic vessels to help in reducing swelling and encourage drainage.




Traction


Used to treat neck as well as back pain. Traction utilizes gentle pulling to reduce pressure on the spine's discs and also increases the area where nerves exit the spinal cord.




Mulligan Concept


Revealed by Brian Mulligan, the Mulligan concept is without a doubt the group of mobilization and movement manual therapy techniques was adapted to help reduce soreness and reinstate performance to unpleasant injured joints.




Peripheral Joint Manipulation


Working with soothing supportive movements to stimulate the joint and reduce pain, firmness, and muscle spasms.




Dix-Hallpike Test & Epley Maneuver


Spot and then deal with benign paroxysmal positional vertigo (BPPV), the most common type of vertigo. Combined, the Dix-Hallpike test and Epley Manoeuvre have a 90-95% success rate.




Personal Training


Handle issues of physical health, wellness, and fitness with the assistance of a registered physiotherapist. Get a personalized course of action to help out with recovery, fitness, and overall health targets.
Exercises for Physiotherapy
Furthermore, this treatment fixes numerous diseases that are listed below:
It can treat strokes, multiple sclerosis, and Parkinson's which comes under Neurological problems. Additionally, it can help in the treatment of sufferers with injured spinal cord or the human brain because of strain.

Orthopaedic issues similar to arthritis and amputations can be cured with the help of physiotherapy.

Musculoskeletal difficulties for example back and also neck ache are handled by making use of physiotherapy.

Cardiac instances like chronic cardiac diseases and rehabilitation after the heart attack is normally done by physiotherapy techniques.

Respiratory difficulties for example asthma, cystic fibrosis, as well as chronic obstructive pulmonary ailments can be overcome with physiotherapy strategies.

Women's health concerns by using physiotherapy procedures comprise of childbearing, nursing, bedwetting, menopause, prolapsed, loss of bladder or bowel control, and so forth.

It helps in soothing affected individuals with different types of discomfort caused by any treatment or damage.
Benefits of Physiotherapy
Agony is available in numerous forms and is generally the primary reason to see a physiotherapist. General pains might be the result of automobile damage, a sprained ankle from basketball practice, carpal tunnel syndrome from a poorly established workstation, or chronic lower back ache that started off long before you could even bear in mind. It doesn't matter how horrible the pain is, if it influences your performance at work, in the club, on the field or perhaps in your own home, you must do something about it. Physiotherapy could help you deal with, mitigate or even remove the agony so that you can return to enjoying your physical exercises. It also reduces your dependency on analgesics, which provides your kidneys with a much-needed retreat.

Just after an injury, it is crucial that you follow RICE (rest, ice, compress, elevate) method for the impacted muscle/joint. This could represent the strongest course of action for the time being.

If the pain does not decrease after two or three days, it usually is time for you to visit our physiotherapist. With more treatment options than we have incorporated in this blog, our physiotherapists are supplied to evaluate the injury and build a treatment plan for each and every patient, of every lifestyle.

With years of know-how in treating general pains, arrive the initial scheduled appointment with confidence that the foundation of your discomfort will likely be identified, and then handled suitably.
How can Care24 help?
If you happen to be searching for a physiotherapist at home in Panvel, Care24 ought to be your very first preference. Care24 has set a high standard for customized at-home health care. Care24 provides home physiotherapy in Panvel, and our physiotherapists are in many cases viewed as some of the best physiotherapists in Panvel. Our physiotherapists are well-trained, certified and understand the patient's requirements.

The home is the most effective place for physical therapy, where comfortable surroundings directly maximize your chances of rehab. You do not have to pay a visit to a physiotherapy clinic in Panvel when Care24 offers top quality home physiotherapy services. You can get yourself treated by some of the top physiotherapists in Panvel from the convenience of your home.

Our qualified physiotherapists will offer you the finest treatment in the convenience of your home to recover faster. And whether or not you are searching for a sports physiotherapist in Panvel or a neuro physiotherapist, Care24's at-home physiotherapy services are simply a call away. Contact us and our specialists will get in contact with you soon. At-home physiotherapy in Panvel was never so convenient. Care24 offers the best home physiotherapy services in Panvel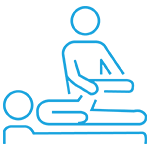 style="text-align:right;color:0f0f59;">
Read more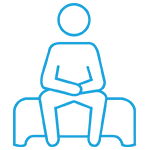 style="text-align:right;color:0f0f59;">
Read more
I used Care24 services for 7 months duration in 2019-20. Carers they provide are a mixed bag. Some are really good while others lack even basic service skills. You got to be very very lucky to get one and same carer over long time as carers often go on leave. When regular carer is on leave, every time they will send new carer. So family members need to repeat everything, right from home address, directions to patient's routine, medicines etc. Do not expect that Care24 will provide any heads-up or patient routine information to new carer who is visiting. Over the 6 months of Mumbai-based care services I used from Care24, there were over 15 instances where new carers were late more than 2 to 3 hours. Care24 support team is very lethargic, there were times when support team assumed that carer has reached home when he had not even started from his place. Support team is unaware of carers being late to customer's place. Then came in so called, the technology upgrade, Jan-Feb 2020, they had a new IT system and there were numerous issues with billing, sending invoices and payment receipts to customers (as told by support team themselves). Support staff told me at least 10 times over phone and email that there are system issues in billing and payment, I had to calculate amount manually on my own and then Pay them. With new system, accounts were on toss, no invoices were sent to customers (in spite of the fact that payment policy says payment needs to be made after receiving invoice.) I had 20-25 emails following up for invoice and payment receipts, but their support team in Mumbai did not care to respond. I found their behavior very unprofessional and not good over these 2-3 months. If you are outside for work (or overseas) and not staying with the patient or your parents, I strongly suggest DO NOT USE CARE24, as they do not respond to your emails and phone in time. They do not bother even when the patient is without care because of their delays in operations and carer issues. They need to improve basic operations first, give timely and consistent services to customers, and then worry about Apps, Digital Assistants and other tech-stuff. .My genuine advice to them--- You are dealing with patient healthcare services, where patient family is relying on you. This is not a courier service business where you are sending people to move boxes and you would't care much when service is delayed !!

Sanket Deo


3/05/2020

My father had a hip bone surgery in January. I have been using Care24 services ever since. The attendants that cane were good in the beginning. However their services have become good to bad to worse to worst in the last 15 days. They changed the night attendant without informing me personally just 6 hours before the time. My father had just settled down with the last attendant and now they were sending a replacement tonight. To add to my frustration the guy didn't turn up and did not answer the calls. When I called their call centre - they said they can't help me at this hour. Well- I can't help but call them CARELESS CARE24.

Jasbir Basu


4/06/2019

Worst!!! I am paying for professional services and the attendant is not professional. The level of disappointment is i have to terminate services on Day 1 itself. And still I am being told to pay for 1 day. Please assess the attendant before going for services from care24

Praful Jadhav


5/07/2019

We had a ridiculously pathetic experience with them. Took an attendant service, a 10 day offer (rs 600 instead of their regular fee of rs 800), for my mother who had undergone an knee replacement surgery. In six days, 4 different attendants were assigned for no fault of ours. We had terrible experience going through the back-end team trying to explain the importance of sending only one attendant and not a different one every new day. The last person assigned wanted to leave by 5pm even though the timings were from 8am to 8pm. With this many other terrible instances in these 6 days, we had no option but to cancel the services. The back-end team were utterly useless in understanding the importance of having only one person assigned. They kept insisting that we pay for 800rs per day for 6 day and offer of rs 600 per day would be invalid. The management should look into this scam and take immediate action on the team. Note: Even though we wanted the services, we were forced to abandon it with no fault of ours. The back-end team has absolute disregard for the grievances of the client.

Rahul Dhakka


12/27/2018

I got attendent for my ailing mother thru care 24. The best service i got...if i need infuture i will definitely go for care24 only...they are the best

felix thomas


3/21/2020
I am still taking services from Care 24 since last two years. The caregivers are well trained and takes good care of my mother in law.
Sheila khanchandani
Sumesh Brother is Punctual, Efficient and knowledgeable and understands patients requirements completely.
Jayshree Prabhu
I have been using care 24 services and have been very happy with their services. Priyanka Rajbhar is our caretaker she is very disciplined kind and dedicated towards her work.
Saurabh Bhatt
The Nurse and the Attendant provided by Care24 are good in service, polite and punctual. We are happy with their service. The patient ( our family member) is been given proper care, feed and cleaned regularly.
Deepa Balvalli
Dr. Ralga had Attended to my father. He is suffering from PSP. We were specifically impressed by her techniques n method to handle the issue. We are planning on repeating her visits every month for positive results.
Uma Ram
Frequently Asked questions