Our physiotherapists are experienced in providing a complete range of physiotherapy services.
Fill up the form to know more about our physiotherapy services for Neck.
Our physiotherapists are experienced in providing a complete range of physiotherapy services.
Fill up the form to know more about our physiotherapy services for Neck.
Physiotherapy for neck pain
Overview
What is Neck Pain?
Neck pain is a pain in the Cervical region. If regional nerves have been impacted, the pain may radiate into regions like the back, shoulder, and arm past the rear of the neck. Neck pain is vastly prevalent and it affects approximately 30% of the Indian population. Pain may result from a sudden injury like an auto/bike crash, sports injury, or a fall, or from trouble/compression in the spinal column.
While most adults get affected, there are indications that amongst the two genders, girls are more likely to suffer neck pain. Bad posture, obesity, participation in action lifting, computer and office work, and smoking are amongst the risk factors for developing neck pain.
Those with neck pain may have trouble performing activities like driving, working, playing sports, or turning their head. The vast majority of neck pain episodes react suitably to treatment and need no operation. Individualized physical therapy plans to assist individuals with neck pain help recover motion, pain removal and contact local activities.
Causes of neck pain
Cervical Spondylosis –

Spondylosis develops over several decades of misuse of the neck region and resulting neck muscle weakness & injuries. The disks become skinnier, the joints become worn out and the distances between the bones narrow down. Due to these changes, the non-uniform gap is formed between two bones of joints and/ or the vertebrae. For the patient to be comfortable, the pain must ease, and exercise should allow the muscles to stretch and strengthen.
Whiplash –

Injuries may result due to automobile accidents. The body may get thrown forward, causing the head to be brought forward with a jerk. Since the body is largely still, the head is thrown forward and there is frequently a delay until one feels any pain or stiffness due to the impact. In case of stiffness, you can get

physiotherapy for the stiff neck which will help your neck to
The body attempts to splint the injury, the pain results from stretching of the capsule along with the ligaments around the joints, together with the muscle strain and most instances improve in a couple of weeks/months although the neck may be seriously strained and injured. Headrests in automobiles and seat belts lessen the harm. Normal and gentle exercises will help prevent longer-term issues.
Tension –

Muscles in the rear of the neck must be tensed to maintain your body vertical. We flex these muscles more, and that may result in tension headaches and neck pain when we are worried. Exercise could help alleviate the situation.
What to do to alleviate the condition?
Performing regular light exercise

Enhance basic flexibility & fitness.

Build stamina and muscle strength

Ease pain and stiffness
No exercise and less motion may cause muscles to become weak and atrophy and the neck pain will continue over time. This makes it more probable you will do less exercise but it is vital that you keep moving your neck and don't take too long movement breaks.
Painkillers such as aspirin and paracetamol may help if you want to, and you need to use them. It is imperative that you take them regularly and in the recommended dose. Do not wait until your pain is severe before taking painkillers.
You should not take aspirin or ibuprofen if you are pregnant or have an ulcer, asthma until you've spoken to your health care provider or pharmacist. Medicine could have side-effects so if you've some questions, that you need to read the label carefully and consult your pharmacist.
Physiotherapy For Neck Pain
If your movement is impacted persistently, ask your GP.
Physiotherapy for neck pain can enable you to increase your strength and endurance and to manage pain. A physiotherapist assists to understand issues and can offer an assortment of remedies.
What to Expect From Physical Therapy
Things to expect from Physiotherapy Treatment for Neck Pain
The Assessment –

The physician can refer a physiotherapist for those that have arm or neck pain radiating from the neck. During the appointment, one must ask lots of questions to make sure and understand what to expect from the neck physiotherapy. The first appointment will probably be an evaluation of the problem being faced and the patient.
A range of Motion –

The therapist may use agoniometer to measure how much the neck moves in a variety of directions. She or he will also examine the ease of movement.
Strength –

Patient could be experiencing weakness and feeling arm pain that is originating from the neck. The neck power may be measured by the therapist.
Tenderness into Palpation –

Palpation is when the entire body completes together with their hands to find out whether the muscles are tender or tight. Your therapist can push your backbone to quantify distress. Caution needs to be utilized in palpation since most studies demonstrate that the capability to correctly identify problem areas in the backbone by palpation is weak.
Posture –

Your posture may be analyzed by your therapist. She or he might measure your posture and have you sit to find out whether correction may help improve your symptoms.
Functional Mobility –

Your therapist can ask you about the tasks you are not able to perform as a consequence of your neck pain and might request you to carry out specific tasks to estimate functional mobility. Following the same, essential measurements and data about the condition are obtained and the therapist develops a plan of action.
Treatment Neck Pain
The therapist will assist you to reduce your neck pain. They should help you devise strategies to assist in preventing future episodes and some of the treatments offered for neck pain include, but are not limited to the following
Exercise –

Many studies suggest that exercise could help in treating neck pain. Exercises may be prescribed by the therapist and also help reduce pain and also assist you to enhance the mobility of the neck. When the weakness has been identified during your evaluation, strengthening exercises can be prescribed.
Traction –

Cervical traction may be used to help. Traction can be used to separate the surfaces for those who have neck arthritis at the neck, which might be beneficial. In case you've got a bulging or herniated disc, decompression may help the herniated discs relief.
Postural Correction –

Your physical therapist can work to fix it if sitting posture is supposed to be a cause of your neck pain. She or he might utilize lumbar support to assist until the natural position improves.
Joint Mobilizations –

Mobilization techniques might be employed also to reduce your neck pain. Manipulation and neck mobilization may proceed with some risks. Before proceeding with neck mobilization, these dangers, though uncommon, should be discussed.
Massage –

Your therapist can use massage methods to help decrease pain and strain in these muscles if sore and tight muscles are regarded as a cause of your neck pain.
Therapeutic Modalities –

Therapeutic modalities like TENS or ultrasound are traditionally utilized to treat neck pain. These remedies might feel good but keep in mind you ought to be an active participant on your neck rehab. Additionally, ultrasound and TENS are more useful in treating low back pain, therefore these remedies should be used suitably where required.
Ice and Heating –

Remedies which might be used to reduce inflammation and to relax muscles. These therapies might feel great, but they shouldn't take the position of postural correction and exercise. With appropriate treatment, your neck pain ought to be resolved in four to six weeks. For acute cases, one might have longer lasting symptoms. You might want to come back to your physician if your symptoms and pain do not improve after a couple of weeks of therapy. Invasive therapies like injections might be an alternative or one might need neck operation to remove the pain. Make certain to understand from the health care provider if the treatment is suitable to cure now and prevent future episodes of neck pain. By working on the prescribed therapy, you should be able to get rid of the pain.
How Can care24 help you?
We affirm that we work for our patients and that we use very human and personal approach, ensuring that they will be at all times treated with dignity, understanding and respect.
We provide physiotherapy treatment for neck where the therapists you with special exercise to help you ease the pain and live a normal life ahead. Our physiotherapists are not only highly trained and well experienced; they follow a very friendly approach and treat the patient as a part of their family.
We not only help you with neck pain exercise and provide physiotherapy for neck spasm and physiotherapy for the baby neck. So if you or your loved one needs physiotherapy at home contact us and allow us to be a part of your recovery journey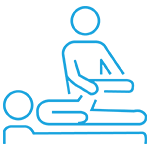 style="text-align:right;color:0f0f59;">
Read more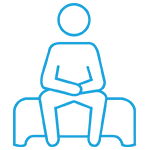 style="text-align:right;color:0f0f59;">
Read more
Worst!!! I am paying for professional services and the attendant is not professional. The level of disappointment is i have to terminate services on Day 1 itself. And still I am being told to pay for 1 day. Please assess the attendant before going for services from care24

Praful Jadhav


5/07/2019

Horrible service! can't rely on them.They ditch on last moment.Attendents are not punctual,reliable,well behaved and even honest.Service provider doesn't turn up and still they start billing customers .Better to stay away.

Sonal Agrawal


11/04/2019

If there was an option of negative stars then I would have choosen it. They offered me a package of₹ 5950/- for 10 days and after 2 days updated me on new package of ₹5700/- for 7 days without my consent. Even deposited my earlier cheque and then I had to follow up for the balance for about 10 days explaining my issue everyday to the new person on their helpline. They don't acknowledge emails too. Worst experience and definitely not recommended

Mugdha Kulkarni


5/23/2019

Nurses and attendants provided by Caree24 are very good. In behavior and trust worthy. Thanks for their support

Anil Kathuria


6/28/2019

The physiotherapist came to my home was very helpful and knowledgeable. She properly gave me the detailed information about my injury. Also the first assessment is free of cost.

varshflute


10/17/2019
I am still taking services from Care 24 since last two years. The caregivers are well trained and takes good care of my mother in law.
Sheila khanchandani
Sumesh Brother is Punctual, Efficient and knowledgeable and understands patients requirements completely.
Jayshree Prabhu
I have been using care 24 services and have been very happy with their services. Priyanka Rajbhar is our caretaker she is very disciplined kind and dedicated towards her work.
Saurabh Bhatt
The Nurse and the Attendant provided by Care24 are good in service, polite and punctual. We are happy with their service. The patient ( our family member) is been given proper care, feed and cleaned regularly.
Deepa Balvalli
Dr. Ralga had Attended to my father. He is suffering from PSP. We were specifically impressed by her techniques n method to handle the issue. We are planning on repeating her visits every month for positive results.
Uma Ram
Frequently Asked questions