Femur Fracture Physiotherapy
Our physiotherapists are experienced in providing a complete range of physiotherapy services.
Fill up the form to know more about our physiotherapy services for Femur Fracture.
Femur Fracture Physiotherapy
Our physiotherapists are experienced in providing a complete range of physiotherapy services.
Fill up the form to know more about our physiotherapy services for Femur Fracture.
Physiotherapy services for femur fracture
What is a Fractured Femur?
A fracture at the thigh bone or femur, the longest, strongest and heaviest bone in the human body, is called as a femur fracture. The size and strength of the femur is extremely high. This usually means that under normal conditions, a massive force or considerable injury is required to lead to a femur fracture. Falls and automobile accidents are some of the major reasons for a femur fracture. Fractures resulting after a small injury may suggest the existence of the bone illness. Sometimes, a fractured femur of a child might be an indication of child abuse.
Symptoms
A fractured femur may cause pain, leg bleeding, and inability to move the leg. Severe blood loss might lead to shock. Sometimes, bone fragments may also remain in the skin. Fractures of the femur are associated with conditions that might lead to other injuries as well to other regions of the human body.
Femur Fracture Physiotherapy
Femur fracture physiotherapy can help with fracture post a femur fracture and esp. helpful in cases where the fracture runs from the top of the hip to the knee.
Mostly this fracture will require surgery to set the bones back. Nonsurgical treatment entails holding the pieces in place, so the bone can get set and healed.
Based on the situation, the following may be used.
A metal plate with screws,
a steel rod through the bone or
metal hooks and a framework.
Proper healing doesn't merely mean the elimination of the implanted aids and patient's resumption of daily activities. A well-designed program of femur fracture physiotherapy can guarantee a sure, safe, secure and successful rehabilitation. Failure to cure properly may aggravate the condition and curtail freedom of movement.
Once the physiotherapy plan has been prescribed, you may start range-of-motion and strengthening exercises to enhance conditioning of the impacted area. Exercises will ease movement and re-establish flexibility. While some of these can be carried out at home, a few may be better suited to be carried out within the physiotherapy center.
Diagnosis of a Femur Fracture
A femur fracture is a serious condition mostly resulting from an accident and diagnosed by a doctor mostly in an emergency area because these cases mostly reach the emergency wards only. If there are any visible signs and a massive pain in legs, hips, the doctor may use a CT scan or an x-ray to detect the fracture. The fracture may be intense enough to split the femur or just an easy crack or bad enough to be broken and piercing through the skin.
Femur fracture treatment entails an admission in the hospital, and an operation followed by physiotherapy exercise for a femur fracture. Most patients get therapy in a rehab center or nursing.
While full recovery may take anywhere between 12 months to 12 weeks, most men and women start walking with the support of a physical therapist and physiotherapy after femur fracture surgery within one or two days.
How Can a Physical Therapist Assist?
The physician will design a program of physiotherapy after femur fracture surgery to accelerate healing. This program includes exercises and remedies to be done at home to allow to return to regular daily life and actions.
Therapists assist by getting over and recover from the following
High Pain levels
Leg, hip, and spine movement
Power in legs and restoring balance
Walking skill
Speed of recovery
Return to sports and regular activity
Adjustments to be made in the initial 24 – 48 Hours post-surgery
After surgery or injury, the post operative physiotherapy for femur fracture can help with the following –
Get out of bed to walk and stand. Mobilization (walking, standing, moving around), will help in preventing blood clots and other ailments. Learn to use crutches or a walker.
Reduce Pain – The Therapist can use various kinds of machines and treatments to control and lower your pain. These remedies could include heat, ice, ultrasound, mild electric stimulation, taping, exercises, and particularly skilled treatments done with all the palms known as manual techniques.
Boost Motion – The therapist may select remedies and actions that will help restore motion. This advancement which you perform yourself and may begin the therapist applies to a leg and hip joint.
Boost Strength – Recovery will be benefited by exercises along with the therapist who will design an individualized treatment plan. He or she will select and teach the exercises which will restore stamina, strength, and endurance. These can include things like using stretchy bands, weights pulleys, cardio machines, and weight machines.
Speed Retrieval Time – Your therapist is experienced and trained in deciding on the exercises and treatments that will assist you to achieve your goals quicker than you may be able to, return to your life, and heal faster with ease.
Return to Tasks – Your therapist will plan the treatment plan that will assist you to achieve these goals and may collaborate to decide such as return to work and game. Your therapist may utilize manual methods machines, exercises, perform re-training tasks, and tactics and exercises that will assist you to attain your objectives.
Prevent Future Reinjury – Your physical therapist may suggest a plan to strengthen and stretch the muscles around your hip, upper leg, and heart to help avoid future issues. These might consist of flexibility and strength exercises.
What Type of Physical Therapist Can I Want?
While all therapists are trained and have expertise and education to take care of post operative physiotherapy for femur fracture. You may want to esp. look for the following –
A physical therapist who has experience in treating individuals after femur fractures.
A physical therapist who is a naturopathic orthopedic clinical specialist. This therapist has the expertise, knowledge.
It is possible to find a physical therapist that have these and other certificates by using references or internet searches will assist to seek out physical therapists with clinical experience in your geographical location.
General hints when you're looking for a physical therapist –
Get recommendations from family members and friends or by other healthcare providers.
If you get in touch with a physical therapy clinic for an appointment, inquire about the physical therapists' expertise in assisting individuals who've femur fractures.
During your initial visit to the therapist, prepare to describe symptoms in as much detail as possible, and state exactly what causes the symptoms to worsen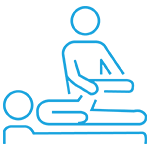 style="text-align:right;color:0f0f59;">
Read more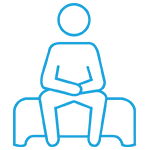 style="text-align:right;color:0f0f59;">
Read more
The physiotherapist came to my home was very helpful and knowledgeable. She properly gave me the detailed information about my injury. Also the first assessment is free of cost.

varshflute


10/17/2019

I got good experience wt dr Dhrita she is v good in physiotherapy n nice while talking n explains v nice

Sujata Rao


6/19/2019

worst service, they just talk as if they will send professional at our place, they give big promises at the time of starting their services, but when the attendant come at our place we realized that he was more delicate than our patient, the person whom they had sent got a small scratch in his finger and than the same day he said he wont come as he got injury, so the next day he dint turn up neither did care24 arrange for a replacement, after calling them for 4 times they said me sorry they couldn't arrange anyone today. they don not have the decency to even inform that they cannot arrange for a replacement.. please do not go for their services, its just the promises nothing to deliver

Komal Patel


4/11/2019

We contacted care 24 for my Dad's physiotherapy. Our physiotherapist Dr Dharita is very knowledgeable and extremely patient. My Dad is showing a lot for improvement in terms of his movement.

D W


3/21/2019

Worst!!! I am paying for professional services and the attendant is not professional. The level of disappointment is i have to terminate services on Day 1 itself. And still I am being told to pay for 1 day. Please assess the attendant before going for services from care24

Praful Jadhav


5/07/2019
I am still taking services from Care 24 since last two years. The caregivers are well trained and takes good care of my mother in law.
Sheila khanchandani
Sumesh Brother is Punctual, Efficient and knowledgeable and understands patients requirements completely.
Jayshree Prabhu
I have been using care 24 services and have been very happy with their services. Priyanka Rajbhar is our caretaker she is very disciplined kind and dedicated towards her work.
Saurabh Bhatt
The Nurse and the Attendant provided by Care24 are good in service, polite and punctual. We are happy with their service. The patient ( our family member) is been given proper care, feed and cleaned regularly.
Deepa Balvalli
Dr. Ralga had Attended to my father. He is suffering from PSP. We were specifically impressed by her techniques n method to handle the issue. We are planning on repeating her visits every month for positive results.
Uma Ram
Frequently Asked questions