Our physiotherapists are experienced in providing a complete range of physiotherapy services.
Fill up the form to know more about our physiotherapy services in Powai.
Our physiotherapists are experienced in providing a complete range of physiotherapy services.
Fill up the form to know more about our physiotherapy services in Powai.
Highly rated by thousands of patients all over India.
pHYSIOTHERAPY services in powai
What is Physiotherapy?
Physiotherapy aids individuals to bring back, maintain and boost their power, function, movements, and all-around well-being. The phrases "physiotherapy" and "physical therapy" indicate the very same thing and are used interchangeably, much like the words "physiotherapist" and "physical therapist".

Physiotherapists possess a comprehensive understanding of just how the system operates and specialized practical clinical skills to examine, diagnose, as well as take care of symptoms of illness, damage and incapacity. Physiotherapy contains therapy, in addition, prevention vent of damage, and also promotion of wellness and fitness. Physiotherapists frequently operate in groups with other health care professionals to help meet an individual's health care requirements.

Physiotherapists concentrate on both avoidance and rehabilitation. Treatment is generally for difficulties caused by injury, disorder or impairment. Here are a few examples:

1. Neck as well as backaches caused by troubles in the muscular areas and skeleton
2. Issues in the bones, joints, muscle tissues as well as ligaments, such as arthritis as well as the after-effects of amputation
3. Lung issues for example asthma
4. Disability due to coronary disease
5. Pelvic problems, similar to the bladder as well as bowel problems linked with childbirth
6. Decrease in range of motion as a result of strain to the human brain or spinal column, or as a result of conditions similar to Parkinson's disease and multiple sclerosis
7. Fatigue, discomfort, swelling, rigidity and diminished muscular toughness, for example during cancer treatment, or palliative care

Treatment for Physiotherapy
1. Cardiorespiratory: giving encouragement, reduction and rehabilitation for individuals afflicted with ailments as well as injuries that have an impact on the heart and lungs, such as asthma.

2. Cancer, palliative care as well as lymphedema: addressing, managing or even preventing tiredness, discomfort, muscle and joint inflexibility, and deconditioning.

3. Incontinence: handling and discouraging incontinence and pelvic floor dysfunction.

4. Women's health problems: dealing with health conditions surrounding conception, birth, post-partum attention, nursing, menopause, bedwetting, prolapsed, loss of bladder or bowel control.

5. Musculoskeletal: stopping as well as dealing with customers with musculoskeletal conditions for example neck as well as back pain.

6. Neurological: promoting motion as well as the quality of existence in individuals who have had severe brain or spinal cord destruction from conflict, or who have problems with neurological ailments such as hypertension, Parkinson's ailment and various sclerosis.

7. Orthopedic: helping patients reduce or manage acute or chronic orthopedic circumstances for example arthritis and amputations.

8. Ache: controlling or avoiding pain and its effect on function in patients.

Exercises for Physiotherapy
1. Helping you to find out how arthritis influences you

Your physiotherapist will allow you to learn what happens to your joints as well as muscles if you have arthritis as well as how one can reduce the impression these kinds of changes have on your life.
2. Helping you to manage your discomfort

Your physiotherapist might counsel you regarding tips on how to take care of your everyday discomfort.
Pacing is one of these kinds of techniques. Making use of the physiotherapist you can become aware of the right stability between rest and exercise. This means planning your routines so that you're always secure, and this will enable you to appreciate the things you need to do.
A few other pain-relief strategies which may be made use of by physiotherapists consist of
transcutaneous electrical nerve stimulation (TENS)

massage

acupuncture

You can also gain access to these types of treatments by means of private practitioners or purchase them by yourself.
3. Strengthening your fitness
Physical exercise can:

– develop your general fitness and mobility
– assist you to observe a healthy weight
– make you feel much better about yourself.
You and your physiotherapist could certainly make a decision on the ideal exercise available for you. No matter what your fitness degree, your physiotherapist will certainly support and support you.
4. Teaching you mobilising, stretching and improving workouts

Your physiotherapist is going to analyse the selection of motion of your joints as well as your muscular power. You along with your physiotherapist could work towards achieving your whole capability as well as a best functional final result utilizing manual techniques in addition to exercises.
Benefits of Physiotherapy
Although physiotherapy is normally used to take care of athletes and anyone who has endured damage from any sort of accident, it can truly offer comfort to a couple of the most common pains and accidental injuries. Physical therapy has proven to be a powerful method of treatment for muscle pain, joint injuries, arthritis, mobility issues not to mention respiratory challenges, like cystic fibrosis.

1. Beneficial Pain Relief
Many sports athletes and fitness enthusiasts have trouble in effectively worn joints and even muscles as they simply mature, and these kinds of concern areas can result in persistent accidental injuries together with problems. Having said that, many individuals who don't become involved in athletics or strenuous physical exercise can certainly just as conveniently develop these aches and painful sensations. As an illustration, backaches is one among the commonest accidents that men and women are afflicted by in the course of their lifestyle, and can affect approximately eighty per cent of the populace. Physiotherapists will propose stretches as well as exercises that target issue areas and provide you with comfort, not to mention assign massaging techniques that can help decrease discomfort and diminish the threat of further harm.

2. More beneficial Flexibility And Mobility
The physical structure is an astonishing system, and it is residence to thousands of network carriers that connect muscles, tissues and tendons. Nevertheless, exactly like a machine with lots of moving pieces, it could get rusty and even broken down. In the long run, movements and even joints can easily eliminate their versatility and simple movements, similar to crouching at the knees or perhaps slouching over to pick something up, can be arduous and hard. People who are living an inactive lifestyle or perhaps who put in the majority of their time behind a table or steering wheel are inclined to have movability as well as flexibility troubles, but it could just as conveniently happen to strong individuals who have recurring exercises. Sessions of physiotherapy can certainly help improve versatility and detect troublesome joints and sore spots. For most people, a routine of stretching exercises and physical exercise that has been prepared by a physiotherapist can help go well with their lifestyle and advance virtually any issues with gait, posture and regimen. Manual therapy, like massage, should significantly guide since it decreases aches and pains and helps bring about the circulation of blood to injured or perhaps atrophied joints and muscles. Physiotherapists can also plan a regimen of strength-training for individuals to help develop their current stages of well-being.

3. Damage Recuperation
Many people who are recovering from problems and procedure are offered physiotherapy in order to control anguish and encourage quicken their rehabilitation. Whilst the system is capable of treatment on its own at its very own rate, physiotherapists can easily focus on components of the body that generally take longer to mend and can have long-lasting deterioration. Bones may perhaps heal, but muscles harmed by scar tissue may render patients with discomfort along with a lowered range of movement. Physiotherapy enables you to bring alleviation to problems together with aches, as well as build energy in wounded patients.


Shoulder Impingements are an elaborate group of circumstances which require handling based not on a set of standardised workouts, but a person customized administration approach. Using a comprehensive technique making use of power job, manual therapy, taping, theraBand exercise and soft tissue discharge, physiotherapists are nicely located to help in the healing from this problem.

We can,
• Guide you on the most fitting exercises for your issue and grant other advantageous solutions similar to manual therapy, soft tissue releases and Toning activities
• Enable you to understand why you have shoulder pain, what factors include most likely triggered your discomfort as well as how one can modify your activity to enhance your pain and recuperation.
The initial stages of rehabilitation/treatment will look at pain elimination and some early improving to develop a stable joint strength and base for the shoulder to glide more efficiently. This allows a graded return back into more usual activities.
The later steps of rehabilitation and therapy will look to incorporate more advanced and intensive strengthening, strength, and plyometric function, as well as vital nonstop management of the rotator cuff as well as shoulder blade stabilising muscles which form the fundamentals of shoulder movement.

How can care24 help?
If you are seeking out a physiotherapist at home in Powai, Care24 really should be your very first choice. Care24 has set a very high standard for customized at-home health care. Care24 offers home physiotherapy in Powai, and our physiotherapists are often regarded as some of the best physiotherapists in Powai. Our physiotherapists are well-trained, certified and fully understand the patient's needs.

The home is the best place for physical therapy, wherein comfortable surroundings directly maximize your chances of rehab. It is not necessary to pay a visit to a physiotherapy clinic in Powai when Care24 offers high-quality home physiotherapy services. You can get yourself treated by some of the top physiotherapists in Powai from the ease and comfort of your home.

Our skilled physiotherapists will provide you with the finest treatment in the convenience of your home to recover faster. And whether you are searching for a sports physiotherapist in Powai or a neuro physiotherapist, Care24's at-home physiotherapy services are simply just a call away. Connect with us and our professionals will get in contact with you shortly. At-home physiotherapy in Powai was never so easy. Care24 provides the best home physiotherapy services in Powai.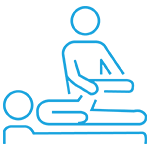 style="text-align:right;color:0f0f59;">
Read more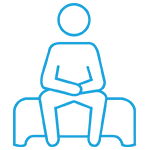 style="text-align:right;color:0f0f59;">
Read more
The physiotherapist came to my home was very helpful and knowledgeable. She properly gave me the detailed information about my injury. Also the first assessment is free of cost.

varshflute


10/17/2019

Horrible service! can't rely on them.They ditch on last moment.Attendents are not punctual,reliable,well behaved and even honest.Service provider doesn't turn up and still they start billing customers .Better to stay away.

Sonal Agrawal


11/04/2019

Nurses and attendants provided by Caree24 are very good. In behavior and trust worthy. Thanks for their support

Anil Kathuria


6/28/2019

I got good experience wt dr Dhrita she is v good in physiotherapy n nice while talking n explains v nice

Sujata Rao


6/19/2019

Most horrible services. Please do not ask for help from these people, they will talk sweet and then at the last moment there will be no shows from the caretaker. I had to go through this not once but twice the caretaker did not turn up. Request you all to not depend on these people as we are leaving our homes and letting them into our lives, the least they can do is inform and provide a replacement, but neither of it happened and they expect me to pay registration fees of RS,1000

Annie Palan


5/17/2019
I am still taking services from Care 24 since last two years. The caregivers are well trained and takes good care of my mother in law.
Sheila khanchandani
Sumesh Brother is Punctual, Efficient and knowledgeable and understands patients requirements completely.
Jayshree Prabhu
I have been using care 24 services and have been very happy with their services. Priyanka Rajbhar is our caretaker she is very disciplined kind and dedicated towards her work.
Saurabh Bhatt
The Nurse and the Attendant provided by Care24 are good in service, polite and punctual. We are happy with their service. The patient ( our family member) is been given proper care, feed and cleaned regularly.
Deepa Balvalli
Dr. Ralga had Attended to my father. He is suffering from PSP. We were specifically impressed by her techniques n method to handle the issue. We are planning on repeating her visits every month for positive results.
Uma Ram
We contacted care 24 for my Dad's physiotherapy. Our physiotherapist Dr Dharita is very knowledgeable and extremely patient. My Dad is showing a lot for improvement in terms of his movement.

D W


3/21/2019

Nurses and attendants provided by Caree24 are very good. In behavior and trust worthy. Thanks for their support

Anil Kathuria


6/28/2019

The management team & the customer care team is quite responsive.... However the main component, ie the caregiver is not trustworthy & definitely not upto the mark

Ritwik Basu


11/03/2019

worst service, they just talk as if they will send professional at our place, they give big promises at the time of starting their services, but when the attendant come at our place we realized that he was more delicate than our patient, the person whom they had sent got a small scratch in his finger and than the same day he said he wont come as he got injury, so the next day he dint turn up neither did care24 arrange for a replacement, after calling them for 4 times they said me sorry they couldn't arrange anyone today. they don not have the decency to even inform that they cannot arrange for a replacement.. please do not go for their services, its just the promises nothing to deliver

Komal Patel


4/11/2019

The physiotherapist came to my home was very helpful and knowledgeable. She properly gave me the detailed information about my injury. Also the first assessment is free of cost.

varshflute


10/17/2019
Care24 is one of the well-known agency that provides the best physiotherapist in Powai. They give services at your own home.
Sachin Jhangyani
Care24 provides the service of physiotherapists in Hiranandani Powai Mumbai and all other locations in Mumbai. They send the expert team to your home to give their services.
Vishal Jangir
My friend took the services of a physiotherapist in Powai from Care24 and he was very satisfied with their way of working and also suggested to me. I would say they are doing a great job.
Hemant Verma
I will highly recommend Care24 physiotherapist in hiranandani powai Mumbai. They had best professionals and no need to worry about the therapy. They always look after you with best care.
Surabhi Singh
The advice given by Care24 physiotherapist in Powai was good. They have friendly team who were always supportive. My theray went well and I am doing good.
Ranjeet Verma
Care24 physiotherapist in Hiranandani Powai Mumbai has the best team. From 1 month, I had severe pain in my right shoulder. I visited many physio clinics, but none worked for me. I got to know about Care24 inhouse services I immediately contacted them. They were always punctual, hats off to the team. The result was mindblowing.
Raksha Rathod
I met with an accident, and my hand got fractured. I was not able to go for a physio session. One of my uncle recommended the Care24 physiotherapist in Powai. The sessions went well, and my hand got recovered entirely.
Saiprasad Dhopavkar
I was looking for a physiotherapist in Powai as I was having tremendous back pain. One of my friend recommended me to hire services from care24 and that they provide physiotherapist at home. I liked their services. I would suggest anyone to hire their Services for Physiotherapy
Ramesh Dev
The physiotherapy was simply best in every respect provided by Care24. The team has shown kindness, invaluable support and guidance throughout the therapy. I don't hesitate to recommend Care24.
Neelima Pawar
Get services from Care24 for any of your health issues. The best part is they give their services at the comfort of your own. I took physiotherapy services from them and I would say they are the best.
Richa Gupta
Care24 provides the best in-home care services in Dombivali. I have been their repeat customers and would recommend to everyone.
Suraj Chandekar
Care24 provides the best in-home physiotherapy treatment in Powai. I am using their service and would recommend it to all.
Shailesh Gundewar