Physiotherapy For Paralysis
Our physiotherapists are experienced in providing a complete range of physiotherapy services.
Fill up the form to know more about our physiotherapy services for Paralysis.
Physiotherapy For Paralysis
Our physiotherapists are experienced in providing a complete range of physiotherapy services.
Fill up the form to know more about our physiotherapy services for Paralysis.
Physiotherapy Services For Paralysis
Overview
Introduction to physiotherapy for paralysis
Paralysis is the condition where an individual is unable to use muscles in any part of the body and consequently, the individual is unable to move that body part. Impacted people also lose all feelings in the affected area of the body.
The right side of the brain affects the left side of the body and vice versa. The region that gets impacted by paralysis depends on the region impacted by stroke. Paralysis mostly happens due to the damage to the nervous system, particularly the spinal cord. Important causes of paralysis are injury and stroke with a neurological injury. Other causes include Guillain-Barré syndrome, botulism, spina bifida, multiple sclerosis, and poliomyelitis.
The type of paralysis depends upon where the spinal cord has been injured.
Quadriplegia

is paralysis which affects both legs and arms, in addition to the torso and gut.

Paraplegia

is a type of paralysis that may influence the chest area and affects the thighs, stomach.

Cauda Equina Syndrome

is a type of paralysis that affects the nerves in different parts of the body.
physiotherapy for paralysis patients should be started as soon as possible post a paralytic attack as it helps relax muscles and boosts blood circulation. Additionally, it may also slow the advancement and deterioration due to paralysis. Physiotherapy for paralysis patients enhances muscle tone and the overall well-being of the patient. When a brain has endured external injury, physiotherapy reduces inflammations and aids faster healing.
Physiotherapy treatment for paralysis patients helps assist impacted individuals to stay as portable as possible. The physiotherapist helps work out muscles that are unaffected so that they compensate for those that are impacted and are incapable of movement because of a paralytic stroke. Physiotherapy helps build strength in the impacted muscles and helps preserve strength in the muscles that are not affected. This can help save the limbs from muscular atrophy. Physiotherapy treatment for paralysis patients may be utilized to retrain the nerves and limb muscles. A physical therapist suggests suitable equipment such as braces, canes, or wheelchairs as the case may be.
Symptoms of Paralysis
Paralysis may be generalized, i.e. impacting a larger area of the body or may be localized, i.e. impacting a small portion of the human body.
Paralysis of the hand – Paralysis of the vocal cords are groups of muscular and tissue used to create language; one cord, so the person can talk but their voice will be hoarse is only affected by paralysis usually
Types of paralysis
Monoplegia where a single limb is paralyzed

Hemiplegia at which leg and the arm on one side of this body are paralyzed

Paraplegia where the two arms are the pelvis, or on occasion paralyzed and a few the body

Tetraplegia (also called quadriplegia) here both arms and legs are paralyzed

Temporary and permanent paralysis

Facial Paralysis is a relatively common cause of paralysis that causes temporary paralysis.

Partial or total paralysis
Paralysis can be partial where there's some feeling and remaining muscle function; for instance, if a person can feel sensations like warmth and cold or move a leg but not the opposite one.
Spastic or flaccid paralysis
Spastic paralysis is where muscles are unaffected, and limbs are also remarkably stiffer displaying spasms and moves aren't under the control of the spastic paraplegic person
Where muscles unaffected limbs are both feeble and floppy, flaccid; muscles in paralysis can shrivel
Individuals with spastic paralysis can experience muscle fatigue with spasms which are involuntary muscle contractions. People with adrenal cysts frequently experience muscle fatigue without spasms.
In certain circumstances, like cerebral palsy or motor neuron disease, it is likely to encounter episodes of another way around or paralysis accompanied by paralysis.
Causes of Paralysis
The four causes of paralysis are:
Multiple sclerosis

Brain trauma

Spinal cord injury

Stroke
Stroke
A stroke is a serious medical condition that happens if the blood flow to the brain gets disturbed. The human brain requires a constant supply of blood with nutrients and containing oxygen to operate. Brain tissues start to perish if the blood supply is stopped or restricted which may lead to a stroke.
As it bumps from the skull blood vessels and 20, the face of the brain may bruise or tear. If part of the brain that regulates muscles is damaged through a serious head injury paralysis can happen. Paralysis can be caused by damage to the left side of their brain and damage to the right side of the brain may lead to paralysis.
For instance, the spinal cord and nerve signs, such as sensations pass back into the brain. If the spine or neck is hurt cord can be ruined. This brain might have the ability to transmit signals to the muscles.
If there is an injury to the brain, the higher up the backbone that the injury happens, the worse the paralysis will be. For instance, an injury at the center of the backbone will generally cause paraplegia or paralysis of the lower limbs.
A neck injury, including a broken neck, will often lead to tetraplegia or paralysis in all four limbs, also called quadriplegia, in addition to the reduced lung function, so the individual will have to use a ventilator to breathe. It is estimated that half of all spinal cord injuries occur in those that are between the ages of 16 and 30 years.
Multiple sclerosis
Multiple sclerosis or MS is a state where nerve fibers in the spinal cord become damaged due to the immune system or the body's natural defense against disease.
The immune system attacks a substance known as myelin, which assists with the transmission of neural signals and surrounds nerve pathways.
In MS, the myelin around fibers becomes ruined, which divides the messages coming to and out of the brain. This can result in paralysis.
Types of Paralysis
While there are several types of paralysis, recovery for each patient may be different depending on care, sheer luck, and treatment. Even though there are ways the body can be hurt paralysis is split into four groups.
Four kinds of paralysis are:
Monoplegia – paralysis accompanied by tremors that are involuntary.

Hemiplegia – paralysis of the body's 1 side – arms, face, and legs.

Paraplegia – paralysis of the lower half of their human body.

Quadriplegia – paralysis of legs and the arms.
Kinds of Paralysis
Monoplegia –

Monoplegia is paralysis which identifies total or partial loss of motor function in 1 limb. Monoplegia affected individuals to retain control over their body but can't move a limb or feel sensations in the affected limb.

Hemiplegia-

An arm and a leg are impacted in this type of paralysis. Those impacted with Hemiplegia start feeling pins and needles, enhancements to muscular fatigue.

Paraplegia –

Paraplegia is a spinal cord injury that paralyzes the limbs. It's due to acute damage to the nervous system along with the spinal cord. It affects legs, the trunk, and the area. The individuals feel anything move their legs or can't walk. Paraplegics can recover some ability to move their limbs with therapy, which works to retrain the brain and spinal cord to work around the constraint.

Quadriplegia –

Tetraplegia or quadriplegia is a condition where nearly the upper extremities and the lower extremities get paralyzed. Some individuals with quadriplegia regain all working or some, while others retrain their brains and bodies.
Treatment for Paralysis
Though no cure for paralysis right now, daily physiotherapy for paralysis patient will help restore motion and feeling in the impacted limb to such an extent that if paralysis is caused due to factors such as stroke or a transient ischemic attack, treating the cause of paralysis can restore in the affected body area.
Physiotherapy is laborious and slow, but it may help recover motion in the paralyzed limb. Physiotherapy is a mixture of science and art between schooling, healing tasks that are physical processes and massage. Below are a few therapy methods and approaches utilized by specialist physiotherapists :
Manual Treatment –

This creates the foundation of the physiotherapy strategy. Therapy treatments are made up of deep or gentle tissue massage, gentle muscle or joint stretches and mobilization or manipulation tendon or fascia work, strapping.

Exercises

– Exercises can also be utilized to rehabilitate and strengthen joints, bones, tendons, joints, and ligaments after an accident or to repair muscle imbalances to optimize biomechanics. The exercises are particular to their requirements and are assessed and improved with improving flexibility and strength as your body reacts. Exercises need to be repeated for a variety of weeks.

Education

– it is one of the most significant resources of rehab. Education allows you to understand and handle your own injury to accomplish recovery and in addition, it assists in preventing the recurrence of injury.

Acupuncture

– Acupuncture is a highly effective treatment utilized to modulate pain and quicken and boost the body's natural recovery procedure. It is employed in a gentle and safe way for joint muscle stiffness and difficulties or pain. Acupuncture is conducted along with other techniques.
Physiotherapy can help improve blood circulation and relax muscles and slowdowns the advancement of paralysis. We know that afflicted by trauma and pain makes it hard to get to a rehab facility for therapy we'll bring you personally our group of therapists that are rehabilitative. Care24 group of rehab therapists can assist you or your relative with their freedom and alleviate pain.
Can Physiotherapy help treat Paralysis?
Treating the cause of paralysis restores mobility in the affected body area. Nonetheless, it's essential that physiotherapy should start at the earliest possible moment. It will aid in relaxing the muscles at the patient and improving blood circulation.
Daily physiotherapy helps restore sensation and movement in the affected limbs to a great extent. It also helps to maintain and build strength in the affected muscles. While the limbs are recovering, physiotherapy helps in retraining the nerves and muscles.
How long does healing take?
The physiotherapy process relies on treating not only the impacted leg or arm but the entire body. A good deal of time is spent knowing the correct location of the body as well as limbs while the individual is restricted to a seat or the bed.
Whenever the individual is moved, whether to move the patient in the bed into a chair or a commode or whether to flip the individual at the bed, it needs to be performed based on a carefully worked out routine that is essential and the limbs must be set in correct position whenever the position of the individual is changed.
How can Care24 help?
Based on the type of need, it requires quite a few weeks or even months for you to recover. You are helped by our physiotherapist with exercises which stimulates tissues and the cells that have been injured for aiding recovery.
The physiotherapists help with stretching exercises and offer recovery programs in accordance with the kind of injury, in order to facilitate recovery. She will also guide you in educating you to take care of yourself.
Therefore, if you are looking for an excellent physiotherapist or a good nurse, simply reach out to Care24's world-class physiotherapy treatment in your home's comfort.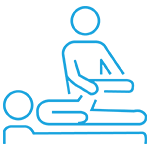 style="text-align:right;color:0f0f59;">
Read more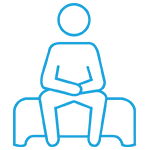 style="text-align:right;color:0f0f59;">
Read more
The worst experience I've had of my life. I normally never really write reviews, but I had to write this because this agency is the worst company I've dealt with till now. Their customer service is terrible, most of their attendants are not competent for taking care of elderly patients. Please do not use their service.

Radhika Kulkarni


6/27/2019

Horrible, unprofessional service! Advance paid.The caregiver did not show up. When complained to customer care, they said they will find a replacement and call back. No call back, no replacement. They shut for the day and the customer is felt in a lurch. Extremely disappointing. Will never avail this service again and will spread the word too.

Shraddha Shah


11/02/2019

We had a ridiculously pathetic experience with them. Took an attendant service, a 10 day offer (rs 600 instead of their regular fee of rs 800), for my mother who had undergone an knee replacement surgery. In six days, 4 different attendants were assigned for no fault of ours. We had terrible experience going through the back-end team trying to explain the importance of sending only one attendant and not a different one every new day. The last person assigned wanted to leave by 5pm even though the timings were from 8am to 8pm. With this many other terrible instances in these 6 days, we had no option but to cancel the services. The back-end team were utterly useless in understanding the importance of having only one person assigned. They kept insisting that we pay for 800rs per day for 6 day and offer of rs 600 per day would be invalid. The management should look into this scam and take immediate action on the team. Note: Even though we wanted the services, we were forced to abandon it with no fault of ours. The back-end team has absolute disregard for the grievances of the client.

Rahul Dhakka


12/27/2018

Worst!!! I am paying for professional services and the attendant is not professional. The level of disappointment is i have to terminate services on Day 1 itself. And still I am being told to pay for 1 day. Please assess the attendant before going for services from care24

Praful Jadhav


5/07/2019

We contacted care 24 for my Dad's physiotherapy. Our physiotherapist Dr Dharita is very knowledgeable and extremely patient. My Dad is showing a lot for improvement in terms of his movement.

D W


3/21/2019
I am still taking services from Care 24 since last two years. The caregivers are well trained and takes good care of my mother in law.
Sheila khanchandani
Sumesh Brother is Punctual, Efficient and knowledgeable and understands patients requirements completely.
Jayshree Prabhu
I have been using care 24 services and have been very happy with their services. Priyanka Rajbhar is our caretaker she is very disciplined kind and dedicated towards her work.
Saurabh Bhatt
The Nurse and the Attendant provided by Care24 are good in service, polite and punctual. We are happy with their service. The patient ( our family member) is been given proper care, feed and cleaned regularly.
Deepa Balvalli
Dr. Ralga had Attended to my father. He is suffering from PSP. We were specifically impressed by her techniques n method to handle the issue. We are planning on repeating her visits every month for positive results.
Uma Ram
Frequently Asked questions