Physiotherapy In Ambernath
Our physiotherapists are experienced in providing a complete range of physiotherapy services.
Fill up the form to know more about our physiotherapy services in Ambernath.
Physiotherapy in Ambernath
Our physiotherapists are experienced in providing a complete range of physiotherapy services.
Fill up the form to know more about our physiotherapy services in Ambernath.
Highly rated by thousands of patients all over India.
pHYSIOTHERAPY services in Ambernath
What is Physiotherapy?
Physiotherapy is a treatment to recover, sustain, and make the most of a patient's mobility, functionality, and well-being. Physiotherapy facilitates via physical rehab, injury prevention, and health and fitness. Physiotherapists get you involved with your own healing.

Physiotherapy can help in the following ways –
1. To guide individuals attain their complete capability following harm, soreness or handicap.
2. To offer wellness assistance that is definitely approachable, productive and humanitarian.
3. To continuously undertake scientific examination and training to build up our program.
4. To present a service that is determined by high standards of care and perform

Treatment for Physiotherapy
Physiotherapists are trained to examine everything, diagnose the problem, and provide help to make you understand what's wrong. The treatment plan would take into account your way of life, routines, and overall health.

The following are normal treatment procedures use by physiotherapists:
physical exercise courses to enhance movement and improve muscles




joint manipulation and mobilization to decrease agony and tightness




muscle re-education to improve control




airway clearance approaches as well as breathing exercises




soft tissue mobilization (massaging)




acupuncture together with dry needling




hydrotherapy




help with utilization of aids, splints, crutches, walking sticks, and wheelchairs to assist you to move about.



Exercises for Physiotherapy
Particularly if you're solely starting a pursuit, a physiotherapist could easily grab injuries that might come about or observe warning signs or red flags. Visiting a physiotherapist Before you decide to get lively will permit them to provide help to prevent injuries from happening and the associated downtime in your life.

If you want to move better, recover, or there's something you must do but can't do because you have a restriction, physiotherapy will help.

A physiotherapist may help you develop a strategy with correct exercises so you can get started and embrace whatever hobby you're excited about. Irrespective of whether it's dealing with a pre-existing circumstance, recouping from a wound, or even letting you avoid all of them in the first place, the physio will help.

Benefits of Physiotherapy
Bodily healing has been an intervention way for curing certain ailments for decades. It's primarily directed at assisting sufferers to go back to their standard selves, totally free of ache and suffering, to be able to enjoy the day-to-day activities they once used to. Physical therapy is just not simply "physical"; it might incorporate cardiopulmonary and neurological conditions as well. There are numerous advantages to undergoing physical therapy.

1. Assists Affected individuals Function

Certain physical therapy prospects may have physical impairments that they are working with, while others may be recuperating after a stroke. Now and then, a number of disorders or health problems hinder the patient a lot that it becomes important to teach the affected person to perform the best they could within the boundaries of their condition. Physical therapy does this by creating on the capabilities that the individual still has.

2. Helps Regains Original Capabilities

Physical therapy continues to be extremely effective throughout the years for a lot of patients. And with persisted therapy under the guidance of a specialist physical therapist, it is also possible for the patient to recover a great deal of their original performance or perhaps earn an entire retrieval. In addition, the physical remedy is excellent for helping vastly improve the entire fitness and also the health of the individual.

3. Shortens Recovery Time

Rehabilitation time can be shortened with the help of physical treatment, that is the top priority on many patients' databases. Wounds including a muscle, ligament or joint could cause that portion of the body to get rigid and immobile and without proper exercise, it could possibly take quite a while to regain complete range of motion in the afflicted region.

Since every patient gets comfortable with their workouts, they should become easier to complete so they will begin to observe their energy set out to increase and also health and wellness begin to improve.

Immediately after an injury, it is important that you adhere to RICE (rest, ice, compress, elevate) agreement for the afflicted muscle/joint. This could become the recommended course of action for the time being.

If the trouble does not go away after two or three days, it usually is time to visit our physiotherapist. With increased treatment methods that we have included in this blog, our physiotherapists are geared up to evaluate the injury and build a treatment plan for each and every affected individual, of every lifestyle.

With many years of practical experience in treating aches, arrive at the initial appointment with certainty that the source of your discomfort will likely be identified, and then dealt with accordingly.

How can care24 help?
If you are searching for a physiotherapist at home in Ambernath, Care24 ought to be your first preference. Care24 has set a very high standard for personalized home health-care. Care24 provides home physiotherapy in Ambernath, and our physiotherapists are in many cases viewed as some of the best physiotherapists in Ambernath. Our physiotherapists are well-trained, qualified and fully understand the patient's needs.

The home is the best place for physical therapy, where comfortable surroundings directly enhance your chances of rehab. It is not necessary to visit a physiotherapy clinic in Ambernath when Care24 offers quality home physiotherapy services. You can get yourself treated by some of the top physiotherapists in Ambernath from the comfort of your home.

Our qualified physiotherapists will offer you the best treatment in the ease and comfort of your home to recover faster. And whether you are looking for a sports physiotherapist in Ambernath or a neuro physiotherapist, Care24's at-home physiotherapy services are merely a call away. Contact us and our specialists will get in touch with you shortly. At-home physiotherapy in Ambernath was never so simple. Care24 offers some of the best home physiotherapy services in Ambernath.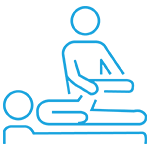 style="text-align:right;color:0f0f59;">
Read more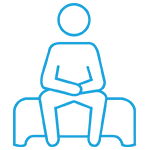 style="text-align:right;color:0f0f59;">
Read more
We contacted care 24 for my Dad's physiotherapy. Our physiotherapist Dr Dharita is very knowledgeable and extremely patient. My Dad is showing a lot for improvement in terms of his movement.

D W


3/21/2019

Unqualified office staff, when you call to clarify something. Many times they don't understand the question. They are not trained well. The customer care staff needs an upgraded system, where notes are fed into the system. So you don't need someone else calling up and giving you the same info. The caretaker is not trained well. If they are looking after an elderly person, they should know that they have to be in the best of health to look after my mother. She ended not making a meal for my mother and my neighbour had to provide it. If the caretaker is not well she should have asked for a replacement asap and not waited. It is shocking, we have paid a huge amount of money for this service and I am absolutely unhappy. Please do not call for caretaker's from Care24. As long as they are getting their money. They care a damn!!! Worst service providers.

Bonabelle Zuzarte


7/10/2019

Nurses and attendants provided by Caree24 are very good. In behavior and trust worthy. Thanks for their support

Anil Kathuria


6/28/2019

The physiotherapist came to my home was very helpful and knowledgeable. She properly gave me the detailed information about my injury. Also the first assessment is free of cost.

varshflute


10/17/2019

We had a ridiculously pathetic experience with them. Took an attendant service, a 10 day offer (rs 600 instead of their regular fee of rs 800), for my mother who had undergone an knee replacement surgery. In six days, 4 different attendants were assigned for no fault of ours. We had terrible experience going through the back-end team trying to explain the importance of sending only one attendant and not a different one every new day. The last person assigned wanted to leave by 5pm even though the timings were from 8am to 8pm. With this many other terrible instances in these 6 days, we had no option but to cancel the services. The back-end team were utterly useless in understanding the importance of having only one person assigned. They kept insisting that we pay for 800rs per day for 6 day and offer of rs 600 per day would be invalid. The management should look into this scam and take immediate action on the team. Note: Even though we wanted the services, we were forced to abandon it with no fault of ours. The back-end team has absolute disregard for the grievances of the client.

Rahul Dhakka


12/27/2018
I am still taking services from Care 24 since last two years. The caregivers are well trained and takes good care of my mother in law.
Sheila khanchandani
Sumesh Brother is Punctual, Efficient and knowledgeable and understands patients requirements completely.
Jayshree Prabhu
I have been using care 24 services and have been very happy with their services. Priyanka Rajbhar is our caretaker she is very disciplined kind and dedicated towards her work.
Saurabh Bhatt
The Nurse and the Attendant provided by Care24 are good in service, polite and punctual. We are happy with their service. The patient ( our family member) is been given proper care, feed and cleaned regularly.
Deepa Balvalli
Dr. Ralga had Attended to my father. He is suffering from PSP. We were specifically impressed by her techniques n method to handle the issue. We are planning on repeating her visits every month for positive results.
Uma Ram