Physiotherapy For Learning Disabilities
Our physiotherapists are experienced in providing a complete range of physiotherapy services.
Fill up the form to know more about our physiotherapy services for Learning Disabilities.
Physiotherapy For Learning Disabilities
Our physiotherapists are experienced in providing a complete range of physiotherapy services.
Fill up the form to know more about our physiotherapy services for Learning Disabilities.
Physiotherapy Services For Learning Disabilities
Overview
Kinds of learning disabilities
Learning disabilities are neurological issues that impair a patient's ability to processing information quickly. These processing issues are a hindrance to learning fundamental skills like reading, mathematics or writing. They can interfere with high-level skills like abstract reasoning, time planning, organization, short-term or long memory, and ability to focus. It is necessary to understand that learning and physical disabilities may influence the life of an individual and may affect relationships with family and while on the job.
Since issues with reading, mathematics or writing are problems faced every day throughout the school years, the signs and symptoms of learning disabilities are diagnosed during this same time for most of the people. Some people don't get an evaluation until they're in adults or education in the workforce. People with learning disabilities proceed through life without understanding they suffer from learning disability and they might be having issues in their jobs or in associations with family members and friends and they may have never understood why!!
Learning disabilities shouldn't be confused with learning issues that are the result of handicap; of disturbance; of visual, hearing, or motor handicaps; or of cultural, environmental or economic advantages.
Generally, learning disabilities are of average or above average intelligence. There seems to be a difference between accomplishment and the person's potential.
That is the reason why learning disabilities are known as "hidden disabilities" i.e. the individual appears absolutely "normal" and appears to be quite a bright and intelligent individual yet might be not able to demonstrate the proficiency level expected from someone of a similar type.
A learning disability cannot be treated or mended; it is a constant struggle. With some help and support, individuals with learning disabilities may be successful in college, at work, in relationships, and also in the community.
"Learning Disabilities" is an "umbrella" term describing numerous additional, more special learning
disabilities, such as dyslexia and dysgraphia.
Treatment for learning disabilities
While there is absolutely no cure for learning disability, there are many methods to increase writing, reading, and mathematics skills for a child. Treatment involves the abilities to strengthen and creating. For instance, mnemonic and copying devices may make it easier to incorporate a math formula, and an illustration of what is being taught to the child may help the child develop a better mental road map of what is being asked/explained/ discussed. Remedy for learning disorder also entails multimodal teaching. When a child has difficulty understanding a topic with ears and eyes or other sensations like taste, touch, and odour can play a part in the learning procedure. Likewise learning how to convert 1 kind of difficulty into a different format might assist e.g. altering a conventional math problem to a word problem. A learning specialist will help determine accommodations or the services a child may benefit from in the college. Cognitive behaviour therapy particularly, psychotherapy, might be helpful in treating the behavioural and psychological issues that could accompany learning disorder.
Role of Learning Disabilities Physiotherapy
Within the field of learning disabilities, physiotherapists treat both adults and kids, though, in certain areas, children might be treated by generic paediatric providers. The role is diverse and broad, and along with your expert physiotherapist, you will also end up developing skills and expertise to work with varying groups. As customers' nature of difficulty may fluctuate considerably from one to another, the nature of treatment will also vary accordingly.
Although not an exhaustive listing, the following is an indication of the possible work areas
A significant part of this function is around the clock posture maintenance, which entails assessment for positioning night and day, such as orthotic supply, seating, wheelchairs and sleep methods for gear for the impacted person.
Another part of this is the Physiotherapists' role in helping manage the long-term conditions. This involves intimate and instruction connects with family members with a clear focus to comprehend the character of these ailments and involve information on targeted and tailor-made management programs specific to the individual in consideration.

Occasionally, therapists recommend therapy sessions like movement methods and hydrotherapy, rebound therapy and movement techniques.
A sizable part of this specialist physiotherapists function would have to be engaged in health promotion.

This might include things like walking jobs, fitness sessions, swimming pool, cycling classes, horse riding, etc. Physiotherapists are involved to help treatment and early detection of medical issues.
Actions for Individuals with learning disabilities
Nothing should stop anyone from being encouraged to get out and enjoy active community life and have fun because of being impacted with learning disability.
Here are some of the actions that can be planned for helping people with learning disability understand situations and express these in a fun way.
Drama, dancing, art and audio –

Communication with other people may be difficult and as a result, be frustrating and hard for somebody with a learning impairment. Those with a learning disability will experience the very same emotions as others but might not have the ability to express them.
Providing a creative outlet may enable them to express their feelings and that helps them eventually to reflect on what they are feeling and how they are feeling, and this may be true of somebody. In addition, it can build self – esteem, freedom and liberty.
Attending to drama, dancing, art or music courses will help an individual to follow directions and instructions and to socialize with other people.
Exercise and game –

From Kids to developing adults with learning disabilities, while mostly all people have similar basic needs, some of their emotional and physical needs may be different due to health issues and different physiological needs. Exercising or playing are fantastic ways of staying fit and healthy and will help provide an enjoyable environment to learn skills. There are numerous expert sports clubs and facilities for individuals with learning disabilities. What is most important is for those that learning disabilities to become involved in sports and enjoy these activities.

Places to go –

There are quite a few different places, day centres and youth clubs that offer help for individuals with learning disabilities. They offer for example instructing skills, learning and education opportunities and sponsor a variety of enjoyable activities.

Instruction –

Another interesting activity for somebody with a learning disability might be to look around and try learning new skills, learning new hobbies, e.g. – playing the guitar, learning keyboard, pottery, painting, drawing, doodling etc. These will help them find out more about how to hone their skill and give them opportunities to socialize with others, perform their art and get the recognition which will only help develop a greater sense of self-worth. out a new ability. We help those with learning disability to understand how to find skills that they can like and develop.
How can Care24 help?
Based on the type of need, it requires quite a few weeks or even months for you to recover. You are helped by our physiotherapist with exercises which stimulates tissues and the cells that have been injured for aiding recovery.
The physiotherapists help with stretching exercises and offer recovery programs in accordance with the kind of injury, in order to facilitate recovery. She will also guide you in educating you to take care of yourself.
Therefore, if you are looking for an excellent physiotherapist or a good nurse, simply reach out to Care24's world-class learning disabilities physiotherapy treatment in your home's comfort.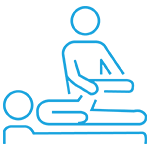 style="text-align:right;color:0f0f59;">
Read more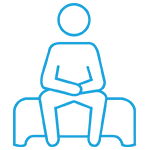 style="text-align:right;color:0f0f59;">
Read more
Needed an attendant for a week for post-surgical assistance (ward boy type work). The person allocated was punctual, polite, and generally did the job well. Quite happy with the services provided. Edit: The payment management is quite bad. If you choose to make cash payments for the service (physiotherapist in my case), the payment does not sync with the agency and they keep sending messages and emails along you to pay up. They follow up with calls on Sunday afternoon 🤦🏻 Edit 2: No change. The company is continuously following up for the money I have already paid. Reducing the rating.

Swati Saxena


5/31/2020

Unqualified office staff, when you call to clarify something. Many times they don't understand the question. They are not trained well. The customer care staff needs an upgraded system, where notes are fed into the system. So you don't need someone else calling up and giving you the same info. The caretaker is not trained well. If they are looking after an elderly person, they should know that they have to be in the best of health to look after my mother. She ended not making a meal for my mother and my neighbour had to provide it. If the caretaker is not well she should have asked for a replacement asap and not waited. It is shocking, we have paid a huge amount of money for this service and I am absolutely unhappy. Please do not call for caretaker's from Care24. As long as they are getting their money. They care a damn!!! Worst service providers.

Bonabelle Zuzarte


7/10/2019

worst service, they just talk as if they will send professional at our place, they give big promises at the time of starting their services, but when the attendant come at our place we realized that he was more delicate than our patient, the person whom they had sent got a small scratch in his finger and than the same day he said he wont come as he got injury, so the next day he dint turn up neither did care24 arrange for a replacement, after calling them for 4 times they said me sorry they couldn't arrange anyone today. they don not have the decency to even inform that they cannot arrange for a replacement.. please do not go for their services, its just the promises nothing to deliver

Komal Patel


4/11/2019

Most horrible services. Please do not ask for help from these people, they will talk sweet and then at the last moment there will be no shows from the caretaker. I had to go through this not once but twice the caretaker did not turn up. Request you all to not depend on these people as we are leaving our homes and letting them into our lives, the least they can do is inform and provide a replacement, but neither of it happened and they expect me to pay registration fees of RS,1000

Annie Palan


5/17/2019

Horrible, unprofessional service! Advance paid.The caregiver did not show up. When complained to customer care, they said they will find a replacement and call back. No call back, no replacement. They shut for the day and the customer is felt in a lurch. Extremely disappointing. Will never avail this service again and will spread the word too.

Shraddha Shah


11/02/2019
I am still taking services from Care 24 since last two years. The caregivers are well trained and takes good care of my mother in law.
Sheila khanchandani
Sumesh Brother is Punctual, Efficient and knowledgeable and understands patients requirements completely.
Jayshree Prabhu
I have been using care 24 services and have been very happy with their services. Priyanka Rajbhar is our caretaker she is very disciplined kind and dedicated towards her work.
Saurabh Bhatt
The Nurse and the Attendant provided by Care24 are good in service, polite and punctual. We are happy with their service. The patient ( our family member) is been given proper care, feed and cleaned regularly.
Deepa Balvalli
Dr. Ralga had Attended to my father. He is suffering from PSP. We were specifically impressed by her techniques n method to handle the issue. We are planning on repeating her visits every month for positive results.
Uma Ram
Frequently Asked questions