Our physiotherapists are experienced in providing a complete range of physiotherapy services.
Fill up the form to know more about our physiotherapy services in Malad.
Our physiotherapists are experienced in providing a complete range of physiotherapy services.
Fill up the form to know more about our physiotherapy services in Malad.
Highly rated by thousands of patients all over India.
pHYSIOTHERApY services in Malad
What is Physiotherapy?
Physiotherapy is the treatment of injury, illness, and conditions via physical approaches — for example workouts, massage, treatment along with other solutions — over medication as well as surgical treatment.

Plenty of people may be of the viewpoint that physiotherapists predominantly work with back and athletics-related ailments, but they could be very mistaken. Physiotherapists are greatly trained health care professionals who offer remedy for individuals tormented by bodily challenges arising from a wound, ailment, ailment, and aging. Their aim is always to improve a person's quality of life through the use of many different treatments to relieve problems and reinstate function or, concerning permanent injury or sickness, to decrease the consequences of any malfunctions.


Physiotherapy can help in the following ways
1. To aid individuals accomplish their complete prospective following damage, aching or handicap.
2. To give wellness assistance that is definitely approachable, productive and philanthropic.
3. To consistently undertake scientific examination and exercising to improve our facility.
4. To produce a system that is according to good standards of care and follow

Treatment for Physiotherapy
Just like just about any medical practice, various treatments can be utilized to take care of a variety of problems.

Orthopaedic physical therapy takes care of musculoskeletal problems, relating to the muscles, bones, ligaments, fascias, as well as tendons. It is appropriate for health problems such as fractures, sprains, tendonitis, bursitis, long-term medical problems, and rehabilitation or recovery from orthopaedic surgery. Individuals could undertake treatment with joint mobilizations, manual therapy, strength training, mobility training, and other modalities.

The geriatric physical remedy can help aged sufferers who develop problems that have an effect on their range of motion and physical capability, for example, arthritis, osteoporosis, Alzheimer's disease, hip and also joint replacement, balance disorders, and incontinence. Any such intervention aims to reestablish the ability to move, reduce pain as well as boost physical fitness degrees.

Neurological physical therapy can help people who have neurological disorders and situations, for example, Alzheimer's disease, brain problems, cerebral palsy, multiple sclerosis, Parkinson's condition, spinal cord injury, and stroke. Treatment may possibly aim to increase limb attentiveness, handle paralysis, and reverse increase muscles power by minimizing muscle atrophy.

Cardiovascular, as well as pulmonary rehabilitation, may benefit individuals affected by some cardiopulmonary problems together with operations. Treatment can increase physical stamina and stamina.

Pediatric physical therapy aims to identify, deal with, as well as handle problems that affect infants, youngsters, and teens, such as developmental delays, cerebral palsy, spina bifida, torticollis along with other problems that influence the musculoskeletal system.

Wound treatment therapy generally helps to guarantee that a healing wound is acquiring sufficient oxygen together with blood with the help of heightened blood flow. Physical therapy may include the usage of manual therapies, electric stimulation, compression therapy and wound treatment.

Vestibular healing strives to react toward balance problems that may result from internal ear disorders. Vestibular physical therapy involves a variety of exercises as well as manual approaches that can help patients regain their regular equilibrium as well as coordination.

Decongestive therapy generally helps to deplete stored substance in individuals with lymphedema along with other problems that entail fluid accumulation.

Pelvic floor rehabilitation could actually help cure urinary or faecal incontinence, urinary longing and pelvic pain in males and females due to accidents or surgery, or even as a result of particular situations.
Apart from physical manipulation, physical therapy treatment may involve:
Ultrasound, to promote blood circulation as well as treating by warming the tendons, muscles, and tissues

Phonophoresis, which makes use of ultrasound to deliver certain prescription drugs, for instance, topical steroids. This may minimize the visibility of inflammation

Electrical stimulation, or E-stim, which uses topical electrodes on the skin to bring down pain and boost functional capabilities. One sort of E-stim is transcutaneous electrical nerve stimulation (TENS). At times, anti-inflammatory medications are widely-used with specific E-stim modalities and are often known as iontophoresis

Heat, moist warmth in addition to cold therapy
Light therapy, wherein special
lights and lasers are used to treat specific health conditions
The physical therapist will certainly suggest the most appropriate treatment.

Exercises for Physiotherapy
Aiding you to to understand how arthritis affects you
Your physiotherapist can assist you to learn what happens to your joints and muscular areas if you have arthritis and how you can cut down the effect such adjustments cause to your life.

Aiding you to deal with your pain
Your physiotherapist can counsel you concerning tips on how to manage your everyday pain.

Pacing is one of these strategies.
Working together with the physiotherapist you may uncover the correct stability between rest and some activity. This simply means planning your actions so that you're always cozy, and this will probably allow you to experience the things you need to do.

Some other pain-relief strategies which may be used by physiotherapists include:

transcutaneous electrical nerve stimulation (TENS)

massage
acupuncture
You can even access these kinds of solutions via private professionals or purchase them by yourself.


Bettering your fitness
Physical exercise can:

– develop your general fitness and movability
– help you observe a healthy weight
– cause you to feel much better concerning yourself.
You and your physiotherapist could certainly make a decision on the best exercise for you personally. No matter what your fitness amount, your physiotherapist will assist as well as encourage you.


Teaching you mobilizing, flexing and also strengthening exercises
Your physiotherapist will determine the variety of movement of your joints and your muscle power. You and your physiotherapist can work towards acquiring your complete perspective and best functional final result using manual techniques in addition to workout routines.

Benefits of Physiotherapy
Several physiotherapists consult in private practice and we deal with several conditions. Orthopedic instances (this includes sports wounds, fractures, spinal discomfort as well as headaches to name a few) are the best-known forms of patients we deal with in a clinical setting. Physiotherapy treatment may involve therapeutic workouts to build up strength, range of motion and endurance and to correct posturally as well as muscle imbalance, joint mobilization, manipulation, and tender tissue massage, in addition to stretching as well as trigger point therapy to reduce inflexibility as well as to relieve pain.

Sufferers with neurological disorders for example stroke, multiple sclerosis, Parkinson's disease, cerebral palsy and spinal cord injury may benefit significantly with physiotherapy treatment. Interventions center on muscle re-education and control, rehabilitation of fine and gross motor expertise, strengthening daily performance, regaining strength and versatility, learning how to carry out safe transfers, rebuilding and improving gait and training in the use of mobility aids.

For youngsters struggling with cerebral palsy, physiotherapy is critical in serving to reduce spasticity and deformity, bettering postural control, showing children how to use assistive gadgets and also carrying out all that is necessary to maximize the child's working autonomy. We will furthermore educate the family members so they can guide carryover what the child has learned in the course of therapy sessions.

Cardiopulmonary circumstances respond positively to physiotherapy interference. Patients who may have problems carrying out their activities of daily living, or who have shortness of breath as well as diminished stamina, can attain a markedly upgraded quality of life by way of supervised activity and strength training. Interference additionally includes manual treatment as well as training to assist clear secretions in the chest, counseling about risk factors, patient education to avert upcoming recurrence as well as habits modification. For all those individuals that have obtained cardiopulmonary surgical treatment, physiotherapy is initiated early to avoid the patient from reducing energy and performance.

The Physiotherapy work began to establish itself starting in the early part of the 20th century serving troops with painful damages. Physiotherapists pride themselves on getting known members of the numerous healthcare teams, whether it be in clinics, universities or institutions. There is an aspiration within to help individuals heal.

Physiotherapy employs confirmed hands-on techniques as well as workouts to help treat various conditions. To prevent further damage we try to rehabilitate and even recondition the utilization of a body part. We are going to develop a treatment program that matches your own private wants as well as we are comprehensive in our judgment as well as check-ups.

To alleviate the aching, the physiotherapist could use hands-on treatment similar to massaging, tender hand pressure over joint parts as well as stretching muscular areas to help an individual move much easier and with less pain. We also teach special activities and movements to greatly reduce aching and speed healing.

Much research has proven that the faster someone starts physiotherapy, the more rapidly they will recover in the brief and long term.

How can care24 help?
If you are seeking out a physiotherapist at home in Malad, Care24 has to be your very first preference. Care24 has set a very high standard for customized home health care. Care24 offers home physiotherapy in Malad, and our physiotherapists are often considered some of the best physiotherapists in Malad. Our physiotherapists are well-trained, qualified and understand the patient's needs.

The home is the best place for physical therapy, where comfortable surroundings directly increase your chances of rehabilitation. There is no need to visit a physiotherapy clinic in Malad when Care24 provides quality home physical therapy services. You can get yourself treated by some of the top physiotherapists in Malad from the comfort of your home.

Our skilled physiotherapists will provide you the finest treatment in the comfort and ease of your home to recover faster. And no matter if you are looking for a sports physiotherapist in Malad or a neuro physiotherapist, Care24's at-home physiotherapy services are just a call away. Contact us and our professionals will get in touch with you quickly. At-home physiotherapy in Malad was never so easy. Care24 provides the best home physiotherapy services in Malad.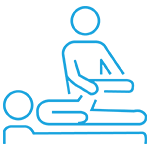 style="text-align:right;color:0f0f59;">
Read more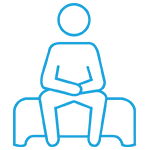 style="text-align:right;color:0f0f59;">
Read more
We contacted care 24 for my Dad's physiotherapy. Our physiotherapist Dr Dharita is very knowledgeable and extremely patient. My Dad is showing a lot for improvement in terms of his movement.

D W


3/21/2019

Horrible, unprofessional service! Advance paid.The caregiver did not show up. When complained to customer care, they said they will find a replacement and call back. No call back, no replacement. They shut for the day and the customer is felt in a lurch. Extremely disappointing. Will never avail this service again and will spread the word too.

Shraddha Shah


11/02/2019

If there was an option of negative stars then I would have choosen it. They offered me a package of₹ 5950/- for 10 days and after 2 days updated me on new package of ₹5700/- for 7 days without my consent. Even deposited my earlier cheque and then I had to follow up for the balance for about 10 days explaining my issue everyday to the new person on their helpline. They don't acknowledge emails too. Worst experience and definitely not recommended

Mugdha Kulkarni


5/23/2019

worst service, they just talk as if they will send professional at our place, they give big promises at the time of starting their services, but when the attendant come at our place we realized that he was more delicate than our patient, the person whom they had sent got a small scratch in his finger and than the same day he said he wont come as he got injury, so the next day he dint turn up neither did care24 arrange for a replacement, after calling them for 4 times they said me sorry they couldn't arrange anyone today. they don not have the decency to even inform that they cannot arrange for a replacement.. please do not go for their services, its just the promises nothing to deliver

Komal Patel


4/11/2019

Most horrible services. Please do not ask for help from these people, they will talk sweet and then at the last moment there will be no shows from the caretaker. I had to go through this not once but twice the caretaker did not turn up. Request you all to not depend on these people as we are leaving our homes and letting them into our lives, the least they can do is inform and provide a replacement, but neither of it happened and they expect me to pay registration fees of RS,1000

Annie Palan


5/17/2019
I am still taking services from Care 24 since last two years. The caregivers are well trained and takes good care of my mother in law.
Sheila khanchandani
Sumesh Brother is Punctual, Efficient and knowledgeable and understands patients requirements completely.
Jayshree Prabhu
I have been using care 24 services and have been very happy with their services. Priyanka Rajbhar is our caretaker she is very disciplined kind and dedicated towards her work.
Saurabh Bhatt
The Nurse and the Attendant provided by Care24 are good in service, polite and punctual. We are happy with their service. The patient ( our family member) is been given proper care, feed and cleaned regularly.
Deepa Balvalli
Dr. Ralga had Attended to my father. He is suffering from PSP. We were specifically impressed by her techniques n method to handle the issue. We are planning on repeating her visits every month for positive results.
Uma Ram
The physiotherapist came to my home was very helpful and knowledgeable. She properly gave me the detailed information about my injury. Also the first assessment is free of cost.

varshflute


10/17/2019

Mangal Laad has visited us for a couple of days in the day. She is very kind, attentive and trustworthy. She has been with us like an extended Family. The patient has also appreciated her services. She is excellent. We thank you for Mangal Laad.

Tanuka M


3/09/2020

The management team & the customer care team is quite responsive.... However the main component, ie the caregiver is not trustworthy & definitely not upto the mark

Ritwik Basu


11/03/2019

The worst experience I've had of my life. I normally never really write reviews, but I had to write this because this agency is the worst company I've dealt with till now. Their customer service is terrible, most of their attendants are not competent for taking care of elderly patients. Please do not use their service.

Radhika Kulkarni


6/27/2019

Worst experience ever! Have hired a caregiver and a nurse. The nurse arrives late repeatedly inspite of being told about how critical medication timings are, falls asleep during day duty, is clueless about timings and medications inspite of us having guided them and has no sound medical knowledge whatsoever. She insisted that a fever of 99.7 is normal and even tried feeding the patient through riles tube with the patient lieing down inspite of there being a recliner arrangement. Neither the nurse or the attendant knew the correct way of lifting a patient from the bed, it was all ignorant tug and pull. Any complaints made to the organisation made no difference as they need more than a day to arrange for a replacement and one needs to deal with the same incompetent staff for another day or risk having no caregiver coming over (as bluntly informed by the call center) at all. Furtheron, the same performance continued the next day. In fact, in the absence of the family members it was observed through a baby monitor that the attendant and the nurse were sitting and chatting away while the patient was trying to sleep and literally PASSING FOOD OVER TO EACH OTHER OVER THE PATIENT! If this wasnt bad enough, the attendant developed a cough and a fever and when a call was made to care 24 asking them to send a replacement on the next day at least as the patient has low immunity, the organisation again gave a choice, we could have the same attendant and risk the patient getting sick, or have no attendant for the next day as they didn't have anyone available. Do not fall for the sales pitch of the executives over the phone as their premium prices and promises of exceptionally well trained staff is nothing but marketing mumbo jumbo. The professionalism and training of the staff that comes to your door is as garbage as the service of the organisation. More importantly, do not trust this organisation with the health and well being of your loved ones as no one in the entire heirarchy of care 24 really 'cares'. You would be better off hiring someone from a local agency. Have had much better experiences with randomly contacted nurses and attendants through justdial. Even though they live far, they reach on time The local organisations are also promptly able to provide replacements if need be. P.S. The 1000 or so rupees registration charge they take from you initially, is essentially a financial clickbait as its money they've made off you after they have stressed you out, contributed to deterioration of the patient and compelled you to suspend their services.

Marzouq Shaikh


3/09/2020
Care24 provides you with physiotherapy services at your own home. You do not have to go in search of physio rehab in Malad or any other cities. They are the best.
Kunal kapoor
There are many physiotherapy centres in Malad west but none beat the services provided by Care24. The best part is they have home services and have well-trained staff. Thank you Care24 and keep the best work going.
Akhilesh Sharma
Care24 has the best physiotherapist in Malad Mumbai. I wish all the members, good luck, and you have treated me very well.
Shamili Shankar
We searched a lot for a physiotherapist in Malad east as I needed inhouse services. The hired team from Care24 made my life much better than before. Thank you, Dhanush and your team members.
Rama Krishna Krishnan
I was searching for a physio rehab in Malad. I took services from Care24. They were professional in what they were doing. Highly recommended.
Krishna Mehta
I was searching online for physiotherapy centres in Malad west. I came across Care24 and I took their services. They were very professional. I thank them for their services.
Dolly Singh
I went with a ligament injury in my ankle and got one of the best physiotherapist in Malad from Care24. He patiently listened to all my concerns and answered all my questions. I want to thank the Care24 team for excellent care & treatment.
Nitin Tiwari
Care24 offers the best physiotherapist in Malad east. The amount of time and effort the team puts in proper diagnosis is a rare find. The physiotherapy sessions and home workout routine have helped me in more ways than one.
Rakesh Shah
A big thank you to physio rehab in Malad. Excellent care with a high level of professionalism from their team. Knowledgeable, helpful.
Aakriti Shinde
The best physiotherapy centres in Malad West I have ever encountered. They are perfect in their knowledge, and so loving and caring that they transfer confidence and makes you feel well by their very presence.
Manav Kataria
Being new to the city I was unaware of the best physiotherapist in Malad. I searched online for physiotherapists and came across the Care24 website. I contacted them and booked an appointment. The service provided was good.
Gaurav Vyas
I booked Care24's service for a physiotherapist in Malad east for my wife's treatment. I was impressed by how well the treatment was given. I recommend using Care24 services for your loved ones.
Rohan Bate
One month before I was searching for physio rehab in Malad and during that search, I found Care24. They treated me very well, and I am pleased with my decision. Thanks, Care24.
Rashid Khan
There is a significant difference between Care24 and other physiotherapy centres in Malad west. Yes, I can say that because no one can match with the physio services that Care24 provides. I am thankful to them for treating my son.
Faisal Parker
It is difficult to find a good physiotherapist these days. But, after a lot of research, I finally found the best physiotherapist in Malad. Great service by Care24. Do try it.
Shewta Tiwari
Impressive service & the best physiotherapists in Malad east. Care24 is simply the best you will ever come across. Treatment is on a very high level.
Jisha Nair
Outstanding patient care! They take great steps working with you one – on – one in helping you get back on your feet. If you need physiotherapy treatment, I highly recommend Care24.
Avinash Wagh
The first time I have taken a physiotherapy service & I am very happy with Care24. They heard all my questions and answered in a very professional manner. Looking forward to 100% relief from my ligament pain. Thanks!
Manas Dheer
It was an assuring and nice experience. The atmosphere was healthy. The approach of the doctor was to the point and there was absolute clarity in guidance.
Amar Thacker