Physiotherapy In Ghatkopar
Our physiotherapists are experienced in providing a complete range of physiotherapy services.
Fill up the form to know more about our physiotherapy services in Ghatkopar.
Physiotherapy in Ghatkopar
Our physiotherapists are experienced in providing a complete range of physiotherapy services.
Fill up the form to know more about our physiotherapy services in Ghatkopar.
Highly rated by thousands of patients all over India.
pHYSIOTHERAPY services in Ghatkopar
What is Physiotherapy?
Physiotherapy helps to restore movement and function if a person is afflicted with injury, illness or disability. Physiotherapists benefit folks impacted by harm, sickness or disability by way of mobility and training, manual therapy, training, and guidance. They maintain health for people of any age, helping people to manage pain and ward off diseases. Physiotherapy helps to support advancement and aid rehabilitation, allowing persons to be in work while facilitating them to remain independent as long as possible.

Physiotherapy is a degree-based medicinal profession. Physios utilize their knowledge and capabilities to boost numerous conditions connected with different systems of the system, like

1. Neurological (stroke, multiple sclerosis, Parkinson's)
2. Neuromusculoskeletal (back pain, whiplash associated disorder, sporting wounds, arthritis)
3. Cardiovascular (chronic heart problems, treatment after a heart attack)
4. Respiratory (asthma, chronic obstructive pulmonary disease, cystic fibrosis).
Physiotherapists operate in a number of specialisms in health and social care. In addition, some physiotherapists are involved in coaching, research and service management
Treatment for Physiotherapy
Physiotherapists are qualified to analyze your problem, define the illness, and help you recognize what's wrong. Your treatment approach normally takes into account the way you live, routines and overall health.
The following are well-known medical treatments use by physiotherapists:
physical exercise programs to enhance the ability to move and build up muscles

joint manipulation and mobilization to decrease discomfort and rigidity
muscle re-education to develop control
airway clearance techniques as well as breathing exercises
soft tissue mobilization (massage)
acupuncture together with dry needling
hydrotherapy
help with the use of aids, splints, crutches, walking sticks and wheelchairs to help you maneuver around.

Exercises for Physiotherapy
Additionally, this method fixes a variety of diseases which are listed below:

It could cure strokes, multiple sclerosis, and Parkinson's that comes under Neurological ailments. Also, it helps in dealing with individuals with injured spinal cord or maybe a human brain caused by strain.

Orthopedic issues similar to arthritis and amputations tend to be healed by making use of physiotherapy.

Musculoskeletal complications like back and neck discomfort are dealt with with the help of physiotherapy.

Cardiac cases such as persistent heart problems and rehab after the heart attack is normally carried out by physiotherapy strategies.

Respiratory problems like asthma, cystic fibrosis, and chronic obstructive pulmonary illnesses might be cured with physiotherapy procedures.

Women's medical ailments via physiotherapy procedures involve conception, breastfeeding your baby, bedwetting, menopause, prolapsed, loss in bladder or bowel control, etc.

It helps in relieving sufferers with different types of pain as a consequence of virtually any treatment method or injury.

Benefits of Physiotherapy
Pain may come numerous forms and is generally the primary reason to see a physiotherapist. Aches and pains can be the consequence of a car wound, a sprained ankle from basketball practice, carpal tunnel syndrome from a poorly set up workstation, or chronic lower back discomfort that started long before you may even remember. It doesn't matter how poor the discomfort is, if it affects your operation at work, in a fitness center, on the field or even at home, you ought to do something concerning this. Physiotherapy can help you deal with, mitigate or even eliminate the pain to help you go back to enjoying your physical exercises. It also decreases your dependency on painkillers, which gives your kidneys a much-needed break.

The Physiotherapy position started to establish itself in the early part of the 20th century aiding soldiers with traumatic injuries. Physiotherapists pride themselves on getting known members of different medical care teams, whether it be in treatment centers, universities or institutions. There is certainly a desire to aid individuals to recover.

Physiotherapy makes use of verified hands-on approaches and workouts to help cure various problems. To protect against extra deterioration we try to rehabilitate and even recondition the consumption of a body part. We can establish a treatment program that matches your own personal demands as well as we are exhaustive in our diagnosis and check-ups.

To alleviate the aching, the physiotherapist might use hands-on treatment method similar to massaging, soothing hand pressure over joints and stretching muscular areas to encourage any individual move more convenient as well as with significantly less soreness. We at the same time educate unique exercises together with actions to decrease pain and speed healing.

A lot of studies have established that the quicker a person begins physiotherapy, the faster they will recover in the short and longer term.

How can care24 help?
If you have been searching for a physiotherapist at home in Ghatkopar, Care24 must be your very first preference. Care24 has set a high standard for customized at-home medical care. Care24 provides home physiotherapy in Ghatkopar, and our physiotherapists are in many cases regarded some of the best physiotherapists in Ghatkopar. Our physiotherapists are well-trained, certified and fully understand the patient's requirements.

The home is the most suitable place for physical therapy, wherein comfortable surroundings directly enhance your chances of rehabilitation. It is not necessary to go and visit a physiotherapy clinic in Ghatkopar when Care24 offers quality home physiotherapy services. You can get yourself treated by some of the top physiotherapists in Ghatkopar from the comfort and ease of your home.

Our skilled physiotherapists will provide you the finest treatment in the ease and comfort of your home to recover faster. And whether or not you are looking for a sports physiotherapist in Ghatkopar or a neuro physiotherapist, Care24's at-home physiotherapy services are only a call away. Get in touch with us and our specialists will get in touch with you soon. At-home physiotherapy in Ghatkopar was never so simple. Care24 offers some of the best home physiotherapy services in Ghatkopar.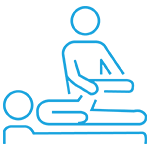 style="text-align:right;color:0f0f59;">
Read more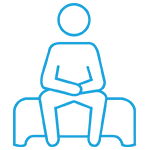 style="text-align:right;color:0f0f59;">
Read more
worst service, they just talk as if they will send professional at our place, they give big promises at the time of starting their services, but when the attendant come at our place we realized that he was more delicate than our patient, the person whom they had sent got a small scratch in his finger and than the same day he said he wont come as he got injury, so the next day he dint turn up neither did care24 arrange for a replacement, after calling them for 4 times they said me sorry they couldn't arrange anyone today. they don not have the decency to even inform that they cannot arrange for a replacement.. please do not go for their services, its just the promises nothing to deliver

Komal Patel


4/11/2019

I got good experience wt dr Dhrita she is v good in physiotherapy n nice while talking n explains v nice

Sujata Rao


6/19/2019

Needed an attendant for a week for post-surgical assistance (ward boy type work). The person allocated was punctual, polite, and generally did the job well. Quite happy with the services provided. Edit: The payment management is quite bad. If you choose to make cash payments for the service (physiotherapist in my case), the payment does not sync with the agency and they keep sending messages and emails along you to pay up. They follow up with calls on Sunday afternoon 🤦🏻 Edit 2: No change. The company is continuously following up for the money I have already paid. Reducing the rating.

Swati Saxena


5/31/2020

Mangal Laad has visited us for a couple of days in the day. She is very kind, attentive and trustworthy. She has been with us like an extended Family. The patient has also appreciated her services. She is excellent. We thank you for Mangal Laad.

Tanuka M


3/09/2020

Horrible, unprofessional service! Advance paid.The caregiver did not show up. When complained to customer care, they said they will find a replacement and call back. No call back, no replacement. They shut for the day and the customer is felt in a lurch. Extremely disappointing. Will never avail this service again and will spread the word too.

Shraddha Shah


11/02/2019
I am still taking services from Care 24 since last two years. The caregivers are well trained and takes good care of my mother in law.
Sheila khanchandani
Sumesh Brother is Punctual, Efficient and knowledgeable and understands patients requirements completely.
Jayshree Prabhu
I have been using care 24 services and have been very happy with their services. Priyanka Rajbhar is our caretaker she is very disciplined kind and dedicated towards her work.
Saurabh Bhatt
The Nurse and the Attendant provided by Care24 are good in service, polite and punctual. We are happy with their service. The patient ( our family member) is been given proper care, feed and cleaned regularly.
Deepa Balvalli
Dr. Ralga had Attended to my father. He is suffering from PSP. We were specifically impressed by her techniques n method to handle the issue. We are planning on repeating her visits every month for positive results.
Uma Ram
I got good experience wt dr Dhrita she is v good in physiotherapy n nice while talking n explains v nice

Sujata Rao


6/19/2019

Mangal Laad has visited us for a couple of days in the day. She is very kind, attentive and trustworthy. She has been with us like an extended Family. The patient has also appreciated her services. She is excellent. We thank you for Mangal Laad.

Tanuka M


3/09/2020

I got attendent for my ailing mother thru care 24. The best service i got...if i need infuture i will definitely go for care24 only...they are the best

felix thomas


3/21/2020

Most horrible services. Please do not ask for help from these people, they will talk sweet and then at the last moment there will be no shows from the caretaker. I had to go through this not once but twice the caretaker did not turn up. Request you all to not depend on these people as we are leaving our homes and letting them into our lives, the least they can do is inform and provide a replacement, but neither of it happened and they expect me to pay registration fees of RS,1000

Annie Palan


5/17/2019

Unqualified office staff, when you call to clarify something. Many times they don't understand the question. They are not trained well. The customer care staff needs an upgraded system, where notes are fed into the system. So you don't need someone else calling up and giving you the same info. The caretaker is not trained well. If they are looking after an elderly person, they should know that they have to be in the best of health to look after my mother. She ended not making a meal for my mother and my neighbour had to provide it. If the caretaker is not well she should have asked for a replacement asap and not waited. It is shocking, we have paid a huge amount of money for this service and I am absolutely unhappy. Please do not call for caretaker's from Care24. As long as they are getting their money. They care a damn!!! Worst service providers.

Bonabelle Zuzarte


7/10/2019
The best physiotherapist in Ghatkopar, I have ever encountered for my treatment. I felt immediate relief after the first visit and have recommended the practice to friends and family.
Kainaz Shah
Get the best physiotherapist in Ghatkopar East services from Care24. Clean environment. Excellent location. With their knowledgeable staff and proper equipment, Care24 services are helping me get back to healthy.
Kamal Sikka
I was looking for a physiotherapist in Ghatkopar as I was having back pain. One of my friends recommended Care24 so I took their services and I was amazed by their services. They were professional.
Aarti Tikekar
I hired a Physiotherapist in Ghatkopar east from Care24. I must say that my overall experience was peaceful. I can feel the improvement due to this physiotherapy. I highly recommend Care24's Services.
Sayali Bagkar
Happy with the service offered by Care24's Physiotherapist in Ghatkopar. I recommend everyone to use this service for fast recovery.
Jeet Sandhu
If you are looking for a Physiotherapist in Ghatkopar east, I would recommend using the Care24 service. They are best for in-home physiotherapy treatment.
Asifa Sayyed
Care24 has one of the best physiotherapist in Ghatkopar who gives their best to help people with their problems. They are well educated and humble with patients. Thanks for treating my son.
Jannat Mulla
After doing a lot of research for the best physiotherapist in Ghatkopar east, I finally found one of the best which is called Care24. I have never seen that good physiotherapist ever. Dedicated to work and ever ready to help the patient.
Rehan Mirza
I was searching on the web for the best physiotherapist in Ghatkopar when I came across Care24. Highly valuable & worth a visit, I suggest give it a try.
Tina Saad
The physiotherapist over here are entirely professional and treat according to your requirements. I want to thank Care24 team who has handed my back pain case efficiently. I would recommend this clinic for those patients having acute back pain.
Ganesh Salian
I had back and neck pain. I improved 80% after taking treatment from Care24. I am pleased with my overall experience. Thank you, Care24.
Nikita Singh
I have been through a lot of physical therapists, but I 100% credit my return to Sports due to Care24. After a horrific accident and multiple injuries, I doubted I would ever return to a life of normalcy, much less back on the floor again. Care24 and their therapists showed me my deficits, and where my body was compensating for the injuries and how that would affect my entire core. So thank you to Care24 and their staff, I know that I am only back doing what I love, because of you!
James Joseph
Wonderful skilled caring staff who sincerely are involved in helping you heal and recover in therapy. Care24 pushed me when I needed it and encouraged me always to strive for all the goals we set. I had a great experience there. Highly recommend, Check it out for sure.
Shivani Poyrekar