Nursing Care For Urethral Stricture
Our nurses are experienced in providing a complete range of nursing care specializations, including nursing care for Urethral Stricture patients :
Nursing Care For Urethral Stricture
Our nurses are experienced in providing a complete range of nursing care specializations, including nursing care for Urethral Stricture patients :
Urethral Stricture Nursing Care
Overview
Best Nursing Urethral Stricture Treatment At Home – Care24
A urethral stricture is a problem which involves scarring that shrinks the tube which carries urine out from the body. This stricture blocks the flow of urine from the bladder, it can cause a lot of medical issues like inflammation, infection or injury. This scarring can arise right from bladder to tip of the penis.
Care24 provides the best services of nursing care for urethral stricture treatment at home. Contact our experts to know more details on urethral stricture treatment at home.
Symptoms
Symptoms of urethral stricture range from asymptomatic (no symptoms at all), to mild discomfort, to complete urinary retention (inability to urinate).

Some of the possible complications and symptoms of urethral stricture include the following:

1.) Spraying or double streaming urine
2.) Bloody or dark-appearing urine also known as hematuria
3.) Blood in the semen (hematospermia)
4.) Urinary incontinence (loss of bladder control)
5.) Pelvic pain
6.) Difficulty starting urine flow (hesitancy)
7.) Painful urination (dysuria)
8.) Urinary tract infection (UTI)
9.) Urinary retention10.) Incomplete emptying of the bladder
11.) Decreased urinary stream
12.) Dribbling of urine
13.) Discharge from the urethra
14.) Reduced ejaculation force
15.) Stones in bladder
16.) Straining to urinate

Causes
The following are usually the causes of scarring or narrowing of the urethra (urethral stricture):

Trauma from any injury or accidents which causes damage to the urethra or bladder (for example, falling on a frame of a bicycle between the legs, or a car accident), straddle injuries


Pelvic injury, when there is a fracture of the pelvic bone or trauma





Previous procedures involving changes in the urethra (urinary catheters, surgeries, cystoscopy)





Previous prostate surgery such as TURP or transurethral resection of the prostate for prostate enlargement, radical prostatectomy for prostate cancer.

Prostate enlargement





Cancer of the urethra (rare)





Infections of the urethra such as sexually transmitted infections or STDs, urethritis, gonorrhoea, chlamydia)





Prostate infection or inflammation (prostatitis)





Previous hypospadias surgery of a congenital birth defect in which the opening of the urethra is on the underside of the penis instead of the tip.

Congenital malformations of the urethra, though it rarely can cause urethral stricture in children





Brachytherapy in which there is the placement of radiation seeds into the prostate for prostate cancer.





Irritation to the urethral meatus related to diaper opening at the tip of the penis)





Inflammatory conditions such as lichen sclerosis which was previously referred to as balanitis xerotica obliterans in males, Reiter's syndrome
risk factors
Any inflammation of urethra can result in scarring, which then can lead to a stricture or a narrowing of the urethra. Any sort of trauma, Infection, tumours, iatrogenic urological interventions such as urethral instrumentation (catheter placement, cystoscopy), transurethral surgeries, treatment of prostate cancer, or any other cause of scarring may lead to urethral narrowing or stricture. Developmental causes of prostate enlargement can narrow the urethra or any sort of mechanical narrowing of the urethra without scar formation but is not a stricture.

Idiopathy is the most common cause of urethral stricture (41%, no cause identified) in developed countries, followed by iatrogenic (35%). Iatrogenic causes include strictures related to hypospadias (a congenital abnormality where the urethral meatus is located on the underside of the penis, anywhere from the perineum to just short of the head of the penis) and strictures from endoscopic procedures (for example, cystoscopy or transurethral prostatectomy). In developing countries, trauma (36%) is the most common cause of stricture.

Diagnosis
The following are some common endoscopic and imaging tests done to evaluate urethral stricture:



Ultrasound of the urethra

Retrograde urethrogram

Cystography, filling and voiding (VCUG)

Antegrade cystourethrogram

Cystourethroscopy

MRI and CT scan




Ultrasound of the urethra (ultrasound urethrography) is one of the radiologic methods in evaluating urethral stricture. This is a noninvasive method and usually does not require any special preparation.
Currently, doctors may use ultrasound of the urethra in addition to other studies, such as retrograde urethrogram (RUG) to define the structure before surgery.

Treatment
Once a stricture has developed, it will not go away. The role of medications is limited in the management of primary urethral strictures.

Surgery is also one of the recommended treatments for individuals with symptomatic urethral strictures.

A doctor will suggest surgery in the following circumstances:

If the patient is encountering problems with urination, such as straining to urinate, weak stream, and urinary retention (inability to urinate)


Stones in the bladder


Recurrent urinary tract infections


If there is Increasing post-void residual (amount of urine left in the bladder after urination)


Failure of conservative measures to control symptoms (pain)
How can Care24 help?
Care-24 doctors and urologists offer care for the people of different ages that suffer from urethral stricture. The doctors also provide urethral stricture home treatment options for the patients.

The urologists offer a comprehensive form to cure urethral stricture. One will be able to get options for urethral stricture care at home, urethral stricture home treatment options and much more.
With you, when you need us the mostOur certified nursing staff provides hospital-like care, assistance & medical companionship to patients.
On-roll & registered nursing staff (GNM/ B.Sc./ M.Sc.)

Trained in Basic Life Support

Customised training with high fidelity simulators




ICU training of nurses in leading corporate hospitals




Undergone mandatory 66+ practical clinical competency checks




Follows international standards and protocols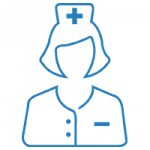 style="text-align:right;color:0f0f59;">
Read more
I used Care24 services for 7 months duration in 2019-20. Carers they provide are a mixed bag. Some are really good while others lack even basic service skills. You got to be very very lucky to get one and same carer over long time as carers often go on leave. When regular carer is on leave, every time they will send new carer. So family members need to repeat everything, right from home address, directions to patient's routine, medicines etc. Do not expect that Care24 will provide any heads-up or patient routine information to new carer who is visiting. Over the 6 months of Mumbai-based care services I used from Care24, there were over 15 instances where new carers were late more than 2 to 3 hours. Care24 support team is very lethargic, there were times when support team assumed that carer has reached home when he had not even started from his place. Support team is unaware of carers being late to customer's place. Then came in so called, the technology upgrade, Jan-Feb 2020, they had a new IT system and there were numerous issues with billing, sending invoices and payment receipts to customers (as told by support team themselves). Support staff told me at least 10 times over phone and email that there are system issues in billing and payment, I had to calculate amount manually on my own and then Pay them. With new system, accounts were on toss, no invoices were sent to customers (in spite of the fact that payment policy says payment needs to be made after receiving invoice.) I had 20-25 emails following up for invoice and payment receipts, but their support team in Mumbai did not care to respond. I found their behavior very unprofessional and not good over these 2-3 months. If you are outside for work (or overseas) and not staying with the patient or your parents, I strongly suggest DO NOT USE CARE24, as they do not respond to your emails and phone in time. They do not bother even when the patient is without care because of their delays in operations and carer issues. They need to improve basic operations first, give timely and consistent services to customers, and then worry about Apps, Digital Assistants and other tech-stuff. .My genuine advice to them--- You are dealing with patient healthcare services, where patient family is relying on you. This is not a courier service business where you are sending people to move boxes and you would't care much when service is delayed !!

Sanket Deo


3/05/2020

The worst experience I've had of my life. I normally never really write reviews, but I had to write this because this agency is the worst company I've dealt with till now. Their customer service is terrible, most of their attendants are not competent for taking care of elderly patients. Please do not use their service.

Radhika Kulkarni


6/27/2019

Horrible service! can't rely on them.They ditch on last moment.Attendents are not punctual,reliable,well behaved and even honest.Service provider doesn't turn up and still they start billing customers .Better to stay away.

Sonal Agrawal


11/04/2019

We had a ridiculously pathetic experience with them. Took an attendant service, a 10 day offer (rs 600 instead of their regular fee of rs 800), for my mother who had undergone an knee replacement surgery. In six days, 4 different attendants were assigned for no fault of ours. We had terrible experience going through the back-end team trying to explain the importance of sending only one attendant and not a different one every new day. The last person assigned wanted to leave by 5pm even though the timings were from 8am to 8pm. With this many other terrible instances in these 6 days, we had no option but to cancel the services. The back-end team were utterly useless in understanding the importance of having only one person assigned. They kept insisting that we pay for 800rs per day for 6 day and offer of rs 600 per day would be invalid. The management should look into this scam and take immediate action on the team. Note: Even though we wanted the services, we were forced to abandon it with no fault of ours. The back-end team has absolute disregard for the grievances of the client.

Rahul Dhakka


12/27/2018

worst service, they just talk as if they will send professional at our place, they give big promises at the time of starting their services, but when the attendant come at our place we realized that he was more delicate than our patient, the person whom they had sent got a small scratch in his finger and than the same day he said he wont come as he got injury, so the next day he dint turn up neither did care24 arrange for a replacement, after calling them for 4 times they said me sorry they couldn't arrange anyone today. they don not have the decency to even inform that they cannot arrange for a replacement.. please do not go for their services, its just the promises nothing to deliver

Komal Patel


4/11/2019
I am still taking services from Care 24 since last two years. The caregivers are well trained and takes good care of my mother in law.
Sheila khanchandani
Sumesh Brother is Punctual, Efficient and knowledgeable and understands patients requirements completely.
Jayshree Prabhu
I have been using care 24 services and have been very happy with their services. Priyanka Rajbhar is our caretaker she is very disciplined kind and dedicated towards her work.
Saurabh Bhatt
The Nurse and the Attendant provided by Care24 are good in service, polite and punctual. We are happy with their service. The patient ( our family member) is been given proper care, feed and cleaned regularly.
Deepa Balvalli
Dr. Ralga had Attended to my father. He is suffering from PSP. We were specifically impressed by her techniques n method to handle the issue. We are planning on repeating her visits every month for positive results.
Uma Ram
Frequently Asked questions