Nursing Care for Dementia Patient
Our nurses are experienced in providing a complete range of Dementia patient care, which includes:
Nursing Care for Dementia Patient
Our nurses are experienced in providing a complete range of Dementia patient care, which includes:
nursing care for dementia patient

Overview
Dementia is a group of brain diseases that hamper a person's ability to think and remember. Dementia is not a single specific disease; rather, it includes all the possible brain diseases that may cause either memory loss or affect the thinking process or both. Alzheimer's disease is the most common form of dementia and contributes to up to around 50-70% of all cases of dementia.
Dementia not only leads to general memory loss or loss of thinking and reasoning but may have even an adverse effect on the patient's life. Dementia may also cause difficulty in language and speech, disorientation, severe mood swings, and loss in body function. With the advancement in the disease, the patient may not be able to perform even the basic day-to-day jobs such as dressing and bathing. As the condition worsens the patient starts to isolate from family and society and the ultimate to the disease is death.
Dementia is more likely to occur in people who are at the age of 65 years and above. Women are generally more likely to face dementia as they live longer. The risk factor increases with the increase in age.
Dementia Symptoms
Dementia can't be treated to the fullest. However, medicines may prove helpful in moderating the symptoms and providing temporary relief.
Symptoms
The symptoms of dementia depend greatly upon the cause and type of dementia. However, the most common symptom is forgetfulness or memory loss. Other prominent symptoms include loss in speech, loss in body functions and mood swings. Dementia may cause a loss in reasoning and problem-solving abilities. Dementia also has various psychological symptoms such as depression, anxiety, irritability, etc.
Dementia is mostly progressive i.e. the symptoms gradually increase with time. However, progression is not very fast. Studies show that most of the people suffering from dementia have mixed dementia i.e. they suffer from more than one form of dementia at the same time. Usually, mixed dementia is a combination of Alzheimer's disease with some other kind of dementia.
Types and Causes
Dementia occurs when brain cells in certain areas die away hampering the communication between the brain cells that are alive. The type of dementia that a person suffers from depends upon the area of the brain that is affected. Dementia can also be categorized according to the cause of damage to the brain cells. For example, the cause of Alzheimer's disease is the deposition of a high amount of proteins inside and outside the brain which hampers the health and communication of the brain cell.
The causes of some of the dementia are reversible. These include vitamin B12 deficiency, thyroid disease, Lyme disease and side effects of certain medications. These types of dementia are referred to as minor dementia and can be cured and reversed easily through medications. Other types of dementia such as Alzheimer's and vascular dementia can't be reversed or cured. Below is a list of the most common and major types of dementia.
Alzheimer's disease: This is the most common form of nonreversible progressive dementia. Alzheimer's most commonly affects people with age 65 years and above. However, some may experience an early onset of Alzheimer's too. Although genetics is considered to be the most common cause of Alzheimer's, other possible causes are not known.
Alzheimer's disease occurs due to protein deposition inside and outside the brain cells which hamper their health and their ability to communicate with other cells. These proteins deposits may be in the form of plaques or tangles. Plaques are clumps of beta-amyloid and tangles are fibers of tau protein.
Vascular dementia: This type of dementia occurs due to bleeding or vessel blockage in the brain. This is the second most common type of dementia. This type of dementia is often associated with brain strokes and hampers thinking and reasoning. Organizing and planning are also difficult for people suffering from vascular dementia. In some cases, even physical movements are restricted.
Lewy body dementia: Lewy bodies are clumps of protein that deposit in brain cells. The causes are similar to that of Alzheimer's. However, the prominent symptoms for this type of dementia are a hallucination, walking or acting in sleep and an unusual walking pattern.
Parkinson's disease: In this form of dementia motor skills of a person is affected. People who suffer from the disease may experience a tremor in their hands or may develop a loss of memory.
Huntington's disease: This type of dementia occurs at a comparatively younger age. People patients with their everyday tasks.
Nursing care plan for dementia patients
With the progress in dementia, care for a dementia patient can be best done in a nursing home for dementia care.
Nursing care plans for impaired memory related to dementia helps the patients to perform their everyday tasks. Nursing homes for dementia patients have specially trained nurses who help patients socialize and feel independent. Care for dementia patients in nursing homes also includes speech therapies to help patients communicate properly.
Nursing home dementia care also keeps a check on the quality and quantity of nutrients that patient intakes as this affects the brain functioning. Nursing care plan for the elderly with dementia also involves and educate family caregivers so as to comfort the elderly people.
Exercise
Physical exercises are very important for the proper functioning of the mind and body. Exercises also help in regulating blood flow to the brain and other parts of the body. Thus, exercise is an important part of care for dementia patients. Those suffering from genetic dementia can be benefited by exercising as it may delay the progress of the disease.
Why choose us?
Care24 understands that care for dementia patients is not easy and requires great skill and training. This is why we provide you with the best team of nurses and caregivers. Our team understands the anxiety of the patient and works its best to provide utmost relief to the patient.
from the age group of 30 – 50 years may experience such a brain disease. This type of neurological disorder is genetic and is caused by the defect of chromosome 4. It may lead to mood swings and depression.
Mixed dementia: This dementia occurs when a person experiences more than one form of dementia at the same time. This generally occurs in people older than 75 years.
Treatments
Dementia whose causes are reversible can be treated using certain medications or medical procedures. The most common is the one caused due to the deficiency of vitamin B12. Such dementia can easily be reversed by maintaining vitamin levels in the body. Others in this category are dementia due to thyroid disease and Lyme disease. Dementia caused as a side effect of certain medications can also be reversed to a great extent.
Dementia due to degenerative causes cannot be stopped or reversed. The treatments for these focus on limiting the symptoms through medication, exercises, and physical therapies. However, these treatments provide only temporary relief.
Care for dementia patients in nursing homes helps limit the symptoms and is very important as the disease progresses. Nursing homes for Dementia patients have specially trained nurses and caregivers to help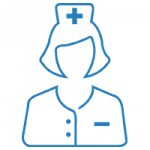 style="text-align:right;color:0f0f59;">
Read more
I used Care24 services for 7 months duration in 2019-20. Carers they provide are a mixed bag. Some are really good while others lack even basic service skills. You got to be very very lucky to get one and same carer over long time as carers often go on leave. When regular carer is on leave, every time they will send new carer. So family members need to repeat everything, right from home address, directions to patient's routine, medicines etc. Do not expect that Care24 will provide any heads-up or patient routine information to new carer who is visiting. Over the 6 months of Mumbai-based care services I used from Care24, there were over 15 instances where new carers were late more than 2 to 3 hours. Care24 support team is very lethargic, there were times when support team assumed that carer has reached home when he had not even started from his place. Support team is unaware of carers being late to customer's place. Then came in so called, the technology upgrade, Jan-Feb 2020, they had a new IT system and there were numerous issues with billing, sending invoices and payment receipts to customers (as told by support team themselves). Support staff told me at least 10 times over phone and email that there are system issues in billing and payment, I had to calculate amount manually on my own and then Pay them. With new system, accounts were on toss, no invoices were sent to customers (in spite of the fact that payment policy says payment needs to be made after receiving invoice.) I had 20-25 emails following up for invoice and payment receipts, but their support team in Mumbai did not care to respond. I found their behavior very unprofessional and not good over these 2-3 months. If you are outside for work (or overseas) and not staying with the patient or your parents, I strongly suggest DO NOT USE CARE24, as they do not respond to your emails and phone in time. They do not bother even when the patient is without care because of their delays in operations and carer issues. They need to improve basic operations first, give timely and consistent services to customers, and then worry about Apps, Digital Assistants and other tech-stuff. .My genuine advice to them--- You are dealing with patient healthcare services, where patient family is relying on you. This is not a courier service business where you are sending people to move boxes and you would't care much when service is delayed !!

Sanket Deo


3/05/2020

We had a ridiculously pathetic experience with them. Took an attendant service, a 10 day offer (rs 600 instead of their regular fee of rs 800), for my mother who had undergone an knee replacement surgery. In six days, 4 different attendants were assigned for no fault of ours. We had terrible experience going through the back-end team trying to explain the importance of sending only one attendant and not a different one every new day. The last person assigned wanted to leave by 5pm even though the timings were from 8am to 8pm. With this many other terrible instances in these 6 days, we had no option but to cancel the services. The back-end team were utterly useless in understanding the importance of having only one person assigned. They kept insisting that we pay for 800rs per day for 6 day and offer of rs 600 per day would be invalid. The management should look into this scam and take immediate action on the team. Note: Even though we wanted the services, we were forced to abandon it with no fault of ours. The back-end team has absolute disregard for the grievances of the client.

Rahul Dhakka


12/27/2018

Nurses and attendants provided by Caree24 are very good. In behavior and trust worthy. Thanks for their support

Anil Kathuria


6/28/2019

Mangal Laad has visited us for a couple of days in the day. She is very kind, attentive and trustworthy. She has been with us like an extended Family. The patient has also appreciated her services. She is excellent. We thank you for Mangal Laad.

Tanuka M


3/09/2020

Horrible service! can't rely on them.They ditch on last moment.Attendents are not punctual,reliable,well behaved and even honest.Service provider doesn't turn up and still they start billing customers .Better to stay away.

Sonal Agrawal


11/04/2019
I am still taking services from Care 24 since last two years. The caregivers are well trained and takes good care of my mother in law.
Sheila khanchandani
Sumesh Brother is Punctual, Efficient and knowledgeable and understands patients requirements completely.
Jayshree Prabhu
I have been using care 24 services and have been very happy with their services. Priyanka Rajbhar is our caretaker she is very disciplined kind and dedicated towards her work.
Saurabh Bhatt
The Nurse and the Attendant provided by Care24 are good in service, polite and punctual. We are happy with their service. The patient ( our family member) is been given proper care, feed and cleaned regularly.
Deepa Balvalli
Dr. Ralga had Attended to my father. He is suffering from PSP. We were specifically impressed by her techniques n method to handle the issue. We are planning on repeating her visits every month for positive results.
Uma Ram
Frequently Asked questions