Radiation Therapy Nursing
Our nurses are experienced in providing a complete range of nursing care specializations, including nursing care for radiation therapy.
Radiation Therapy Nursing
Our nurses are experienced in providing a complete range of nursing care specializations, including nursing care for radiation therapy.
nursing care for radiation service therapy
Overview
Radiation therapy is performed on people who suffer from the deadly disease of cancer. It is a therapy that is used by most of the doctors nowadays to treat cancer. All the different types of cancer are treated using radiation therapy. The doctors on the patients perform not one, but multiple radiation therapies as a treatment for cancer. Radiation therapy nursing care are used not only on cancer treatments but also used in treating noncancerous tumors as well.
The doctors generally recommend the treatment of radiation therapy to cancer inflicted patients. The doctors suggest this treatment due to several reasons which may be listed down as follows:
It is the only type of effective treatment known for cancer in the primary stages.

When surgery is performed, the cancerous area needs to shrink which is done by radiation therapies.

After the surgeries radiation therapies are performed to prevent the spreading of cancer.

Nursing care plan for radiation therapy is important along with chemotherapy to kill the cancerous tissues.

Also, it is to provide people relief to cancer patients from the symptoms.
Before going to the radiation therapy treatment, one needs to know the exact details and the proceedings related to the therapy. The entire team responsible for radiation therapy makes the patient aware of the exact spot of the therapy.
It is extremely vital for the team to find a comfortable spot for the person. The person will lie still on the bed, so it becomes extremely important for the team to find a comfort zone. Now the bed on which the patient will lie is the exact same used in the radiation therapies of others. Also, cushions and pillows are used to keep the patient still in a definite position. The radiation therapy team will mark the part of the body that will be open to radiation. Nursing care for radiation therapy patients is extremely necessary to get the desired result. Nursing care for a patient receiving radiation therapy includes cleaning, caressing, proper medication, abiding by the instructions, etc.
What are the types of radiation therapy?
There are a number of types of radiation therapy which may be summarized as:
External beam radiation therapy: These are therapies in which the large noisy machines radiate rays on the affected areas for a known duration of time. These machines do not touch human skin.


Internal beam radiation therapy: These types of therapies use a solid medium for called brachytherapy, i.e., a ribbon or capsule or a liquid is put inside the body near the affected part.
Side effects of radiation therapy
The side effect of radiation therapy is mainly due to the damage which is brought about on many healthy cells during the killing process of the cancer cells. The side effects depend upon the dosage of radiation, the type of radiation, part of the body where the radiation therapy is performed, the overall health condition of the person. The side effect of radiation therapy involves many such complications such as affecting the gastrointestinal tracts (G.I.), red blood cells, white blood cells, and bone marrow. Fatigue and anemia are common problems after radiation therapy. Since the radiation is exposed to the skin, many skin related problem may occur including hair loss and hair pigmentation. It also causes a weight loss due to a loss of appetite, nausea, and vomiting. The radiation may even decrease the total blood cell count.
The nursing care plan for radiation therapies
The following are the nursing care plan for radiation therapies:
Education and experience of proper caregiving are required along with proper knowledge of the treatment.

To minimize the different side effects after radiation therapy, all necessary measures must be taken such as using a condom during sexual intercourse.

A safe and hygienic environment must be provided to the patient.

External radiation therapy nursing care includes dental care, care towards the fatigue caused by the therapy, emotional issues such as depression, anxiety, etc.

There may be problems relating to eating and digestion of food as well.
How can Care24 provide help?
Care24 provides help in the nursing care of radiation therapy. They send extremely experiences and determined nurses who have the sole motive of caressing the patient and help them to recover as soon as possible. After such major surgeries or therapies, the patient becomes extremely fragile and weak. This is a crucial time for the patient to receive some special care and rehabilitative measures which helps in the speedy recovery of the patient. These include proper consultation of the doctor, vaccination, etc. All these are provided by Care24 who is there, a call away.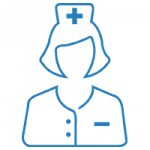 style="text-align:right;color:0f0f59;">
Read more
My father had a hip bone surgery in January. I have been using Care24 services ever since. The attendants that cane were good in the beginning. However their services have become good to bad to worse to worst in the last 15 days. They changed the night attendant without informing me personally just 6 hours before the time. My father had just settled down with the last attendant and now they were sending a replacement tonight. To add to my frustration the guy didn't turn up and did not answer the calls. When I called their call centre - they said they can't help me at this hour. Well- I can't help but call them CARELESS CARE24.

Jasbir Basu


4/06/2019

Nurses and attendants provided by Caree24 are very good. In behavior and trust worthy. Thanks for their support

Anil Kathuria


6/28/2019

Unqualified office staff, when you call to clarify something. Many times they don't understand the question. They are not trained well. The customer care staff needs an upgraded system, where notes are fed into the system. So you don't need someone else calling up and giving you the same info. The caretaker is not trained well. If they are looking after an elderly person, they should know that they have to be in the best of health to look after my mother. She ended not making a meal for my mother and my neighbour had to provide it. If the caretaker is not well she should have asked for a replacement asap and not waited. It is shocking, we have paid a huge amount of money for this service and I am absolutely unhappy. Please do not call for caretaker's from Care24. As long as they are getting their money. They care a damn!!! Worst service providers.

Bonabelle Zuzarte


7/10/2019

I got good experience wt dr Dhrita she is v good in physiotherapy n nice while talking n explains v nice

Sujata Rao


6/19/2019

The physiotherapist came to my home was very helpful and knowledgeable. She properly gave me the detailed information about my injury. Also the first assessment is free of cost.

varshflute


10/17/2019
I am still taking services from Care 24 since last two years. The caregivers are well trained and takes good care of my mother in law.
Sheila khanchandani
Sumesh Brother is Punctual, Efficient and knowledgeable and understands patients requirements completely.
Jayshree Prabhu
I have been using care 24 services and have been very happy with their services. Priyanka Rajbhar is our caretaker she is very disciplined kind and dedicated towards her work.
Saurabh Bhatt
The Nurse and the Attendant provided by Care24 are good in service, polite and punctual. We are happy with their service. The patient ( our family member) is been given proper care, feed and cleaned regularly.
Deepa Balvalli
Dr. Ralga had Attended to my father. He is suffering from PSP. We were specifically impressed by her techniques n method to handle the issue. We are planning on repeating her visits every month for positive results.
Uma Ram
Frequently Asked questions