Nursing Care for Cerebral Palsy
Our nurses have experience in providing a wide range of Cerebral Palsy nursing care services, which includes:
Nursing Care for Cerebral Palsy
Our nurses have experience in providing a wide range of Cerebral Palsy nursing care services, which includes:
nursing care plan for Cerebral palsy

Overview
What are the details one needs to know about the nursing care of Cerebral Palsy?
Introduction
Cerebral Palsy is a disease of the neurological system that causes a problem in mobility and other muscular movements and other skills. A person having this disease is unable to move properly just like a normal human being. It may cause a fidgeting sensation and a pull in the muscles which may cause hindrance in the movements. This particular disease is the most common disability among children that develops in the uterus itself when the baby is in the womb of the mother. Serious consequences may even lead to brain damage. This disease happens to come into existence when the mother is going through labour or just after the baby has taken birth. Cerebral palsy may vary from child to child. Different children may undergo different kinds of immobility or affected parts. Cerebral palsy is an umbrella term that covers almost all the different types of disability and extent of immobility. Nursing care plans for Cerebral Palsy are there which improves the disability, not entirely but to a great extent mostly. Nursing procedures including physiotherapy of the bodily organ that is affected, massage on that particular area for the prolonged duration of time for many days, proper and timely medication, regular exercise as prescribed by the doctor, routine check-ups, having proper meals and many other procedures as prescribed by the doctor in charge.
Problems due to Cerebral Palsy
There are several problems relating to this neurological disease of cerebral palsy. Numbness and muscle pull are the two major problems faced by the kids having this disease. There are several nursing care plan for cerebral palsy.
There are over 500,000 children who are grievously affected by this disease. Practically speaking, there is no cure to this disability, but the living qualities and movements can be improved to a significant extent by different means of nursing care plan for cerebral palsy. It takes time to improve as a child grows into an adult and slowly changes can be easily seen in his movements. If proper cerebral palsy nursing care is not taken the disability may grow which may lead to several bodily problems that can be listed as:
Stammering and speech problems are causing the problem to speak.

Cerebral palsy may cause problems in learning if the ear or eyes or any other important part of the body is affected.

It may cause perception impairment. One may not be able to judge things well, for example, a ball coming towards a person with cerebral palsy may not be able to understand it.

Problems relating to hearing and seeing.

Epilepsy is a grave disorder which causes an enormous amount of shaking of hands, legs, and organs present at maximum distances.

The spine is affected due to this disease. Cerebral Palsy nursing care can help to a significant extent.

Problems in the joint between the two bones. Constant massage and cerebral palsy nursing care can help improve it.
appropriate nursing care plan
The cerebral palsy nursing care plan can help get rid of these ailments not fully, but mostly. The different plans that are included in the nursing plans may be listed down as:
There are different methods of massaging that are done by cerebral palsy nursing care. If the affected area is external organs that hands or limbs then normal oil massaging or massaging with special lotion as prescribed the doctor for a long period can be of great help.

Proper meals or maintaining a proper diet gives strength and eating more of proteins in the diet can make huge changes in movements. They are also eating fruits vegetables and things that are good for the nerve to improve muscular movements largely.

Proper exercise that causes the nerves to expand and function. It provokes them to work more and improve bodily movements.

Meditation and yoga can bring about significant changes in no time. People with cerebral palsy are made to do yoga in the nursing care department. Nursing care plan for cerebral palsy in adults and nursing care plan for a cerebral palsy child may be different from one another since growth matters a lot in this case, but yoga and meditation are common for both of them.
How does Care24 help people suffering from cerebral palsy?
Care24 provides health care facilities at home. In other words,Care24 sends skilful physiotherapists who have years of experience and talent who are there for providing instant relief. These physiotherapy sessions are very efficient and a must requirement as prescribed by honourable doctors. Nursing care plan for cerebral palsy in adults and nursing care for the cerebral palsy child are both provided by Care24.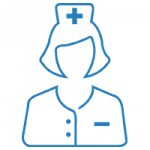 style="text-align:right;color:0f0f59;">
Read more
I used Care24 services for 7 months duration in 2019-20. Carers they provide are a mixed bag. Some are really good while others lack even basic service skills. You got to be very very lucky to get one and same carer over long time as carers often go on leave. When regular carer is on leave, every time they will send new carer. So family members need to repeat everything, right from home address, directions to patient's routine, medicines etc. Do not expect that Care24 will provide any heads-up or patient routine information to new carer who is visiting. Over the 6 months of Mumbai-based care services I used from Care24, there were over 15 instances where new carers were late more than 2 to 3 hours. Care24 support team is very lethargic, there were times when support team assumed that carer has reached home when he had not even started from his place. Support team is unaware of carers being late to customer's place. Then came in so called, the technology upgrade, Jan-Feb 2020, they had a new IT system and there were numerous issues with billing, sending invoices and payment receipts to customers (as told by support team themselves). Support staff told me at least 10 times over phone and email that there are system issues in billing and payment, I had to calculate amount manually on my own and then Pay them. With new system, accounts were on toss, no invoices were sent to customers (in spite of the fact that payment policy says payment needs to be made after receiving invoice.) I had 20-25 emails following up for invoice and payment receipts, but their support team in Mumbai did not care to respond. I found their behavior very unprofessional and not good over these 2-3 months. If you are outside for work (or overseas) and not staying with the patient or your parents, I strongly suggest DO NOT USE CARE24, as they do not respond to your emails and phone in time. They do not bother even when the patient is without care because of their delays in operations and carer issues. They need to improve basic operations first, give timely and consistent services to customers, and then worry about Apps, Digital Assistants and other tech-stuff. .My genuine advice to them--- You are dealing with patient healthcare services, where patient family is relying on you. This is not a courier service business where you are sending people to move boxes and you would't care much when service is delayed !!

Sanket Deo


3/05/2020

The worst experience I've had of my life. I normally never really write reviews, but I had to write this because this agency is the worst company I've dealt with till now. Their customer service is terrible, most of their attendants are not competent for taking care of elderly patients. Please do not use their service.

Radhika Kulkarni


6/27/2019

We contacted care 24 for my Dad's physiotherapy. Our physiotherapist Dr Dharita is very knowledgeable and extremely patient. My Dad is showing a lot for improvement in terms of his movement.

D W


3/21/2019

Unqualified office staff, when you call to clarify something. Many times they don't understand the question. They are not trained well. The customer care staff needs an upgraded system, where notes are fed into the system. So you don't need someone else calling up and giving you the same info. The caretaker is not trained well. If they are looking after an elderly person, they should know that they have to be in the best of health to look after my mother. She ended not making a meal for my mother and my neighbour had to provide it. If the caretaker is not well she should have asked for a replacement asap and not waited. It is shocking, we have paid a huge amount of money for this service and I am absolutely unhappy. Please do not call for caretaker's from Care24. As long as they are getting their money. They care a damn!!! Worst service providers.

Bonabelle Zuzarte


7/10/2019

The management team & the customer care team is quite responsive.... However the main component, ie the caregiver is not trustworthy & definitely not upto the mark

Ritwik Basu


11/03/2019
I am still taking services from Care 24 since last two years. The caregivers are well trained and takes good care of my mother in law.
Sheila khanchandani
Sumesh Brother is Punctual, Efficient and knowledgeable and understands patients requirements completely.
Jayshree Prabhu
I have been using care 24 services and have been very happy with their services. Priyanka Rajbhar is our caretaker she is very disciplined kind and dedicated towards her work.
Saurabh Bhatt
The Nurse and the Attendant provided by Care24 are good in service, polite and punctual. We are happy with their service. The patient ( our family member) is been given proper care, feed and cleaned regularly.
Deepa Balvalli
Dr. Ralga had Attended to my father. He is suffering from PSP. We were specifically impressed by her techniques n method to handle the issue. We are planning on repeating her visits every month for positive results.
Uma Ram
Frequently Asked questions