Our nurses are experienced in providing a complete range of nursing care specializations, including nursing care for Glaucoma :
Our nurses are experienced in providing a complete range of nursing care specializations, including nursing care for Glaucoma :
Nursing Care Plan For Glaucoma
Overview
Glaucoma is a condition which causes harm to an eye's optic nerve and it keeps getting worse over time. It is frequently connected to a build-up of pressure within your eye. Glaucoma is generally an inherited condition and may not appear until later in life.
The greater pressure, known as blood pressure, can damage the optic nerve, which transmits pictures to a mind. In case the damage persists, the cataract may result in permanent vision reduction. Glaucoma can cause permanent blindness that happens progressively over a couple of decades.
Many people with glaucoma don't have any early symptoms or pain and hence one must keep ophthalmologist consultations regular without waiting for anything as the eye doctor could diagnose and implement a nursing care plan for a glaucoma patient to treat glaucoma as soon as diagnosed
For those that are over age 40 with a family history of this disease, they must keep seeing their doctor every year for an eye consultation. For those who have health issues like diabetes or a family history of glaucoma or any additional eye ailments risk, such patients should visit for eye consultations frequently.
Causes of Glaucoma
What causes Glaucoma?
Glaucoma is a result of a deterioration of the optic nerve, which contributes to building a high fluid pressure in the front or visible portion of the eye.
The of the eye, called aqueous humour flows via a mesh-like channel called from the eye. There is extra liquid built up in the eye if this channel becomes blocked. While the main reason behind the congestion is unknown, doctors providing nursing interventions for glaucoma think it could be inherited, implying that it is passed from parents to kids.
Less frequent causes include injury to your eye, severe eye disease or infection, obstructed bloodstream vessels within the eye, and inflammatory eye illnesses. While these causes are uncommon, but sometimes glaucoma may be a result of eye surgery for correcting some other eye condition in such a case, the nursing care for glaucoma needs to be provided with at most care and precision. It normally affects both eyes, but it can be worse in one versus the other eye.
Symptoms of Glaucoma
Glaucoma's signs and symptoms change based on period and the type of your ailment. For instance
Open-angle glaucoma and Acute angle-closure glaucoma

Patchy blind areas on your side or peripheral or fundamental vision, often in both eyes

Tunnel vision from the complex phases

Severe headache, Eye redness

Eye pain, Nausea and vomiting

Blurred vision

Vision issues and halos around lights
If the nursing care for glaucoma is not provided then glaucoma results in blindness. Even with treatment, about 15% of individuals with glaucoma eventually become blind in a minimum of one eye over 20 decades.
types of Glaucoma
What are the different types of Glaucoma?
A glaucoma is a group of eye disorders that may result in blindness. The eye always generates a fluid, known as the aqueous humour, which must drain out of the eye to keep wholesome eye pressure.
Primary Open Angle Glaucoma
Primary Open Angle Glaucoma or POAG is the most common type of glaucoma for which glaucoma nursing is required. The eye's drainage canals are obstructed, along with the accumulation that was fluid causes pressure to build inside the eye. This pressure can lead to damage to your optic nerve, which transmits data from the eye to the mind.
Vision loss is slow and there are almost little or no warning signals about the onset of glaucoma. There's a genetic predisposition for this kind of glaucoma and so those who already have people suffering from glaucoma in their family should get their eyes regularly checked by their eye doctor so that if detected, the onset of the nursing care for this glaucoma can be done before situations become worst for the patient.
Angle Closure Glaucoma
Angle Closure Glaucoma is not as common as POAG and in this kind of glaucoma, the aqueous can't drain properly since the entry to the drainage canal is too narrow or has been shut completely. In cases like these, the eye pressure could grow very fast and may be triggered by pupil dilation.
Symptoms may include headaches, nausea, eye pain, and blurred vision and one should seek medical therapy immediately if they experience any of these symptoms then must consult their eye doctor in order to undertake a nursing care plan for glaucoma.
Normal Tension Glaucoma
In this kind of glaucoma known as glaucoma, the optic nerve is damaged even though the eye strain isn't overly elevated. A family history of any form of cardiovascular disease diabetes and ancestry are few of the risk factors for this kind of glaucoma.
The eye strain must be kept suitable to avoid the development of vision loss, and this sort of glaucoma is treated like POAG.
Secondary Glaucomas
Secondary Glaucomas are the ones which grow as secondary to, or as complications of, additional ailments like eye injury, cataracts, diabetes, eye operation, or tumours. In most of these glaucomas, the damage to the fluid drainage system must be promptly managed medication or an operation which is based on a nursing care plan for these glaucomas.
Diagnosis
The physician will review your medical history and conduct a detailed eye exam. They may perform many tests as follows
Measuring intraocular pressure called tonometry

Testing for optic nerve injury using a dilated eye exam and imaging evaluations

Assessing for regions of vision loss or visual field test

Measuring corneal thickness called pachymetry

Inspecting the drainage angle called gonioscopy
Remedy
The damage cannot be reversed. But check-ups and therapy will help slow or protect against vision loss, particularly if you detect the disease in its early phases.
Glaucoma is treated by lowering eye pressure or intraocular pressure. Based upon your circumstances, your choices might include oral drugs prescription eye drops, laser therapy, operation or a combination of some of these.
Eyedrops
Glaucoma treatment begins with prescribed eye drops that may help reduce eye pressure by lowering the amount of fluid or by enhancing fluid that drains out of the eye, or even by reducing the amount of fluid the eye produces. Based on how low your eye pressure should be, the dosage of these eyedrops may be altered and increased or decreased.
Oral medicines
The physician can prescribe an oral medicine or carbonic anhydrase inhibitor if eye drops do not bring the eye pressure down to the required level. Side effects include frequent nausea.
Nursing Interventions for Glaucoma
Nursing Interventions for Glaucoma
Avoid further compromising of eyesight
Must report altering assessment findings into the supplier immediately, particularly with angle-closure glaucoma since time is an element in preventing permanent blindness.
Avoid injury, Commence fall precautions, eliminate any tripping hazards
Because of compromised vision, sufferers might not have the ability to see tripping risks or items in their own way. Remove as much clutter, rugs, strings, etc. as you can to produce the area as secure as possible. As you may have with loss since they've not been managed over the years, and this is vital for the patient with visual changes.
Appropriately evaluate vision
You must be aware of the level of visual compromise so you can tell if it's changed.
Teach about proper eye drop management
Post-procedure or through long-term direction, patients are often on different eye drops. It is essential they know completely which one helps to manage what condition. Together with color-coding bottles since they might not have the ability to read labels, they may need extra intervention. Support systems should be mindful of the regimen.
Teach about the significance of follow-up maintenance
Compliance is Essential! Patients need to follow along with compliant to prevent additional deterioration.
Manage Stress
Patients may have sudden pain, which will increase their blood pressure, which makes the issue worse!

A sudden inability to see or the new knowledge that you will have a degree of blindness is upsetting. Provide as much education and emotional support as possible, and if necessary, administer medications.
Exercises for Glaucoma
It is very important that you understand how to exercise and change activities to be glaucoma-friendly, in case you have glaucoma. Here are a few tips to help while you work out, and prevent blood pressure spikes
If you're thinking about a brand-new workout program,

speak with your ophthalmologist

. Request tips regarding exercise intensity, kind, and actions to prevent.

Start slowly –

Choose and have a minimal risk of harm. If you aren't certain where to begin, try swimming, walking or cycling.

Meet with a personal trainer –

When developing a workout regimen only a session or two with a personal trainer can be useful.

Speak with some fitness instructor

– Speak to the teacher, should you take part in the regional YMCA or gym. Request options to exercises that are inverted.

Elevated intraocular pressure is the most frequent risk factor for eye harm, and it contributes to vision loss. Care to your eyes as you don't be afraid to ask for assistance and workout. By making an appointment celebrate Glaucoma Awareness Month. You'll find a full test of your own vision and eye health, along with your physician can suggest activities which are secure for your kind of glaucoma.
How can Care24 help?
As patient recovery is ensured by post-operative nursing care, post-operative care is a vital element of the curing process. Post-operative care for individuals might be easy and may be short term or long term or may entail procedure for a few.
In case of long term post-operative care, a patient is much better off within the warmth of home rather than a hospital. Aiding this kind of care is something that we provide from our home care nursing services. As a part of our services, our group of nurses and other caregivers, would come and see you and offer care. In some cases, the nurse may remain with the individual for 24*7 monitoring and attention.
Therefore, if you require nursing care plan for a glaucoma patient at home, look no further and trust your loved ones' care to Care24 and we guarantee a satisfactory and quick recovery of the individual in the most effective and fastest way possible.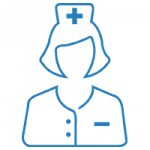 style="text-align:right;color:0f0f59;">
Read more
Unqualified office staff, when you call to clarify something. Many times they don't understand the question. They are not trained well. The customer care staff needs an upgraded system, where notes are fed into the system. So you don't need someone else calling up and giving you the same info. The caretaker is not trained well. If they are looking after an elderly person, they should know that they have to be in the best of health to look after my mother. She ended not making a meal for my mother and my neighbour had to provide it. If the caretaker is not well she should have asked for a replacement asap and not waited. It is shocking, we have paid a huge amount of money for this service and I am absolutely unhappy. Please do not call for caretaker's from Care24. As long as they are getting their money. They care a damn!!! Worst service providers.

Bonabelle Zuzarte


7/10/2019

The physiotherapist came to my home was very helpful and knowledgeable. She properly gave me the detailed information about my injury. Also the first assessment is free of cost.

varshflute


10/17/2019

The management team & the customer care team is quite responsive.... However the main component, ie the caregiver is not trustworthy & definitely not upto the mark

Ritwik Basu


11/03/2019

Worst experience ever! Have hired a caregiver and a nurse. The nurse arrives late repeatedly inspite of being told about how critical medication timings are, falls asleep during day duty, is clueless about timings and medications inspite of us having guided them and has no sound medical knowledge whatsoever. She insisted that a fever of 99.7 is normal and even tried feeding the patient through riles tube with the patient lieing down inspite of there being a recliner arrangement. Neither the nurse or the attendant knew the correct way of lifting a patient from the bed, it was all ignorant tug and pull. Any complaints made to the organisation made no difference as they need more than a day to arrange for a replacement and one needs to deal with the same incompetent staff for another day or risk having no caregiver coming over (as bluntly informed by the call center) at all. Furtheron, the same performance continued the next day. In fact, in the absence of the family members it was observed through a baby monitor that the attendant and the nurse were sitting and chatting away while the patient was trying to sleep and literally PASSING FOOD OVER TO EACH OTHER OVER THE PATIENT! If this wasnt bad enough, the attendant developed a cough and a fever and when a call was made to care 24 asking them to send a replacement on the next day at least as the patient has low immunity, the organisation again gave a choice, we could have the same attendant and risk the patient getting sick, or have no attendant for the next day as they didn't have anyone available. Do not fall for the sales pitch of the executives over the phone as their premium prices and promises of exceptionally well trained staff is nothing but marketing mumbo jumbo. The professionalism and training of the staff that comes to your door is as garbage as the service of the organisation. More importantly, do not trust this organisation with the health and well being of your loved ones as no one in the entire heirarchy of care 24 really 'cares'. You would be better off hiring someone from a local agency. Have had much better experiences with randomly contacted nurses and attendants through justdial. Even though they live far, they reach on time The local organisations are also promptly able to provide replacements if need be. P.S. The 1000 or so rupees registration charge they take from you initially, is essentially a financial clickbait as its money they've made off you after they have stressed you out, contributed to deterioration of the patient and compelled you to suspend their services.

Marzouq Shaikh


3/09/2020

I got attendent for my ailing mother thru care 24. The best service i got...if i need infuture i will definitely go for care24 only...they are the best

felix thomas


3/21/2020
I am still taking services from Care 24 since last two years. The caregivers are well trained and takes good care of my mother in law.
Sheila khanchandani
Sumesh Brother is Punctual, Efficient and knowledgeable and understands patients requirements completely.
Jayshree Prabhu
I have been using care 24 services and have been very happy with their services. Priyanka Rajbhar is our caretaker she is very disciplined kind and dedicated towards her work.
Saurabh Bhatt
The Nurse and the Attendant provided by Care24 are good in service, polite and punctual. We are happy with their service. The patient ( our family member) is been given proper care, feed and cleaned regularly.
Deepa Balvalli
Dr. Ralga had Attended to my father. He is suffering from PSP. We were specifically impressed by her techniques n method to handle the issue. We are planning on repeating her visits every month for positive results.
Uma Ram
Frequently Asked questions