Nursing Care for Colon Cancer
Our nurses have experience in providing a wide range of colon or colorectal cancer care services, which includes:
Nursing Care for Colon Cancer
Our nurses have experience in providing a wide range of colon or colorectal cancer care services, which includes:
nursing care plan for colon cancer
Overview
All we need to know about the nursing care plan regarding colon cancer
What exactly initiates colorectal cancer?
Colorectal cancer generally starts by polyps in the rectum or colon area in the human body. Polyps are generally growth seen in the inner lining of the rectum or colon area. Now all polyps do not transform into cancer, but some usually do over the span of many years. Whether a polyp will change into cancer or not mainly depends on the type of polyp.
There are generally two types of polyps which can be listed down as follows:
Adenomatous polyps are also known as adenomas. These are the polyps that convert into cancer which is a matter of time. This is the sole reason that adenomas are also called pre-cancerous states.
Inflammatory polyps and hyperplastic polyps-These are the normal or general types of polyps that do not turn into cancerous conditions, so they are not considered as pre-cancerous states.
There are even other reasons that lead to pre-cancerous polyps or increase the risk of developing colorectal cancers. They may be jotted down as:
If the size of the polyp is more than 1 cm in size, then it is probable to be cancerous.
If there exist more than two polyps in the area.
If after the removal of the polyp there is seen a dysplasia. Dysplasia is basically a pre-cancerous condition.
There is a number of nursing care for colon cancer.
Different types of Colorectal Cancer:
Colorectal cancer may be divided into a number of parts which are summarized and listed below:
Colorectal adenocarcinoma: 'Adeno' refers to glands and carcinoma is a particular type of cancer that initiates in the epithelial cells that constitute the inner and outer sections of the bodily organs. Colorectal adenocarcinoma affects the thin lining present in the rectum or colon that ultimately leads to the organ called large intestine.
Gastrointestinal carcinoid tumors: These tumors can be generally observed in the nerve cells that are known as neuroendocrine cells. These cells help in the production of the hormone in the human body. A tumor that develops here is called neuroendocrine cancers which are cancerous.
Primary Colorectal Lymphomas: This is a type of non-Hodgkin lymphoma which is cancerous in nature. This kind of lymphoma develops in the lymphatic system. Lymphoma develops in many different organs of the body which may include the spleen, thymus, lymph nodes, bone marrow, and the digestive tracts.
Gastrointestinal stromal tumors: This is another type of colorectal cancer that develops in the special cells on the lining of the gastrointestinal tracts or GI tracts. 50% of the total gastrointestinal stromal tumors develop in the stomach itself.
Leiomyosarcomas: This falls under the category of sarcomas which means cancer in the smooth muscles. Three layers of the muscles of the colon and rectum are mainly affected by leiomyosarcoma.
There is a number of the nursing care plan for colon cancer for all the different types mentioned above.
Symptoms of Colorectal Cancer
The following are the symptoms of colorectal cancer:
There is a considerable change in the habits as far as bowel movements are concerned, diarrhea, constipation, there is a significant alteration in the consistency of the feces or stool.
Blood could be seen in the stool.
Pain or discomfort in the abdominal region.
The satisfaction after a bowel movement is not up to the mark.
Weakness, weight loss.
A nursing care plan for a patient with colon cancer may vary with different reasons.
Causes of Colorectal Cancer
It is not exactly clear as to what causes colon cancer. Doctors can detect colon cancer when they see the alteration in the DNA structure of the healthy cells in the colon. They may be either due to the genetic hereditary between the parent and the offspring or may be due to the difference in the diet of a human being. There are a number of nursing care plan of colorectal cancer.
What are the factors of risk that may lead to colorectal cancer?
The following are the risks that may cause colorectal cancer:
Old aged people may have high chances of colorectal cancer.
The race of the African-American.
If the colorectal cancer genes are there in the family.
Intestinal reason with may cause it.
Drinking alcohol.
Smoking cigarettes or taking other forms of tobacco.
Increase in the body mass leading to obesity.
If a person develops colorectal cancer, there are a number of nursing cares for colorectal cancer.
Treatment of colorectal cancer
Treatment of cancer will be based on the type of cancer and the stage in which it resides. Also, it depends on the health status, the age of the person, etc. Cancer is almost untreatable but in the first few stages of chemotherapy. Surgeries and therapies involving radiation may help greatly.
Care24 is one of the main nursing caretakers for colorectal cancer.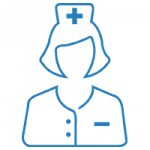 style="text-align:right;color:0f0f59;">
Read more
I got good experience wt dr Dhrita she is v good in physiotherapy n nice while talking n explains v nice

Sujata Rao


6/19/2019

I got attendent for my ailing mother thru care 24. The best service i got...if i need infuture i will definitely go for care24 only...they are the best

felix thomas


3/21/2020

The physiotherapist came to my home was very helpful and knowledgeable. She properly gave me the detailed information about my injury. Also the first assessment is free of cost.

varshflute


10/17/2019

Worst!!! I am paying for professional services and the attendant is not professional. The level of disappointment is i have to terminate services on Day 1 itself. And still I am being told to pay for 1 day. Please assess the attendant before going for services from care24

Praful Jadhav


5/07/2019

Nurses and attendants provided by Caree24 are very good. In behavior and trust worthy. Thanks for their support

Anil Kathuria


6/28/2019
I am still taking services from Care 24 since last two years. The caregivers are well trained and takes good care of my mother in law.
Sheila khanchandani
Sumesh Brother is Punctual, Efficient and knowledgeable and understands patients requirements completely.
Jayshree Prabhu
I have been using care 24 services and have been very happy with their services. Priyanka Rajbhar is our caretaker she is very disciplined kind and dedicated towards her work.
Saurabh Bhatt
The Nurse and the Attendant provided by Care24 are good in service, polite and punctual. We are happy with their service. The patient ( our family member) is been given proper care, feed and cleaned regularly.
Deepa Balvalli
Dr. Ralga had Attended to my father. He is suffering from PSP. We were specifically impressed by her techniques n method to handle the issue. We are planning on repeating her visits every month for positive results.
Uma Ram
Frequently Asked questions