Our nurses are experienced in providing a complete range of nursing care specializations, including nursing care for Emphysema
Our nurses are experienced in providing a complete range of nursing care specializations, including nursing care for Emphysema
nursing care plan for emphysema
Overview
What is Emphysema?
Emphysema is a lung condition where abnormal accumulation of air happens within the lungs due to the enlargement and destruction of the many tiny air sacs within the lungs resulting in the formation of scar tissue. As time passes, the walls of the air sacs rupture and weaken – producing large air spaces rather than several tiny ones. When there are several tiny alveoli, they increase the overall surface area of the lungs, thereby increasing the ability of the lungs to absorb more oxygen.
However, in a scarred lung, with damaged alveoli, the alveoli do not do the job when you inhale, and the atmosphere becomes trapped in the large scar tissues of the lung. This causes lesser oxygen absorption in the lungs.
The destruction of the air sacs and the formation of scar tissue is permanent, and the disease is incurable, however, medication through nursing interventions for emphysema helps to ease symptoms. Emphysema is mostly a disease associated with smoking and the best response to early warning signs of emphysema is to stop smoking or else later your physician will have to consider a nursing care plan for emphysema.
People with emphysema often have allergies. Chronic bronchitis is an inflammation of the bronchial tubes, which carry air to the lungs, and this results in a persistent cough. Emphysema and chronic bronchitis are two states which make up chronic obstructive pulmonary disease (COPD). Smoking is the major cause of COPD. The development of COPD may slow down or stop altogether, but once damaged, the damage cannot be undone via any means of emphysema nursing.
Symptoms of Emphysema
A couple of the indicators of emphysema are shortness of breath and a chronic cough mostly appearing in phases. Someone who has shortness of breath, or dyspnoea, feels unable to grab a breath. As the disease progresses, it may begin to start interrupting during rest, although this mostly is visible during exertion. COPD and emphysema grow over the years and the Individual may exhibit the following symptoms:
Repeated bouts of lung ailments

Too much of mucus

Wheezing & Fatigue

Decreased appetite and weight loss

Blue-tinged lips or fingernail beds, or cyanosis, because of a lack of oxygen

Stress and melancholy & Sleep difficulties

Morning headaches due to lack of oxygen, and difficulty in night breathing

There are other conditions that share lots of the signs of COPD and emphysema, therefore it is very important to get medical advice for a correct diagnosis and emphysema pathophysiology nursing.
Causes and Risk Factors of Emphysema
Cigarette smoking is responsible for 85 percent of most cases of emphysema and COPD. But not all smokers may finally have this condition and only some of the target people are susceptible. Other toxins which could result in COPD and emphysema contain indoor cooking esp. with a cooking stove that gives off a lot of smoke – e.g. Like the ones that are fed with wood esp. in the rural areas. Smoke from cooking and heating is the principal reason which brings people to their physicians to formulate a nursing care plan for emphysema.
Other risk factors are:
Low body fat and childhood respiratory ailments, possibly a viral disease, or maybe asthma

Genetic condition

– Some individuals have a genetic condition that predisposes them to the lack of a protein, α1-antitrypsin, and results in a rare form of emphysema. Α1-antitrypsin protects the lungs against the damage of alveolar tissue by neutrophil elastase. This lack is congenital implying that some individuals are born with this condition. For such people, even without smoking, emphysema can be developed by these folks, more so in comparatively old age.

Smoking

– Emphysema is the most likely to grow in cigarette smokers, however, pipe and cigar smokers are also vulnerable. The danger for all sorts of smokers increases with the number of years and quantity.

Exposure to second-hand smoke –

Second-hand smoke, also called environmental or passive tobacco smoke is smoke which you accidentally smoke from someone else's cigarette, cigar or pipe. Being second-hand smoke increases your risk of emphysema.

Occupational exposure to dust or fumes

– Should you breathe fumes out of compounds or dust from cotton, grain, timber or mining goods, you are more likely to develop emphysema. If you smoke, the risk is greater.

Exposure to indoor and outdoor pollution –

Breathing indoor pollutants, such as fumes from heating, in addition to external pollutants – auto exhaust, for example – raises your risk of emphysema.

Age

– Even though the lung disorder that happens in emphysema develops slowly, most individuals with tobacco-related emphysema begin to experience symptoms of this illness between the ages of 40 and 60.
Treatment for emphysema
Remedy for Emphysema
COPD and emphysema cannot be cured, but treatments with a proper nursing care plan for emphysema can help slow down the development of this illness and alleviate symptoms.
Medications for Emphysema
Depending on the severity of your symptoms, your physician may suggest
Bronchodilators

– These medications can help relieve coughing, shortness of breath and breathing difficulties with relaxing constricted airways.

Inhaled steroids

– Corticosteroid drugs inhaled as aerosol sprays decrease inflammation and can help relieve shortness of breath.

Antibiotics

– For those who get a bacterial disease, like severe bronchitis or pneumonia, antibiotics are not appropriate.
Physical Therapy for Emphysema
Pulmonary rehabilitation

– A pulmonary rehabilitation program can teach you breathing techniques and exercises that might help lessen your breathlessness and boost your ability to work out.

Nutrition treatment

– You will also receive information about appropriate nutrition. While individuals with emphysema must lose weight at the first stages of emphysema, a lot of men and women will need to shed weight.

Supplemental oxygen –

When you've got severe emphysema with low blood sugar levels, utilizing oxygen frequently in your home and if you exercise may offer some relief. A lot of men and women utilize oxygen 24 hours per day. It administered.
Surgery for Emphysema
Based upon the severity of your own emphysema and the emphysema pathophysiology nursing, your Physician may suggest a couple of different Kinds of operation
Lung volume reduction operation –

Within this procedure, surgeons remove small wedges of scarred lung tissue. Eliminating the tissue assists the lung tissue helps and enlarges more effectively resulting in enhanced breathing.

Lung transplant –

Lung transplantation is an alternative for those who have severe lung damage and all other alternatives have failed to work for them.
Prevention – Stopping or Preventing smoking is the perfect approach to reduce emphysema or prevent the disease.
Vaccination –

Vaccination can help from becoming worse, stop COPD and emphysema. Yearly influenza immunization is necessary, along with also a 5-yearly one against pneumonia might be advocated.

Nutrition –

Lung capacity puts energy requirement that is higher so individuals with emphysema may be in danger of nutrient deficiency and weight loss. Some individuals with emphysema are obese or overweight since these conditions may result in ill health and they're encouraged to eliminate weight. A diet with loads of vegetables, fruits, and whole grains and very low consumption of sugar and fat is crucial.
Exercises For emphysema
Which type of exercises are best?
Exercise can be divided into 3 kinds:
Stretching –

Slow lengthening of the muscles. Stretching the arms and legs before and after exercising helps prepare the muscles also helps prevent injury and muscle strain. Your assortment of movement and endurance also increases.

Cardiovascular or aerobic Steady physical activity

using large muscle groups. This sort of exercise boosts the body's ability to utilize oxygen and strengthens the heart and lungs. As time passes, aerobic workout helps reduce heart rate and blood pressure and boost breathing as the heart will not have to work as hard during a workout! Aerobic exercises include – walking, running, jumping rope, bicycling, cross-country skiing, skating, rowing, and high heeled rowing or water rowing.

Strengthening –

Repeated muscle contractions (tightening) before the muscle gets tired. Since they help boost the potency of the muscle strengthening exercises for your upper body are beneficial for those who have COPD.
How often should I exercise? And Why?
A workout program's frequency is how many times you exercise. Generally, to achieve maximum benefits, you need to gradually work up into a workout session lasting 20 to 30 minutes 3 to 4 times every week. Every day, exercising can allow you to maintain a regular exercise program.
Boost circulation and helps the body use oxygen

Alleviates COPD symptoms

Boosts endurance, increases energy levels so you can perform more activities without getting tired or short of breath

Strengthens the heart and cardiovascular system and reduces blood pressure

Improve muscle tone and stamina; enhance balance and joint flexibility and strengthen bones

Help's reduce body fat and reach the proportionate weight

Helps decrease stress, anxiety, nervousness, and depression

Boosts self-image and self-esteem; makes feel healthy and wholesome and gives happiness

Boosts ability to get into a deep sleep and causes to feel well rested and relaxed
Nursing Interventions for Emphysema
The nurse will inform of the respiratory treatment. The nurse can monitor the patient's vital signs daily while on the BiPAP machine. A b

i-level positive airway pressure or BiPAP therapy is often used in the treatment of chronic obstructive pulmonary disease.

The nurse provides fluids and mouth care every 2 hours while the individual is on BiPAP.

The nurse will also instruct the individual about the three signs which indicate the PCO2 level might be elevated and when to get in touch with her treating doctor.

The nurse will offer smoking cessation materials to the individual to help get off smoking and manage COPD.

The nurse will administer Ativan 0.5 mg PO every 6 hours into the individual as necessary for stress when on the BiPAP machine.

The nurse will instruct the individual of sporting a CPAP machine.

The nurse will educate the patient and help individuals acquire a CPAP machine that satisfies expectations to wear at home.
How can Care24 help?
As the patient recovery is ensured by a postoperative emphysema nursing care, postoperative care is a vital element of the curing process. Post-operative care for individuals might be easy and may be short term or long term or may entail procedure for a few.
In case of long term post-operative care, a patient is much better off within the warmth or home rather than in a hospital. Aiding this kind of care is something that we provide from our home care nursing services. As a part of our services, our group of nurses and other caregivers, would come and see you and offer care. In some cases, the nurse may remain with the individual for 24*7 monitoring and attention.
Therefore, if you require nursing care in your home, look no further and trust your loved ones' care to Care24 and we guarantee a satisfactory and quick recovery of the individual in the most effective and fastest way possible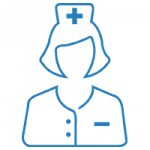 style="text-align:right;color:0f0f59;">
Read more
I got attendent for my ailing mother thru care 24. The best service i got...if i need infuture i will definitely go for care24 only...they are the best

felix thomas


3/21/2020

We contacted care 24 for my Dad's physiotherapy. Our physiotherapist Dr Dharita is very knowledgeable and extremely patient. My Dad is showing a lot for improvement in terms of his movement.

D W


3/21/2019

Horrible, unprofessional service! Advance paid.The caregiver did not show up. When complained to customer care, they said they will find a replacement and call back. No call back, no replacement. They shut for the day and the customer is felt in a lurch. Extremely disappointing. Will never avail this service again and will spread the word too.

Shraddha Shah


11/02/2019

If there was an option of negative stars then I would have choosen it. They offered me a package of₹ 5950/- for 10 days and after 2 days updated me on new package of ₹5700/- for 7 days without my consent. Even deposited my earlier cheque and then I had to follow up for the balance for about 10 days explaining my issue everyday to the new person on their helpline. They don't acknowledge emails too. Worst experience and definitely not recommended

Mugdha Kulkarni


5/23/2019

The management team & the customer care team is quite responsive.... However the main component, ie the caregiver is not trustworthy & definitely not upto the mark

Ritwik Basu


11/03/2019
I am still taking services from Care 24 since last two years. The caregivers are well trained and takes good care of my mother in law.
Sheila khanchandani
Sumesh Brother is Punctual, Efficient and knowledgeable and understands patients requirements completely.
Jayshree Prabhu
I have been using care 24 services and have been very happy with their services. Priyanka Rajbhar is our caretaker she is very disciplined kind and dedicated towards her work.
Saurabh Bhatt
The Nurse and the Attendant provided by Care24 are good in service, polite and punctual. We are happy with their service. The patient ( our family member) is been given proper care, feed and cleaned regularly.
Deepa Balvalli
Dr. Ralga had Attended to my father. He is suffering from PSP. We were specifically impressed by her techniques n method to handle the issue. We are planning on repeating her visits every month for positive results.
Uma Ram
Frequently Asked questions