Our nurses are experienced in providing a complete range of nursing care specializations, which includes:
Our nurses are experienced in providing a complete range of nursing care specializations, which includes:
Nursing Cabg Postoperative Care
Overview
What is a CABG?
Coronary Artery Bypass Graft surgery, also known as CABG surgery, or heart bypass or bypass surgery, is a surgical procedure to restore normal blood flow to an obstructed coronary artery.
Possible complications considered under the post-operative care of CABG
Infection –

Systemic inflammatory reaction may be triggered by an injury to red blood cells and platelets in contact with the surgery surfaces. Symptoms and signs include fever, tachycardia, and hyperventilation or hypothermia.

Coagulopathies

– may be brought on by the destruction of platelets and the substantial heparin administered during surgery. Since this may result in haemorrhage, blood transfusions may be needed by the individual.

Perfusion

– insult to the brain, kidneys, liver, and lungs, may result in complications like cognitive alterations, embolic stroke, stroke, and renal insufficiency. Perfusion is linked to manipulation of cross-clamping and also the heart of the aorta, which may result in clots..

Heparin-induced thrombocytopenia

– a significant complication of heparin usage during on-pump operation. Bleeding may cause thrombocytopenia, although anticoagulation during operation helps prevent complications. Researchers are exploring the use of Iloprost – a kind of prostacyclin, a platelet aggregation inhibitor, to avoid bleeding and thrombosis in patients undergoing cardiac operation.

Oedema

, such as pulmonary oedema. This complication may result from reduced pressure, ailments of flow, along with the release of vasoactive compounds.

Electrolyte imbalances

from excessive water and sodium retention. Administer potassium substitute, diuretics, and as ordered.
Off-pump concerns
Usually, patients who have undergone off-pump operation have fewer perfusion problems affecting the lungs, brain, and kidneys. In comparison with patients who have had the on-pump operation, they generally recover faster, need fewer blood transfusions, spend less time on mechanical ventilation, also have fewer issues with oedema or volume overload. But they are still prone to the next possible complications:
Severe occlusion or graft failure –

The growth of stabilizers that are newer implies that anastomosis is possible with posterior and lateral bypass grafts. On the other hand, the issues of operation imply graft failure is a threat following the operation. Symptoms and signs include chest discomfort along with ST-segment elevation. An angiogram a couple of days postoperatively to evaluate graft patency may be ordered by the surgeon.

Post pericardiotomy syndrome –

which may result in life-threatening cardiac tamponade. This complication is more common in patients who have had an operation due to the usage of stabilizers. Symptoms and signs include eosinophilia, fever, pleuritic chest pain, pleural effusions, and a friction rub. During the post-operative care of CABG, watch out for ECG changes, such as ectopy, bradycardia, and signs of cardiac tamponade such as switching QRS amplitudes and ventricular tachycardia. Patients have been treated with a naturopathic anti-inflammatory medication such as indomethacin; patients with renal failure or aspirin allergy may take milder e.g. naproxen or aspirin.
A patient that experienced off-pump CABG operation is very likely to be discharged from the hospital sooner than somebody who'd on-pump surgery. Plan to devote extra time teaching his loved ones the best way to track his recovery at home, such as what symptoms and signs to report and when to follow up with his or her surgeon.
post-operative care & exercises
Cardiac Rehabilitation under CABG surgery post-operative care
Most of the bypass surgery patients gain from engaging in a comprehensive rehabilitation program. Individuals who take part in rehab have appointments many times each week at practice or a hospital. The prospective advantages of rehab comprise a rise in heart function, a lowering of the heart rate at rest and during exercise, and a reduced chance of developing or dying from complications in cardiovascular disease.
There are lots of risk factors to coronary rehabilitation, such as exercise, decreasing risk factors, and coping with anxiety, anxiety, and depression. When this strategy is utilized, the benefits of rehab are observed. To put it differently, 1 element isn't enough.
Exercise – Exercise has been proven to improve health and the first step is to ascertain the threat of blood or heart vessel complications. This is done by making the patient take a treadmill test. Although almost everyone can exercise after release, the strength and duration of exercise ought to be adjusted based on the seriousness of an individual's heart disease.
Risk classes for exercise – Risk classes are a means of describing an individual's risk of cardiovascular heart-related complications associated with exercising. Each class has a requirement for exercise and oversight limitations.
Class A –

People that are seemingly healthy and in that there's no evidence of raised heart-related hazard with exercise.
Class B –

People having established coronary heart disease which is stable. These folks are at risk of low complications with exercise.

Class C –

People that are at medium or high risk of heart-related complications through the workout. Examples of individuals who would be in this class are those who have had several heart attacks and people who have chest pain even with a low amount of exercise. Patients with specific findings on a fitness test might be in this group.

Course D –

People with a shaky disease who shouldn't engage in a workout program.
Exercise – Through cardiac rehab, trained clinicians work together with the individual and the patient's doctor to develop an exercise plan that is beneficial and safe during the CABG post-operative care . The application will look at the patient's health, heart health, any physical limits, the quantity, intensity and duration of exercise required to enhance heart health, and the requirement for oversight.
Type of workout –

The workout must use large muscle groups and contain aerobic exercise. Walking, biking, jogging, rowing, and stair climbing are a few examples.

Frequency –

The recommended frequency of exercise is three to five times a week.

Content and length –

It is important that every session include a 5- to 10-minute warm-up stage, a conditioning period of 20 minutes, and a 5- to 10-minute cool-down stage. The danger of complications can boost.

Intensity –

Among the very important elements of the exercise is that the intensity of the workout. This relies upon the degree of effort or the individual's heartbeat. A few formulas exist to compute the required heart rate for every individual. The individual gauges the amount of effort during a process by rating it on a standardized scale known as the evaluation of the perceived effort. Exercise is very important to acquire required health advantages. The advantages of very large intensity exercise are modest and hence extreme exercise causing muscle fatigue and increases the probability of bodily harm and cardiovascular disease are not advisable.

Exercise development –

Over the years, most people can slowly increase the amount of exercise. Beneficial exercise may also be a part of daily pattern by taking a brisk walk or appreciating active play with children or grandchildren.
Supervision –

Class C Patients ought to be in a medically supervised program for their post-operative care of CABG in which the electrocardiogram is tracked during exercise. Advanced life support equipment e.g. a defibrillator, drugs, employees trained to utilize this gear should be available. This degree of oversight should last for 8 to 12 weeks. Lower-risk sufferers (Class B) benefit in the clinically supervised, ECG-monitored application for the initial 6 to 12 sessions. After this, a home-based exercise plan is safe and effective.
Factors to reduce cardiac risk
Reduce Cardiac Factors
Numerous factors increase the possibility of hastening or treating cardiovascular disease's development. Reducing or eliminating these risk factors can be helpful, even if an individual already has heart disease or has had a heart attack. Approaches are discussed below.
Stick to a heart-healthy diet

– Diet counselling is useful or decrease cholesterol levels and a good dietitian is the best person to consult about meals, proper portion sizes, complete dietary recommendations, and sensible techniques to change bad eating habits. Generally, a heart-healthy diet entails substituting veal, lean beef, poultry, fish, whole grain pasta, legumes, rice, corn, legumes, nuts, legumes or vegetarian foods such as fatty meats, milk, cream, and higher sugar or high carbohydrate foods that are refined. Sugar is a hidden component in foods that are prepared also is as unhealthy. It is typical to get low fat foods to get high sugar levels and so similar content. Most cardiac rehab programs have a dietitian who's experienced and knowledgeable in counselling people recovering from a heart attack.

Quit smoking

– Cigarette smoking increases the risk of heart disease, and these dangers can be substantially reduced by quitting smoking. After 1 year of quitting smoking, the risk of dying from coronary heart disease is decreased by roughly half and the threat continues to decrease with time. Over two decades of smoking, the chance of heart attack has been reduced in certain studies. Cardiac rehabilitation programs can suggest a remedy to prevent smoking, for example, group applications; smoking patches, chewing gum, or nasal spray; or even prescription medicine.

Treat Higher cholesterol and hypertension –

Medicines to control higher cholesterol and elevated blood pressure are recommended after a bypass operation. It is necessary to take these drugs.

Manage diabetes

– People with diabetes are at a high risk of developing complications. Control of blood sugar levels can help reduce the probability of other kinds of complications and those. Tight control can be accomplished by losing weight, handling the diet, exercising, tracking blood sugar levels frequently, and taking oral contraceptive medications (for individuals with type two diabetes) or insulin (for individuals who have type 1 and occasionally type two diabetes).

Therapy

– Approx. 40% of patients are impacted by feelings of depression, anxiety, and jealousy after bypass surgery. Depression can lower an individual's capacity to use energy amounts, cause more exhaustion, or reduce an individual's wellbeing and feel of well-being. Ladies have a large risk for depression. These indicators may cause difficulties within the union, the household, and the office. At times treatment with antidepressant drugs can be useful. Many rehab programs have trained personnel, such as psychiatrists, psychologists, or social workers, to help handle these difficulties. Treating stress and depression can enhance an individual's long-term prognosis and awareness of well-being.
CABG Post operative Nursing Care
Postoperative Management of Bleeding –

Excessive bleeding may complicate the period. Several things should be taken into consideration when analysing the individual's potential for bleeding. Patients who have been on anticoagulants and antiplatelet agents (like glycoprotein IIb/IIIa receptor antagonists like abciximab) before surgery is at an elevated risk of postoperative bleeding. The atrium and the aorta are cannulated throughout the operation. The grafts have distal and proximal anastomosis sites. Possible sites for bleeding comprise the torso of the mammary site, and chest tube sites. Hypothermia, the management of heparin for anticoagulation, and the CPB machine's usage can contribute to postoperative bleeding. The nurse ought to bear in mind that heparin may be stored in adipose tissue and several patients might get an increase in bleeding 4 hours based upon the adipose composition of the body. Some surgeons use the infusion of aprotinin intraoperatively to lessen the chance of bleeding. This medication is. Aprotinin is helpful to the patient and therefore might have some results.

Postoperative Neurologic Control –

Hypoperfusion or an event can cause stroke during or following surgery. Risk factors for stroke may include hypertension, previous stroke, carotid bruits, and age. The prevalence of stroke is approximately 2.5 percent.

The nurse must be astute to mindfully keep a watch for any tell-tale signs. During the first couple of hours following surgery, the control on extremities of nerves should improve. The nurse must provide comfort but not as the status cannot be assessed until the patient is alert and extubated, provide false confidence. For orientation to person, location, time, and position, the individual ought to be evaluated at that moment. Consequence that is positive is a great sign that a stroke is ruled out. Because the probability of stroke doesn't finish with the surgery assessments must continue.

Postoperative Renal Management –

There's a potential for renal dysfunction in the cardiac surgery patient. Reference suggests that the prevalence is roughly 8 percent. Renal insufficiency might be associated with advanced age, hypertension, and diabetes, and diminished function of the left ventricle and period on the CPB. 1 indicator of successful renal perfusion according to urinary output of 0.5 mL/kg/h. The output must be monitored by the nurse at least hourly. The urine ought to be assessed for amount and attributes in addition to color. When renal function is enough, as the fluids discharged in the interstitial diuresis is probably at the period. As potassium is dropped with diuresis the patient's cholesterol level ought to be monitored at least every 4 to 6 hours for the first 24 hours. Potassium replacement ought to be administered to maintain potassium levels. When the serum potassium level is abnormal, the individual ought to be tracked for cardiac dysrhythmias. Lab values which need to be monitored at least would be the blood urea nitrogen and serum creatinine.

Postoperative Gastrointestinal Management –

Gastrointestinal complications vary from 0.12% to 2 percent. Complications include acute cholecystitis, perforated ulcer, pancreatitis, peptic ulcer disease, gut ischemia, diverticulitis, and liver disorder. Some risk factors for gastrointestinal dysfunction include age over 70, a history of gastrointestinal disease, a history of alcohol abuse, cigarette smoking, heart disease operation, emerging surgery, prolonged CPB, postoperative haemorrhage, use of vasopressors, and reduced postoperative CO.. This might increase the risk of dysfunction in the event the artery is used as a conduit for the skip. Hypoperfusion of the intestine during operation, analgesics, and agents may lead to malfunction. The patient should be monitored by the nurse. The patient is going to have a tube to the sump or low suction to suction that is constant. Patency and placement ought to be evaluated in addition to colour, amount, and qualities. If bowel sounds are present, the tube is going to be stopped and the nurse must continue to evaluate the patient for gastrointestinal disturbances. Agents should be administered by the nurse in the event the patient is nauseated as arranged. The relaxation of the sterility of the grooming in addition to the individual needs to be preserved. Some surgeons dictate a blocker till dietary patterns have been resumed to lessen secretion. The individual will be going on a diet If the tube has been removed and this is sometimes advanced as tolerated by the patient.
How can Care24 help?
As the patient recovery is ensured by a postoperative nursing care, postoperative care is a vital element of the curing process. Post-operative care for individuals might be easy and may be short term or long term or may entail procedure for a few.
In case of long term post-operative care, a patient is much better off within the warmth or home rather than in a hospital. Aiding this kind of care is something that we provide from our home care nursing services. As a part of our services, our group of nurses and other caregivers, would come and see you and offer care. In some cases, the nurse may remain with the individual for 24*7 monitoring and attention.
Therefore, if you require nursing care in your home, look no further and trust your loved ones' care to Care24 and we guarantee a satisfactory and quick recovery of the individual in the most effective and fastest way possible.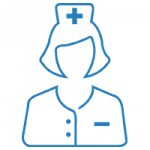 style="text-align:right;color:0f0f59;">
Read more
The physiotherapist came to my home was very helpful and knowledgeable. She properly gave me the detailed information about my injury. Also the first assessment is free of cost.

varshflute


10/17/2019

We had a ridiculously pathetic experience with them. Took an attendant service, a 10 day offer (rs 600 instead of their regular fee of rs 800), for my mother who had undergone an knee replacement surgery. In six days, 4 different attendants were assigned for no fault of ours. We had terrible experience going through the back-end team trying to explain the importance of sending only one attendant and not a different one every new day. The last person assigned wanted to leave by 5pm even though the timings were from 8am to 8pm. With this many other terrible instances in these 6 days, we had no option but to cancel the services. The back-end team were utterly useless in understanding the importance of having only one person assigned. They kept insisting that we pay for 800rs per day for 6 day and offer of rs 600 per day would be invalid. The management should look into this scam and take immediate action on the team. Note: Even though we wanted the services, we were forced to abandon it with no fault of ours. The back-end team has absolute disregard for the grievances of the client.

Rahul Dhakka


12/27/2018

My father had a hip bone surgery in January. I have been using Care24 services ever since. The attendants that cane were good in the beginning. However their services have become good to bad to worse to worst in the last 15 days. They changed the night attendant without informing me personally just 6 hours before the time. My father had just settled down with the last attendant and now they were sending a replacement tonight. To add to my frustration the guy didn't turn up and did not answer the calls. When I called their call centre - they said they can't help me at this hour. Well- I can't help but call them CARELESS CARE24.

Jasbir Basu


4/06/2019

Unqualified office staff, when you call to clarify something. Many times they don't understand the question. They are not trained well. The customer care staff needs an upgraded system, where notes are fed into the system. So you don't need someone else calling up and giving you the same info. The caretaker is not trained well. If they are looking after an elderly person, they should know that they have to be in the best of health to look after my mother. She ended not making a meal for my mother and my neighbour had to provide it. If the caretaker is not well she should have asked for a replacement asap and not waited. It is shocking, we have paid a huge amount of money for this service and I am absolutely unhappy. Please do not call for caretaker's from Care24. As long as they are getting their money. They care a damn!!! Worst service providers.

Bonabelle Zuzarte


7/10/2019

The worst experience I've had of my life. I normally never really write reviews, but I had to write this because this agency is the worst company I've dealt with till now. Their customer service is terrible, most of their attendants are not competent for taking care of elderly patients. Please do not use their service.

Radhika Kulkarni


6/27/2019
I am still taking services from Care 24 since last two years. The caregivers are well trained and takes good care of my mother in law.
Sheila khanchandani
Sumesh Brother is Punctual, Efficient and knowledgeable and understands patients requirements completely.
Jayshree Prabhu
I have been using care 24 services and have been very happy with their services. Priyanka Rajbhar is our caretaker she is very disciplined kind and dedicated towards her work.
Saurabh Bhatt
The Nurse and the Attendant provided by Care24 are good in service, polite and punctual. We are happy with their service. The patient ( our family member) is been given proper care, feed and cleaned regularly.
Deepa Balvalli
Dr. Ralga had Attended to my father. He is suffering from PSP. We were specifically impressed by her techniques n method to handle the issue. We are planning on repeating her visits every month for positive results.
Uma Ram
Frequently Asked questions