Tracheostomy Nursing
Care
Our nurses are experienced in providing a complete range of nursing care specializations, including nursing care for Tracheostomy patients :
Tracheostomy Nursing Care
Our nurses are experienced in providing a complete range of nursing care specializations, including nursing care for Tracheostomy patients :
tracheostomy care nursing SERVICES
Overview
Home Nursing Care Of Tracheostomy Patient | Tracheostomy Care Nursing – Care24
Looking for tracheostomy care nursing at home, Care24 will be the right choice for your loved ones. Skilled experts in Care24 creates the tracheostomy nursing care plan for patients to maintain proper health.To know further details on tracheostomy care nursing procedure & nursing care of tracheostomy patient contact our Care24 experts.
Tracheostomy is a procedure that helps in creating a surgical airway in the cervical trachea. It is usually performed in patients who have difficulty weaning ventilator, followed by those who have suffered from any trauma or a catastrophic neurologic insult. Neoplasticism and infectious processes are less common in diseases that require a surgical airway.
Tracheostomy is a surgical procedure of access; therefore, it should be discussed in respect of the problem it addresses: access to the tracheobronchial tree. The trachea is a passage between the upper airway and the lungs that delivers moist warm air and expels carbon dioxide and sputum. Failure or blockage of it at any point can be most readily corrected with the provision of access for mechanical ventilators and suction equipment. In the cases of upper airway obstruction, tracheostomy helps in providing a path of low resistance for air exchange.
Difference between tracheostomy and tracheotomy
A tracheostomy which is also called tracheotomy, is an opening which is surgically created through the neck into the trachea (windpipe) to allow direct access to the breathing tube and is commonly done under general anesthesia. The term "tracheotomy" refers to the incision into the trachea (windpipe) that forms a temporary or permanent opening, which is called a "tracheostomy," however; the terms are sometimes used interchangeably.
Risks
Early Complications which may arise just after the tracheostomy procedure include:
Bleeding
Air gets trapped around the lungs (pneumothorax)
Air found trapped in the deeper layers of the chest(pneumomediastinum)
Air trapped underneath the skin around the tracheostomy called as subcutaneous emphysema.
Damage to the swallowing tube (esophagus)
Injury to the nerve which moves the vocal cords.
Tracheostomy tube blocked by blood clots,pressure or mucus of the airway walls.
Any type of Blockages can be prevented by suctioning, humidifying the air, and selecting the appropriate tracheostomy tube.
Many of these early complications can be dealt or avoided with appropriate help with our experienced surgeons.
Later Complications that may show up while the tracheostomy tube is in place, include:
Accidental removal of the whole or part of tracheostomy tube, accidental decannulation.
Infection occurring in trachea and around the tracheostomy tube
Windpipe itself may become damaged.
These complications can be prevented or quickly relieved with if the caregiver has proper knowledge of how to care for the tracheostomy site.
High-risk groups

The other risks associated with tracheostomies are higher in the following groups of patients:
children, especially newborns and infants
smokers
alcohol abusers
diabetics
immunocompromised patients
persons with chronic diseases or respiratory infections
persons taking steroids or cortisone
Why it's done?
A tracheostomy is usually done to cure one of several reasons:
It is done to bypass an obstructed upper airway
Also performed to clean and remove secretions from the airway;
Prolonged mechanical ventilation (breathing machine); and
To more easily, and usually more safely, deliver oxygen to the lungs.
Recovery
Patients are able to enjoy a good lifestyle with a permanent tracheostomy tube. However, some people find it difficult to adapt to breathing and communication.
Physical activity
One should be able to continue everyday activities, but you should avoid vigorous activities for about six weeks after the procedure.
Speech
Speaking is a difficult task after having a tracheostomy. After tracheostomy is done, one should refer to language and speech therapist who will help to give you further advice and training in speaking while the tube is still inserted so that you can improve your ability to communicate.
How can Care24 help?
Our surgeon monitors the healing for several days after the tracheostomy. The initial tube placed at the time of surgery will be changed to a new tube between 10 and 14 days following surgery. Tube is changed subsequently by the treating physician or nursing staff.
Mainly, Speech will be difficult until the time comes for a special tube to be placed. Once the-size of the tube is decreased, speaking may be possible. At the appropriate time, instructions will be given. Oral feeding will also be difficult until a smaller tube is placed.
If the tracheostomy tube will be necessary for a long period of time, the patient and family will be helped with home care. This will include suctioning of the trachea, changing and cleaning of the tube.
Why Care24?
Comprehensive Care for Our Community and Beyond
Our specialty and primary care is provided by experts from all medical specialties. We offer our care in convenient and comfortable settings, using the most advanced approaches.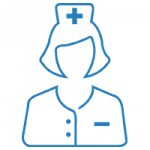 style="text-align:right;color:0f0f59;">
Read more
Horrible, unprofessional service! Advance paid.The caregiver did not show up. When complained to customer care, they said they will find a replacement and call back. No call back, no replacement. They shut for the day and the customer is felt in a lurch. Extremely disappointing. Will never avail this service again and will spread the word too.

Shraddha Shah


11/02/2019

Most horrible services. Please do not ask for help from these people, they will talk sweet and then at the last moment there will be no shows from the caretaker. I had to go through this not once but twice the caretaker did not turn up. Request you all to not depend on these people as we are leaving our homes and letting them into our lives, the least they can do is inform and provide a replacement, but neither of it happened and they expect me to pay registration fees of RS,1000

Annie Palan


5/17/2019

Nurses and attendants provided by Caree24 are very good. In behavior and trust worthy. Thanks for their support

Anil Kathuria


6/28/2019

I used Care24 services for 7 months duration in 2019-20. Carers they provide are a mixed bag. Some are really good while others lack even basic service skills. You got to be very very lucky to get one and same carer over long time as carers often go on leave. When regular carer is on leave, every time they will send new carer. So family members need to repeat everything, right from home address, directions to patient's routine, medicines etc. Do not expect that Care24 will provide any heads-up or patient routine information to new carer who is visiting. Over the 6 months of Mumbai-based care services I used from Care24, there were over 15 instances where new carers were late more than 2 to 3 hours. Care24 support team is very lethargic, there were times when support team assumed that carer has reached home when he had not even started from his place. Support team is unaware of carers being late to customer's place. Then came in so called, the technology upgrade, Jan-Feb 2020, they had a new IT system and there were numerous issues with billing, sending invoices and payment receipts to customers (as told by support team themselves). Support staff told me at least 10 times over phone and email that there are system issues in billing and payment, I had to calculate amount manually on my own and then Pay them. With new system, accounts were on toss, no invoices were sent to customers (in spite of the fact that payment policy says payment needs to be made after receiving invoice.) I had 20-25 emails following up for invoice and payment receipts, but their support team in Mumbai did not care to respond. I found their behavior very unprofessional and not good over these 2-3 months. If you are outside for work (or overseas) and not staying with the patient or your parents, I strongly suggest DO NOT USE CARE24, as they do not respond to your emails and phone in time. They do not bother even when the patient is without care because of their delays in operations and carer issues. They need to improve basic operations first, give timely and consistent services to customers, and then worry about Apps, Digital Assistants and other tech-stuff. .My genuine advice to them--- You are dealing with patient healthcare services, where patient family is relying on you. This is not a courier service business where you are sending people to move boxes and you would't care much when service is delayed !!

Sanket Deo


3/05/2020

Mangal Laad has visited us for a couple of days in the day. She is very kind, attentive and trustworthy. She has been with us like an extended Family. The patient has also appreciated her services. She is excellent. We thank you for Mangal Laad.

Tanuka M


3/09/2020
I am still taking services from Care 24 since last two years. The caregivers are well trained and takes good care of my mother in law.
Sheila khanchandani
Sumesh Brother is Punctual, Efficient and knowledgeable and understands patients requirements completely.
Jayshree Prabhu
I have been using care 24 services and have been very happy with their services. Priyanka Rajbhar is our caretaker she is very disciplined kind and dedicated towards her work.
Saurabh Bhatt
The Nurse and the Attendant provided by Care24 are good in service, polite and punctual. We are happy with their service. The patient ( our family member) is been given proper care, feed and cleaned regularly.
Deepa Balvalli
Dr. Ralga had Attended to my father. He is suffering from PSP. We were specifically impressed by her techniques n method to handle the issue. We are planning on repeating her visits every month for positive results.
Uma Ram
Frequently Asked questions