Our nurses are experienced in providing a complete range of nursing care specializations, including nursing care for Lung Cancer.
Our nurses are experienced in providing a complete range of nursing care specializations, including nursing care for Lung Cancer.
Lung cancer Nursing Service
What is Lung cancer?
A Nursing Care Plan for Lung Cancer
Lung cancer can be defined as the uncontrolled growth of abnormal cells in one or both lungs. The abnormal cells do not function like that of normal lung cells and thus do not develop into healthy lung tissue. As they grow, the abnormal cells tend to form tumors and interfere with the proper functioning of the lung, which is to provide oxygen to the entire body via the blood.
Causes of Lung Cancer
The cells in the body are made up of genetic material called deoxyribonucleic acid (DNA). Every time a mother cell undergoes cell division and splits into two daughter cells, the DNA is exactly duplicated. These new cells are identical to their mother cells. This is the method by which the body continually repairs itself and grows. New cells are born which replaces old cells.
Cancer occurs due to an error, or mutation, in a genetic combination of a cell. DNA mutations can be caused by many factors, mostly it is due to the normal aging process, and other times it can be due to environmental factors, such as smoking tobacco, breathing asbestos, being exposed to radon gas. These factors that can lead to cancer are also known as carcinogens.
Primary lung cancer takes its form in the lungs itself. Sometimes, people have cancer that travels from another part of the body or metastasize to the lungs. This type of cancer is known as secondary lung cancer as the lungs are a secondary site in comparison to the original or primary location of cancer. Like, for example, say breast cancer cells which travel to the lung are not lung cancer but is metastatic breast cancer, and will require the treatment as is given for breast cancer and not lung cancer.
Signs and Symptoms of Lung Cancer
The early stages of lung cancer do not specifically show any symptoms. It generally shows signs of its occurrence in the later stages when it is more developed.
Signs and symptoms of lung cancer may include:
A cough that does not go away, also cough laid in with blood even in small amounts, running short of breath, chest pain, and etcetera.
Types of lung cancer
Lung cancer can be categorized into two types based on the appearance of the cells under a microscope.
The two types of lung cancer include-
Small cell lung cancer – Small cell lung cancer is found mostly in heavy smokers and is not as common as non-small cell lung cancer.
Non-small cell lung cancer – Non-small cell lung cancer is a term used to describe several types of lung cancers that behave in a similar way. This contains a proportion of the cell lung cancers types is mainly in the form of squamous cell carcinoma, large cell carcinoma, and adenocarcinoma.
Risk Factors of Lung Cancer
Smoking tobacco- Smoking is the leading risk factor for lung cancer. About 80% of lung cancer deaths are the result of smoking. The risk for lung cancer amongsmokers is much more prevalent than among non-smokers. Passive smoking that is inhaling the smoke of others can also increase the risk of developing lung cancer.
1. Exposure to radon
Radon is a radioactive gas that results from the breakdown of uranium in soil and rocks. Radon is considered to be the second leading cause of lung cancer and is the leading cause among non-smokers.
2. Exposure to asbestos
Working with asbestos (such as in mines, mills, textile plants, places where insulation is used, and shipyards) increases the risk of lung cancer several times. Lung cancer risk massive amongst workers exposed to asbestos and who also smoke. Exposure to large amounts of asbestos offers a greater risk of developing mesothelioma which is the type of cancer that develops in the pleura (the lining surrounding the lungs).
Other risk factors include
Exposure to other carcinogens ( agents that cause cancer) in the workplace
Radioactive mineral ores like uranium
Polluted Air
Drinking water containing arsenic
Treating lung cancer
Surgery
This is an option when cancer hasn't spread too far in the body and is the best method for removing lung cancer.

Radiofrequency Ablation

For have non-small cell lung cancer and surgery is not an option, this treatment may be an option.
Some other options include Radiation and Chemotherapy.
Helping the lung cancer patient or nursing care plan for a lung cancer patient
How can Care24 help?
Physiotherapists visit the patient's home to begin the nursing care plan for lung cancer. For those who book a consultation, a doctor will visit their home and diagnose the condition by reviewing the medical record. Nursing care for lung cancer at home or pacifying care begins once the reports and condition have been reviewed, and nurses for lung cancer care are appointed for verified periods to patients.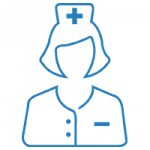 style="text-align:right;color:0f0f59;">
Read more
Needed an attendant for a week for post-surgical assistance (ward boy type work). The person allocated was punctual, polite, and generally did the job well. Quite happy with the services provided. Edit: The payment management is quite bad. If you choose to make cash payments for the service (physiotherapist in my case), the payment does not sync with the agency and they keep sending messages and emails along you to pay up. They follow up with calls on Sunday afternoon 🤦🏻 Edit 2: No change. The company is continuously following up for the money I have already paid. Reducing the rating.

Swati Saxena


5/31/2020

I got good experience wt dr Dhrita she is v good in physiotherapy n nice while talking n explains v nice

Sujata Rao


6/19/2019

Worst!!! I am paying for professional services and the attendant is not professional. The level of disappointment is i have to terminate services on Day 1 itself. And still I am being told to pay for 1 day. Please assess the attendant before going for services from care24

Praful Jadhav


5/07/2019

The management team & the customer care team is quite responsive.... However the main component, ie the caregiver is not trustworthy & definitely not upto the mark

Ritwik Basu


11/03/2019

If there was an option of negative stars then I would have choosen it. They offered me a package of₹ 5950/- for 10 days and after 2 days updated me on new package of ₹5700/- for 7 days without my consent. Even deposited my earlier cheque and then I had to follow up for the balance for about 10 days explaining my issue everyday to the new person on their helpline. They don't acknowledge emails too. Worst experience and definitely not recommended

Mugdha Kulkarni


5/23/2019
I am still taking services from Care 24 since last two years. The caregivers are well trained and takes good care of my mother in law.
Sheila khanchandani
Sumesh Brother is Punctual, Efficient and knowledgeable and understands patients requirements completely.
Jayshree Prabhu
I have been using care 24 services and have been very happy with their services. Priyanka Rajbhar is our caretaker she is very disciplined kind and dedicated towards her work.
Saurabh Bhatt
The Nurse and the Attendant provided by Care24 are good in service, polite and punctual. We are happy with their service. The patient ( our family member) is been given proper care, feed and cleaned regularly.
Deepa Balvalli
Dr. Ralga had Attended to my father. He is suffering from PSP. We were specifically impressed by her techniques n method to handle the issue. We are planning on repeating her visits every month for positive results.
Uma Ram
Frequently Asked questions