Hernia Post Operative Care
Our nurses are experienced in providing a complete range of nursing care specializations, which includes:
Hernia Post Operative Care
Our nurses are experienced in providing a complete range of nursing care specializations, which includes:
Hernia Post Operative Care
Overview
Going through any surgery can be an emotionally and physically taxing phase and hernias are no exception. But what is even more important is the postoperative care after hernia surgery. Once you have undergone a successful surgery, it is important to take care of your health and ensure that you follow every instruction given by your doctor for the postoperative care.
There are a number of things to remember after your surgery like having a swelling at the surgical site is a common occurrence after the procedure and you need not worry exceptionally for the same. Even an abdominal bloating is a common observation in patients who are recovering after a successful surgery for a hernia.
One of the things your doctor will tell you when giving instructions about post-operative care for hernia is that you may occasionally see bruises or different skin colours during the healing process. This is normal and nothing to panic about. Also, if you find any swelling in the genital area and / or there is a fluid retention which feels like a lump, do not worry. These signs generally occur post the hernia surgery. All you need is to apply cold compress every time this occurs over the first few days at home. And you will see things improving pretty soon.
Apart from these symptoms that occur for the first few days, you also need to take care of the surgical site as part of your post-operative care of hernia. Your doctor will most likely inform you when you can take a shower, once you are back home. If they do not, make sure to ask them. It depends on the way your incision has been drained.
In case your incision has been closed by means of glue, you can take a bath from the same day. However, if you have a bandage covering your incision, your doctor would ask you to keep it dry. So, you must avoid showering for at least 3 – 4 days. You can take a bath post that, but make sure that the wet bandage is not kept on your incision as it can lead to infections. Remove it and replace with a fresh and dry dressing.
Another very important thing to keep in mind during post-operative care for hernia is to keep your activities at a minimum, unless otherwise instructed by your doctor. This does not mean you should not have any exercise. You need to keep moving your body and carry out some light activity as that helps in improved blood circulation and faster healing. However, do not undertake any strenuous activity.
Instructions
There are a lot of things the doctor or hospital will tell you about inguinal hernia surgery post-operative care. Here is a ready list of things that are a must during your recovery period
Keeping the wound clean and dry

– One of the most important requirements of post-operative care for hernia is to make sure the incision and the surgical site in general is kept dry at all times. This helps in avoiding infections as well as promotes faster healing.

Follow the dietary recommendations

– While external healing is important, it needs to be adequately supported by internal healing. This is possible only by properly following the dietary recommendations as prescribed by the doctor and the nutritionist.

Light Activities, especially walking, are a must

– During postoperative care after hernia surgery, it is very important to aid the blood circulation as much as possible. One of the best ways to do so is by walking, as that does not stress out the abdomen muscles and yet gets the blood circulation going. Hence, try to walk as much as you can.

Strenuous physical activities are to be avoided

– While light activity like walking is recommended when recovering from an inguinal hernia surgery, avoid any heavy exercise like lifting or running or climbing stairs that strains your abdominal muscles. Such activities should only be restarted gradually and after consulting your doctor.

Do not drive until your follow up visit

– Under no circumstances should you be driving under the influence of anesthesia. Make sure to check with your doctor when can you get back behind the wheel. It is better to start after a few weeks and as a rider, before you start driving on your own again. However, your doctor will be the best person to advise you on this.

Check with your doctor before resuming sexual activity

– This is also an important point to remember and check, when visiting your doctor for the post-operative follow up meeting. Resume only after your doctor has confirmed that it poses no risk for you.
Diet
Just like medicines, rest and exercise, another very important component of your comprehensive post-operative care for inguinal hernia is the diet that you will be consuming.
For an infant, it is advised to resume oral feeds when they wake up after the effect of the anesthesia wears off. The only thing to monitor is that their respiration has stabilized.
For grown up children and adults, you will typically be given a diet chart to be followed by your doctor or diet consultant. It is good to consume fresh fruits and vegetables and as much as possible take in fluids. This helps in avoiding the bloating that some patients may feel as well as preventing constipation.
How can Care24 help?
The entire process of preparing for and undergoing a surgery can be stressful for anyone. After the surgery is over, it is always better to spend the recovery period at home. The familiar environment and the support of family members can help you recover much faster. However, you still need the expertise of specialists during this period. This is where we come in.
We at Care24 have an experienced team of professionals, who have been carefully screened and are thoroughly trained on post-operative care for hernia. Our team of qualified nurses, ably supported by our team of specialist doctors can help make this recovery process easier and faster for you. They can visit you, as per your convenience, to monitor your status as well as guide you on things you need help with.
If need be, our specially trained nursing staff can also be deployed to provide 24 X 7 care to the patient. Whatever be your need, get in touch with us via our website, email or the toll free number and we can schedule a visit of our team to understand your specific requirements so that we can deliver.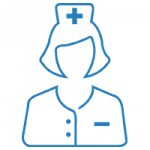 style="text-align:right;color:0f0f59;">
Read more
Unqualified office staff, when you call to clarify something. Many times they don't understand the question. They are not trained well. The customer care staff needs an upgraded system, where notes are fed into the system. So you don't need someone else calling up and giving you the same info. The caretaker is not trained well. If they are looking after an elderly person, they should know that they have to be in the best of health to look after my mother. She ended not making a meal for my mother and my neighbour had to provide it. If the caretaker is not well she should have asked for a replacement asap and not waited. It is shocking, we have paid a huge amount of money for this service and I am absolutely unhappy. Please do not call for caretaker's from Care24. As long as they are getting their money. They care a damn!!! Worst service providers.

Bonabelle Zuzarte


7/10/2019

Nurses and attendants provided by Caree24 are very good. In behavior and trust worthy. Thanks for their support

Anil Kathuria


6/28/2019

Needed an attendant for a week for post-surgical assistance (ward boy type work). The person allocated was punctual, polite, and generally did the job well. Quite happy with the services provided. Edit: The payment management is quite bad. If you choose to make cash payments for the service (physiotherapist in my case), the payment does not sync with the agency and they keep sending messages and emails along you to pay up. They follow up with calls on Sunday afternoon 🤦🏻 Edit 2: No change. The company is continuously following up for the money I have already paid. Reducing the rating.

Swati Saxena


5/31/2020

Worst experience ever! Have hired a caregiver and a nurse. The nurse arrives late repeatedly inspite of being told about how critical medication timings are, falls asleep during day duty, is clueless about timings and medications inspite of us having guided them and has no sound medical knowledge whatsoever. She insisted that a fever of 99.7 is normal and even tried feeding the patient through riles tube with the patient lieing down inspite of there being a recliner arrangement. Neither the nurse or the attendant knew the correct way of lifting a patient from the bed, it was all ignorant tug and pull. Any complaints made to the organisation made no difference as they need more than a day to arrange for a replacement and one needs to deal with the same incompetent staff for another day or risk having no caregiver coming over (as bluntly informed by the call center) at all. Furtheron, the same performance continued the next day. In fact, in the absence of the family members it was observed through a baby monitor that the attendant and the nurse were sitting and chatting away while the patient was trying to sleep and literally PASSING FOOD OVER TO EACH OTHER OVER THE PATIENT! If this wasnt bad enough, the attendant developed a cough and a fever and when a call was made to care 24 asking them to send a replacement on the next day at least as the patient has low immunity, the organisation again gave a choice, we could have the same attendant and risk the patient getting sick, or have no attendant for the next day as they didn't have anyone available. Do not fall for the sales pitch of the executives over the phone as their premium prices and promises of exceptionally well trained staff is nothing but marketing mumbo jumbo. The professionalism and training of the staff that comes to your door is as garbage as the service of the organisation. More importantly, do not trust this organisation with the health and well being of your loved ones as no one in the entire heirarchy of care 24 really 'cares'. You would be better off hiring someone from a local agency. Have had much better experiences with randomly contacted nurses and attendants through justdial. Even though they live far, they reach on time The local organisations are also promptly able to provide replacements if need be. P.S. The 1000 or so rupees registration charge they take from you initially, is essentially a financial clickbait as its money they've made off you after they have stressed you out, contributed to deterioration of the patient and compelled you to suspend their services.

Marzouq Shaikh


3/09/2020

Most horrible services. Please do not ask for help from these people, they will talk sweet and then at the last moment there will be no shows from the caretaker. I had to go through this not once but twice the caretaker did not turn up. Request you all to not depend on these people as we are leaving our homes and letting them into our lives, the least they can do is inform and provide a replacement, but neither of it happened and they expect me to pay registration fees of RS,1000

Annie Palan


5/17/2019
I am still taking services from Care 24 since last two years. The caregivers are well trained and takes good care of my mother in law.
Sheila khanchandani
Sumesh Brother is Punctual, Efficient and knowledgeable and understands patients requirements completely.
Jayshree Prabhu
I have been using care 24 services and have been very happy with their services. Priyanka Rajbhar is our caretaker she is very disciplined kind and dedicated towards her work.
Saurabh Bhatt
The Nurse and the Attendant provided by Care24 are good in service, polite and punctual. We are happy with their service. The patient ( our family member) is been given proper care, feed and cleaned regularly.
Deepa Balvalli
Dr. Ralga had Attended to my father. He is suffering from PSP. We were specifically impressed by her techniques n method to handle the issue. We are planning on repeating her visits every month for positive results.
Uma Ram
Frequently Asked questions