Our nurses are experienced in providing a complete range of nursing care specializations, including nursing care for Antenatal period :
Our nurses are experienced in providing a complete range of nursing care specializations, including nursing care for Antenatal period :
Nursing Care Plan For Antenatal Period
Overview
Antenatal health care for mothers is something which is vital for you and your baby
Antenatal health care which is also known as prenatal care is something which is related to you and your baby's health during pregnancy that is regular check-ups from the doctor, nurse or a midwife. The nursing diagnosis for antenatal mother helps the baby and the mother to have a healthy and safe pregnancy with a healthy lifestyle.
Why is antenatal health care important?
Nursing care plan for the antenatal period is an important part of the pregnancy which helps the mother to stay healthy. Your doctor, nurse, or midwife to whom you are a concern will monitor the development of your future baby.
Antenatal care includes regular screening so that the doctors could detect and prevent early complications such as pregnancy diabetes or hypertension. And also, all the other types of health care issues could be resolved with the help of good antenatal care throughout the course of your pregnancy. During the antenatal nursing care, you get to get sorted with all your discomforts that you are going through and you can also ask a question to know about any doubts during pregnancy and the delivery of the child.
A good nursing care plan for antenatal mother not only benefits your future baby but also the mother to make herself ready with good health for welcoming the little one.
How often will I have prenatal care visits?
The answer to this question about the prenatal care visits mainly depends upon how long your pregnancy period is and how high are your complication risks. For a mother for age, 18-35 years with good health should have prenatal nursing care plan schedule as:
For the first 32 weeks every 4 to 6 weeks
For the 32nd-37th week every 2 to 3 weeks
From the 37th week until the delivery every week.
Your doctor may plan according to your health about prenatal care visits.
Prenatal tests
The nursing diagnosis for antenatal mother consists of tests to keep checking the health of you and your baby. The first visit is followed by the following tests:
Anemia
Signs that show you are rubella immune
The Rh factor and your blood type
Some of the infections including toxoplasmosis, and sexually transmitted infections, syphilis, chlamydia, hepatitis B, and HIV
And then the other test is also carried out in your nursing care plan for the antenatal period throughout the pregnancy. And the tests are planned mainly depending upon the age, ethnic background, the results of the routine tests, and the family health of the women while the other tests are certainly common for all women like down syndrome or HIV.
Things to know about prenatal care
Prenatal nursing care includes the following important parts:
Visit a doctor at an early stage of pregnancy
You should make sure that the intake of folic acid is regular for the good health of your baby. About 400 to 800 microgram of folic acid for the first three months is necessary.
If there are any of the medical issues like asthma, diabetes, high blood pressure, and more which can give future complications then you should try to control it with a good prenatal nursing care plan with the help of your doctor.
Before you are trying to get pregnant make sure to confirm with your doctor if there is any vaccination which is to be taken for the safety of the baby.
As soon as you get to know about your pregnancy it is needed that you stop drinking alcohol and avoid nicotine which could be very bad for the health of the baby.
Prenatal infection nursing care
You should always keep yourself updated with the nursing diagnosis for antenatal mother and have a healthy pregnancy. As there are many health problems which a mother can potentially transfer to her baby and out of such problems one is an infection. Infection is usually transmitted to the fetus through the placenta.
The antenatal nursing care plan for the infections includes the identification of the prenatal infection, providing the needed protocol of care with complete information, and helping in the well-being of the client/fetal.
The infection should be identified and treated at the right time so that there is no risk to your unborn child.
Exercises for antenatal
The useful exercises
The nursing plan for antenatal mother helps her in getting various benefits during pregnancy such as:
Reduce constipation, bloating, backache, and swelling
Help you in sleeping better
Promote muscle tone, endurance, and strength
Prevent you from gaining excess weight.
Makes your mood refreshing and energetic.
The pregnant women should exercise for 30 minutes the most in a day. The antenatal nursing care plan begins with walking for a beginner. This gives minimal effect on your joints. The other options include swimming, cycling, or low-impact aerobics. See that you warm up and have a good exercise plan with you and remember not to overheat and keep yourself hydrated by drinking fluids. Regular exercises are beneficial and it is sometimes included in the antenatal nursing care for the woman who has no health issues.
As important it is to exercise at the same time it is important to see that there are no signs of any problem. You should stop exercising and consult a doctor if:
Dizziness
Vaginal bleeding
Chest pain
Calf pain or swelling
Muscle weakness affecting balance
Uneven or rapid heartbeats
Chest pain
The uterine contraction that even continues after taking rest
How can Care24 help?
Our care24 center is one of the most recommended and helpful in giving prenatal nursing care due to the best doctors and nurses to serve you. we help you at each stage of your pregnancy for the good health of your baby and see that all the tests and diagnosis are on time to avoid any form of complications.
Our nursing care plan for antenatal mother is effective and always give positive results to our patients. For us, the health of you and your baby are the most important thing and we take no risk with it. The prenatal care at our center has helped many women in having a safe and sound pregnancy and delivering a healthy child.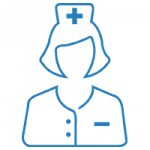 style="text-align:right;color:0f0f59;">
Read more
Nurses and attendants provided by Caree24 are very good. In behavior and trust worthy. Thanks for their support

Anil Kathuria


6/28/2019

The physiotherapist came to my home was very helpful and knowledgeable. She properly gave me the detailed information about my injury. Also the first assessment is free of cost.

varshflute


10/17/2019

If there was an option of negative stars then I would have choosen it. They offered me a package of₹ 5950/- for 10 days and after 2 days updated me on new package of ₹5700/- for 7 days without my consent. Even deposited my earlier cheque and then I had to follow up for the balance for about 10 days explaining my issue everyday to the new person on their helpline. They don't acknowledge emails too. Worst experience and definitely not recommended

Mugdha Kulkarni


5/23/2019

Needed an attendant for a week for post-surgical assistance (ward boy type work). The person allocated was punctual, polite, and generally did the job well. Quite happy with the services provided. Edit: The payment management is quite bad. If you choose to make cash payments for the service (physiotherapist in my case), the payment does not sync with the agency and they keep sending messages and emails along you to pay up. They follow up with calls on Sunday afternoon 🤦🏻 Edit 2: No change. The company is continuously following up for the money I have already paid. Reducing the rating.

Swati Saxena


5/31/2020

My father had a hip bone surgery in January. I have been using Care24 services ever since. The attendants that cane were good in the beginning. However their services have become good to bad to worse to worst in the last 15 days. They changed the night attendant without informing me personally just 6 hours before the time. My father had just settled down with the last attendant and now they were sending a replacement tonight. To add to my frustration the guy didn't turn up and did not answer the calls. When I called their call centre - they said they can't help me at this hour. Well- I can't help but call them CARELESS CARE24.

Jasbir Basu


4/06/2019
I am still taking services from Care 24 since last two years. The caregivers are well trained and takes good care of my mother in law.
Sheila khanchandani
Sumesh Brother is Punctual, Efficient and knowledgeable and understands patients requirements completely.
Jayshree Prabhu
I have been using care 24 services and have been very happy with their services. Priyanka Rajbhar is our caretaker she is very disciplined kind and dedicated towards her work.
Saurabh Bhatt
The Nurse and the Attendant provided by Care24 are good in service, polite and punctual. We are happy with their service. The patient ( our family member) is been given proper care, feed and cleaned regularly.
Deepa Balvalli
Dr. Ralga had Attended to my father. He is suffering from PSP. We were specifically impressed by her techniques n method to handle the issue. We are planning on repeating her visits every month for positive results.
Uma Ram
Frequently Asked questions