Nursing Care for Breast Cancer
Our nurses have experience in providing a wide range of breast cancer care services, which includes:
Nursing Care for Breast Cancer
Our nurses have experience in providing a wide range of breast cancer care services, which includes:
nursing care plan for breast cancer
Overview
For best home nursing care plan for breast cancer contact Care24 for good care of breast cancer patients. Care24 professionals offers the services for breast cancer care plan, breast cancer post surgery & post operative care.Call us today & know more details about nursing care for breast cancer patients.
CANCER AND BREAST
BREAST CANCER OVERVIEW
Breast Cancer, a condition of abnormal cell growth is the second most common cause of death in developing countries. Breast cancer can occur in both genders. but it's far more common in women.
Causes Of Breast Cancer: How Did This Happen?
It's natural to wonder what may have caused the disease, when you're told that you have breast cancer. But no one knows the causes of breast cancer. Doctors can somehow figure out why one woman develops breast cancer and the other doesn't. What science know is that breast cancer is always caused by damage to a cell's DNA.
SYMPTOMS OF BREAST CANCER
1.) Breast pain (Mastalgia)
2.) Nipple Discharge
WHAT ARE THE RISK FACTORS FOR BREAST CANCER?
WHAT ARE THE RISK FACTORS FOR BREAST CANCER?
Any woman may develop breast cancer. However, the following risk factors may increase the likelihood of developing the disease.
Risk factors that cannot be changed:
Gender, is one of the important risk factors: Breast cancer occurs nearly 100 times more often in women than in men.
Race or ethnicity. It has been found that white women develop breast cancer slightly more often than African-American women.
Aging. Two out of every 3 women are diagnosed after age 55 with invasive cancer.
Personal history of breast cancer

Previous breast irradiation

Family history and genetic factors. Having a close relative, such as your mother or sister, with breast cancer increases the risk for you.
Benign breast disease. Women with certain benign breast conditions, have an overall increased risk of breast cancer.
Dense breast tissue. Older women with high dense breast tissue are also at increased risk.
Diethylstilbestrol (DES) exposure. Women who take this drug while being pregnant (to lower the chance of miscarriage) are at higher risk.
Early menstrual periods. Beginning of periods before age 12, have a slightly higher risk of breast cancer.
Late menopause. Women who undergo menopause later in life (after age 55) are at a slightly higher risk.
The most frequently cited lifestyle-related risk factors:
Not having children at all or having your first child after age 30
Regular use of oral contraceptives
Any sort of Physical inactivity
Alcohol use ( >1 drink per day)
Long-term, postmenopausal use of combined estrogen and progestin (HRT)*
Weight gain and obesity, especially after menopause
Environmental risk factor
Exposure to chemicals, pesticides is currently being examined as a possible risk factor.
How is breast cancer diagnosed?
If your healthcare provider suspects that you might have breast cancer, you will need to undergo certain diagnostic exams and tests to be sure. Breast cancer diagnosis starts with your healthcare professional asking you certain questions; about your health history, your symptoms, risk factors, and family history of disease. Your healthcare provider will give you a physical examination, including an exam of your breasts.

What tests might I need?


You may have to opt for one or more of the following tests:


Mammogram
Ultrasound
Breast MRI
Biopsy
Nipple discharge exam
SUPPORT FOR PEOPLE WITH BREAST CANCER
If any friend or your family member has been diagnosed with breast cancer, there are a number of things you can do to help or support them.

1. Practical support


Things you might offer to help with include:

cleaning and vacuuming
clothes washing and ironing
gardening
cooking meals for freezing
transport to and from hospital appointments
taking children to or from school
babysitting
Emotional support
Listening to the patient about how they're feeling can sometimes be distressing or difficult, but it might be really helpful to them to express how they're feeling.
Support for you
Supporting a friend or your relative can be very demanding and upsetting. You need to look after yourself, to be able to continue to support your friend or relative.
Cancer diagnosis: 11 tips for coping
Here are 11 suggestions one can use for coping with a cancer diagnosis.
Consider asking:
What kind of cancer do I have?
Where is the cancer?
Has it spread?
Can my cancer be treated?
How much is the chance that my cancer can be cured?
What other tests or procedures do I need?
What are my treatment options?
How will the treatment benefit me?
What can I expect during treatment?
What are the side effects of the treatment?
When should I call the doctor?
What can I do to prevent my cancer from reappearing?
How likely are my children or other family members to suffer from it ?
WHY CARE-24?
Improving the quality of life for those suffering as well as their families.
Customisable care so that your loved ones needs are matched to the right caregiver skill set.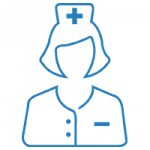 style="text-align:right;color:0f0f59;">
Read more
We contacted care 24 for my Dad's physiotherapy. Our physiotherapist Dr Dharita is very knowledgeable and extremely patient. My Dad is showing a lot for improvement in terms of his movement.

D W


3/21/2019

Worst experience ever! Have hired a caregiver and a nurse. The nurse arrives late repeatedly inspite of being told about how critical medication timings are, falls asleep during day duty, is clueless about timings and medications inspite of us having guided them and has no sound medical knowledge whatsoever. She insisted that a fever of 99.7 is normal and even tried feeding the patient through riles tube with the patient lieing down inspite of there being a recliner arrangement. Neither the nurse or the attendant knew the correct way of lifting a patient from the bed, it was all ignorant tug and pull. Any complaints made to the organisation made no difference as they need more than a day to arrange for a replacement and one needs to deal with the same incompetent staff for another day or risk having no caregiver coming over (as bluntly informed by the call center) at all. Furtheron, the same performance continued the next day. In fact, in the absence of the family members it was observed through a baby monitor that the attendant and the nurse were sitting and chatting away while the patient was trying to sleep and literally PASSING FOOD OVER TO EACH OTHER OVER THE PATIENT! If this wasnt bad enough, the attendant developed a cough and a fever and when a call was made to care 24 asking them to send a replacement on the next day at least as the patient has low immunity, the organisation again gave a choice, we could have the same attendant and risk the patient getting sick, or have no attendant for the next day as they didn't have anyone available. Do not fall for the sales pitch of the executives over the phone as their premium prices and promises of exceptionally well trained staff is nothing but marketing mumbo jumbo. The professionalism and training of the staff that comes to your door is as garbage as the service of the organisation. More importantly, do not trust this organisation with the health and well being of your loved ones as no one in the entire heirarchy of care 24 really 'cares'. You would be better off hiring someone from a local agency. Have had much better experiences with randomly contacted nurses and attendants through justdial. Even though they live far, they reach on time The local organisations are also promptly able to provide replacements if need be. P.S. The 1000 or so rupees registration charge they take from you initially, is essentially a financial clickbait as its money they've made off you after they have stressed you out, contributed to deterioration of the patient and compelled you to suspend their services.

Marzouq Shaikh


3/09/2020

I used Care24 services for 7 months duration in 2019-20. Carers they provide are a mixed bag. Some are really good while others lack even basic service skills. You got to be very very lucky to get one and same carer over long time as carers often go on leave. When regular carer is on leave, every time they will send new carer. So family members need to repeat everything, right from home address, directions to patient's routine, medicines etc. Do not expect that Care24 will provide any heads-up or patient routine information to new carer who is visiting. Over the 6 months of Mumbai-based care services I used from Care24, there were over 15 instances where new carers were late more than 2 to 3 hours. Care24 support team is very lethargic, there were times when support team assumed that carer has reached home when he had not even started from his place. Support team is unaware of carers being late to customer's place. Then came in so called, the technology upgrade, Jan-Feb 2020, they had a new IT system and there were numerous issues with billing, sending invoices and payment receipts to customers (as told by support team themselves). Support staff told me at least 10 times over phone and email that there are system issues in billing and payment, I had to calculate amount manually on my own and then Pay them. With new system, accounts were on toss, no invoices were sent to customers (in spite of the fact that payment policy says payment needs to be made after receiving invoice.) I had 20-25 emails following up for invoice and payment receipts, but their support team in Mumbai did not care to respond. I found their behavior very unprofessional and not good over these 2-3 months. If you are outside for work (or overseas) and not staying with the patient or your parents, I strongly suggest DO NOT USE CARE24, as they do not respond to your emails and phone in time. They do not bother even when the patient is without care because of their delays in operations and carer issues. They need to improve basic operations first, give timely and consistent services to customers, and then worry about Apps, Digital Assistants and other tech-stuff. .My genuine advice to them--- You are dealing with patient healthcare services, where patient family is relying on you. This is not a courier service business where you are sending people to move boxes and you would't care much when service is delayed !!

Sanket Deo


3/05/2020

Needed an attendant for a week for post-surgical assistance (ward boy type work). The person allocated was punctual, polite, and generally did the job well. Quite happy with the services provided. Edit: The payment management is quite bad. If you choose to make cash payments for the service (physiotherapist in my case), the payment does not sync with the agency and they keep sending messages and emails along you to pay up. They follow up with calls on Sunday afternoon 🤦🏻 Edit 2: No change. The company is continuously following up for the money I have already paid. Reducing the rating.

Swati Saxena


5/31/2020

Most horrible services. Please do not ask for help from these people, they will talk sweet and then at the last moment there will be no shows from the caretaker. I had to go through this not once but twice the caretaker did not turn up. Request you all to not depend on these people as we are leaving our homes and letting them into our lives, the least they can do is inform and provide a replacement, but neither of it happened and they expect me to pay registration fees of RS,1000

Annie Palan


5/17/2019
I am still taking services from Care 24 since last two years. The caregivers are well trained and takes good care of my mother in law.
Sheila khanchandani
Sumesh Brother is Punctual, Efficient and knowledgeable and understands patients requirements completely.
Jayshree Prabhu
I have been using care 24 services and have been very happy with their services. Priyanka Rajbhar is our caretaker she is very disciplined kind and dedicated towards her work.
Saurabh Bhatt
The Nurse and the Attendant provided by Care24 are good in service, polite and punctual. We are happy with their service. The patient ( our family member) is been given proper care, feed and cleaned regularly.
Deepa Balvalli
Dr. Ralga had Attended to my father. He is suffering from PSP. We were specifically impressed by her techniques n method to handle the issue. We are planning on repeating her visits every month for positive results.
Uma Ram
Frequently Asked questions