Vocational Rehabilitation Service
Our certified experts can give you the best in-house rehabilitation consultation.
Fill up the form to know more about our Rehabilitation Vocational Services.
Vocational Rehabilitation Service Provider
Our certified experts can give you the best in-house rehabilitation consultation.
Fill up the form to know more about our Rehabilitation Vocational Services.
Vocational rehabilitation service at home
Overview
Vocational Rehabilitation
Vocational rehabilitation is a group of services taught to people impacted with physical or mental disabilities with an intent to allow participants to use these skills, tools, attitudes, with the expectation to compete in a selection interview process, land a job, and earn a living by doing a suitable job. Services offered in the vocational rehabilitation center for physically handicapped may also help someone retrain or reskill for employment following an accident or psychological illness that may have disrupted the previous occupation of the patient.
vocational rehabilitation provider helps prepare applicants to attain a lifestyle of freedom and integration within their office, with their family members, and within the local communities. This transition is acquired through work analysis and job preparation & counseling services and medical & curative services. For people with psychiatric disabilities, situational assessments are utilized to evaluate vocational abilities and potential.
Vocational Rehabilitation Services
Assessing patients for understanding their personal, societal, household, educational, economic and vocational history causing adjustment issues.
Assessing patients to evaluate their bodily efficiencies, quantify their emotional strengths and weaknesses in regard to the intelligence, ability, regions of interest, psychomotor dexterity, character traits and regions of modification to unfold their own abilities.
Assessing residual capacities, characteristics and operational skills of different sorts of handicaps that may have come up.
Evaluation of the patients with a board of medical experts to recognize the amount of disability and operational capacities and suggest corrective measures.
Testing of the patients on the project abilities in various transactions justified under vocational rehabilitation program like Electric, Electronics, General Mechanic, Radio & TV fix, Air-conditioning, Commercial Exercise, Heating, Automobile, Cutting and Tailoring, Computer Software, WoodWork & Chair Caning, Arts & Crafts, Screen Printing, Photography, Metal Trades, Secretarial Exercise, Painting, etc..
Coaching the patients to help with creating a vocational adjustment with regard to the work habits for work sustainability, to make sure their occupation modification is best suited to their individual strengths and flaws.
Imparting non-formal in-plant coaching, and tailor-made module established vocational training to people with Disabilities for skill building and creating them more searchable.
Aiding physically challenged persons from the center for preparing their own pragmatic strategy for improving their own levels of knowledge and abilities appropriate to local job market demand and also helping, directing and motivating them to get channelizing them towards self-employment.
Sponsoring and helping the patients to use the centers of bookings contrary to the chairs in various educational/training associations.
Sponsoring the patients to the companies against vacancies notified to the rehabilitation center and taking follow up actions.
Recommending the patients for grant of loans from the concerned financial institutions under the differential interest rate or establishing unique ventures under different self-employment schemes.
Vocational Rehabilitation for the Physically Handicapped
How the Vocational Rehabilitation Centre for the Physically Handicapped works
Vocational Therapy is a customized procedure offered to the client with the intent of helping him/ her be able to come to mainstream work. The delivery of these vocational rehabilitation services require things such as compilation of an individualized written rehabilitation vocational therapy program, counseling recovery, analysis, coaching, job placement, and related services. Rehabilitation clients may be referred by hospitals, universities, welfare agencies, and other organizations. However, many may be self-referred or known by the doctor.
In the beginning, the interactions are more around gathering a variety of data to determine eligibility by a counselor who conducts the initial conversations & assessment. Diagnosis happens at a few levels. A preliminary study decides a customer's eligibility and suitability for the rehabilitation vocational therapy program. A health evaluation identifies a customer's disabilities and functional limitations. This evaluation is vital and may comprise the gathering of the client history in addition to a physical exam. A mental evaluation of emotional and mental abilities and constraints, both present and historic, may be contained. An evaluation consists of a private compilation of identifying data, family, and home life histories; work and educational histories; and evaluation of financial circumstances, customs, and character. The evaluation is work background evaluation of the client aptitudes and possible, customs, interests, attitudes, and duties; and the tenor of labour associations. Last, the customer's abilities are related by the test to her or his potential. It features information on the degree of education (such as special regions of achievement and interest ), in addition to learning ability and research habits. Many areas of the research that is diagnostic overlap as the facets of people's lives. The findings of those diagnosed have used the compilation of their individualized written rehabilitation program together with the customer, in another measure.
The individualized written rehabilitation vocational therapy program is jointly developed by the rehabilitation counselor and the client (or the client's agent, in case the customer is not able to add to the conversation ). Now, the adviser and the client plan a schedule of solutions dependent on objectives and the customer's needs. VOC rehab; plan of attack comprises:
A rationale of their customer's eligibility for therapy,
a long-time job aim,
intermediate objectives,
identification of those services essential to achieving those aims,
proposed starting dates for each service along with the length of every,
a process and schedule for the test of the individual program.
The vocational rehabilitation provider makes arrangements for supplying the customer with the services Following both parties agree to a schedule of VOC rehab services. It may include physical or psychological restoration, education, job placement, counseling, career training, and perform modification or lodging.
Advice and counseling are facets of VOC rehab. Called the synthesizing role of the vocational rehab; counseling promotes the whole program. Physical and mental restoration functions to relieve the psychological or physical conditions that impede a customer's fullest operation. This measure could consist of physical, medical, and curative treatment; prosthetics and/or orthotics; occupational or communicating treatment; and psychiatry.
How can Care24 help you?
How Can We Assist?
Based on the type of need, it requires quite a few weeks or even months for you to recover. You are helped by our rehab specialist with exercises that stimulates tissues and the cells that have been injured for aiding recovery.
The rehab specialist helps with stretching exercises and offer recovery programs depending upon the kind of injury, to facilitate recovery. She will also guide you in educating you to take care of yourself.
Therefore, if you are looking for an excellent rehab specialist, physiotherapist, or a good nurse, simply reach out to Care24's world-class treatment services in the comfort of your home.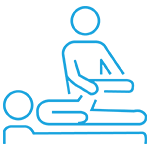 style="text-align:right;color:0f0f59;">
Read more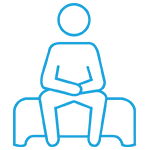 style="text-align:right;color:0f0f59;">
Read more
Horrible service! can't rely on them.They ditch on last moment.Attendents are not punctual,reliable,well behaved and even honest.Service provider doesn't turn up and still they start billing customers .Better to stay away.

Sonal Agrawal


11/04/2019

Unqualified office staff, when you call to clarify something. Many times they don't understand the question. They are not trained well. The customer care staff needs an upgraded system, where notes are fed into the system. So you don't need someone else calling up and giving you the same info. The caretaker is not trained well. If they are looking after an elderly person, they should know that they have to be in the best of health to look after my mother. She ended not making a meal for my mother and my neighbour had to provide it. If the caretaker is not well she should have asked for a replacement asap and not waited. It is shocking, we have paid a huge amount of money for this service and I am absolutely unhappy. Please do not call for caretaker's from Care24. As long as they are getting their money. They care a damn!!! Worst service providers.

Bonabelle Zuzarte


7/10/2019

worst service, they just talk as if they will send professional at our place, they give big promises at the time of starting their services, but when the attendant come at our place we realized that he was more delicate than our patient, the person whom they had sent got a small scratch in his finger and than the same day he said he wont come as he got injury, so the next day he dint turn up neither did care24 arrange for a replacement, after calling them for 4 times they said me sorry they couldn't arrange anyone today. they don not have the decency to even inform that they cannot arrange for a replacement.. please do not go for their services, its just the promises nothing to deliver

Komal Patel


4/11/2019

The worst experience I've had of my life. I normally never really write reviews, but I had to write this because this agency is the worst company I've dealt with till now. Their customer service is terrible, most of their attendants are not competent for taking care of elderly patients. Please do not use their service.

Radhika Kulkarni


6/27/2019

Worst!!! I am paying for professional services and the attendant is not professional. The level of disappointment is i have to terminate services on Day 1 itself. And still I am being told to pay for 1 day. Please assess the attendant before going for services from care24

Praful Jadhav


5/07/2019
I am still taking services from Care 24 since last two years. The caregivers are well trained and takes good care of my mother in law.
Sheila khanchandani
Sumesh Brother is Punctual, Efficient and knowledgeable and understands patients requirements completely.
Jayshree Prabhu
I have been using care 24 services and have been very happy with their services. Priyanka Rajbhar is our caretaker she is very disciplined kind and dedicated towards her work.
Saurabh Bhatt
The Nurse and the Attendant provided by Care24 are good in service, polite and punctual. We are happy with their service. The patient ( our family member) is been given proper care, feed and cleaned regularly.
Deepa Balvalli
Dr. Ralga had Attended to my father. He is suffering from PSP. We were specifically impressed by her techniques n method to handle the issue. We are planning on repeating her visits every month for positive results.
Uma Ram
Frequently Asked questions