Our certified experts can give you the best in-house rehabilitation consultation.
Fill up the form to know more about our Acl Rehabilitation Services.
Our certified experts can give you the best in-house rehabilitation consultation.
Fill up the form to know more about our rehabilitation services.
rehabilitation services for acl
Overview
What is an ACL Rehabilitation?
An ACL injury is a sprain or tear of the anterior cruciate ligament – one of the most important ligaments in your knee. This injury most commonly occurs during sports which involve abrupt stops or changes in direction, leaping and landing – like football, basketball and soccer.
A lot of People feel or hear a "pop" at the knee when an ACL Injury occurs. Your knee feel shaky will swell and eventually become painful to bear weight.
Based upon the severity of your ACL injury, therapy may Include rehab and relaxation exercises that will assist you regain strength and equilibrium or operation to restore or replace the ligament followed by rehab. A training program might reduce the probability of an ACL injury.
Symptoms
Symptoms and signs of an ACL injury comprise
A loud "pop" or even a "popping" sensation from the knee
Pain and inability to keep activity
Quick swelling
Reduction of movement
A sense of uncertainty or "giving way" with fat bearing
When to see a Physician?
Seek immediate care when any harm to you induces signals or indicators of an ACL injury. It is important to receive a prompt and accurate diagnosis to find out the intensity of the harm and receive appropriate treatment.
Causes
ACL accidents happen during fitness activities and sports that may place pressure on the knee
Unexpectedly slowing down and changing direction cutting edge
Pivoting along with your foot
Landing awkwardly from a jump
Stopping suddenly
Obtaining a direct blow to the knee or knee collision, football tackle
There's usually a partial, or when the ligament is damaged, complete tear of this tissue.
Treatment
It is determined by how much and where you've been hurt. Here are a few of the choices. Your physician may provide you first aid. If your injury is small, you might just have to place ice in your knee, lift your leg, and keep away from your feet for some time. By wrapping an ice bandage, swelling can be reduced by you. Crutches can help keep weight off the injured knee.
Medications – Drugs can help reduce stiffness and swelling. Your physician prescribes something stronger or may suggest drugs. For pain that is extreme, your physician can inject your knee.
Knee brace – Some individuals having a ACL can get by with wearing a brace once they play or operate sports. Support is provided by it.
Physical therapy – You might require this a couple of days per week to receive your knee back. Throughout your sessions, you will do exercises to strengthen the muscles around your knee and allow you to regain a complete selection of movement. You might be sent home to perform by yourself.
Surgery – Your physician may tell you want this in case your ACL is torn whether you're an athlete, or in case your knee gives way when you are walking. A physician will remove the ACL that is damaged and replace it to aid a ligament grow in its place. In 12 months, those who have surgery may play sports again with therapy.
Prevention
ACL injuries happen in people engaged. By preserving strength and muscle strength, the risk of harm could possibly be diminished. Warming up, stretching, and cooling are means of joints and muscles.
Wearing braces may or may not be useful.
Strengthening endurance exercises and exercises can help prevent harm.
Plyometric exercises to help build strength, speed, strength, and balance can teach the body how to leap and land correctly to minimize the danger of harm, particularly in girls. It's crucial to prevent landing a leg that is fully extended and secured.
ACL Rehabilitation Exercises
ACL Rehabilitation Exercises List
At-Home Rehabilitation to ACL Injuries
If confronted with an ACL injury, the number of exercises that you can perform to maintain motion and strength without causing harm. These may be performed before surgery if necessary, or along with therapy that was continuing.
The aim is to prevent compression of the some other or knee which could possibly be weight-bearing. Alternatively, you would concentrate on strengthening muscles surrounding the knee the quadriceps and hamstrings – while slowly extending your assortment of movement so that your knee does not "freeze".
By doing this in home, ideally using the input of your health care provider or physical therapist, you can be prepared for operation if necessary, or to reap the full advantages of a structured rehabilitation program.
ACL Treatment Exercises to When Your Knee Is Still Fragile
When first beginning, overlook the adage "no pain, no gain". Stay away from any motion which leads to pain when working out the quads and hams. Bear in mind that pushing too hard can make things worse and lead to a longer recovery period.
Listed below are just three of the safest) exercises to deal with an ACL injury when initially starting out
Without bearing any weight, heel slides involve the expansion of the knee. Begin by sitting on the ground with your legs outstretched. Bend the knee that is while sliding your heel. Slide the foot and repeat 10 times.
Contractions of these quads are done seated. For this, you would have to take a seat on the floor with your leg your other leg bent and stretched. Without transferring the leg contract the quadriceps of the knee and wait for 10 minutes. Relax. Repeat 10 times.
Knee flexion involves lying on your stomach with your legs. Bend your knee and bring your heels. Hold five minutes. Relax. Repeat 10 times.
ACL Rehabilitation Exercise List to Follow :
Since the swelling of your knee starts to you must have the ability without favouring the leg to stand straight. When you are fully capable to do this, you can begin incorporating these exercises
Passive knee extensions need two seats of equal elevation. Set the seats facing each other in a distance shorter. Sit in 1 seat and set your heel on the other's chair. Relax your leg and allow your knee. Rest to stretch your hamstrings out.
Lifts are performed while standing. Begin by lifting one hand. Now lift the heel of your injured leg upward. Stay there for five to ten minutes. Slowly lower your heels. Repeat 10 times.
Half squats are performed when holding a desk, status on. Putting your feet, a shoulder width apart, slowly bends your knees and lower your hips. Hold for 10 seconds and then gradually go back to a standing posture. Repeat 10 times.
Knee extensions need a span of a fitness band or a Thera Band. To start, loop one end of Theraband round the desk and the other's leg round the ankle of the leg. (Alternately, tie both ends of this exercise group around the table and add the ankle of the leg to the looped end.) Facing the desk, slowly bend your knee against the resistance of the tube roughly 45 degrees. Hold for a couple of seconds and return to a standing posture. Repeat 10 times.
Standing on one leg is an excellent way to construct and rate equilibrium and your strength. Do this by lifting the leg that is uninjured and then position unassisted on the leg for 10 minutes. This exercise might not be simple in the beginning, however, with patience and time, you need to have the ability to do this while a couple of weeks.
Care Guidelines
Care Strategies for After The operation
Week 1 – 2
Elevation and icing are utilized to lessen swelling. The usage of crutches and a knee brace are critical.
Mobilizations of the patella ought to be contained for 8 or more weeks. Additional mobilization exercises at the first 4 months have been passive extension of the knee, no more hyperextension and active and passive mobilization towards flexion. Strengthening exercises for the calf muscle, hamstring and quadriceps vastus medialis may be carried out.
Week 3 – 4
The individual should attempt to raise the stance phase in an endeavour. The use of crutches could be reduced.
Week 5
The usage of this knee brace is decreased. Flexion should not be exhaustive although passive mobilizations should normalize. 9 Tonification of hamstrings and quadriceps vastus medialis can begin in near chain exercises. The exercises must be started on moderate intensity, 50% of maximum power, and progressively improved to 60-70 percent. The closed chain exercises ought to be constructed from less accountable positions (bicycle, leg presses (measure) to more congested starting places (ex. squad). The exercise's improvement is dependent upon swelling, pain and control. Coordination and proprioception exercises may begin if the strength is great. Equilibrium exercises are included by this on toll and boards. Backward forward and lateral lively movements can be contained as exercises.
Month 3 – Patient can move to functional exercises like leaping and running. As coordination and proprioceptive exercises become more heavy changes in management are possible. To stimulate control and coordination through afferent and efferent data processing, exercises must be improved by variation in observable input, surface equilibrium (trampoline), rate of exercise functionality, complexity of this endeavour, resistance, one or two-legged functionality, etc.
Month 4-5 – Aim is to maximize and endurance and increase strength of boost cranial control with exercises of the knee. Acceleration and deceleration, variations in cutting manoeuvres enhance reflexes to stop injury and turning and conducting.
how can care24 help?
Based on the type of need, it requires quite a few weeks or even months for you to recover. You are helped by our rehab specialist with exercises which stimulates tissues and the cells that have been injured for aiding recovery.
The rehab specialist helps with stretching exercises and offer recovery programs in accordance with the kind of injury, in order to facilitate recovery. She will also guide you in educating you to take care of yourself.
Therefore, if you are looking for an excellent ACL tear rehabilitation, physiotherapist, or a good nurse, simply reach out to Care24's world class treatment services in the comfort of your home.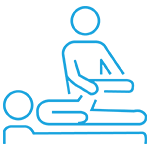 style="text-align:right;color:0f0f59;">
Read more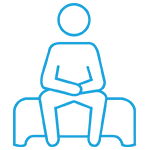 style="text-align:right;color:0f0f59;">
Read more
Most horrible services. Please do not ask for help from these people, they will talk sweet and then at the last moment there will be no shows from the caretaker. I had to go through this not once but twice the caretaker did not turn up. Request you all to not depend on these people as we are leaving our homes and letting them into our lives, the least they can do is inform and provide a replacement, but neither of it happened and they expect me to pay registration fees of RS,1000

Annie Palan


5/17/2019

Needed an attendant for a week for post-surgical assistance (ward boy type work). The person allocated was punctual, polite, and generally did the job well. Quite happy with the services provided. Edit: The payment management is quite bad. If you choose to make cash payments for the service (physiotherapist in my case), the payment does not sync with the agency and they keep sending messages and emails along you to pay up. They follow up with calls on Sunday afternoon 🤦🏻 Edit 2: No change. The company is continuously following up for the money I have already paid. Reducing the rating.

Swati Saxena


5/31/2020

I got attendent for my ailing mother thru care 24. The best service i got...if i need infuture i will definitely go for care24 only...they are the best

felix thomas


3/21/2020

I got good experience wt dr Dhrita she is v good in physiotherapy n nice while talking n explains v nice

Sujata Rao


6/19/2019

Mangal Laad has visited us for a couple of days in the day. She is very kind, attentive and trustworthy. She has been with us like an extended Family. The patient has also appreciated her services. She is excellent. We thank you for Mangal Laad.

Tanuka M


3/09/2020
I am still taking services from Care 24 since last two years. The caregivers are well trained and takes good care of my mother in law.
Sheila khanchandani
Sumesh Brother is Punctual, Efficient and knowledgeable and understands patients requirements completely.
Jayshree Prabhu
I have been using care 24 services and have been very happy with their services. Priyanka Rajbhar is our caretaker she is very disciplined kind and dedicated towards her work.
Saurabh Bhatt
The Nurse and the Attendant provided by Care24 are good in service, polite and punctual. We are happy with their service. The patient ( our family member) is been given proper care, feed and cleaned regularly.
Deepa Balvalli
Dr. Ralga had Attended to my father. He is suffering from PSP. We were specifically impressed by her techniques n method to handle the issue. We are planning on repeating her visits every month for positive results.
Uma Ram
Frequently Asked questions