Our certified experts can give you the best in-house rehabilitation consultation.
Fill up the form to know more about our Shoulder Rehabilitation services.
Our certified experts can give you the best in-house rehabilitation consultation.
Fill up the form to know more about our Shoulder Rehabilitation services.
Rehabilitation Services For Shoulder
Overview
What is Shoulder Rehabilitation?
Damage to the shoulder may result due to repetitive motions, aging, sports, or manual labour. Someone might injure this component of the human body because of injury or a fall. A lot of men and women visit the physician with front, shoulder pain, or anterior. The shoulder is a structure which enables the arm to move in all directions. Shoulder problems may restrict arm motion, causing distress or pain. The shoulder has three main bones
Humerus, that is the very long arm bone·

Scapula, or the shoulder blade·

Clavicle, or the collarbone
All these bones meet at the four joints. A joint called the shoulder or glenohumeral joint joins shoulder blade and the arm bone. Although there is structural support due to the type of joints, this joint takes a lot of load and movement and hence this joint is vulnerable to harm.
Causes of Shoulder Injury
Shoulder pain may result due to injuries or stress in any of the regions of the shoulder. Damage to the joint may come due to repetitive motions, aging, sports, or manual labour. It may result when an individual has a fall or injury. Some accidents might lead to a sudden onset of shoulder pain. Examples of such injuries or separations include dislocations and cracks. Frequent causes of chronic shoulder pain include the following:
Rotator cuff injury

– The rotator cuff contains tendons and muscles which act to stabilize the shoulder. Bursae, that are fluid-filled sacs, reduce friction between the shoulder constructions. The rotator cuff tendons, which connect the muscles are vulnerable to compression from surrounding structures. Rotator Injury to the rotator cuff tendons, or tendinopathy, can develop from repetitive action. Individuals with rotator cuff might have pain around their shoulder when stretching. Impingement happens if part of the shoulder blade, the acromion, places pressure on the rotator cuff tendons and bursae. It poses in an identical approach to the rotator cuff. Rotator tendon tears may come from gradual change or injury. Symptoms include popping sensations, in addition to shoulder pain and fatigue. Tears that are severe can impair using the shoulder, restricting movement.

Biceps tendinopathy

– Biceps tendinopathy is an injury to the tendon of the muscle, which might lead to repetitive reaching and lifting overhead. Symptoms include pain at the front part of the shoulder which becomes worse carrying items, reaching and when lifting. The performance of those activities might lead to the rupture of the tendon.

Glue capsulitis

– Glue out of not using the shoulder capsulitis, which people refer to shoulder, which can grow. Individuals with this illness may experience a reduced range of movement, pain, and joints. Frequent causes of shoulder disuse include rotator cuff tendinopathy, diabetes mellitus, biceps tendinopathy, and injury to the shoulder.

Osteoarthritis

– Osteoarthritis, also called "wear and tear" arthritis, commonly occurs in the glenohumeral joint or the cromio-clavicular joint. As the bones between them wear off the bones rub together. Symptoms include pain and stiffness in the shoulder joint. Osteoarthritis generally worsens over time.

Fracture

– Fractures, may happen from upper arm bone or the collarbone. The two kinds of fracture may result from a fall or a blow onto an outstretched hand. Typically, they cause pain and swelling. The shoulder will be tender to the touch.

Dislocation

– If there is a shoulder injury casing the ball of the upper arm bone to pops and move from its socket, this is called as a shoulder joint dislocation. The arm bone can dislocate forward, downward, or backward, either completely or partly. Dislocations if the structures of the shoulder become worn down, can recur. Symptoms include swelling, pain, tingling, and fatigue. If arm appears weird you required immediate shoulder

dislocation rehabilitation

.

Separation

– A when the ligaments split shoulder separation occurs. The ligaments are cells connecting cartilage and the bones. Separations from the acromioclavicular area between the collarbone and shoulder blade might occur from direct or falls blows. Symptoms include pain, swelling, and tenderness at the shoulder, in addition to a bulge at the stage of separation.
Diagnosis for Shoulder
Since there are lots of possible causes of shoulder pain, a careful review of symptoms, physical examination, and at times imaging tests and shoulder rehab are required to create a correct diagnosis.
Physical Evaluation

– After assessing your symptoms and medical history, your health care provider will conduct a comprehensive examination of your shoulder. He'll press on regions of your shoulder to assess for deformity or tenderness. He'll also examine your arm power and the assortment of movement of your shoulder. In order to rule out non-shoulder associated causes of the pain, he might also analyze other areas of the body such as your stomach or neck.

Imaging – besides a physical exam, your physician may order imaging tests to confirm a diagnosis.



X-Ray –

X-Ray of the shoulder may discover whether there aren't any injuries to the bones which make up your shoulder joint, in addition to search for subtler clues such as bone marrow which may suggest a diagnosis of gout.

MRI

– A MRI (magnetic resonance imaging) of the shoulder can offer detailed pictures of the joints, ligaments, tendons, and muscles which surround the shoulder joint. For example, an MRI can provide details regarding this location, dimensions, as well as the comparative age of a rotator cuff tear.
Differential Diagnoses
Pain from the overall shoulder region, frequently poorly localized or hard to pinpoint, might be associated with some non-musculoskeletal problem, such as a herniated disc in the neck or stomach disease. More painful, shoulder pain may be an indication of a heart attack or bleeding in the liver or spleen.
If your doctor thinks that the shoulder pain is known or to make sure he isn't overlooking a lifelong analysis, he might order a lot of unique tests. For instance, an electrocardiogram (ECG) and adrenal enzymes might be arranged for a suspected heart attack, whereas an abdominal ultrasound can be ordered for suspected gallbladder disease.
From the end, teasing the cause of your shoulder pain can be tricky and less simple as you might think. It is ideal to leave the challenge of the diagnostic procedure to a health care practitioner.
Treatment for Shoulder
The two severe and shoulder dislocations are typically treated with non-operative shoulder rehab exercises directed by your physiotherapist.
Stabilisation surgery might be considered if your exercise-based therapy neglect.
PHASE I – Joint Reduction – Assess Neurovascular Integrity
The most pressing thing to get a newly dislocated shoulder would be to make sure your nerves or blood distribution aren't compromised. If your shoulder failed to move itself obviously, you should immediately head into the hospital to get a crisis X-ray to exclude fractures. Then you'll have to get your shoulder joint back to its usual position by the emergency physicians.
PHASE II – Anxiety Relief – Minimise Swelling & Injury Protection
Shoulder motion will be accompanied by Anxiety. Overstretching the tissues should be prevented for between two to six weeks. You will be prescribed a shoulder sling to immobilise and to support your shoulder. Handle inflammation through rest and ice treatment to de-load the structures that are inflamed.
Your physiotherapist will use a range of therapy tools to lower inflammation and your pain. These could consist of ice rub, electrotherapy, acupuncture, de-loading taping methods, soft tissue massage and temporary use of a sling to off-load the wounded shoulder ligaments.
PHASE III – Maintain & Restore Muscle Control & Power
It is important to keep up the strength of your shoulder rotator cuff muscles and scapular (shoulder blade) stabilisers. Investigators have found the significance of your rotator cuff muscles to stabilise your shoulder joint. It also helps to remain in equilibrium ever since your scapular is the platform that joins your arm. It is a significant foundation and if it isn't functioning properly, it will only enable your shoulder blade to slip to a posture that could predispose one to prospective dislocations.
Your physiotherapist at shoulder dislocation rehab prescribes exercises for you specific to your requirements.
PHASE IV – Fixing Normal ROM & Posture
As your Inflammation and pain settle along with your ligaments begin to heal, your physiotherapist will turn their focus on strengthening your normal joint assortment of movement, muscle length, nerve tissue freedom and resting muscle strain. Regaining shoulder movement in the stage isn't a priority to prevent overstretching the recovery shoulder capsule and ligaments.
The remedy may consist of joint mobilisation and alignment methods, massage, muscle stretches, and neurodynamic exercises, also acupuncture, trigger point treatment or dry needling.
PHASE V – Fixing Full Function
Throughout this point of your rehab is directed at returning to a normal state. Everybody has different requirements on their shoulders which will determine therapy goals you want to reach to what. For some, it is to carry the purchasing. Pitch or others might desire to throw the bowl, serve or a ball with return or speed.
Your physiotherapist will tailor your shoulder rehab that will assist you to attain your operational objectives.
PHASE VI – Preventing a Recurrent Shoulder Dislocation
Shoulder subluxation and dislocation have a propensity to recur in shoulders. In addition to muscle control, the physiotherapist will assess your shoulder biomechanics and begin repairing any deficiencies. It might be as straightforward as helping your rotator cuff with exercises or any scapular or posture exercises to tackle any biomechanical flaws on your upper limb. You will be guided by your physiotherapist.
Fine-tuning your shoulder equilibrium can be further improved by proprioception, co-contraction, agility and speed exercises with the best objective of returning to your past leisure or sporting activities!
Shoulder exercises
Shoulder rehabilitation non-operative treatment
All these shoulder rehab exercises, when done regularly can help you accelerate your recovery and shoulder rehabilitation. Please do exercises slowly and attentively; execute exercises only as instructed by your healthcare professional, and then consult with your healthcare professional if you notice any unusual pain or an increase in distress as a result of doing these shoulder rehab exercises
Shoulder rehabilitation exercises
Shoulder Pendulum

–

See/Saw Assume

. Sit on a chair and from its arm rest, allow your arms to hang down. Sway your body gradually to move forward and backward. Repeat this movement side to side and to a circular movement (Pendulum). Perform this workout in both directions. Allow 1-2 minutes for this workout. Do this exercise 3 times daily

Abduction

– Assisted stand with elbows bent to 90 degrees, holding the workout pole facing you. Employing pole for help, gently increase your affected arm from the side by pushing the pole with your great arm. Hold for 5-10 minutes. Play 10 repetitions of the exercise 3 times every day.

Flexion

– Supine Lie on Your spine as revealed holding workout pole with both hands straight outside in front of your own. Lift both hands in unison overhead till they are as completely long as is comfortable (two). Lift your knees to give support to a back. Hold the end position for a couple of seconds and return to the beginning place. Repeat. Do 15 Repetitions of the exercise 3 times every day.

Wall Crawls

– Stand Facing close a wall with fingers on the wall like a spider and gradually "walk" your fingers up the walls, moving up and down in addition to side to side. Because you stretch up the wall encourage your hands. As is comfortable perform this workout covering up to the wall as you can. Do this exercise 3 times every day.

Flexion/Adduction

– Anchor tubing to doorknob or door jam. Hold tubing by manage with your thumb facing upwards. Increase your arm up and across your entire body as revealed, arm straight and prolonged. Hold for 3-5 minutes, gradually decrease your arm into the first starting place. Repeat. Play 10-15 repetitions of the exercise 3 times every day.

External Rotation

– Anchor tubing to doorknob or door jam. Grasp handle with your thumb, stand to your unaffected side to the doorway. Rotated arm outward is uneasy keeping elbow flexed and as near to your own side as is comfortable. Hold end place and unwind. Repeat. Play 10-15 repetitions of the exercise 3 times every day.

Internal Rotation

– Anchor tubing to doorknob or door jam. Stand together with affected side to the doorway, grasping the handle with your thumb up. Rotate the arm, keeping the elbow flexed and as near to a downside as is comfortable. Hold end place and unwind. Repeat. Play 10-15 repetitions of the exercise 3 times every day.

Diagonal tug

– For complex stages of rehabilitation Anchor Tubing to top of door jamb; grip tube with palms facing upwards, arm straight up and away in your system. Begin with side. Arm back and inward follow the motion. Keep constant as you proceed throughout the movement although Permit your elbow to bend. See that the hand moves as it strikes the entire body, finishing with the thumb facing you in the endpoint. Hold on the endpoint for 3-5 seconds relax and come back to the start place. Repeat. Play 10-15 repetitions of the exercise 3 times every day.

Diagonal Pull

– component Two Anchor Tubing to 6top of door jamb; grip tube with palms facing upwards, arm straight, upward and towards your system. Begin with side. Pull arm back and outward follow the motion. Permit your elbow to bend slightly but stay consistent as you proceed throughout the downward movement. Hold on the endpoint for 3-5 seconds relax and come back to the start place. Repeat. Play 10-15 repetitions of the exercise 3 times every day.

Abduction Anchor Tubing below your foot

– While standing Stretch the arm upward against a wall with your arm relaxed from the thigh and out facing you roughly 45 degrees from the wall till shoulder elevation is attained. Attempt not to compensate for thigh or back muscles. Hold the end position and go back to the remaining position. Repeat. Play 10 repetitions of the exercise 3 times every day.

Shoulder Flexion Anchor Tubing below your foot –

Stand tubing along your side. Boost arm up until it's straight outside in front of you at shoulder height. Hold the end position for 3-5 seconds then return to the starting place. Repeat. Perform this exercise 3 times every day.
How can Care24 help?
Based on the type of need, shoulder rehabilitation requires quite a few weeks or even months for you to recover. You are helped by our rehab specialist with exercises which stimulates tissues and the cells that have been injured for aiding recovery.
The shoulder rehab specialist helps with stretching exercises and offer recovery programs in accordance with the kind of injury, in order to facilitate recovery. She will also guide you in educating you to take care of yourself.
Therefore, if you are looking for an excellent rehab specialist, physiotherapist, or a good nurse, simply reach out to Care24's world-class treatment services in the comfort of your home.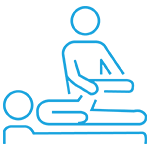 style="text-align:right;color:0f0f59;">
Read more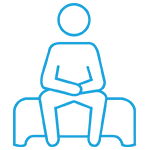 style="text-align:right;color:0f0f59;">
Read more
Worst!!! I am paying for professional services and the attendant is not professional. The level of disappointment is i have to terminate services on Day 1 itself. And still I am being told to pay for 1 day. Please assess the attendant before going for services from care24

Praful Jadhav


5/07/2019

The management team & the customer care team is quite responsive.... However the main component, ie the caregiver is not trustworthy & definitely not upto the mark

Ritwik Basu


11/03/2019

I used Care24 services for 7 months duration in 2019-20. Carers they provide are a mixed bag. Some are really good while others lack even basic service skills. You got to be very very lucky to get one and same carer over long time as carers often go on leave. When regular carer is on leave, every time they will send new carer. So family members need to repeat everything, right from home address, directions to patient's routine, medicines etc. Do not expect that Care24 will provide any heads-up or patient routine information to new carer who is visiting. Over the 6 months of Mumbai-based care services I used from Care24, there were over 15 instances where new carers were late more than 2 to 3 hours. Care24 support team is very lethargic, there were times when support team assumed that carer has reached home when he had not even started from his place. Support team is unaware of carers being late to customer's place. Then came in so called, the technology upgrade, Jan-Feb 2020, they had a new IT system and there were numerous issues with billing, sending invoices and payment receipts to customers (as told by support team themselves). Support staff told me at least 10 times over phone and email that there are system issues in billing and payment, I had to calculate amount manually on my own and then Pay them. With new system, accounts were on toss, no invoices were sent to customers (in spite of the fact that payment policy says payment needs to be made after receiving invoice.) I had 20-25 emails following up for invoice and payment receipts, but their support team in Mumbai did not care to respond. I found their behavior very unprofessional and not good over these 2-3 months. If you are outside for work (or overseas) and not staying with the patient or your parents, I strongly suggest DO NOT USE CARE24, as they do not respond to your emails and phone in time. They do not bother even when the patient is without care because of their delays in operations and carer issues. They need to improve basic operations first, give timely and consistent services to customers, and then worry about Apps, Digital Assistants and other tech-stuff. .My genuine advice to them--- You are dealing with patient healthcare services, where patient family is relying on you. This is not a courier service business where you are sending people to move boxes and you would't care much when service is delayed !!

Sanket Deo


3/05/2020

Horrible service! can't rely on them.They ditch on last moment.Attendents are not punctual,reliable,well behaved and even honest.Service provider doesn't turn up and still they start billing customers .Better to stay away.

Sonal Agrawal


11/04/2019

My father had a hip bone surgery in January. I have been using Care24 services ever since. The attendants that cane were good in the beginning. However their services have become good to bad to worse to worst in the last 15 days. They changed the night attendant without informing me personally just 6 hours before the time. My father had just settled down with the last attendant and now they were sending a replacement tonight. To add to my frustration the guy didn't turn up and did not answer the calls. When I called their call centre - they said they can't help me at this hour. Well- I can't help but call them CARELESS CARE24.

Jasbir Basu


4/06/2019
I am still taking services from Care 24 since last two years. The caregivers are well trained and takes good care of my mother in law.
Sheila khanchandani
Sumesh Brother is Punctual, Efficient and knowledgeable and understands patients requirements completely.
Jayshree Prabhu
I have been using care 24 services and have been very happy with their services. Priyanka Rajbhar is our caretaker she is very disciplined kind and dedicated towards her work.
Saurabh Bhatt
The Nurse and the Attendant provided by Care24 are good in service, polite and punctual. We are happy with their service. The patient ( our family member) is been given proper care, feed and cleaned regularly.
Deepa Balvalli
Dr. Ralga had Attended to my father. He is suffering from PSP. We were specifically impressed by her techniques n method to handle the issue. We are planning on repeating her visits every month for positive results.
Uma Ram
Frequently Asked questions