Meniscus Rehabilitation Services
Our certified experts can give you the best in-house rehabilitation consultation.
Fill up the form to know more about our Meniscus rehabilitation services.
Meniscus Rehabilitation Services
Our certified experts can give you the best in-house rehabilitation consultation.
Fill up the form to know more about our Meniscus rehabilitation services.
Home care meniscus rehabilitation services
Overview
What is torn meniscus?
Each knee has two menisci or parts of cartilage which behave as a cushion between the thighbone and shinbone. Any action which causes your knee to bend or to twist suddenly, particularly when putting your weight may cause a torn meniscus. Meniscus injury causes swelling, pain, and stiffness. You also have difficulty extending your knee and might feel a block. A torn meniscus is amongst the most frequent knee injuries for which you would require meniscus rehabilitation (rehab).
Causes of Meniscus Tear
Sudden meniscus tears happen during the times of exertion during a sport where the knee may bend and twist, resulting in a tear, mostly where direct contact, e.g. a tackle, is involved.
Older Individuals are more inclined to have degenerative meniscus tears as cartilage weakens with time resulting in worn out tissue prone to tears. If the menisci have deteriorated with age, a twist when getting up from a seat might also be enough to tear it. In cases like this, surgery may be required to fix the damage and to attend to the meniscal repair.
Symptoms of Meniscus Tear
You may feel a pop if you split a meniscus. Most people can walk even with an injury in their knee. Athletes continue playing even with a tear. Over 2-3 days, your knee will slowly become more rigid and inflamed which showcases the need for knee rehab for your meniscus tear.
Meniscus tear's most frequent symptoms are
Infection, rigidity, and swelling in the knee
Catching or locking of the knee
The feeling that the knee will give away
You are unable to transfer your knee through its entire range of motion
In absence of treatment, a torn and loose piece of the meniscus may drift into the joint. This may cause your knee even lock, slip, pop or slide.
Remedy for Meniscus Tear
First Therapy – Treatment for a torn meniscus starts based on positioning, size and the kind of your tear. Time with the treatment of their arthritis generally improves over, so operation is not indicated. A block to knee movement or different tears which are not connected with locking will be painful so that they don't need surgery. Your Physician may recommend.
Rest – Prevent activities that aggravate your knee pain any action which causes your own knee to spin, bend or pivot. Using crutches may take the stress and encourage recovery if your pain is intense.
Ice – Ice can reduce swelling and knee pain. Use a cold pack, a bag of frozen veggies or a towel filled at a time, keeping your knee raised. Try this every four to six hours the first day or 2, and then needed.
Medication – Pain relievers can help alleviate knee pain.
What is Rehabilitation for Meniscus
In case there is a non-surgical approach accepted, swelling and the pain of a meniscus requires to be fixed in a couple of days. Rehabilitation and recovery become a long-term devotion, as is a need to create strong muscles that can be used confidently to manage equilibrium, bear the weight of the body.
Once the knee arthroscopy is completed, the rehab procedure helps recovery and reduces swelling. The target of the rehabilitation program is to return the range of movements to the knee. Physical therapy is a significant part of the operation procedure, and therapists work to help the individual resume functioning as it was prior to the injury. Some healthcare professionals urge pre-hab since the process is planned beforehand. With rehab before any procedures, the individual starts strengthening exercises for the quadriceps and hamstring muscles prior to surgery to stop the regular muscle weakness that may happen immediately following surgery.
How do I manage at home during recovery in the process?
After patients can walk on crutches and are able to take fluids, are more comfortable, and equipped to urinate, they'll be discharged to go home. To reduce swelling and pain, be certain to keep your leg elevated while at home, and for the first few days (48 hours), ice the knee 20 to 30 minutes a couple of times daily to minimize swelling and pain. On discharge, patients will be given a prescription for pain medicine. When taking prescription pain medicine, patients shouldn't drive or operate dangerous equipment.
Patients can shower when they get the confirmation it is fine to do this in their physician. Patients could be asked to cover their leg to prevent wetting incisions and the bandage, which raises the probability of disease. A vehicle may be driven by patients once they have freedom and control of the knee. When patients have great control and may put weight on their leg, their crutches may be discarded by them.
Post-surgery Rehab Exercises for Torn Meniscus
Post-surgery Rehab Exercises for Torn Meniscus
What are the Rehab Exercises for Torn Meniscus after Surgery?
The treatment method depends upon illness after surgery and the patient's overall health. A patient's physical therapy program after knee surgery can be separated into three stages
Weaning from crutches and
Regaining control of the leg muscles,
Regaining intensity, regaining total knee movement and returning to action.
Occasionally there is a physical treatment program advocated as an alternative. Or, physical therapy and conservative therapy are recommended to control pain inflammation and swelling.
The next exercises (in three stages) are intended to maximize patients' recovery after surgery.
Stage One
In this stage, the rehab exercises for torn meniscus after surgery involves assisting patients to recover coordination and equilibrium and need to be started immediately after release from the clinic. Walking isn't thought to be a workout, but it is a significant part of the therapy program after an operation. Crutches, supplied by their therapist, should be used by patients until they may bear weight on the knee and have muscular control over their leg.
The isometric quadriceps exercise or the quad sets could be started in sitting position esp. for individuals with a low back problem. Throughout the workout, press down on your knee from the ground or a desk, holding the place for 6 minutes. The exercise could be repeated 10 to 15 times for every group. Two to 3 sets must be performed in every exercise period.
The foot of the leg must be flexed at a 90-degree angle, and the knee is straightened as far as you can. Afterwards, thigh and the leg are raised off the ground and held in the air at the same position for 6 minutes. The exercise should be repeated 10 to 15 times for every group. Patients can add weights to this exercise, including increments of 1-2 pounds and starting with two pounds weights.
Stage Two
In this stage, the rehab exercises for torn meniscus after your surgery should start immediately after quitting crutches and they help patients regain strength and knee movement. This range of movement exercise is achieved by sitting on the desk and allowing the legs to hang on. Patients can use their leg to help expansion and bend the knee. Patients may start doing these exercises once the knee has a range of movement.
Arc quadriceps extensions are utilized for the strengthening of the muscle using the following steps
Lie on your back with your knees straight in front of you. Place a small rolled towel, to be used as a bolster under the knee you wish to strengthen. Slowly straighten the knee until your leg is fully straightened. While doing this exercise, please always maintain contact with the bolster. Tighten your quad muscle as your knee straightens. You should try to straighten your knee out all the way. Hold the straight knee position for three to five seconds, and then slowly return to the starting position. You should repeat the exercise for 10 to 15 repetitions. Performing two to three sets may be recommended to maximize the effects to your quads. You may also increase the intensity of this exercise by placing a one to three-pound weight on your ankle when performing the short arc quad.
Stage Three
By the time patients are ready for stage three, they are all set to come back to regular activity. The duration of time is based upon their healing progress following operation and the patient.
How can Care24 help you?
How Can We Assist in Your Knee Rehab for Meniscus Tear?
Based on the type of need, it requires quite a few weeks or even months for you to recover. You are helped by our rehab specialist with exercises which stimulates tissues and the cells that have been injured for aiding recovery.
The rehab specialist helps with stretching exercises and offer recovery programs in accordance with the kind of injury, in order to facilitate recovery. She will also guide you in educating you to take care of yourself.
Therefore, if you are looking for an excellent rehab specialist, physiotherapist, or a good nurse, simply reach out to Care24's world-class treatment services in the comfort of your home.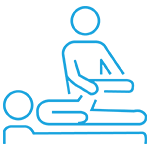 style="text-align:right;color:0f0f59;">
Read more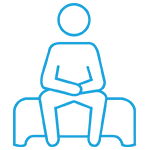 style="text-align:right;color:0f0f59;">
Read more
I used Care24 services for 7 months duration in 2019-20. Carers they provide are a mixed bag. Some are really good while others lack even basic service skills. You got to be very very lucky to get one and same carer over long time as carers often go on leave. When regular carer is on leave, every time they will send new carer. So family members need to repeat everything, right from home address, directions to patient's routine, medicines etc. Do not expect that Care24 will provide any heads-up or patient routine information to new carer who is visiting. Over the 6 months of Mumbai-based care services I used from Care24, there were over 15 instances where new carers were late more than 2 to 3 hours. Care24 support team is very lethargic, there were times when support team assumed that carer has reached home when he had not even started from his place. Support team is unaware of carers being late to customer's place. Then came in so called, the technology upgrade, Jan-Feb 2020, they had a new IT system and there were numerous issues with billing, sending invoices and payment receipts to customers (as told by support team themselves). Support staff told me at least 10 times over phone and email that there are system issues in billing and payment, I had to calculate amount manually on my own and then Pay them. With new system, accounts were on toss, no invoices were sent to customers (in spite of the fact that payment policy says payment needs to be made after receiving invoice.) I had 20-25 emails following up for invoice and payment receipts, but their support team in Mumbai did not care to respond. I found their behavior very unprofessional and not good over these 2-3 months. If you are outside for work (or overseas) and not staying with the patient or your parents, I strongly suggest DO NOT USE CARE24, as they do not respond to your emails and phone in time. They do not bother even when the patient is without care because of their delays in operations and carer issues. They need to improve basic operations first, give timely and consistent services to customers, and then worry about Apps, Digital Assistants and other tech-stuff. .My genuine advice to them--- You are dealing with patient healthcare services, where patient family is relying on you. This is not a courier service business where you are sending people to move boxes and you would't care much when service is delayed !!

Sanket Deo


3/05/2020

The management team & the customer care team is quite responsive.... However the main component, ie the caregiver is not trustworthy & definitely not upto the mark

Ritwik Basu


11/03/2019

The physiotherapist came to my home was very helpful and knowledgeable. She properly gave me the detailed information about my injury. Also the first assessment is free of cost.

varshflute


10/17/2019

worst service, they just talk as if they will send professional at our place, they give big promises at the time of starting their services, but when the attendant come at our place we realized that he was more delicate than our patient, the person whom they had sent got a small scratch in his finger and than the same day he said he wont come as he got injury, so the next day he dint turn up neither did care24 arrange for a replacement, after calling them for 4 times they said me sorry they couldn't arrange anyone today. they don not have the decency to even inform that they cannot arrange for a replacement.. please do not go for their services, its just the promises nothing to deliver

Komal Patel


4/11/2019

If there was an option of negative stars then I would have choosen it. They offered me a package of₹ 5950/- for 10 days and after 2 days updated me on new package of ₹5700/- for 7 days without my consent. Even deposited my earlier cheque and then I had to follow up for the balance for about 10 days explaining my issue everyday to the new person on their helpline. They don't acknowledge emails too. Worst experience and definitely not recommended

Mugdha Kulkarni


5/23/2019
I am still taking services from Care 24 since last two years. The caregivers are well trained and takes good care of my mother in law.
Sheila khanchandani
Sumesh Brother is Punctual, Efficient and knowledgeable and understands patients requirements completely.
Jayshree Prabhu
I have been using care 24 services and have been very happy with their services. Priyanka Rajbhar is our caretaker she is very disciplined kind and dedicated towards her work.
Saurabh Bhatt
The Nurse and the Attendant provided by Care24 are good in service, polite and punctual. We are happy with their service. The patient ( our family member) is been given proper care, feed and cleaned regularly.
Deepa Balvalli
Dr. Ralga had Attended to my father. He is suffering from PSP. We were specifically impressed by her techniques n method to handle the issue. We are planning on repeating her visits every month for positive results.
Uma Ram
Frequently Asked questions