Disability Rehabilitation
Our certified experts can give you the best in-house rehabilitation consultation.
Fill up the form to know more about our disability rehabilitation services.
Disability Rehabilitation
Our certified experts can give you the best in-house rehabilitation consultation.
Fill up the form to know more about our disability rehabilitation services.
Disability Rehabilitation Services
Overview
What is Disability Rehabilitation/ Therapeutic Rehabilitation
Physical medicine and rehabilitation or psychiatry is a treatment that boosts and restores physical ability and lifestyle quality of people with physical impairments or disabilities. A trained health care provider in this discipline is called rehabilitation medicine expert or a physiatrist. Physiatrists focus on restoring ideal body functions of people with accidental injuries to the bones, muscle tissue, cells, and anxious program (like stroke victims). Rehabilitation of people with disabilities is a procedure targeted at helping patients to accomplish and keep maintaining their ideal physical, sensory, cognitive, psychological, and interpersonal functional amounts. Rehabilitation provides impacted with the ability to perform tasks with ease.
Types of Disability
Physical handicap – the individual is not able to restrain the movement of an organ or even more of his entire body organs.

Hearing handicap – ranging from bad hearing to complete deafness.

Visual handicap – ranging from the inadequate vision to blindness.

Educational and intellectual handicap – the individual is not able to typically learn, recall or process info.

Discomfort in social communication and relationships and emotional disorders.
Reasons of disabilities
Diseases or injuries affecting the mother during pregnancy or delivery.

Bronchial ailments – due to inherited genes or outside element.

Complications triggered by some of the following factors – diseases, injuries etc.
Acquired disability, due to injuries.

Muscles and joint inflammation related ailments.

Nervous system diseases.

Heart ailments and strokes.

Undefined reasons.

Cancer.

Diabetes.

Ageing.
Rehabilitation and Caring Of Disabled Persons
Disability and Rehabilitation Services is the training work done for impacted individuals in identifying their impacted faculties and specific inabilities to help them to be suitably prepared to fit into society and be self-reliant and positively interact with the society through a plethora of social programs and actions. The Disability Rehabilitation program also offers tasks similar to and no less significant for them than that for the rest of the men and women.
Caring for disabled
In order to help the rehabilitation of disabled persons to help perform tasks with ease and become self-reliant, the Centers providing disability vocational rehabilitation to help the patient with the following –
Provide daily care at

disability rehabilitation services

for the individual with a disability, such as hygiene, wholesome meals and so forth, and, if possible, coaching him doing their foundation activities independently.
Provide the right tools and techniques to assist the individual with a disability to perform everyday tasks readily and safely, without the danger of harm.
Participate in outside activities, and join some golf club, thereby improving the psychological and physical condition of the individual with the disability.
Provide the individual with a handicap, balanced and healthier meals, to avoid malnutrition issues like anaemia, thinness, obesity, and overweight, apart from different diseases due to immunodeficiency.
Pay careful attention to instruction, and developing the mental abilities of the individual with a disability and rehabilitation, by supplying him with contemporary instructional tools which will make it much easier for him to get info.
Pay attention to the social and psychological elements, which might be made better by coordinating routine visits or picnics for diversion.
Pay careful attention to the security and safety of the surroundings where the individual with handicap lives; for instance, availing special avenues to direct him and make his motion simpler.
Involve the individual with a disability in the everyday household's everyday activities, to promote his self-confidence and hone his or her skills.
How can Care24 help?
Based on the type of need, it requires quite a few weeks or even months for you to recover. You are helped by our rehab specialist with exercises which stimulates tissues and the cells that have been injured for aiding recovery.
The rehab specialist helps with stretching exercises and offer recovery programs as per the kind of injury, to facilitate recovery. They will also guide you in educating you to take care of yourself.
Therefore, if you are looking for an excellent disability rehabilitation or a good nurse, simply reach out to Care24's world-class treatment services in the comfort of your home.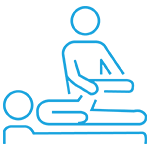 style="text-align:right;color:0f0f59;">
Read more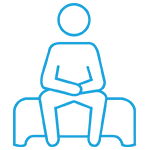 style="text-align:right;color:0f0f59;">
Read more
Nurses and attendants provided by Caree24 are very good. In behavior and trust worthy. Thanks for their support

Anil Kathuria


6/28/2019

worst service, they just talk as if they will send professional at our place, they give big promises at the time of starting their services, but when the attendant come at our place we realized that he was more delicate than our patient, the person whom they had sent got a small scratch in his finger and than the same day he said he wont come as he got injury, so the next day he dint turn up neither did care24 arrange for a replacement, after calling them for 4 times they said me sorry they couldn't arrange anyone today. they don not have the decency to even inform that they cannot arrange for a replacement.. please do not go for their services, its just the promises nothing to deliver

Komal Patel


4/11/2019

I got attendent for my ailing mother thru care 24. The best service i got...if i need infuture i will definitely go for care24 only...they are the best

felix thomas


3/21/2020

I used Care24 services for 7 months duration in 2019-20. Carers they provide are a mixed bag. Some are really good while others lack even basic service skills. You got to be very very lucky to get one and same carer over long time as carers often go on leave. When regular carer is on leave, every time they will send new carer. So family members need to repeat everything, right from home address, directions to patient's routine, medicines etc. Do not expect that Care24 will provide any heads-up or patient routine information to new carer who is visiting. Over the 6 months of Mumbai-based care services I used from Care24, there were over 15 instances where new carers were late more than 2 to 3 hours. Care24 support team is very lethargic, there were times when support team assumed that carer has reached home when he had not even started from his place. Support team is unaware of carers being late to customer's place. Then came in so called, the technology upgrade, Jan-Feb 2020, they had a new IT system and there were numerous issues with billing, sending invoices and payment receipts to customers (as told by support team themselves). Support staff told me at least 10 times over phone and email that there are system issues in billing and payment, I had to calculate amount manually on my own and then Pay them. With new system, accounts were on toss, no invoices were sent to customers (in spite of the fact that payment policy says payment needs to be made after receiving invoice.) I had 20-25 emails following up for invoice and payment receipts, but their support team in Mumbai did not care to respond. I found their behavior very unprofessional and not good over these 2-3 months. If you are outside for work (or overseas) and not staying with the patient or your parents, I strongly suggest DO NOT USE CARE24, as they do not respond to your emails and phone in time. They do not bother even when the patient is without care because of their delays in operations and carer issues. They need to improve basic operations first, give timely and consistent services to customers, and then worry about Apps, Digital Assistants and other tech-stuff. .My genuine advice to them--- You are dealing with patient healthcare services, where patient family is relying on you. This is not a courier service business where you are sending people to move boxes and you would't care much when service is delayed !!

Sanket Deo


3/05/2020

Horrible service! can't rely on them.They ditch on last moment.Attendents are not punctual,reliable,well behaved and even honest.Service provider doesn't turn up and still they start billing customers .Better to stay away.

Sonal Agrawal


11/04/2019
I am still taking services from Care 24 since last two years. The caregivers are well trained and takes good care of my mother in law.
Sheila khanchandani
Sumesh Brother is Punctual, Efficient and knowledgeable and understands patients requirements completely.
Jayshree Prabhu
I have been using care 24 services and have been very happy with their services. Priyanka Rajbhar is our caretaker she is very disciplined kind and dedicated towards her work.
Saurabh Bhatt
The Nurse and the Attendant provided by Care24 are good in service, polite and punctual. We are happy with their service. The patient ( our family member) is been given proper care, feed and cleaned regularly.
Deepa Balvalli
Dr. Ralga had Attended to my father. He is suffering from PSP. We were specifically impressed by her techniques n method to handle the issue. We are planning on repeating her visits every month for positive results.
Uma Ram
Frequently Asked questions