Pulmonary Rehabilitation Services
Our certified experts can give you the best in-house rehabilitation consultation.
Fill up the form to know more about our Pulmonary Rehabilitation services.
Pulmonary Rehabilitation Services
Our certified experts can give you the best in-house rehabilitation consultation.
Fill up the form to know more about our Pulmonary Rehabilitation services.
Pulmonary rehabilitation service at home
Overview
Pulmonary Rehabilitation
Pulmonary rehabilitation also known as Respiratory rehabilitation is a program that includes breathing methods for men and women that have breathing problems because of lung conditions, health instruction etc.
Summary
The rehabilitation specialist may recommend pulmonary rehabilitation to assist to breathe easier and boost the quality of life for specific lung conditions like pulmonary rehabilitation for chronic obstructive pulmonary disease (COPD), cardiopulmonary rehabilitation for pulmonary arterial hypertension, and such respiratory rehabilitations for asthma, cystic fibrosis, obesity. Additionally, it may enhance the quality of life due to reduced lung function. The rehabilitation specialist can recommend treatment before and after a lung transplant or even lung cancer operation.
Pulmonary rehabilitation can help gain power, decrease symptoms of depression or anxiety, and make it a lot easier to handle work tasks and outings or activities of choice.
One might have rehabilitation center in a hospital, or may might perform breathing exercises or physical treatment at home. One might also utilize observation or courses or action monitors. A pulmonary rehab plan will be designed by a group of pulmonary rehabilitation specialists based on specific needs.
During the course of rehabilitation, if any patient develops symptoms like injuries to bones and muscles, the action will be discontinued immediately, and the patient will be give suitable treatment and the treating, rehabilitation specialist will be contacted if problems happen. Also, all throughout the subsequent sessions, the patient will be supervised.
What to expect?
What to expect – Pulmonary Rehabilitation Therapy
If rehabilitation is recommended by treating rehabilitation specialist, one will be attended by a group of healthcare providers, that will design a plan that suits specific requirements depending on the health of lungs, age, and health variables. Following the program finishes, whether breathing has improved, the staff will evaluate lung functioning to measure impact.
During Pulmonary Rehabilitation
The pulmonary rehab plan might contain one or more of the following:
Breathing techniques

– One will learn methods like breathing, yoga breathing pursed-lip breathing. These methods prevent under pressure or feeling out of breath when active and enables to manage effective breathing. One could also learn methods to help clear mucus.
Education

– In individual or group sessions, the pulmonary rehabilitation specialist can reply to questions about lung disease and advice suitably. One will develop an understanding on how lungs work and a good and suitable rehabilitation plan. It will help produce a strategy and to learn how to recognize body indications.
Your staff could have the ability to assist you to stop if you smoke.

You will discover how to conserve your energy and prevent by simply finding ways to perform activities, feeling short of breath.

This might consist of approaches to prevent bending, lifting, and reaching, or approaches.
Psychological counseling

– One may also experience anxiety depression and other issues for which a team support or personal counseling may be provided.
Exercise training

– Training helps strengthening breathing muscles in addition to arms, thighs, and spine. Training may also help to build flexibility and stamina, which makes it easier to perform things along with tasks of choice. The health care team will recommend oxygen treatment or medication to start the airways.
Nutritional counseling

– One may discover what foods to eat and how to prepare foods to feel the best and to handle ones condition. Nutritional counselling can help make sure that one is getting the ideal nutrients in the quantities. A dietitian can suggest nutritional supplements or nutritional supplements or medications that will assist to build muscle.
Advantages of Pulmonary Rehabilitation Therapy
One will become knowledgeable about condition and get some ideas and develop understanding of the values of stopping smoking. One will learn how to handle self and the fundamentals of illness along with when to call for assistance and how to handle any ups and downs.
One will find out about medication that is COPD and will also learn about the medications used to prevent and cure symptoms. She/He will learn about nebulizers and inhalers and might be taught to use them effectively.
One will understand the importance of remaining busy and discover that exercise is vital, even if it is just a walk. One will learn what exercises are right, how to use equipments. Exercise reduces exhaustion and helps develop stamina so that one may remain active. It also helps improve immune system to keep one healthy.
The awareness of well-being gets enhanced. Exercise causes the brain to release substances that are frequently known as exogenous morphine since they behave similarly to morphine in reducing the perception of pain and enhancing awareness of well-being. This helps one continue to feel great exercising and might be the best approach to prevent and cure depression.
It lowers the sensation of dyspnea (air hunger) along with motion. Section of exercise training could involve riding a bicycle. Therefore that it gets more effective at pumping oxygen and other nutrients to help to reinforce heart. This really helps to make one inclined to continue exercise or dyspnea tolerant. That means one remains active and ought to be able to move around comfortably.
It helps one maintain ones strength and this may prevent from muscle wasting making it easier to go around. This is especially applicable to those that have the fear of becoming winded. A portion of rehab is currently using weights to give resistance training into the muscles of thighs and arms that will assist to keep the muscle power to remain active.
One will learn about eating habits. Not eating a wholesome diet may result in muscle wasting. Ever since foods and some foods can lead to bloating and gas which makes breathing hard, some hotel to eating habits. Nutrition counseling teaches exactly what foods can eaten to help are get the nutrition required to maintain endurance and strength. In addition, it teaches healthy eating habits, like eating meals which means that one remains active and can breathe easy.
Psychosocial support. Together with the pros, one will meet different people living with similar conditions. These experiences lead to spiritual buddies who might provide emotional support, and help with the essential lifestyle adjustments to adapt to living with a lung disorder.
Helps condition from deteriorating further. Studies reveal rehabilitation reduces hospital admissions and readmissions. 1 theory suggests that this disease's development slows, which makes flare-ups less intense and less common.
It might help live more by stopping smoking, wearing oxygen if prescribed and will prolong life span and quality of life. The development of illness might slow one down and it may help breathe easier, live better.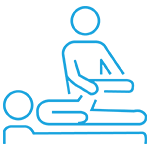 style="text-align:right;color:0f0f59;">
Read more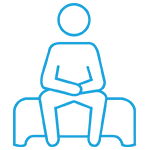 style="text-align:right;color:0f0f59;">
Read more
The physiotherapist came to my home was very helpful and knowledgeable. She properly gave me the detailed information about my injury. Also the first assessment is free of cost.

varshflute


10/17/2019

I got good experience wt dr Dhrita she is v good in physiotherapy n nice while talking n explains v nice

Sujata Rao


6/19/2019

Needed an attendant for a week for post-surgical assistance (ward boy type work). The person allocated was punctual, polite, and generally did the job well. Quite happy with the services provided. Edit: The payment management is quite bad. If you choose to make cash payments for the service (physiotherapist in my case), the payment does not sync with the agency and they keep sending messages and emails along you to pay up. They follow up with calls on Sunday afternoon 🤦🏻 Edit 2: No change. The company is continuously following up for the money I have already paid. Reducing the rating.

Swati Saxena


5/31/2020

Horrible service! can't rely on them.They ditch on last moment.Attendents are not punctual,reliable,well behaved and even honest.Service provider doesn't turn up and still they start billing customers .Better to stay away.

Sonal Agrawal


11/04/2019

Unqualified office staff, when you call to clarify something. Many times they don't understand the question. They are not trained well. The customer care staff needs an upgraded system, where notes are fed into the system. So you don't need someone else calling up and giving you the same info. The caretaker is not trained well. If they are looking after an elderly person, they should know that they have to be in the best of health to look after my mother. She ended not making a meal for my mother and my neighbour had to provide it. If the caretaker is not well she should have asked for a replacement asap and not waited. It is shocking, we have paid a huge amount of money for this service and I am absolutely unhappy. Please do not call for caretaker's from Care24. As long as they are getting their money. They care a damn!!! Worst service providers.

Bonabelle Zuzarte


7/10/2019
I am still taking services from Care 24 since last two years. The caregivers are well trained and takes good care of my mother in law.
Sheila khanchandani
Sumesh Brother is Punctual, Efficient and knowledgeable and understands patients requirements completely.
Jayshree Prabhu
I have been using care 24 services and have been very happy with their services. Priyanka Rajbhar is our caretaker she is very disciplined kind and dedicated towards her work.
Saurabh Bhatt
The Nurse and the Attendant provided by Care24 are good in service, polite and punctual. We are happy with their service. The patient ( our family member) is been given proper care, feed and cleaned regularly.
Deepa Balvalli
Dr. Ralga had Attended to my father. He is suffering from PSP. We were specifically impressed by her techniques n method to handle the issue. We are planning on repeating her visits every month for positive results.
Uma Ram
Frequently Asked questions