Our certified experts can give you the best in-house rehabilitation consultation.
Fill up the form to know more about our Stroke Rehabilitation services.
Our certified experts can give you the best in-house rehabilitation consultation.
Fill up the form to know more about our Stroke Rehabilitation services.
Stroke Rehabilitation Services
Overview
What's Stroke Rehabilitation or CVA rehabilitation?
Stroke recovery helps in Rehabilitation for Stroke victims assists in regaining lost freedom due to stroke. The procedure requires identification, treatment of the condition and treatment of the individual and can start as early as within 24 hours.
A group of stroke rehab experts creates a treatment program that consists of stroke rehab methods and exercises concentrated on enhancing specific skills. They'll work on exercises to improve motion and balance during. One may start noticing progress in the initial 6 weeks however, the rehab program continues till the lost skills are recovered.
After operation stroke impacted individuals have issues with language, physical, and psychological functions and rehabilitation for all these issues can be customized. Rehabilitation programs are crucial in helping patients relearn activities, regain lost skills and functions and to be independent. With a diligent rehab effort, these prospects may become better. If neurological deficits don't enhance, the patients' operation can improve as they relearn strategies to compensate for their own problems.
Factors affecting
Factors impacting successful stroke rehabilitation:
The level of the brain injury

– The less severe the harm, the greater is the likelihood of recovery.




The stroke survivor's mindset

– A survivor's attitude can help them deal with hard times and concentrate on getting better.




Family support –

A stroke survivor's family may be the most essential kind of support during rehab. Stroke survivors may guarantee they're significant to the household, and wanted, desired.




Time beginning of rehab –

Rehabilitation should begin immediately after the stroke. Simple tasks like turning the individual in bed and exercising muscles should start immediately after the stroke. Rehabilitation is effective when it's a group effort. The stroke survivor and their family members need to work along with rehabilitation experts, nurses, and the physician.
Benefits of Stroke Rehabilitation Physiotherapy
The additional therapy helps restore freedom and stroke rehabilitation aid helps patients to recuperate. This is observable in the Shape of:
Muscle strength.

Improved coordination and balance.

Joint and muscle stiffness.

Decreased pain.

Higher Freedom.

Reduced chance of falls.

Sensory-motor integration.
Choicest Post Stroke Rehabilitation Centre
For availing the Stroke Rehabilitation solutions that are innovative, please visit one of our centers today! Our stroke recovery and rehabilitation center is supported by technologies within the sphere of fitness and helps a faster and a very high degree of recovery.
Our group of physiotherapists provides support and care during the sessions and assist and teach how the patient can be active whenever possible and to get the maximum benefit of the program.
One must bear in mind that recovery may involve plenty of work and may take time depending on specific conditions. One must be patient and concentrated throughout to achieve the best results.
Post Stroke Rehabilitation
What Is Involved In Post Stroke Rehabilitation?
There are many methods of stroke therapy. Each rehabilitation for stroke patients program will rely on the section of sort or the human body of capacity.
Actions might include:
Motor-skill exercises –

These exercises will help improve muscular strength and nourishment. One may have treatment to strengthen existing body functioning.

Mobility training –

Patient may learn to use mobility aids like wheelchair, canes, walker or ankle brace. Patient ankles may stabilize and strengthen to help encourage one to relearn to walk while supporting the body weight.

Constraint-induced therapy

– As one exercise, moving the limbs in order to aid in improving movement. This treatment is known as a constraint-induced treatment.

Range-of-motion therapy

– Certain exercises and remedies can ease muscle strain (spasticity) and allow a regain range of movements.
When Should Stroke Recovery Start?
The earlier it starts, the higher are the chances to recover lost skills and abilities.
The physicians' priorities are to
Stabilize patient condition

Control life-threatening Ailments

Avoid another stroke

Restrict any complications
Following a stroke, as one is at the hospital, it is typical for stroke treatment to begin.
How long can Stroke Recovery last?
The whole period of stroke rehabilitation patients is dependent upon the intensity of stroke and associated complications. Some stroke survivors recover. However, most need some kind of stroke treatment lasting long-term, lasting years or months following stroke.
The stroke rehabilitation center will alter throughout healing because as one relearns and improves, the needs change and skills required also keep changing. With continued practice, one is able to reap advantages from rehabilitation after stroke centers.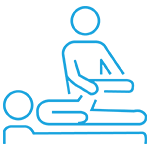 style="text-align:right;color:0f0f59;">
Read more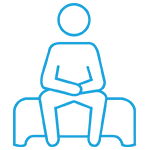 style="text-align:right;color:0f0f59;">
Read more
The physiotherapist came to my home was very helpful and knowledgeable. She properly gave me the detailed information about my injury. Also the first assessment is free of cost.

varshflute


10/17/2019

Unqualified office staff, when you call to clarify something. Many times they don't understand the question. They are not trained well. The customer care staff needs an upgraded system, where notes are fed into the system. So you don't need someone else calling up and giving you the same info. The caretaker is not trained well. If they are looking after an elderly person, they should know that they have to be in the best of health to look after my mother. She ended not making a meal for my mother and my neighbour had to provide it. If the caretaker is not well she should have asked for a replacement asap and not waited. It is shocking, we have paid a huge amount of money for this service and I am absolutely unhappy. Please do not call for caretaker's from Care24. As long as they are getting their money. They care a damn!!! Worst service providers.

Bonabelle Zuzarte


7/10/2019

I got attendent for my ailing mother thru care 24. The best service i got...if i need infuture i will definitely go for care24 only...they are the best

felix thomas


3/21/2020

We had a ridiculously pathetic experience with them. Took an attendant service, a 10 day offer (rs 600 instead of their regular fee of rs 800), for my mother who had undergone an knee replacement surgery. In six days, 4 different attendants were assigned for no fault of ours. We had terrible experience going through the back-end team trying to explain the importance of sending only one attendant and not a different one every new day. The last person assigned wanted to leave by 5pm even though the timings were from 8am to 8pm. With this many other terrible instances in these 6 days, we had no option but to cancel the services. The back-end team were utterly useless in understanding the importance of having only one person assigned. They kept insisting that we pay for 800rs per day for 6 day and offer of rs 600 per day would be invalid. The management should look into this scam and take immediate action on the team. Note: Even though we wanted the services, we were forced to abandon it with no fault of ours. The back-end team has absolute disregard for the grievances of the client.

Rahul Dhakka


12/27/2018

Needed an attendant for a week for post-surgical assistance (ward boy type work). The person allocated was punctual, polite, and generally did the job well. Quite happy with the services provided. Edit: The payment management is quite bad. If you choose to make cash payments for the service (physiotherapist in my case), the payment does not sync with the agency and they keep sending messages and emails along you to pay up. They follow up with calls on Sunday afternoon 🤦🏻 Edit 2: No change. The company is continuously following up for the money I have already paid. Reducing the rating.

Swati Saxena


5/31/2020
I am still taking services from Care 24 since last two years. The caregivers are well trained and takes good care of my mother in law.
Sheila khanchandani
Sumesh Brother is Punctual, Efficient and knowledgeable and understands patients requirements completely.
Jayshree Prabhu
I have been using care 24 services and have been very happy with their services. Priyanka Rajbhar is our caretaker she is very disciplined kind and dedicated towards her work.
Saurabh Bhatt
The Nurse and the Attendant provided by Care24 are good in service, polite and punctual. We are happy with their service. The patient ( our family member) is been given proper care, feed and cleaned regularly.
Deepa Balvalli
Dr. Ralga had Attended to my father. He is suffering from PSP. We were specifically impressed by her techniques n method to handle the issue. We are planning on repeating her visits every month for positive results.
Uma Ram
Frequently Asked questions