Sports Rehabilitation Service
Our certified experts can give you the best in-house rehabilitation consultation.
Fill up the form to know more about our Sports Rehabilitation services.
Sports Rehabilitation Service
Our certified experts can give you the best in-house rehabilitation consultation.
Fill up the form to know more about our Sports Rehabilitation services.
Sports rehabilitation Service
Overview
What is Sports Rehabilitation?
Sports rehab (sports injury rehabilitation) helps individuals suffering from illness, injury or pain involving the musculoskeletal system and helps recover from injury obtained while in sports helping return to active sports. This helps those in all age groups to maintain fitness and health, recover from and protect against harm and reduce pain, utilizing manual movement, and exercise established interventions at a sports rehabilitation center.
What to expect from the Sports Rehabilitation Therapist?
A preliminary consultation for condition assessment and an interview to identify factors causing harm and a proper identification of all health-related ailments.All this information is used to tailor a restoration strategy to return to action and function. One may anticipate Sports Rehabilitation Therapist to incorporate education advice and rehabilitation. Sports Rehabilitators are trained to safeguard and document all personal information and data while providing the sports therapy and rehabilitation services.
Sports Injury Rehabilitation & Conditioning
The rehab team will assess condition and recommend a treatment program that may be a comprehensive treatment program along with any rehabilitation and conditioning gear you may need. We utilize technology and the most recent research to assist get a competitive advantage.
Our application covers a variety of conditions, such as chronic or acute sports injuries, strains, sprains, muscular, tendon and ligament tears and fixes, tendinopathies, hand injuries, shoulder dislocation and operation, and ankle and foot disorders.
Our treatment plans begin with care together with therapy that comprises:
Evaluation of orientation, work, strength, range

Strengthening and conditioning

Soft tissue and joint mobilization to increase a range of movement

Tissue flexibility to improve, reduce swelling and pain and promote recovery

Certifications regarding taping, bracing and orthotics

Aquatic exercise programs
For whom do we provide our Sports Therapy and Rehabilitation Services?
Our team treats the following problems
Exercise-related or sports accidents

Neck, back pain, foot, Arthritis

Knee and stylish problems

Shoulder and elbow problems

Work-related accidents
Athletic coaches and sports physical therapy provides experience to allow to restart pre-injury exercise program.
Sports rehabilitation duration
How long does sports rehabilitation require?
Rehabilitation duration at a sports rehab center varies according to needs and each individual's progress and will depend upon the following
Cause of injury, type and amount of harm and resulting impairments

Healing and pain control & Progress and Targets achievement
Risk Associated with sports rehabilitation
Associated Dangers
Like manual therapy and exercises, one can find some articles regarding sports injuries and rehabilitation treatment; however these are minimal. The assigned sports rehabilitation therapist is trained to change based reaction and to reassess the outcomes of therapy. Patient will be informed by the Sports Rehabilitator of any risks related to treatment to permit educated and appropriate decisions. Sports Rehabilitator are also trained to seek help from other members of the healthcare team, where the need for the same arises.
Patients have different responses to different treatment methods, massage mediums, taping etc and the Sport Rehabilitator plans remedies basis his /her assessment. In most instances, accidents are treated by Sport Rehabilitators efficiently and quickly.
How sports rehabilitation works
How it Works
Sports Injury Rehabilitation is a multi-disciplinary approach to prevention, evaluation, and cure for injuries.

The first step towards healing is obtaining an accurate diagnosis from a certified specialist and involves promoting recovery and reducing pain.

Innovative reconditioning treatment will start once swelling and pain has subsided.

Exercises are prescribed to target certain goals like equilibrium coordination, endurance training, mobility, and placement.

When progress is made, the coach and the athlete can work towards re-establishing strength.
Health Benefits
Sports Injuries and Rehabilitation is essential to help return to actions you love, as fast as and as safely as is possible.
As we are devoted to providing the best care, patient can make best use of this recovery period to reinforce health and even though you might be hurt. Investment in recovery is a strategy that allows one to regain performance.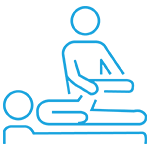 style="text-align:right;color:0f0f59;">
Read more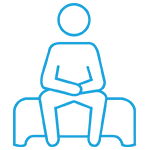 style="text-align:right;color:0f0f59;">
Read more
Horrible service! can't rely on them.They ditch on last moment.Attendents are not punctual,reliable,well behaved and even honest.Service provider doesn't turn up and still they start billing customers .Better to stay away.

Sonal Agrawal


11/04/2019

I used Care24 services for 7 months duration in 2019-20. Carers they provide are a mixed bag. Some are really good while others lack even basic service skills. You got to be very very lucky to get one and same carer over long time as carers often go on leave. When regular carer is on leave, every time they will send new carer. So family members need to repeat everything, right from home address, directions to patient's routine, medicines etc. Do not expect that Care24 will provide any heads-up or patient routine information to new carer who is visiting. Over the 6 months of Mumbai-based care services I used from Care24, there were over 15 instances where new carers were late more than 2 to 3 hours. Care24 support team is very lethargic, there were times when support team assumed that carer has reached home when he had not even started from his place. Support team is unaware of carers being late to customer's place. Then came in so called, the technology upgrade, Jan-Feb 2020, they had a new IT system and there were numerous issues with billing, sending invoices and payment receipts to customers (as told by support team themselves). Support staff told me at least 10 times over phone and email that there are system issues in billing and payment, I had to calculate amount manually on my own and then Pay them. With new system, accounts were on toss, no invoices were sent to customers (in spite of the fact that payment policy says payment needs to be made after receiving invoice.) I had 20-25 emails following up for invoice and payment receipts, but their support team in Mumbai did not care to respond. I found their behavior very unprofessional and not good over these 2-3 months. If you are outside for work (or overseas) and not staying with the patient or your parents, I strongly suggest DO NOT USE CARE24, as they do not respond to your emails and phone in time. They do not bother even when the patient is without care because of their delays in operations and carer issues. They need to improve basic operations first, give timely and consistent services to customers, and then worry about Apps, Digital Assistants and other tech-stuff. .My genuine advice to them--- You are dealing with patient healthcare services, where patient family is relying on you. This is not a courier service business where you are sending people to move boxes and you would't care much when service is delayed !!

Sanket Deo


3/05/2020

Mangal Laad has visited us for a couple of days in the day. She is very kind, attentive and trustworthy. She has been with us like an extended Family. The patient has also appreciated her services. She is excellent. We thank you for Mangal Laad.

Tanuka M


3/09/2020

Unqualified office staff, when you call to clarify something. Many times they don't understand the question. They are not trained well. The customer care staff needs an upgraded system, where notes are fed into the system. So you don't need someone else calling up and giving you the same info. The caretaker is not trained well. If they are looking after an elderly person, they should know that they have to be in the best of health to look after my mother. She ended not making a meal for my mother and my neighbour had to provide it. If the caretaker is not well she should have asked for a replacement asap and not waited. It is shocking, we have paid a huge amount of money for this service and I am absolutely unhappy. Please do not call for caretaker's from Care24. As long as they are getting their money. They care a damn!!! Worst service providers.

Bonabelle Zuzarte


7/10/2019

I got good experience wt dr Dhrita she is v good in physiotherapy n nice while talking n explains v nice

Sujata Rao


6/19/2019
I am still taking services from Care 24 since last two years. The caregivers are well trained and takes good care of my mother in law.
Sheila khanchandani
Sumesh Brother is Punctual, Efficient and knowledgeable and understands patients requirements completely.
Jayshree Prabhu
I have been using care 24 services and have been very happy with their services. Priyanka Rajbhar is our caretaker she is very disciplined kind and dedicated towards her work.
Saurabh Bhatt
The Nurse and the Attendant provided by Care24 are good in service, polite and punctual. We are happy with their service. The patient ( our family member) is been given proper care, feed and cleaned regularly.
Deepa Balvalli
Dr. Ralga had Attended to my father. He is suffering from PSP. We were specifically impressed by her techniques n method to handle the issue. We are planning on repeating her visits every month for positive results.
Uma Ram
Frequently Asked questions