Rehabilitation Service In Faridabad
Our certified experts can give you the best in-house rehabilitation consultation.
Fill up the form to know more about our rehabilitation services in Faridabad.
Home Nursing Services In Delhi
Our certified experts can give you the best in-house rehabilitation consultation.

Fill up the form to know more about our rehabilitation services in Faridabad.
Highly rated by thousands of patients all over India.
Home Rehabilitation Service In Faridabad
Overview
Rehabilitation centre in Faridabad takes the first initiative to encourage people to leave the addiction and move forward in their life. It must be a commitment by you and you alone.
Rehabilitation centre in Faridabad is always there to help you to take the first step to get recovery from alcohol and drug addiction. Recovery from drug addiction can make a huge difference in the living standard of the person. Rehabilitation centre of Faridabad help with extinct care and compassion gives the best treatment and most suitable to the person.
When you talk to us, you'll be met with compassion and understanding. Our medical professionals will work with you to fulfil your specific requirements. We will provide you with the knowledge to help you choose from a variety of treatment programs. Our treatment programs range from residential treatment to licensed private rehabilitation facilities to our patients.
Centres of Faridabad perform an evaluation of person right over the phone. Then after, they find the most suitable treatment that will meet your specific needs. Centres of Faridabad give the 24/7 hours services and help to recover from drug addiction with extinct care.
Specialized programs:-
Partial hospitalization programme
This is the most intensive and superior treatment given to the person. It just requires meeting approx. 25 hrs. This care also includes medical and psychiatric, providing small patient to staff ratios in group counselling.
Intensive Outpatient Program
The outpatient program needs a minimum of 9hrs a week. This program also has medical, Psychiatric and small patient to staff group consoling ratios.
Outing from institute
We have an outing program also which includes 90minutes per week as a small group. This treatment is provided to patients at their home. Experts will go to the patient's home for treatment.
Professionals program
The Professional program is provided in various levels of care PHP, IOP and Op in small counselling groups. These groups meet during day and evening hours to accommodate all schedules.
What is the goal of Rehabilitation ?
The main aim of rehabilitation treatment is to rehabilitate the patient's mental, physical and sensory abilities which were extinct due to some disease, injury and illness. It includes helping the patients to require for a deficiency that can be recovered with medicine.
It is advised after many types of injuries and disease which includes cancer, arthritis, cardiac disease, neurological problems, orthopaedic injuries, spinal cord injuries and traumatic brain injuries. Exercises and other physical interventions must take into consideration the patient's deficiency.
What are the types of rehabilitation Treatment?
Rehabilitation treatment makes use of many kinds of assistance, therapies and device to improve function. The type of rehabilitation treatment provides depends upon the severity of the disability. Medical experts first identify your problem then design the treatment plan. Some common types of rehabilitation treatment include:-
Cognitive rehabilitation therapy

Occupational therapy

Physical therapy

Pharmacorehabilitaion

Assistive technology

Recreational therapy

Language therapy

Vocational therapy

Music and art therapy

Mental health counselling

Nutritional counselling
Benefits of Rehabilitation
What benefit do you get from rehabilitation treatment?
Reduce pain so that you can enjoy life without any discomfort

Your muscles make strong so that you are at less risk of fall

Increase your mobility

Lessen swelling in the affected joints and muscles

Improve your balance

Provides you more strength to complete the rehabilitation treatment

Increase your ability to cope up with a physical disability

centre in Faridabad.
How can Care24 help?
Rehabilitation centre in Faridabad is provided in a wide range of settings which includes clinical and office practices, hospitals, sports medicine and other problems. They have expert therapists who visit home. They choose the most suitable rehabilitation treatment according to your problem. They treat you with the best rehabilitation treatment plan at an affordable cost.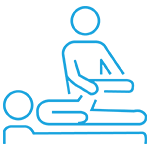 style="text-align:right;color:0f0f59;">
Read more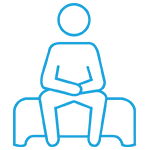 style="text-align:right;color:0f0f59;">
Read more
We contacted care 24 for my Dad's physiotherapy. Our physiotherapist Dr Dharita is very knowledgeable and extremely patient. My Dad is showing a lot for improvement in terms of his movement.

D W


3/21/2019

I used Care24 services for 7 months duration in 2019-20. Carers they provide are a mixed bag. Some are really good while others lack even basic service skills. You got to be very very lucky to get one and same carer over long time as carers often go on leave. When regular carer is on leave, every time they will send new carer. So family members need to repeat everything, right from home address, directions to patient's routine, medicines etc. Do not expect that Care24 will provide any heads-up or patient routine information to new carer who is visiting. Over the 6 months of Mumbai-based care services I used from Care24, there were over 15 instances where new carers were late more than 2 to 3 hours. Care24 support team is very lethargic, there were times when support team assumed that carer has reached home when he had not even started from his place. Support team is unaware of carers being late to customer's place. Then came in so called, the technology upgrade, Jan-Feb 2020, they had a new IT system and there were numerous issues with billing, sending invoices and payment receipts to customers (as told by support team themselves). Support staff told me at least 10 times over phone and email that there are system issues in billing and payment, I had to calculate amount manually on my own and then Pay them. With new system, accounts were on toss, no invoices were sent to customers (in spite of the fact that payment policy says payment needs to be made after receiving invoice.) I had 20-25 emails following up for invoice and payment receipts, but their support team in Mumbai did not care to respond. I found their behavior very unprofessional and not good over these 2-3 months. If you are outside for work (or overseas) and not staying with the patient or your parents, I strongly suggest DO NOT USE CARE24, as they do not respond to your emails and phone in time. They do not bother even when the patient is without care because of their delays in operations and carer issues. They need to improve basic operations first, give timely and consistent services to customers, and then worry about Apps, Digital Assistants and other tech-stuff. .My genuine advice to them--- You are dealing with patient healthcare services, where patient family is relying on you. This is not a courier service business where you are sending people to move boxes and you would't care much when service is delayed !!

Sanket Deo


3/05/2020

Nurses and attendants provided by Caree24 are very good. In behavior and trust worthy. Thanks for their support

Anil Kathuria


6/28/2019

Needed an attendant for a week for post-surgical assistance (ward boy type work). The person allocated was punctual, polite, and generally did the job well. Quite happy with the services provided. Edit: The payment management is quite bad. If you choose to make cash payments for the service (physiotherapist in my case), the payment does not sync with the agency and they keep sending messages and emails along you to pay up. They follow up with calls on Sunday afternoon 🤦🏻 Edit 2: No change. The company is continuously following up for the money I have already paid. Reducing the rating.

Swati Saxena


5/31/2020

Horrible, unprofessional service! Advance paid.The caregiver did not show up. When complained to customer care, they said they will find a replacement and call back. No call back, no replacement. They shut for the day and the customer is felt in a lurch. Extremely disappointing. Will never avail this service again and will spread the word too.

Shraddha Shah


11/02/2019
I am still taking services from Care 24 since last two years. The caregivers are well trained and takes good care of my mother in law.
Sheila khanchandani
Sumesh Brother is Punctual, Efficient and knowledgeable and understands patients requirements completely.
Jayshree Prabhu
I have been using care 24 services and have been very happy with their services. Priyanka Rajbhar is our caretaker she is very disciplined kind and dedicated towards her work.
Saurabh Bhatt
The Nurse and the Attendant provided by Care24 are good in service, polite and punctual. We are happy with their service. The patient ( our family member) is been given proper care, feed and cleaned regularly.
Deepa Balvalli
Dr. Ralga had Attended to my father. He is suffering from PSP. We were specifically impressed by her techniques n method to handle the issue. We are planning on repeating her visits every month for positive results.
Uma Ram
The worst experience I've had of my life. I normally never really write reviews, but I had to write this because this agency is the worst company I've dealt with till now. Their customer service is terrible, most of their attendants are not competent for taking care of elderly patients. Please do not use their service.

Radhika Kulkarni


6/27/2019

The physiotherapist came to my home was very helpful and knowledgeable. She properly gave me the detailed information about my injury. Also the first assessment is free of cost.

varshflute


10/17/2019

Mangal Laad has visited us for a couple of days in the day. She is very kind, attentive and trustworthy. She has been with us like an extended Family. The patient has also appreciated her services. She is excellent. We thank you for Mangal Laad.

Tanuka M


3/09/2020

We contacted care 24 for my Dad's physiotherapy. Our physiotherapist Dr Dharita is very knowledgeable and extremely patient. My Dad is showing a lot for improvement in terms of his movement.

D W


3/21/2019

I got good experience wt dr Dhrita she is v good in physiotherapy n nice while talking n explains v nice

Sujata Rao


6/19/2019
Instead of going to any rehabilitation centre in Faridabad, I opted for in house services from Care24. They were really professional. I highly recommend them.
Priyanshu Sharma
I am happy for the rehab services which my mother had the services from Care24. I want to thank each and everyone in the team. Instead of searching for the best rehabilitation centre in Faridabad call Care24.
Rekha Vyas
It is hard to put into words what the Care24 has done for me. It is more than a rehabilitation centre in Faridabad. I want to suggest for those who are looking for rehab services at home.
Raghunath Vishwakarma
There are many rehabilitation centre in Faridabad but still, I would suggest Care24 rehabilitation service, because it is one of the most trusted healthcare service providers.
Omkar Sharma
I am completely satisfied with the in-house rehabilitation service in Faridabad provided by Care24. They are providing better services than any other rehab centre. I will recommend using their service to all.
Shikhar Devda
One of the best alternatives for rehabilitation centres is Care24's rehabilitation service at home. Experienced staff with the best service is what they provide.
Priya Raj
I took Care24's medical service at home and was really amazed by their services. It was really a great experience. Thank you to their whole team
Khushi Shukla
There are many rehab centres but finding a good one is most difficult in Faridabad. One day I visited Care24 for rehab service. The whole process was awesome and the team were great and hardworking.
Balram Sharma
Care24 is a great alternative for rehab centres and a must choice for anyone looking for rehab services in the comfort of their home.
Ragoba Mukhtar
I was suffering through severe addition and been to many rehab centre but nothing seems to work. After a lot of searches, I got to know about Care24. They provided great rehab service at home and brought my life on track.
Anil Shree