Neuro Rehabilitation Service
Our certified experts can give you the best in-house rehabilitation consultation.
Fill up the form to know more about our Neuro rehabilitation services.
Neuro Rehabilitation Service
Our certified experts can give you the best in-house rehabilitation consultation.
Fill up the form to know more about our Neuro rehabilitation services.
Neuro rehabilitation service at home
Overview
What's Neurorehabilitation?
Neurorehabilitation uses the assistance of occupational therapy and physical therapy with patients and their families to build attitudes and the abilities of individuals affected by stroke. The goal is to revive maximum abilities to work, so that patients may have a favourable disposition and high self-esteem. Recovering from a stroke is a lengthy procedure sometimes riddled with hopelessness, with the adaption that is brand new and helps patients become empowered and enhance these skills.
Neurological Rehabilitation remedies teach or impact some other facets of their lives, in addition to patients' ability to regain or to enhance mobility and communication skills. In its remedies, neurological rehabilitation concentrates on the emotional elements of the recovery of every individual.
Neurorehabilitation must be
Holistic – Provide not just cognitive rehabilitation and physical healing, but also include those of the loved ones and emotional areas of the individual's character.
Patient concentrated – Plans customized to the demands of their loved ones and the individual.
Inclusive – Implemented and Produced by teams of motivated and competent professionals experienced in similar kinds of collaboration.
Participatory – Patient and develop a relationship and family are all involved, work along with the group of professionals.
Sparing – Assist the individual to optimize freedom and decrease dependency on aids, handicap.
Lifelong – Supports and followup carried to the greatest degree of recovery of work in life.
Resolving – All associated issues.
Community focused – Find best-fit answers fitting all facets of this community and make resources which help the individual in reintegration.
Customized Neuro Rehab
Neuro Rehab can be broken up into steps that aim to help the patient decrease impairments or compensate for their impairments or adapt to. Neurological deficits are addressed by the latter but are poorly known.
Hospitals have different neurological rehabilitation applications, which are provided by hospitals or at technical practices, have a selection of professionals in regions that are various to supply solution and the most extensive therapy to permit their families and patients to live normal lives.
With the passage of each year, technology and newer approaches are developed and executed, enabling more opportunities.
Symptoms
Any individual with an illness might be known through a prescription offered by a health care provider for rehabilitation.
Symptoms which may prompt the need for rehab include:
Muscle fatigue and muscle tone
Pain
Difficulty walking
Difficulty with daily activities like dressing, eating, bathing, Toileting
Difficulty swallowing
Difficulty speaking
Impairments in memory, thinking and problem-solving
Impairments in eyesight or eye-hand coordination
Neuro Rehabilitation process
Does Neuro Rehabilitation Work?
Neuropsychologists are interested in the brain of an individual influence regarding how they act in their own lives – socially, physically, mentally and cognitively.
The very first step to cognitive rehabilitation and neuro rehab is a complete assessment involving a few evaluations. Brain function will be tested by a number of these, some may appear at particular brain functions. The neurorehabilitation specialist will utilize the outcomes remedy that could help and teamed to come up with a picture of what may be going to for patient for traumatic brain injury rehabilitation.
Key Factors of Successful Rehabilitation Traumatic Brain Injury Rehabilitation
It is important that patients know their progress throughout neurological rehabilitation physical therapy depends upon:
The beginning of rehab window
The brain injury's severity and location
Their particular attitudes (daily devotion to exercise)
The rehab group's ability and expertise
The collaboration of practitioners and family
Getting BACK to normal life
Neurorehabilitation is a dynamic and progressive process aimed at allowing patients to achieve their optimum levels.
This technique of treatment provides lots of exercises that will help patients decrease damage and regain motor capabilities. Support, since they rejoin a community required by individuals and their families, are also provided by neurorehabilitation. It permits patients to achieve their aims of returning to life and regaining freedom.
How can Care24 help you ?
How Can We Assist?
Based on the type of need, it requires quite a few weeks or even months for you to recover. You are helped by our rehab specialist with exercises which stimulates tissues and the cells that have been injured for aiding recovery.
The rehab specialist helps with stretching exercises and offer recovery programs as per the kind of injury, to facilitate recovery. They will also guide you in educating you to take care of yourself.
Therefore, if you are looking for the best neuro-rehabilitation centre in India or a good nurse, simply reach out to Care24's world-class treatment services in the comfort of your home.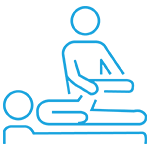 style="text-align:right;color:0f0f59;">
Read more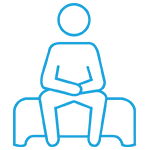 style="text-align:right;color:0f0f59;">
Read more
Most horrible services. Please do not ask for help from these people, they will talk sweet and then at the last moment there will be no shows from the caretaker. I had to go through this not once but twice the caretaker did not turn up. Request you all to not depend on these people as we are leaving our homes and letting them into our lives, the least they can do is inform and provide a replacement, but neither of it happened and they expect me to pay registration fees of RS,1000

Annie Palan


5/17/2019

We contacted care 24 for my Dad's physiotherapy. Our physiotherapist Dr Dharita is very knowledgeable and extremely patient. My Dad is showing a lot for improvement in terms of his movement.

D W


3/21/2019

We had a ridiculously pathetic experience with them. Took an attendant service, a 10 day offer (rs 600 instead of their regular fee of rs 800), for my mother who had undergone an knee replacement surgery. In six days, 4 different attendants were assigned for no fault of ours. We had terrible experience going through the back-end team trying to explain the importance of sending only one attendant and not a different one every new day. The last person assigned wanted to leave by 5pm even though the timings were from 8am to 8pm. With this many other terrible instances in these 6 days, we had no option but to cancel the services. The back-end team were utterly useless in understanding the importance of having only one person assigned. They kept insisting that we pay for 800rs per day for 6 day and offer of rs 600 per day would be invalid. The management should look into this scam and take immediate action on the team. Note: Even though we wanted the services, we were forced to abandon it with no fault of ours. The back-end team has absolute disregard for the grievances of the client.

Rahul Dhakka


12/27/2018

Worst experience ever! Have hired a caregiver and a nurse. The nurse arrives late repeatedly inspite of being told about how critical medication timings are, falls asleep during day duty, is clueless about timings and medications inspite of us having guided them and has no sound medical knowledge whatsoever. She insisted that a fever of 99.7 is normal and even tried feeding the patient through riles tube with the patient lieing down inspite of there being a recliner arrangement. Neither the nurse or the attendant knew the correct way of lifting a patient from the bed, it was all ignorant tug and pull. Any complaints made to the organisation made no difference as they need more than a day to arrange for a replacement and one needs to deal with the same incompetent staff for another day or risk having no caregiver coming over (as bluntly informed by the call center) at all. Furtheron, the same performance continued the next day. In fact, in the absence of the family members it was observed through a baby monitor that the attendant and the nurse were sitting and chatting away while the patient was trying to sleep and literally PASSING FOOD OVER TO EACH OTHER OVER THE PATIENT! If this wasnt bad enough, the attendant developed a cough and a fever and when a call was made to care 24 asking them to send a replacement on the next day at least as the patient has low immunity, the organisation again gave a choice, we could have the same attendant and risk the patient getting sick, or have no attendant for the next day as they didn't have anyone available. Do not fall for the sales pitch of the executives over the phone as their premium prices and promises of exceptionally well trained staff is nothing but marketing mumbo jumbo. The professionalism and training of the staff that comes to your door is as garbage as the service of the organisation. More importantly, do not trust this organisation with the health and well being of your loved ones as no one in the entire heirarchy of care 24 really 'cares'. You would be better off hiring someone from a local agency. Have had much better experiences with randomly contacted nurses and attendants through justdial. Even though they live far, they reach on time The local organisations are also promptly able to provide replacements if need be. P.S. The 1000 or so rupees registration charge they take from you initially, is essentially a financial clickbait as its money they've made off you after they have stressed you out, contributed to deterioration of the patient and compelled you to suspend their services.

Marzouq Shaikh


3/09/2020

Mangal Laad has visited us for a couple of days in the day. She is very kind, attentive and trustworthy. She has been with us like an extended Family. The patient has also appreciated her services. She is excellent. We thank you for Mangal Laad.

Tanuka M


3/09/2020
I am still taking services from Care 24 since last two years. The caregivers are well trained and takes good care of my mother in law.
Sheila khanchandani
Sumesh Brother is Punctual, Efficient and knowledgeable and understands patients requirements completely.
Jayshree Prabhu
I have been using care 24 services and have been very happy with their services. Priyanka Rajbhar is our caretaker she is very disciplined kind and dedicated towards her work.
Saurabh Bhatt
The Nurse and the Attendant provided by Care24 are good in service, polite and punctual. We are happy with their service. The patient ( our family member) is been given proper care, feed and cleaned regularly.
Deepa Balvalli
Dr. Ralga had Attended to my father. He is suffering from PSP. We were specifically impressed by her techniques n method to handle the issue. We are planning on repeating her visits every month for positive results.
Uma Ram
Frequently Asked questions