Our certified experts can give you the best in-house rehabilitation consultation.

Fill up the form to know more about our Cardiac Rehabilitation services.
Our certified experts can give you the best in-house rehabilitation consultation.
Fill up the form to know more about our rehabilitation service
cardiac rehabilitation services
Overview
Cardiac Rehabilitation
Cardiac rehab is a program for men and women who have experienced any of the following – heart attack, heart failure, heart valve surgery, coronary artery bypass grafting, percutaneous coronary intervention.
What is Cardiac Rehabilitation
Cardiac therapy helps patients adopting and adjustments lifestyles basis risk factors. It includes instruction on exercise training, living, counseling, to assist one to adapt new and healthier lifestyles. cardiac rehabilitation services enhances quality of life and wellbeing, lower the dosage of medications to treat heart / chest discomfort, reduce the chance of returning for an emergency treatment for heart problem, helps avoid future heart issues, and live longer.
Cardiac rehab is offered in a cardiac rehabilitation center. A typical cardiac rehabilitation facilities includes physicians, nurses, exercise specialists, occupational and physical therapists, nutritionists, and health experts. A case manager assigned to each case helps monitor the program. The rehab staff designs a schedule to meet requirements. The staff collects medical history, performs physical examination, and evaluates patients before beginning the program. Possible tests may include an electrocardiogram, cardiac imaging and treadmill exercise evaluation. Glucose and cholesterol levels also get baselined. During cardiac rehabilitation phase 1, physical activity is targeted for improvement and one learns to exercise. The duration of time to be invested in rehab depends upon the ailment and required recovery levels. Some insurance plans and medicare cover a conventional cardiology rehabilitation program of 36 sessions within 12 weeks.
Since lifestyle changes in rehabilitation may have some hidden impacts because the sudden physical action during rehabilitation may result in problems, like heart rhythm issues, or bone / muscle injuries, these must be therefore done only in the presence of a therapist. The action will be stopped / altered in case patient faces any issues and the therapist will get in touch with physician if problems occur during any session.
Who Needs Cardiac Rehab?
Ideal candidates for cardiology rehabilitation
Anyone who has experienced a heart problem, like heart failure, a heart attack, or heart operation, may benefit from rehab. Studies have found that rehabilitation equally helps women and men, individuals of all ages, and individuals with mild heart problems.
However, it has been found that the inclination and willingness to undergo a rehabilitation program is not the same across the two sexes as well as with elderly of both sex.
Women –

Women, particularly from minority, are less inclined compared Vs. men to enroll rehab program. This might be because they think that physicians might be less inclined to recommend cardiac rehabilitation to females, this is not a true though!
Older adults –

Elderly adults are also less inclined to combine a cardiac rehabilitation program after heart disease. They might believe that they cannot perform the physical activity due to age, or else they could have other illnesses like arthritis that could make exercising tougher. Whereas the rehabilitation treatment is actually very helpful for older adults because it enhances strength and freedom and helps make daily activities easier and the elders more confident.
Amongst the benefits of cardiac rehab is constructing more healthy habits, like forming habits and liking for suitable physical activity to help remain self-sufficient for life.
How does Rehabilitation help
cardiology rehabilitation with proper cardiac rehabilitation services has many advantages in the short and long term
Building healthy habits like – enhanced physical activity, quitting smoking, and having a healthy diet. A nutritionist can work to help create healthy eating choices.

Strengthening the body and heart and helping manage symptoms such as chest discomfort, of heart complications.

Increasing strength and power, like carrying groceries, making daily tasks easier and helping climb staircase – to name a few.

Making inclined to choose medications that help decrease the risk of heart problems.

Preventing death due to heart issues. Studies have found that rehabilitation reduces the likelihood of patient perish in the five years after bypass operation or a heart attack by approximately 20% to 30 percent.

Reducing stress and enhancing mood. Impacted individuals are more inclined to feel depressed and cardiac rehabilitation helps prevent or reduce depression.
What does cardiac therapy require
The past cannot change, but cardiac therapy does help improve the future of heart. Heart failure rehabilitation or heart attack rehabilitation is a program designed to enhance health for those that have undergone angioplasty, heart failure, heart attack or heart surgery. Cardiac rehabilitation services has three equally important components –
Counseling and coaching:

Exercise enhances the whole system as well as helps the heart pump better.

Education for a heart-healthy living:

A vital component of rehab is teaching oneself to suitably manage risk factors, quit smoking, make nutrition choices.

Counseling to reduce stress:

This portion of rehab will help handle sources of anxiety and identify.
How can Care24 help?
Based on the type of need, it requires quite a few weeks or even months for you to recover. You are helped by our rehab specialist with exercises which stimulates tissues and the cells that have been injured for aiding recovery.
The rehab specialist helps with stretching exercises and offer recovery programs in accordance with the kind of injury, in order to facilitate recovery. She will also guide you in educating you to take care of yourself.
Therefore, if you are looking for an excellent cardiac rehabilitation center or a good nurse, simply reach out to Care24's world class treatment services in the comfort of your home.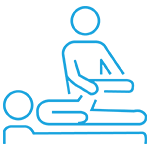 style="text-align:right;color:0f0f59;">
Read more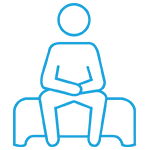 style="text-align:right;color:0f0f59;">
Read more
Horrible, unprofessional service! Advance paid.The caregiver did not show up. When complained to customer care, they said they will find a replacement and call back. No call back, no replacement. They shut for the day and the customer is felt in a lurch. Extremely disappointing. Will never avail this service again and will spread the word too.

Shraddha Shah


11/02/2019

If there was an option of negative stars then I would have choosen it. They offered me a package of₹ 5950/- for 10 days and after 2 days updated me on new package of ₹5700/- for 7 days without my consent. Even deposited my earlier cheque and then I had to follow up for the balance for about 10 days explaining my issue everyday to the new person on their helpline. They don't acknowledge emails too. Worst experience and definitely not recommended

Mugdha Kulkarni


5/23/2019

I got good experience wt dr Dhrita she is v good in physiotherapy n nice while talking n explains v nice

Sujata Rao


6/19/2019

Unqualified office staff, when you call to clarify something. Many times they don't understand the question. They are not trained well. The customer care staff needs an upgraded system, where notes are fed into the system. So you don't need someone else calling up and giving you the same info. The caretaker is not trained well. If they are looking after an elderly person, they should know that they have to be in the best of health to look after my mother. She ended not making a meal for my mother and my neighbour had to provide it. If the caretaker is not well she should have asked for a replacement asap and not waited. It is shocking, we have paid a huge amount of money for this service and I am absolutely unhappy. Please do not call for caretaker's from Care24. As long as they are getting their money. They care a damn!!! Worst service providers.

Bonabelle Zuzarte


7/10/2019

Most horrible services. Please do not ask for help from these people, they will talk sweet and then at the last moment there will be no shows from the caretaker. I had to go through this not once but twice the caretaker did not turn up. Request you all to not depend on these people as we are leaving our homes and letting them into our lives, the least they can do is inform and provide a replacement, but neither of it happened and they expect me to pay registration fees of RS,1000

Annie Palan


5/17/2019
I am still taking services from Care 24 since last two years. The caregivers are well trained and takes good care of my mother in law.
Sheila khanchandani
Sumesh Brother is Punctual, Efficient and knowledgeable and understands patients requirements completely.
Jayshree Prabhu
I have been using care 24 services and have been very happy with their services. Priyanka Rajbhar is our caretaker she is very disciplined kind and dedicated towards her work.
Saurabh Bhatt
The Nurse and the Attendant provided by Care24 are good in service, polite and punctual. We are happy with their service. The patient ( our family member) is been given proper care, feed and cleaned regularly.
Deepa Balvalli
Dr. Ralga had Attended to my father. He is suffering from PSP. We were specifically impressed by her techniques n method to handle the issue. We are planning on repeating her visits every month for positive results.
Uma Ram
Frequently Asked questions