Rehabilitation For Brain Injury
Our certified experts can give you the best in-house rehabilitation consultation.

Fill up the form to know more about our rehabilitation services for Brain Injury.
Rehabilitation For Brain Injury
Our certified experts can give you the best in-house rehabilitation consultation.
Fill up the form to know more about our rehabilitation services.
rehabilitation for brain injury patients
Overview
What is Cognitive Rehabilitation Treatment?
Cognitive rehabilitation is mostly a rehabilitation treatment which for those that have undergone a stroke or traumatic brain injury (TBI). It involves loss of a considerable amount of cognitive skills due to which the brain injury exercises for cognitive rehabilitation are implemented and which attempts to enhance functioning and independence in patients with these cognitive impairments.In case some of the past skills cannot be relearned, it is imperative to learn a few new skills that allow the individuals to compensate for their lost cognitive capabilities.
The Practice of CRT contains 4 elements as follows
Instruction about cognitive flaws and strengths

– Patient is educated about the impairment so that she/he can comprehension of the issue they are facing.

Procedure Training

– There is focus to retrain on the lost skills by practising the cognitive abilities. There is a strong focus to resolve the issue being faced.

Strategy Training

– This entails using internal, ecological and external plans. The focus is really on compensating instead of resolving the issue.

Functional Actions Training

– This requires the use of the 3 elements. The focus here is on life improvement skills.
What is traumatic brain injury or TBI
Traumatic brain injury results in a blow or jolt to the body or to the head. Anything that disrupts brain tissue, including fractured or broken skull or a bullet can lead to a brain injury.
Your brain tissues might be temporarily impacted if there is a mild injury. However, more serious brain injuries may lead to bruising, bleeding, tissue damage, or any other physical damage that the brain may suffer and require intense rehabilitation for brain injury patients. These injuries could lead to many complications in the long term or may also cause death.
Symptoms OF brain injury
Traumatic brain injury may have a wide array of physical and psychological effects. While some symptoms may appear within a few days or weeks after the incident, a few other symptoms or signs may appear immediately after following the traumatic event which requires an immediate cognitive rehabilitation therapy for the traumatic brain injury.
Mild traumatic brain injury
The signs and symptoms of moderate brain injury include
Physical symptoms
Loss of consciousness for a couple of seconds to a few moments

Massive and lingering headache

Nausea or vomiting

Fatigue or drowsiness

Sleeping longer than normal

Dizziness or loss of balance

Issues with language and a slur in speech

Lack of awareness of self, surroundings, and a condition of being disoriented or confused and in a stupor
Sensory symptoms
Sensory difficulties; e.g. blurry vision, ringing in the ears, and a poor taste in the mouth or changes in the ability to smell

Sensitivity to light or noise
Cognitive or mental symptoms
Memory or concentration issues

Disposition changes or mood swings

Feeling sad or nervous
Moderate to severe traumatic brain injuries
Moderate to severe brain injuries could display any of these signs of, in addition to these symptoms which may arise following a head injury within the first few hours. These below mentioned symptoms would require a traumatic brain injury rehabilitation for instilling an everyday adaptive living.
Physical symptoms
Reduction of awareness lasting from a few minutes to a few hours

Persistent headache or headache that worsens with time

Repeated bouts of nausea or vomiting

Convulsions or seizures

Dilation of the pupils of both eyes

Clear fluids draining from the ears or nose

Inability to wake up from sleep

Weakness or numbness in hands and feet

Reduction of motor coordination
Cognitive or psychological symptoms
Profound confusion

Sudden and unusual agitation, combativeness or other strange behaviours

Slurred speech

Coma and other consciousness disorders
Children's symptoms
Babies and young children with brain injuries may not have the ability to express confusion issues, headaches and symptoms. What is visibly observed though are symptoms as follows
Change in nursing or eating habits

Unusual or unwarranted irritability

Persistent screaming and inability to be pacified

Change in ability to listen

Change in sleep habits

Seizures

Sad or depressed mood

Drowsiness

Reduction of interest in favourite toys or activities
Causes of TBI
How could one land with Traumatic Brain Injury (TBI)?
Traumatic brain injury results because of a blow or traumatic injury to the head or the brain. The level of harm will depend on many things, including also the force or effect and the nature of the harm the patient has gone through and the time taken to start the cognitive rehabilitation therapy for the traumatic brain injury patient.
Events causing brain injury include the following:
Fall

– Fall from a ladder, downstairs, in the tub along with other falls are the most frequent cause of traumatic brain injury, especially in elderly adults and young kids.

Vehicle-related collisions

– Collisions involving automobiles, motorcycles or bikes — and pedestrians involved in these injuries — are a frequent cause of traumatic brain injury.

Violence

– Gunshot wounds, domestic violence, child abuse and other assaults are typical triggers. The shaken baby syndrome can be a brain injury in infants brought on by violent shaking.

Sports injuries

– Traumatic brain injuries could be brought on by injuries from numerous sports, including football, boxing, soccer, baseball, lacrosse, skateboarding, baseball, as well as other high-impact or extreme sports. These are common in childhood.

Explosive blasts or other battle accidents

– Explosive blasts are a frequent cause of traumatic brain injury at active-duty army employees. Once the damage occurs, many investigators think that brain functioning is considerably disrupted by the pressure wave. Traumatic brain injury results in penetrating wounds, severe blows to the head with debris or shrapnel, and also drops or crashes with objects after a burst.
How can TBI impact cognition and what could be done about it?
It is typical for individuals to have issues with language, concentration, focus and language, memory and learning, reasoning, planning and difficulty.
Attention and concentration Issues – Someone with TBI may not be able to listen to concentrate or attend more than 1 item.
This may result in
Restlessness and being easily distracted

– Difficulty completing a job or operating on more than 1 job at one time.

Issues carrying on long discussions or sitting for extended amounts of time

– Since focus abilities are considered a "building block" of high-level skills (for example, reasoning and memory), individuals with concentration or attention problems frequently show signs of other cognitive difficulties too.
What can be done to increase concentration and attention?
Reduce distractions

– For instance, work in a quiet area.

Concentrate on one task at a time

– Begin practising care skills on simple, yet functional actions (like reading a paragraph or even calculating) in a silent area. Gradually make the jobs tougher (read a brief narrative or balance a chequebook) or function at a noisier atmosphere.
Take naps when you get exhausted.
Rehabilitation exercises
Cognitive rehabilitation exercises for brain injury patients
Cognitive rehab exercises should be an essential part of the restoration in case you've suffered a stroke or a brain injury.
Problems don't just influence an individual's capacity to look after themselves, but also make it more challenging to be successful at home, school or work.
Since these issues impact numerous regions of life, we have compiled a listing of 11 brain injury exercises for cognitive rehabilitation – adapted from Brain Injury Association guidelines. These can allow to retrain the mind and gain some of the lost freedom!
This mixture of exercises addresses the most frequent problems, such as memory, focus and problem-solving abilities. But if none of them applies, one must make sure to remain tuned until the end where we talk about other rehabilitation choices.
Attention and Concentration Rehabilitation Exercises
The first class of exercise are for building endurance and focus. These exercises allow you to improve your ability to concentrate and listen to more than 1 item. Some of these exercises may need support.
Repeat numbers and letters – Beginner

– The caregiver has to state a list of numbers or letters in a slow tone and ask the patient to create a mark whenever they hear the same letter or number in the series of numbers/letters she is reading.
Rhythm matching – Intermediate –

Both the caregiver and the patient

should tap a simple, two-step rhythm many times with their hands on the desk (tap-delay-tap-tap). The individual with the harm should try and match the rhythm. Your seats need to turn so you aren't facing each other if it looks too simple! This way you can concentrate on your processing.
Insert 3, Subtract 7 – Advanced –

Decide on any amount and add 3 to it. Next, subtract 7 in that amount that is last, then replicate. This exercise is very good since your mind continues to process two types of exercises at the same time and must attend to both. It helps the brain toggle between multiple functions as well as with the memory. Additionally, it makes it possible to get better at organizing and communicating data.
4. Sit out and diary – Intermediate –

Sit out, and write down everything you see, hear, and smell. This will help improve concentration and engages regions of the mind which are not busy. You might talk exactly what you observe outside in case you have difficulty writing down. The main idea is to pay attention to.
Cognitive Rehabilitation Exercises to Memory Abilities
These exercises are used to assist and enhance memory function.
Picture Remember – Beginner –

Set two cards that are distinct and allow the individual to watch them. Turn the cards face down. Ask them to point to the cards which are called ("stage to the Queen"). Every once in a while ask. Basis the individual's progress; Raise the number of cards.
Naming Therapy – Intermediate –

This treatment is frequently utilized to assist people affected by aphasia to remember words, but it is also a fantastic way to generally boost memory. One good naming therapy exercise would be to get somebody else writes down many general headings like tools, creatures, plants, states, job, meals, sports, etc. Then try to recall and title in writing as several things in that class as you can. For health professionals, in the event the individual with the brain injury is overrun, you can provide clues. For instance, if they cannot develop almost any creature titles, you can let them consider a farm or zoo, etc.
Grocery List – Advanced –

Have someone go with you to the supermarket and let them select two or three food items. Go without breaking exactly what the individual said and locate those things. Till you're able to remember 7 things as you improve you need to raise the number of items which you have to collect.
Card Remember – Advanced –

Select four playing cards in order (3 of clubs, 4 of clubs, 5 of clubs) and set in random sequence face up. Following five minutes turn the cards face down. Then turn the cards within order (3, then 4, then 5). Permitting one moment of opinion time for every single card to a max of 7 cards as you enhance raise the number of cards from the arrangement.
How can Care24 help?
As the patient recovery is ensured by post-trauma rehabilitation care, care is a vital element in the curing process in the traumatic brain injury rehabilitation for everyday adaptive living of the patient. Post-trauma care for individuals might be easy and may be short term or long term or may entail procedure for a few.
In the case of long-term care, a patient is much better off within the warmth of home rather than a hospital. Aiding this kind of care is something that we provide from our home care rehabilitation and nursing services. As a part of our services, our group of caregivers, would come and see you and offer care. In some cases, the caregiver may remain with the individual for 24*7 monitoring and attention.
Therefore, if you require care in your home, look no further and trust your loved ones' care to Care24 and we guarantee a satisfactory and quick recovery of the individual in the most effective and fastest way possible.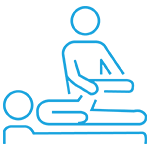 style="text-align:right;color:0f0f59;">
Read more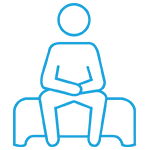 style="text-align:right;color:0f0f59;">
Read more
Needed an attendant for a week for post-surgical assistance (ward boy type work). The person allocated was punctual, polite, and generally did the job well. Quite happy with the services provided. Edit: The payment management is quite bad. If you choose to make cash payments for the service (physiotherapist in my case), the payment does not sync with the agency and they keep sending messages and emails along you to pay up. They follow up with calls on Sunday afternoon 🤦🏻 Edit 2: No change. The company is continuously following up for the money I have already paid. Reducing the rating.

Swati Saxena


5/31/2020

We had a ridiculously pathetic experience with them. Took an attendant service, a 10 day offer (rs 600 instead of their regular fee of rs 800), for my mother who had undergone an knee replacement surgery. In six days, 4 different attendants were assigned for no fault of ours. We had terrible experience going through the back-end team trying to explain the importance of sending only one attendant and not a different one every new day. The last person assigned wanted to leave by 5pm even though the timings were from 8am to 8pm. With this many other terrible instances in these 6 days, we had no option but to cancel the services. The back-end team were utterly useless in understanding the importance of having only one person assigned. They kept insisting that we pay for 800rs per day for 6 day and offer of rs 600 per day would be invalid. The management should look into this scam and take immediate action on the team. Note: Even though we wanted the services, we were forced to abandon it with no fault of ours. The back-end team has absolute disregard for the grievances of the client.

Rahul Dhakka


12/27/2018

The physiotherapist came to my home was very helpful and knowledgeable. She properly gave me the detailed information about my injury. Also the first assessment is free of cost.

varshflute


10/17/2019

Worst!!! I am paying for professional services and the attendant is not professional. The level of disappointment is i have to terminate services on Day 1 itself. And still I am being told to pay for 1 day. Please assess the attendant before going for services from care24

Praful Jadhav


5/07/2019

My father had a hip bone surgery in January. I have been using Care24 services ever since. The attendants that cane were good in the beginning. However their services have become good to bad to worse to worst in the last 15 days. They changed the night attendant without informing me personally just 6 hours before the time. My father had just settled down with the last attendant and now they were sending a replacement tonight. To add to my frustration the guy didn't turn up and did not answer the calls. When I called their call centre - they said they can't help me at this hour. Well- I can't help but call them CARELESS CARE24.

Jasbir Basu


4/06/2019
I am still taking services from Care 24 since last two years. The caregivers are well trained and takes good care of my mother in law.
Sheila khanchandani
Sumesh Brother is Punctual, Efficient and knowledgeable and understands patients requirements completely.
Jayshree Prabhu
I have been using care 24 services and have been very happy with their services. Priyanka Rajbhar is our caretaker she is very disciplined kind and dedicated towards her work.
Saurabh Bhatt
The Nurse and the Attendant provided by Care24 are good in service, polite and punctual. We are happy with their service. The patient ( our family member) is been given proper care, feed and cleaned regularly.
Deepa Balvalli
Dr. Ralga had Attended to my father. He is suffering from PSP. We were specifically impressed by her techniques n method to handle the issue. We are planning on repeating her visits every month for positive results.
Uma Ram
Frequently Asked questions