What is Care24's elderly care service at home?
An in-home elder care service is one where a trained and experienced professional will help to look after your elderly loved one. This could be after your loved one is recovering from an illness, injury or surgery, could be something that is a result of old age, or any health based care where your elderly loved one needs constant looking after and assistance.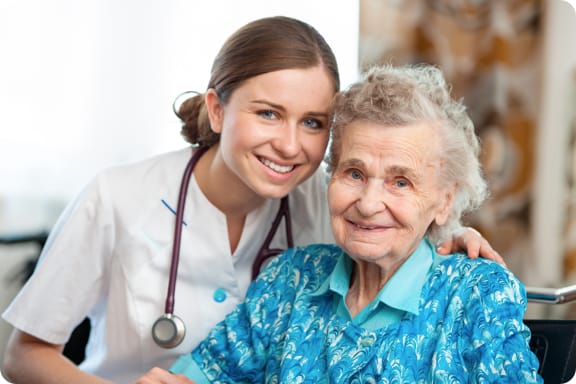 At Care24, we offer you all the care and assistance support that your elderly loved one can need, right in the comfort of their own home.
When do you need our in-home elderly care services?
Yes it can be quite tricky to bring up the subject of professional in-home care for elderly with your loved elderly. They may feel you are mocking their abilities to look after themselves. In some cases, they may also feel that you are shirking your responsibility of looking after them and handing it out to an outsider.
One of the best times to broach the subject is before it is too late, and before most of the warning signs have kicked in. Make sure that you talk about in-home care for elderly in a non-patronizing way, something that will give them an idea that you are suggesting it as a comfortable option, instead of telling them you are already going ahead with it.
Ask them what they think and tell them that they can meet the caregiver and decide for themselves. Make sure you have enough examples of their need for professional help in case they feel they are capable of taking care of themselves. This is often a good way to break the ice and discuss the matter openly. Also, make sure to spend enough quality time with them and also keep them updated about other responsibilities that you are currently handling, and how you want to make sure that it does not interfere with the person's care in any way.
Why is Attendant at home a good idea?

With our in-home care for elderly, your loved one will receive every form of medical, emotional, physical and day to day care and attention, in the comfort of a home environment.


Our care for elderly service also makes sense if your loved one stays independently. They can avail of all medical requirements at home, including doctor visits, without the worry of going out alone.


Our in-home elder care services also provide easy access to doctors and a vast variety of medical staff, along with a ready online health and wellness portal to keep you updated about various conditions and diseases.


Constant communication with caregiver, as well as other support and medical staff, as required.
Why should you hire a caregiver from Care24?

Why should you hire a caregiver from Care24?
At Care24, we take the utmost care to make sure that the caregiver who comes to your home is of the highest experience, and can provide your loved one with the best elderly care and service. When you hire a caregiver from Care24, you can be assured of:
Experience
All our elderly care attendants are specially trained and have years of experience in the health care industry. They are equipped to take care of a wide range of medical and health care needs in the comfort of the patient's home.
Genuine Credentials
We make sure that our caregivers come with all valid documents and go through thorough background checks. All of our caregivers hold professional documents for the services they offer.
Emergency Facilities
We provide you round the clock elderly care services, whether you need a caregiver for the day, for the night, or suddenly require someone to come home and look after your loved one. At Care24, our caregivers are ready 24 X 7 to meet all your requirements.
What is our range of elderly care services?
At Care24 we offer a host of elderly care services that includes a team of doctors, nurses, attendants and physiotherapists. Our staff is specifically trained to take care of your loved one with the utmost care and medical precision, while making sure your loved one gets the dignity that he or she deserves.
The experienced and reliable caregivers at Care24 are trained to make use of technology as well as various healthcare practices. As a result, they can help your senior family member gets the best home elder care and recover faster and more comfortably at home.
Depending on your family member's requirement and health, the caregiver will help you customize a care plan. It will help you to take care of your daily routines and responsibilities without worrying about looking after your senior family member or not being able to give them enough time. Also, with the assistance of trusted caregivers, you will be able to ensure that your family members get the respect, care and attention they deserve.
Medical and Non-Medical home elderly care
Once you have hired a professional caregiver for your elderly family member, it is possible that you realise their needs have changed. You may need to change certain terms that you agreed upon earlier while hiring, or you may wish to re-work on the type of program or customized plan that you set up at the start.
There are two main types of home elder care services that a homecare agency will provide you with. One will be more catered towards non-medical and a more regular day-to-day kind of care, while the other will be more catered towards medical care for elderly.
Understanding the person's exact needs and preferences and communicating the same with the caregiver can be very helpful.
What is professional home based medical or health care?
A medical or health based care for elderly service is one where your elderly loved one will require care and attention while recovering from a health issue, or while going through any type of health condition.
This type of home elder care service is provided to people who may require physical therapy sessions, are already going through some or the other type of medical treatment or are recovering from a current form of illness.
The people who will provide such home elder care services may comprise of a team of doctors, physiotherapists, certified registered nurses and so on.
Here are some of the services that the elderly can look forward to from a medical or health based home elderly care plan:
Taking care of wounds and managing cleaning and dressing the wound.

Monitoring the vitals and taking care of daily medication.

Helping the patient manage pain and any discomfort.

Assisting with physiotherapy exercises to manage the condition as well as start healing process.

Helping with the use of assistive devices as well as any medical equipment
What is professional home based non-medical elderly care?
A non-medical professional care for elderly will help your loved one manage various day to day routine activities that are not of a medical nature, but are more geared towards managing everyday tasks. These will be care services that will not require any medical attention or handling.
Here are some of the services you can look forward to from an in-home medical or health based care for elderly plan:
Helping with everyday hygiene needs such as bathing, getting in and out of clothes, sponging, and shaving, grooming needs such as trimming nails and hair and so on.
Assisting the person move around the house and out of the house if required. Helping with getting in and out of a car or automobile, helping getting in and out of a wheelchair, bed and so on.
Looking after basic everyday housekeeping requirements such as making the bed, changing the bed linen, dusting, preparing the meal, feeding, keeping the room or closest area clean, keeping clothes in the right space and so.
The home elderly care service that a particular caregiver will provide will be very different based on the medical and non-medical needs. A caregiver who is experienced and trained to care for the elderly and their medical needs can also look after basic non-medical needs, but a care giver who is experienced and trained to provide a non-medical elderly care cannot take care of any medical needs (at least in most of the cases). When speaking to the home elder care provider, make sure you understand the limitations and ask how you can work around the same in case there is a need to change the type of elderly care you currently require for your elderly loved one.
Sometimes, it is possible that the caregiver you have hired is not able to form a bond with the senior citizen, and even though the person is experienced and trained, they may not be the best match for each other in terms of trust and care. If you feel this is the case, it is best to discuss this with the home elder care provider and ask for a different care giver.
While it is always good to be present around the person and the caregiver for the first few days to help them form a connection, do allow the caregiver to take charge and do his or her work as required.
What is the procedure to book elderly care services?
There are multiple ways in which you can reach us to request elderly care services for your loved one. You can use our website, our app or call us at our toll free number.
We need you to provide us with certain details of the patient for whom you need our Attendant services like the tasks that need to be done, duration for which the services are needed and any gender or language preference you might have. This will help us find you the best fit of Attendant for your loved one.
Our team will connect with you to confirm your requirement and send an Attendant to take care of the patient. All our Attendants are uniformed and carry identification to help you know that you are indeed letting in a trained professional from Care 24 into your home.
In case you are confused about whether the patient needs an Attendant or a Nurse, simply get in touch with us for guidance and we will help you understand what would be the best services to avail in your situation depending upon the patient's needs.