Today on World Water Day, Care24 proudly announces its collaboration with Clensta.
Known for their Primary focus on providing ease and comfort to the patients, Care24 and Clensta are collaborating for providing waterless personal hygiene solutions as an alternative to traditional and other bathing methods.
Ever imagined having a bath without using a single drop of water? Now it's possible with Waterless Products by Clensta!
• Improves Patients Well-Being and Comfort
• Hassle Free bathing time Does not require water – At all!
• Only requirement – Product and towel!
• Zero additional Requirement; Remove the efforts for changing of bedsheets unlike sponging

• Eliminates the additional cost of utilities like disposable bowl, mugs, soaps or shampoos etc.
• Scientifically designed product – Free from Alcohol, SLS (Sodium Lauryl Sulfate), Gluten & paraben.
• Reduces Patient's bathe time tremendously.

But what is waterless technology?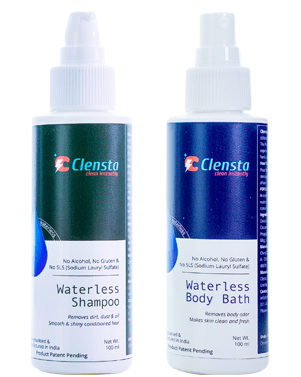 Clensta's pioneered Waterless Personal Hygiene technology brings to you a product formulated for ready to use purpose with absolutely no water usage. An emerging technology used in the product based on a simple and effective formula and free from harmful ingredients.
What's Anti-Microbial? – With easy application of spray, massage and towel dry;
Product composition and formulation offers microbial removal and protection of the skin from further development of opportunistic microbes; Helping to maintain the same level of cleansing effect. The scientifically designed and tested Waterless Solution has a perfect balance of offering comprehensive hygiene and moisturization, keeping your skin soft, germ-free and healthy for a week via single bottle.

Stay fresh and hygiene!

Wait! Why would I need it?

Water contamination is a noteworthy challenge, one of the reports states that almost 70 per cent of India's water is impure, affecting three out of four Indians;
and following traditional bathing methodology would further only increase the chances of infection.

Additionally, with less established standards procedure of sponge bathing, chances of contamination further increase due to the sponge or cloth being dipped multiple times in the same tub of water for multiple strokes of cleaning, hence, contamination cycle of re-contaminating the tub & sponge, compromising the patient's hygiene.

Waterless hygiene solution promises complete hygiene by eliminating the chance of contamination and removing the added utility of, sponge, bucket, soap, shampoo or others; and replace them with just a spray bottle and towel.
Instead of multiple dips, you just need to spray, massage and towel dry. This ensures zero contamination and comprehensive hygiene.
How we save water: A single bottle of Clensta Body Bath of 100ml saves upto 350 litres of water. Care 24 is collaborating with Clensta International to provide the patients an alternative hygiene method with an aim to improve the overall patient's experience and comfort.


For more information visit: www.clensta.com